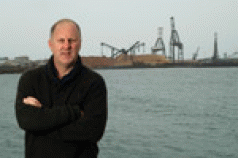 An Acknowledgement to the original Mouheneenner who once gathered here … and a message to Barty: Reroute the bloody Brighton bypass …
Thanks to so many people for tonight… Firstly to Bernie of Catch for waiving the hire fee …
Secondly to perhaps the world's most longsuffering partner – now of some 32 years – Sue Tuffin.
And to Tom, Richard, Rache, Richard, Mike, Allan, Harriet, James, James, Margaretta, David, Mike, Pete, and all you wonderful guys who have made Tasmanian Times what it is…
A special thanks to Bob Burton for helping in so many ways.
And many, many thanks also to:
* those who have helped with all the design and IT side of TT: the Floatingworld and AandCP design and tech crew of Alecia, Tom and Andrew. Speaking of tech over the years I never could have done it without Tom Tuffin, now of Total Networks.
And,
* all those who have contributed articles, cartoons, photos and comments … TT simply doesn't exist without you.
And,
* those who have advertised with TT;
And,
* and those who have donated. The Donations have been so generous and so unexpected. Thank you.
And,
*To Pete Henning – who as well as underwriting last year's Strathlynn dinner and the award – did the same this year, organised and had framed this year's award, at his own expense.
In its tiny way this gnat on Megafauna Media's enormous arse has become a sometimes irritating necessity on the Meedja landscape.
Sites like little Tassie Times are the canaries in the minefield of Established Media; at best highlighting where Established Meedja has become inadequate, disdainful of its society, even toxic.
John Hartigan, Chairman and Chief Executive, News Limited, perhaps grudgingly, recognises this.
In a speech earlier this year to the Pacific Area Newspaper Publishers Association, Hartigan appropriately recognised the new media reality, whilst simultaneously displaying gross corporate arrogance.
He said: "I am not consigning newspapers to the scrapheap. Not by a long shot. But this tipping point is going to change journalism forever. In my opinion, very much for the better."
Hartigan went on to quote the CEO of Google, Eric Schmidt: "The internet is the most disruptive technology in history, even more than something like electricity, because it replaces scarcity with abundance."
The said: "Our competitors are anyone who can satisfy an audience need with a richer experience than traditional media has been willing or able to provide in the past.
"Among young people, the internet and mobile devices has prompted a huge increase in their consumption of media. They now spend over seven and a half hours every day consuming media of one sort or another."
But he couldn't help himself … maintaining that the Media Masters are still in control:
"My contention is this – We have the opportunity to move from setting the agenda each morning….to actually owning the agenda. All day. Every day."
Own the agenda Indeed! What supreme arrogance.
I've got news for you John. The Agenda is no longer owned. It's escaped your fundamentally tabloid prison.
As I've said many times, TT is quite a bit journalism, a bit agitprop, a bit social networking …
It has been there as a means of sometimes exposure but always a mirror … the biggest recent example perhaps the great controversy over Gunns Ltd plans for a Tamar Valley pulp mill – old men, political cowards and social Neanderthals thrusting throwback visions on to this most beautiful of valleys.
And it has resonated …Tasmanian Times is rather happy to report for this year over last that, in Google jargon, the monthly average "absolute unique visitors" for 2010 is a teeny smidgen under 17,000, which is up 38% on the 2009 figure. In terms of page views, the 2010 monthly average of 220,904 is up 22% on the 2009 data.
Enough of this … onto the important bits:

The Awards:
First up, an anonymous what shall we call them – Herd, Rabble, Riot of TT readers, inspired by a recent skirmish on TT, came up with the idea of a second Award to go with the TT Tasmanian of the Year.
They called it The Loony Leftie of the Year Award and designated noted Labor Leftie George "The Woodworker" Harris to both make the award and to present it.
This is outa my hands … over to you Georgie (who then produced the most beautiful piece of 2000 year-old Huon Pine … and presented it fully inscribed to the flabbergasted Editor, Moi).
Later…
Now to the high point … Tasmanian Times Tasmanian of the Year.
Last year we ran through a very impressive list of potential Tasmanians of the Year…
It was tough … but with great difficulty we gradually eliminated:
David Bartlett …
Graeme Sturges …
David Llewellyn …
Lara Giddings…
Brenton Best…
Jeremy Rockliff …
Peter Gutwein …
Brett Whiteley …
Any nominations of who to eliminate this year … ? (The unanimous nomination from the floor was the Hon, Eric Abetz).
But of course it is none of these:
The 2010 Tasmanian of the Year was to be announced by last year's TT Tasmanian of the Year Dr Alison Bleaney.
But in a tough year in which this courageous indefatigable GP fought many public battles in the public interest – most notably over the George River – Alison lost her mum in Scotland … and earlier this week suffered her greatest tragedy: the loss of her dear husband Mike.
But Alison always thinks of others … and this morning, in my inbox was this:
Here's to the 2010 Tasmanian Times Tasmanian of the year.
I wish my circumstances were different and Michael and I could have been here tonight with you all, but it was not meant to be.
Frank Nicklason; friend and colleague, you are such a worthy recipient of tonight's award.
I have known you for more than 20 years now and am still inspired by your courage, thirst for knowledge, determination and your compassion.
Here's to Frank.
We can truly celebrate tonight since a true warrior has been properly recognised.
…
Here's to another year of Tasmanian Times surging forward.
All the very best to you all
from Alison.
Before Frank steps forward to receive the award… the briefest of backgrounds:
Frank Nicklason was one of the Gunns 20, targeted by the giant corporation in that landmark legal case for which Gunns ended up paying. But his anguish didn't stop there as Gunns kept up the pressure with a large defamation writ for comments made – in the public interest over perceived potential health threats – from the Burnie woodchip pile.
With the legal battle in full swing, he brought in pathologist and world authority on legionella Dr Trevor Steele. This document was used in Dr Nicklason's defence in court and enabled him to settle the matter with a written apology. "I knew that once we settled, we could release the report that we had done which gave our side of the story and our expert opinion," he says. Dr Nicklason says the logging company has taken effective steps to resolve the problem by using a sprinkler system to reduce the dust.
Dr Frank Nicklason is a Physician at the Royal Hobart Hospital, and is a founding member of Doctors for Forests.
Frank and I share much in common. We're both farmer's sons… he from the North East. Me from the back of Burnie. And we have both seen our Temples ransacked as industrial forestry and farming swept away the idyllic wonder of our childhoods … of freshwater crayfish and blackfish in the creeks and impenetrable forest at the back of the Bush Paddock (in my case).
A farmer's son from the far North-East of Tasmania, Frank first became concerned about public health issues associated with industrial conversion forestry (native forest and farmland to monoculture plantation) in the early 1990s when two massive plantations were established near his brother's organic beef farm.
The herbicides atrazine and simazine were applied with questionable occupational health standards and attention to preventing entry of chemicals into waterways during aerial spraying.
Frank is motivated by a strong sense for issues of inter-generational equity. He was asked a couple of years ago by his daughter; "Dad will there still be scenery when I grow up?"
Frank was voted by doctors in training at the Royal Hobart Hospital as Supervisor of the Year 2004.
He is Chairman of the Medical Staff Association at the hospital.
His brother continues the family farming tradition and sister Leslie is an enthusiastic publicist of the natural splendor of the North East Highlands and guides walkers on the trails marked out by the Friends of the Blue Tier.
I give you Frank…

Frank … and a woodchip pile in the background
Social pics by Sue Tuffin …
Below: : Photo[s] © Giles Hugo 2010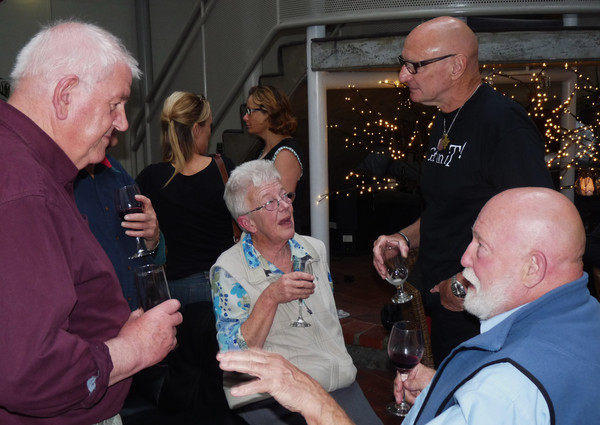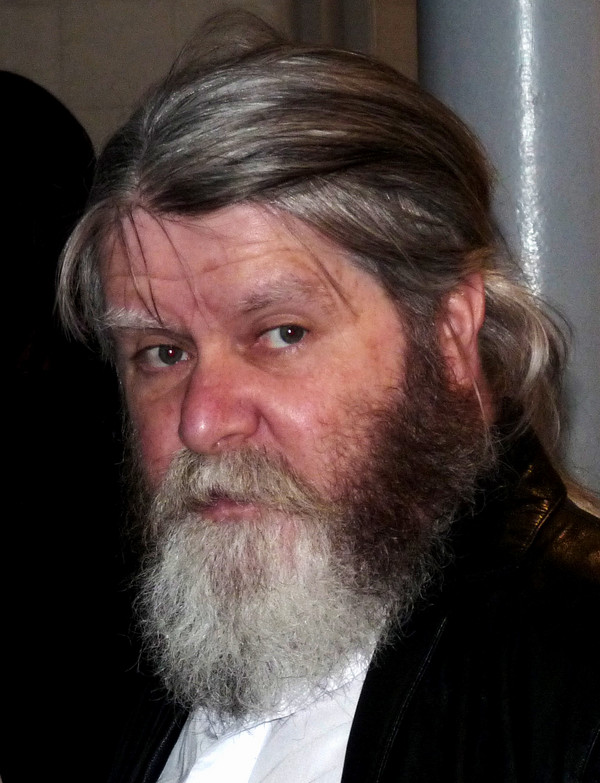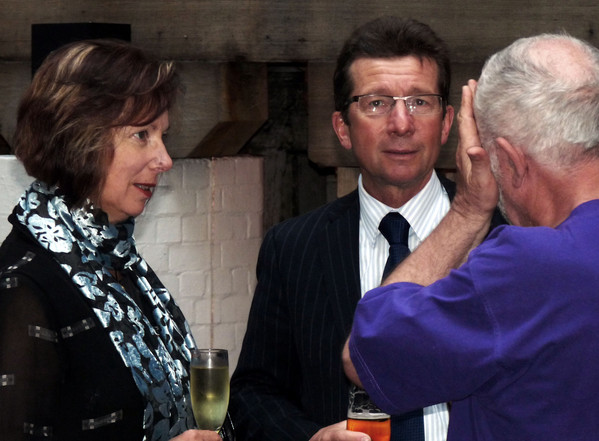 Phil Lohrey social pix …
Earlier…

Picture: Fleurty by Harri
$20 is the cost for Tasmanian Times' simple drop-in drinks and nibbles — and announcement of TT's Tasmanian of the Year …
It's at 6pm, today, October 29 in the Atrium at CATCH Restaurant Bar and Cafe in the City Mill building, 11 Morrison St, on the waterfront, Hobart.
TT's choice of Tasmanian of the Year will be announced around 8pm.
Drop in for 5 minutes or 5 hours and catch the endless conversation.
Last year we champagned from the Strathlynn eyrie on the Tamar River ( HERE ) before announcing Dr Alison Bleaney as TT's Tasmanian of the Year.
This year's choice is …
• And there will be a special new award …
You are welcome, whether you love us, or hate us …
Meanwhile,
The TT Traffic Report …
Traffic to the site in the past nine months of 2010 is up substantially over the last seven months of 2009.
In Google jargon, the monthly average "absolute unique visitors" for 2010 is a teeny smidgen under 17,000, which is up 38% on the 2009 figure. In terms of page views, the 2010 monthly average of 220,904 is up 22% on the 2009 data.
Average time spent on the site in 2010 is just over 6 minutes, though over the last four months it has been running a little under five minutes. (The 2010 figure is rather skewed by the longer than average time on the site during the state election campaign and its aftermath.) The average time on the site for 2009 was six seconds longer. We are informed that for a news/blog site, an average time of over four minutes is considered good.
We've been advised by people who know about these things that it's better to use Google Analytics data than Awstats* data. While Awstats gives substantially higher numbers than Google Analytics, we are informed that most advertisers prefer the latter. So we have opted for modesty, even though we only have Google data from June 2009 on.
As for comments, the 2010 monthly average has been running at over 2600. We only started keeping tally on these earlier this year, so we don't have any comparison with 2009.
*Awstats is more awe-inspiring… revealing an average of 25,621 Unique Visitors, 72,399 Visits and 2,667,932 Hits each month so far this year …
Fourth time re-published: 2010-10-31 12:24 AM
frank nicklason.jpg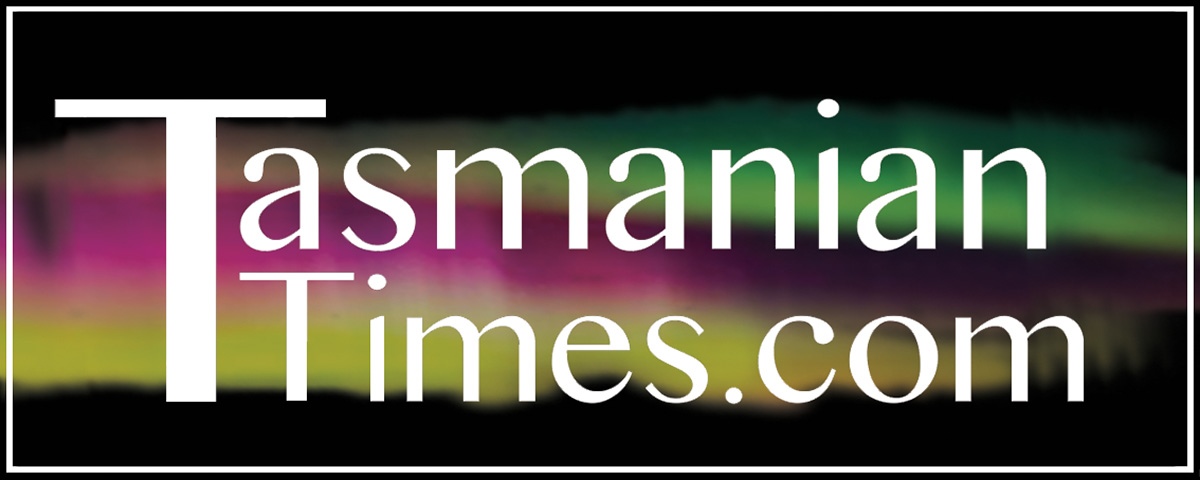 Author Credits: [show_post_categories parent="no" parentcategory="writers" show = "category" hyperlink="yes"]