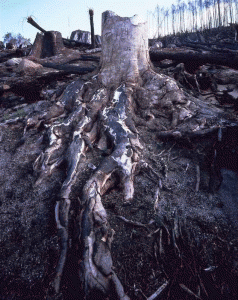 An ugly reality that has emerged in Tasmania's Forestry debate is the assumption that the "problem" to be solved is how to allow the destructive and unsustainable practices being promoted and pursued by forestry corporations and the major political parties to continue with some sort of community acceptance.
The myth being pushed by the mass media, political appendages of the forestry corporations and some others is that there are two opposing sides in the debate but that both sides want the timber industry to continue turning our timber resources into woodchips for pulp.
Unfortunately some, who profess to be environmental activists, are allowing their narrow single issue focus, to push them to act in a manner that aids the corporation generated confusion, of the questions involved. The result thus far is the continuance even some, hopefully only short term, acceleration of current destructive forestry practices.
If we cut through the pulp mill spin doctors smoke and mirrors the real questions can emerge . These questions are:—–do we need 'Common Ground' to give a social license for a pulp mill in the Tamar Valley, or elsewhere for that matter?- Or do we need common ground to end clear felling, replacing existing natural forests with chemical dependent water and soil resource spoiling, and public purse draining monoculture plantations.?
We need to end clear felling and growing trees for pulp— to end the practice of monoculture plantations and the use of chemicals involved and the production of toxins that are poisoning water, land and sea. The development of forest practices that ensure that our forest resource is sustainably used is necessary. Redirecting investments and retraining industry workers for forestry and other industries is an essential to economic and social as well as ecological sustainability.
Sustainability requires promotion of the use of the timber resource for building, craft and other sustainable uses including as carbon storage banks. Plus allowing for leatherwood and other bush honey production, and forests with possible medically useful plants.
From Destructive to positive practices
In short the real issues are turning forest practices in Tasmania from a mad rush to destruction and a massive drain on the public purse that is making a tiny minority rich and providing a relatively small and shrinking number of people with unsustainable work opportunities. Questions we have to ask and find answers for include what forestry and forest based industries practices will make possible a use of the forest resource in a manner that is ecologically, socially and economically sustainable and of lasting benefit to the well being of our own and other species?
Having clean water to drink and land use policies that allow us to grow the food we need to eat are issues we need to bring to the forefront of a public debate. Too many people with influence continue to ignore these issues as our forests are destroyed by clear felling and chemically dependent monoculture plantations take over and degrade large areas of fertile soil,deplete and poison our water supplies.
Those prominent individuals in the environmental movement who try to downgrade the importance of these basic issues have created a situation of deep divisions of opinion among green leaning activists and other people who are beginning to become aware of the seriousness of the current situation The self appointed 'representatives' of environmentally conscious people in the secret talks helped set the scene for Lennon and his cohorts to revive the pulp mill project.
Dr David Obendorf, in early July this year, asked the pertinent question about these 'representatives'=== "Where is the mandate from which these two groups speak for so many? "(1) Outcomes from of the efforts of a self appointed few are well described in the words of one prominent Green figure discussing the situation as in the following quote "I'd really like to see resolution on forestry conflict in Tasmania, but if it means that the Tamar Valley is going to be sacrificed at the altar of some high conservation coupes, then I don't think it will last no; I think it's a train wreck waiting to happen." (2)
Gunns may have changed a director or two but they are still quite clearly out to juggle the situation into one in which the environment movement is confused and taken in by con artists. Peter Wish Wilson's "train wreck" observation, as above, give me heart despite my, now months old, fears that the "Common Ground" move to make a pulp mill possible would split the Greens if they fell for the secret talks scenario. It is essential that it be recognized that plantations for pulp ,far from being part of the solution are a major part of the problem.
What then of the plantations issue ?
In an update of his position on Plantations titled "Plantations No More Please" Bob Loone, the Deputy Mayor of Meander argues that his valley is losing $millions every year because 15,000 ha. has been lost from farmland to plantations. Loone also estimates that 265 jobs have been lost for the same reason despite the 35 plantation jobs generated.(3) It is well known that plantations are wrecking quite some havoc on farming communities on the NW Coast of Tasmania in particular.
There are plantations and plantations.
The first thing is of course the need to end clear felling-for pulp-particularly but not only in native forests. But there is a place for plantations that seek —as far as is possible -to restore forests to something approaching their original state. This type of plantation is, in my view, an entirely different kettle of fish to the chemically dependent monoculture plantations of trees bred to be pulped.
Currently we are confronted with a plantations regime that is poisoning our water and destroying soil fertility; an industry committed to pulp, that is economically unviable without massive public subsidies, —as well as being ecologically unsustainable. However, plantations that restore species native to the area concerned are necessary in some areas. Such properly selected species plantations that do not require poisonous chemicals can and do have important, several faceted, environmental pluses in a matter of years and a few decades. However the likely hood is that it will be many decades and perhaps more before such plantations will become a resource that, if selectively harvested, will have the potential for providing high quality construction timbers.
These issues about timber supplies for sawmilling and plantations particularly the currently predominant deadly destructive monoculture plantations as against ecologically friendly multispecies plantations need to be clarified… Those who need to do some homework on these matters include some who have managed to make themselves prominent in the environmental movement. The work of Tasmania's outstanding water scientist, Dr David Leaman, on the water issues involved in plantations is of considerable import to any comprehensive understanding of the complexity of the issues involved.
Again, the issues are not only about the Tamar Valley ,although of course The Tamar Valley is very much a central aspect. BUT the forestry issues are state wide in terms of land use, poison in our water, hundreds of $millions from the public purse being thrown away to support current uneconomic and ecologically disastrous forest practices.
Virtually all of this waste arises from the misuse of an important resource. We need radical change NOW not in thirty years time when all our native forests have been massacred and what is left of our water, after thirsty plantations excessive use, has been made unsafe to drink and forest practices have made Tasmania a bankrupt State.
My hope is that the penny will drop in some, now lagging, parts of the environment movement and the forestry and other crises that are besetting Tasmania will be addressed in open public debate concerned to find and implement a new way forward. Pursuing illusions is no substitute for facing realities.
Some History
At a seminar on wood chipping organized by the Tasmanian Conservation Trust in Hobart in late 1974, the then manager of Northern Woodchips, Mr. Meadows, claimed that "Saw milling timber was a disappearing resource" (4) The people destroying the sawmilling timber resource , namely the wood chippers for wood pulp and paper knew then what havoc they were causing.
Almost three and a half decades later Dr.Pete Hay in his 2008 paper" Challenging the Change Vector in Left Progressivism"(5) discusses the view of "sawmilling folk" from the area near the headwaters of the North Esk river in Tasmania suggests that enough resource to enable intelligent selective harvesting for small saw mills.was still left. To that assessment Hay added the rider that "(though it won't for much longer")
These are real questions that need to be seriously considered and acted upon now not at some vague future date while the rape of what is left of our native forests proceeds apace. Ending clear felling is a vital first step towards creating a sustainable set of sustainable forest based industries
Top Public Servants Fail to Protect Public Interest
The forest corporations exist to make profit and try to hide and excuse, ,their dependence on massive public subsidies and the resource they are destroying to produce pulp; plus the other damaging effects they have on the environment. Forestry Tasmania is unfortunately run by individuals who see their role as doing what the corporations require of them rather than as protecting the public interest and thinking seriously about what it is they are actually achieving. The major political parties are focused on protecting the status quo and ensuring that large donations from corporations continue to finance their election campaigns.
Those in the environment movement who refuse to think about how and why political decisions are made and what influences major party politicians to act in the interests of large corporations do not provide a possible solution to our problems. Fortunately there are a growing numbers of environmentally conscious people, including prominent green activists, who are expressing concern about proposed deals that have real potential to be against the public interest, and have been made behind closed doors.
The increasing cooperation and interchanges of information and ideas between individuals who have perceived the real problem holds out hope for vastly improved approaches to sore and worrying problems,
References and notes
(1) As from Dr Obendorf's Tasmanian Times July 1st article titled "Without tie skills, grand plans melt into dreams" Extract "Where is the mandate from which these two groups speak for so many? What permission do they have to represent them in the decision-making process in any negotiations (formal or informal) with forest industry representatives More recently as the talks developed and some other groups were included there have been withdrawals and sharp public criticisms of the approach and attitudes of the initiators by some who were at the table for a short period. Eg Andrew Ricketts convenor of –'The Environment Association Inc —address PO Box261 Deloraine, Tas 7304—- as published on Tas Times
(2)frThe train wreck estimate comes from Comments of Peter Wish-Wilson as in Tasmanian Times article '"Impacts of the Gunns pulp mill Scottsdale away forward. Hope say groups Train wreck fears W-W" 21-10-10 2:38 am ——and comments 9and 10 on same from Russell Langfield
(3) Loone Bob in update paper "Pulp Plantations No More Please"
(4) Bound Max B A thesis 'What can the Trade Unions do to play a Bigger role in protecting the Environment" 1976 page 4.6 hand published in very small numbers mostly to union officials and Hobart Environment centre library at that time.
(5)Hay Peter in his 2008 paper" Challenging the Change Vector in Left Progressivism" Pub in "Shared Values, Shared Future Re-imagining the Good Society. ISBN97818763000159(pbk.)"Search Foundation see page 58)
Further Notes
Writing on science in his recent Book 'A BIG FIX" Ian Lowe comments on the difficulties the traditional scientific method has run into. Professor Lowe wrote: "…Sustainability science will have to employ new methods , such as semi-quantitative modelling of qualitative data, or inverse approaches that work backwards from undesirable consequences to identify better ways to progress. Researchers will have to work with land-users to produce new understandings that combine scientific excellence with social relevance."
The significance of this advice is more easily understood and takes on an even more profound meaning in the light of the following from the World renowned Canadian environmentalist, David Suzuki, whose science specialty was genetics in his book "METAMORPHOSIS' pub 1987 Stoddart Publishing Co Ltd
Page 157 "Science remains an activity that is highly competitive … Its practitioners often wear blinders to questions about social responsibility, about negative effects of science and technology, about ends and means and possible limits to the scientific enterprise.
Page 262 "As a scientist, I know how ignorant we are of the biological and physical world, yet we continue to cling to the lie that we know what we're doing. The truth is we have no idea."AND Page 298 Writing "As born again parent" and discussing "the future world my children will inherit…" Suzuki comments "… It is an untenable conceit to believe that we can maintain our current rate of consumption of energy and resources and that the environment will absorb the amount of pollutants and debris we dump into it. It is a delusion to think that we know enough to control, manipulate and manage nature."
Now to an interested and information seeking layman's comment on how the immediately above Further Notes help in assessing the current situation in Tasmania. . As I understand Ian Lowe's concept of sustainability science as it is happening in Tasmania —– there appear to me to be two outstanding examples of the new approach Professor Lowe is advocating in the above quote from his "A BIG FIX"
(1) The work of Dr David Leaman on water issues in which he has examined the effects of particular practices and worked through outlining a new approach that opens the way to sustainability.
(2) The work of Dr Alison Bleaney and those supporting her in investigating the cause of her, evidence based, concern about the effects on water run off from E nitens plantations on humans and other species. This investigation to find the source of water contamination appears to me, like David Leaman's work on water, as being an example of sustainability science in practice.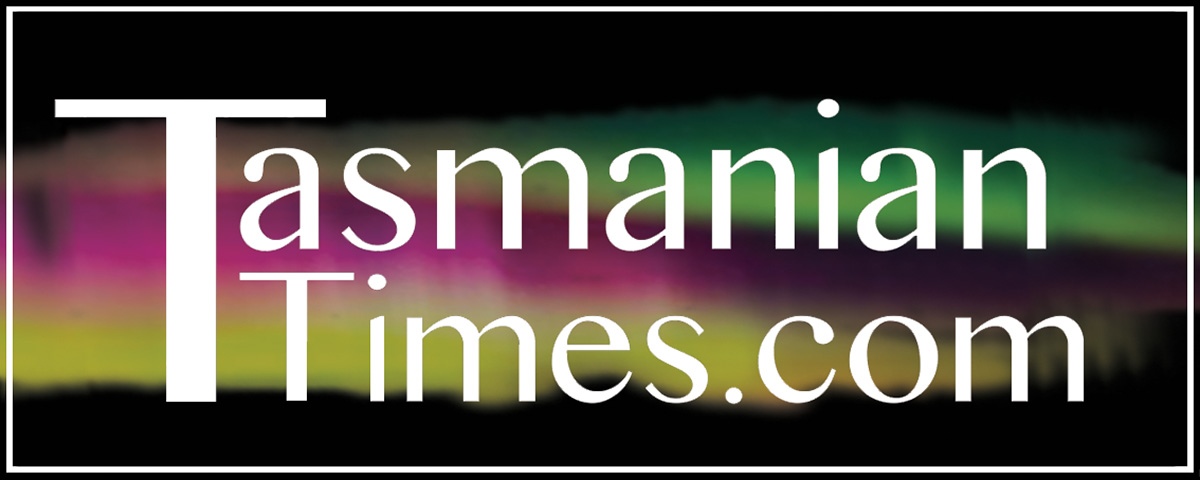 Author Credits: [show_post_categories parent="no" parentcategory="writers" show = "category" hyperlink="yes"]