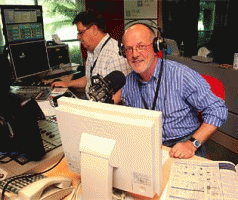 "Morning breath of fresh air" by Garry Bailey, The Mercury, 6 October 2010, p18. Mercury Online, HERE
The Mercury today (Wed) published a self-review of Editor Garry Bailey's performance while filling-in for a week as the host of the Morning Show on ABC radio, but I think he's re-interpreted one of his failures during that week, and then failed to mention the biggest problem of them all.
The unmentionable problem for me was Mr Bailey's style, which I found to be reminiscent of chewing betelnut – a soporific, mind-numbing buzz – an opinion that was spurred on by his continuing focus on and fascination with the colour of other men's ties … Zzzzzz.
Soporific. –adjective 1. causing or tending to cause sleep. 2. pertaining to or characterized by sleep or sleepiness; sleepy; drowsy. –noun 3. something that causes sleep, as a medicine or drug.
While Mr Bailey can't help the too-soothing sound of his own voice, or his tie fetish, he can help when it comes to treating interviewees equitably, especially when they're all discussing the same topic.
But this simply did not occur when he interviewed Education Minister Lin Thorp, Liberal Education spokesperson Michael Ferguson and Greens Education spokesperson Paul O'Halloran on the 24th of September, about the unanimous passing of legislation to correct problems with the Tasmania Tomorrow education reforms.
The transcript of those three interviews is included below, so readers can make up their own minds, but in my mind it is obvious that Mr Bailey's treatment of the three interviewees was not equal, and he mentions this in his self-review today:
"And in a session on the Tasmania Tomorrow education reforms, the State Opposition's Michael Ferguson dumped on the Government and the Greens with a textbook example of invective bile. I was asked later by a couple of colleagues why I didn't pull him up. It was for the same reason I let Green Paul O'Halloran and Education Minister Lin Thorp indulge in a cloying love-in about the spirit of co-operation between them."
Unfortunately for Mr Bailey, that explanation is not supported by the transcript of interview. During the very short time that Paul O'Halloran was allowed on air by Mr Bailey, there was not one iota of 'a cloying love-in' with Lin Thorp. Not one. Anyone reading the transcript will see that Bailey made a fairly silly attempt at putting his own spin on the activities of the Greens, and then rushed O'Halloran off the air after giving him about one-third the amount of time that was given to Lin Thorp and subsequently to Michael Ferguson.
Invective. —1. vehement or violent denunciation, censure, or reproach. 2. a railing accusation; vituperation. 3. an insulting or abusive word or expression. adjective 4. vituperative; denunciatory; censoriously abusive.
Mr Bailey should also be aware that Hansard does not record the Liberals opposing the final Bills that made up this legislation, and despite Ferguson's tirade of invective about how awful the debate was, during the actual debate Hansard recorded him saying the following, just 45 minutes before the finish:
"Fantastic, you have a deal. I just did a deal with the Labor Government."
So on the one hand we have Mr Bailey seemingly putting his own words in Paul O'Halloran's mouth, and then trying to rush him off the airwaves after 345 words, and on the other we have Mr Bailey allowing Michael Ferguson to go on and on, to the tune of 930 words (including one long tirade of 568), without any questioning of the Liberals' failure to vote against the final Bills that Ferguson was complaining so bitterly about on his program.
"Obviously, there is still plenty of heat in this debate."
TRANSCRIPT: ABC936 Friday 24 September 2010
Presenter: Garry Bailey
Interviewees: Education Minister Lin Thorp, Liberal Education spokesperson Michael Ferguson and Greens Education spokesperson Paul O'Halloran
Garry Bailey: We have finally got through Parliament after a marathon 10-hour debate Tasmania's college reforms – the Tasmania Tomorrow reforms. This was looming as a major flashpoint between Labor and the Greens. The Liberals were obviously trying to drive a wedge between the two but compromise apparently has been reached within Government and the legislation is through. Of course, it still has to go through the Upper House. We will obviously have to revisit the political arguments today. We have, first of all, Paul O'Halloran. What will these changes actually mean for students?
Paul O'Halloran: Fundamentally, what they mean is a win for learners and teachers, and what the passing of this Bill last night will mean … it will provide certainty for the educational community to move forward from three years of division which has been Tasmania Tomorrow. Clearly what had happened is the community has lost confidence in the process even though the original objectives of Tasmania Tomorrow, that is, increasing retention rates, increasing levels of educational attainment and increasing work skills readiness are absolutely fundamentally critical for the future of this state. Now, the passing of this bill with tri-partisan support and the political unity that that will provide – and I do thank Mr. Ferguson and the Liberals for agreeing to pass this Bill last night, because now the whole community can move forward with confidence in the certainty that politicians will not undo the changes that will be made.
Garry Bailey: You were a trenchant critic – oh, well, the Greens were trenchant critics of the original system of Tasmania Tomorrow. It appeared you will be siding with the Liberal Party to make some major changes. Where have you compromised on this to get it through?
Paul O'Halloran: Actually, I don't necessarily agree with what you've just said.
Garry Bailey: I didn't think you would.
Paul O'Halloran: There were minor changes around some words that we used, and Mr. Ferguson will probably articulate what those were. We were happy to accommodate the changes, and so were Labor. And I guess Minister Lin Thorp will outline that in a few moments. But certainly it was really critically important to us and to Labor to provide the certainty that I talked about a while ago so that we can move forward with confidence.
Garry Bailey: It not only provides certainty within the education system but it certainly provides some political certainty for Greens and Labor in their current partnership.
Paul O'Halloran: It certainly does that. This is a victory for demonstrating outcomes that a power-sharing government can deliver. So we entered into good faith negotiations with Labor, we also consulted with the Liberals, and we were able to get many of the policies around post year-10 education into the bill. If you look at issues like restoration of the integrity of colleges, abolishing the academy and polytechnic boards, returning colleges to the Education Department, a single enrolment centre, local leadership backing colleges, control of budgets and staff management, the whole lot coming under the Department of Education, what we have now is a unity with all post year-10 education that was not there before.
Garry Bailey: Paul, we'll have to leave it there.
Paul O'Halloran: Can I just say one other thing?
Garry Bailey: Yes, briefly.
Paul O'Halloran: I'd just like to thank all the people who have been involved in the Tasmania Tomorrow restructuring, that is, the leaders in education. They have worked tirelessly and conscientiously to implement these changes. And a lot of the good work will not be lost in this restructure. So what we will do is we will learn from the good information. I know these people, many of them are my friends and I've worked with them before. I would like to thank them wholeheartedly and I know that they will be involved in the current transformation.
Garry Bailey: Thank you Paul for your time. Lin Thorp, the Education Minister, is on the line. She has had carriage of this legislation. It's been a tough one. As you know, we've had three years of a great deal of friction over the future of our colleges and college reform. Lin Thorp, the obvious first question is: When a student walks into college next year, what will be different for them?
Lin Thorp: One of the main aims we've had throughout this whole process is to make sure the education of our students is not being interrupted so huge efforts have gone into making sure that it is business as usual for, particularly, families and their students going into 2011. The changes that Paul so well articulated are fundamentally structural but also around things like the retention of the college identity – or, in some cases, the bringing back of the identity of individual colleges because there's a lot of passion in the community for identifying with the local college. So I am delighted that the legislation went through last night. I think we need to remember what the original plan for post year-10 reform was about, and that was about the simple fact that 86 per cent of jobs in Australia require a post year-10 qualification and, in Tasmania, less than 50 per cent of our people have that level of qualification, so it certainly wasn't acceptable, but it did become clear. And, of course, that was clarified coming up to the election that the implementation hadn't gone as well as it could. To that end, we worked very closely with the Greens. And I have to praise Mr. O'Halloran – he has been tireless in this effort. We have consulted widely and then came to an agreed position – gave it to a group called the Implementation Advisory Taskforce that was made up of people from all the relevant unions and stakeholders to work meticulously through the implementation of the changes planned, and every issue that they raised has been addressed. So I am really confident that with the cooperation of the Legislative Council, next year we can move into a yet even better phase in our post year-10 education.
Garry Bailey: But I guess we should tell people that this is not a change in any curriculum. Even through these three years of turmoil, nothing has changed actually in the classroom.
Lin Thorp: One of the fundamental good things about the original reform was the access for students to a wider range of subjects. There was a quite marked division between those subjects one could do at college and ones one needed to go to TAFE for. By removing that quarantine between the two institutions and forming a polytechnic, it meant that students could leave grade 10 and go straight into a career pathway of their choice. That's been the case in those colleges that moved to the new model for a year – and, in some cases, nearly two – now that will be available to all students. The hard copy course guide is available to students this week. And it's the first time we have ever had a course guide that is statewide, not specific to one institution. So the breadth of choice for students is fantastic, and it means there is much more chance of a student getting a course that they really want to do and seeing it through to the end. And that's what it's all about: meaningful, real education that has outcomes that students really need.
Garry Bailey: The original reforms were aimed at increasing Tasmania's retention rate in years 10 and 11?
Lin Thorp: Yes.
Garry Bailey: Now that we've got these further reforms through, are you suggesting that that retention rate will keep rising?
Lin Thorp: I am confident it will. We were already seeing early signs of that. And I think when we talk about retention and attainment we have to be really clear what we are talking about. Just turning up at the first day of year 11 and then leaving at the last day of year 12, one might say, oh, that person was retained through post year-10 schooling.
Garry Bailey: Well, these …
Lin Thorp: But they don't necessarily have a qualification at the end of that time. That's what the changes were about.
Garry Bailey: And some statistics have been suggesting our retention rate has been going. But, of course, that may well include those sorts of people. Are we getting accurate data about retention rates through the colleges?
Lin Thorp: One of the problems and difficulties for some in the education community has been a lack of confidence in the data. And there has been a lot of work going on through the TQA to ensure that our data is accurate, so that will only improve as well.
Garry Bailey: Yes, but again, on retention rates, by the time you get to year 10 some people say, well, that's rather too late to start attacking a retention rate. Should we be tackling it at the other end – the early years?
Lin Thorp: We have students beginning to absent themselves from class as early as junior primary school. And another passion of mine is making sure not only do we work with the hard end, if you like, of education but we make sure that all our students right from the very, very early days get a good opportunity to stay engaged with the schooling. That's why the Launch into Learning program is showing such good results in the early and pre-school years. And the work that is going on in primary schools and coming through into high schools with Raising the Bar, Closing the Gap, which is about improving literacy and numeracy, all these things working together mean that our students are more engaged with education, see the relevance of it and are very much more a chance of them staying through to year 12 and getting a good qualification.
Garry Bailey: Now, I am going to go down a bit of a side road here … but it's a current one … with the Education Unions suggesting that there ought to be plan for older teachers to retire a little earlier to give that opportunity for that new cohort of education graduates to get a job in Tasmania.
Lin Thorp: I have heard that. I'm having a meeting with Leanne Wright later today and that will be one of the subjects of our conversation. But it was highlighted through the incident that occurred at Dover recently that what we need to have is a long-term workforce plan for teaching. We need to be very clear about who we have in the system at the moment, what demographic changes are going to be into the future both with our students and our teaching population and make sure we've got plans in place not only for science teachers and moths teachers but LOTE and drama and all those other subjects that make our curriculum so rich. Now, I've already started that work with the support of the Principals Association and I am sure the community will have lots of input into it.
Garry Bailey: Lin Thorp, thank you for your time. And now Michael Ferguson is the Opposition spokesperson on Education and a very strong critic of the original reforms. The Liberals are very determined to get some changes here. Are the changes that have gone through, are they in line with generally what you wanted?
Michael Ferguson: Absolutely not! The Liberal Party is entirely dissatisfied with not just the substance of the bills but also the manner in which they are conceived. And I tell you what … I've just listened to 15 of the worst minutes of this programme this week.
Garry Bailey: I have to say, it sounded like a tripartite love-in the way Paul O'Halloran was talking about it.
Michael Ferguson: What a lot of rubbish, Mr. O'Halloran saying we supported the bills in a tri-partite fashion last night. That's why the debate went for 10 hours.
Garry Bailey: Yes, a 10-hour love-in would be a bit ridiculous. Let's face it.
Michael Ferguson: Entirely ridiculous. I just wish your listeners had a spare 10 hours and they could have joined us yesterday to watch from the gallery like the Minister that's just spoken, who doesn't belong in our House but sat in the dock, and her face looked like thunder the whole day because she did not like what she was hearing from the Liberal Party. And the Labor Party and the Greens were so united in their disaffection with the fact that we wanted to scrutinise these bills. Your programme doesn't have enough time for me to sort of unload everything that could be said …
Garry Bailey: I'll have to keep it short.
Michael Ferguson: It has to be said, it's been six months since the election. It's been five months since this Minister was appointed, and it's been three-and-a-half months since the dodgy deal between the Greens and the Labor Party. For the Greens to be allowed to walk away from their election promise to genuinely restore our colleges … and I use the word genuinely …
Garry Bailey: Now, can we get to that …
Michael Ferguson: And also to restore TAFE.
Garry Bailey: Can we get to that point: What are the changes you required to support this bill, and what are the things you haven't got?
Michael Ferguson: What I just wanted to say at the end of my previous comment was … and two days … two days for the Liberal Party in Opposition and for the Tasmanian community to consider these bills. So all of that time that's gone by, we've been badgering the Minister: "Where is the legislation … where is it … where is it?" It did get in on time … on the date that she promised … but then they forced it through the Parliament in just two days. That was quite terrible that the Greens would allow that, and support it, and even change sessional orders to force it through last night. So you've asked me what changes we would have wanted to see.
Garry Bailey: What are the structural changes that you would have wanted to see?
Michael Ferguson: What the Liberal Party and the Greens shared in common in terms of policy prior to the last election, I'll encapsulate by saying this: we wanted to genuinely restore our colleges. No system is perfect and nobody in the Liberal Party, least of all me, is trying to say that what we had in our colleges three years ago was perfect. But it was a hell of a lot better than we've had for the last two years. We wanted to genuinely restore our colleges, and to achieve that would have meant the abolition of the statutory authorities and the entities called the Academy and the Polytechnic. We would have done that. And the Greens said they would do the same. Well, guess what, the Academy and the Polytechnic remain and we will still have that structural division in legislation. And it's that doggedness from our Premier, because this was his brainchild – this was his great messianic legislation and program to get through before he was made Premier. The Greens have walked away also from their commitment to restore TAFE. Now, the Liberals' position wasn't to restore TAFE, but it was 90 per cent of restoring TAFE because we were going to subtract away from the Polytechnic which we would have abandoned. We were going to subtract the adult learners from the Polytechnic and take them back to the Skills Institute. Now, that's effectively 90 per cent of what the former TAFE was, and you know what, the Greens had the opportunity because we tabled a bill on 4 May this year which would have achieved those things. And now I understand. I mean, I was so silly. I was so foolish. Because in my naivety, I pursued Mr. O'Halloran relentlessly to brief him on the bill and now today I understand why he was avoiding me … so determined. The Greens have chosen to walk away from their promise, and whenever next Mr. McKim in the Parliament dares to say that none of the Greens policies have changed, he will be hearing from me first. And I do take umbrage to hear Mr. O'Halloran claiming that it was tri-partisan because he's been the biggest compromiser of all. How dare he claim on the day that this legislation was tabled just three days ago, how dare he claim that he was involved in it. Because when I discussed amendments with him last night … by the way, very unusual for Opposition to get amendments up, but this legislation was so dodgy we had to do the Government's homework and fix it for them – and Mr. O'Halloran had no idea. He had no idea of the matters I was raising with him. It was like it was being opened up to him for the first time. So, frankly, I am disgusted. And I think anybody, no matter what your previous voting pattern has been, if anybody had at the March 20 election any confidence that voting Green might mean that we could deal with this problem in a proper way and with integrity, they should feel very, very let down. That is why we voted against it, because it was not just the substance of the bills which while I said were a marginal improvement were inferior, but, secondly, it's the nature and the manner in which that legislation was brought before the Parliament. It was a dodgy deal.
Garry Bailey: Thank you Michael Ferguson. We have to leave it there. Obviously, there is still plenty of heat in this debate.
*Metternich:
"Metternich simultaneously grew up in Austria, and in Hobart, first during the 18th Century, and later during the 20th century. He is an avid cricket player, writer, gardener and renowned expert on foreign policy. He is an inspiration for all his pets, and for Henry Kissinger."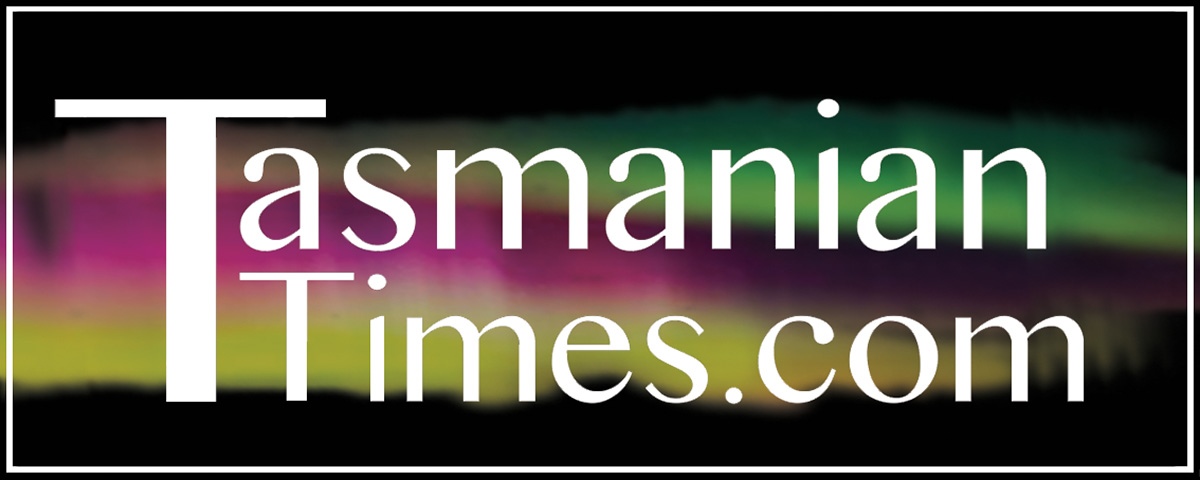 Author Credits: [show_post_categories parent="no" parentcategory="writers" show = "category" hyperlink="yes"]