"La Lucha" is a word you hear a lot here, it means 'the struggle', and it has been this way for centuries.
Some background
El Salvador is located in Central America and is Latin America's most densely populated country. It has a population of approximately 7 million with about half the area of Tasmania with an estimated 37% of the population living in rural areas. The impact of civil wars, dictatorships and poverty has driven up to 3 million Salvadorans to other countries.

Patricia, Fernando and Victor … and a TT T-shirt!
El Salvador is a very poor country with a very small middle class. Predominantly people are either rich or poor. Like most Latin American countries El Salvador has endured 500 years of exploitation, slavery and official or effective foreign rule. In 1932 the poor, many of whom were indigenous, began to rebel for agrarian reform and basic human rights. Government forces massacred approximately 30,000 people, mostly indigenous, during this time. Older indigenous people still hide their race due to fear.
A 12 year civil war began in 1980, which was again effectively the poor fighting for agrarian reform and basic human rights, such as being able to feed their children, not receive regular beatings and suppression from the National Guard and not having to let the big plantation owners of the oligarchy take their daughters' virginity to ensure they wouldn't lose their slave wages.
It was this civil war that took several thousand Salvadoran refugees to Australia. People in the rural areas where the projects are have very high opinion of Australians and their generosity because of this. During the Civil War boys were stolen from their mothers as soon as they were 12 to fight for the oligarchy. It is rare to meet people here who have not been profoundly affected by the Civil War and lost relatives or limbs.
The country has been left ravaged. Much of the water is contaminated, most productive land is still owned by a handful of people who pay workers a pittance and most people can't afford to shop at a supermarket. Food therefore, has to be produced in small quantities on land that is not owned by the wealthy few.

Dense living in San Salvador
Unlike in many other poor countries, consumer goods are not cheap here. A trip to the supermarket reveals prices that are generally higher than in Tasmania. This may not seem shocking until you consider that people who work cutting and collecting cane sugar or coffee, (the most common form of employment in rural El Salvador) earn about $4 a day. Part of the expense of goods has been caused by the shift to the US Dollar nine years ago and not surprisingly, many of the goods for sale are US made.
This is one of the reasons people need the means to produce their own food or food for their community. But even this is difficult when people don't have the financial means to get started and approximately 80% of the land is owned by 15 families and either not used or used for the production of sugar or coffee for export.
Despite the continued strength of the old oligarchy in El Salvador the main right wing party Arena lost the last election, to the Left wing party Farabundo Marti National Liberation Front (FMLN). This is particularly impressive considering the influence over the media the wealthy Arena Party has and that they traditionally bring thousands of people from neighbouring countries, such as Guatemala and Nicaragua, with false IDs over the border at election time to vote for them in marginal areas.

Local house in Marranitos
This is the first democratically elected left wing government in El Salvador. The FMLN Party would argue that this is the first time in 500 years that El Salvador has had a government that is governing for the good of its people, rather than a few powerful families and foreign interests.
But foreign help is now needed. When the outgoing government realised they were going to lose, they spent a year's budget in six months, leaving the incoming government with very little for their first six months and many wondering where the rest of the money has gone. The challenge to improve lives in El Salvador is so great that every little project is significant.
People in El Salvador generally have to survive day to day, and as such, cannot afford a small plot of land, a pump or piping for irrigation, chickens to produce eggs, a boat to go fishing, let alone pay to see a doctor or a dentist.
Simple projects such as installing a well and pump so that an area of land can be farmed or building a chicken house and buying a few hundred chickens can be achieved with what to us, is not a great deal of money. Yet projects such as these can employ several people and greatly benefit many families.
I have heard it said more than once that people don't live here, they survive. Your help can ensure people live.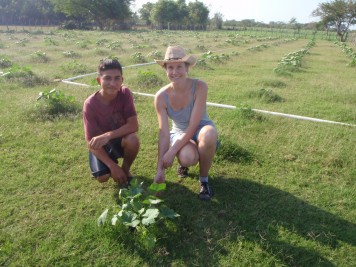 Alex and Anna with a successful field of zucchini. The farmers leave the grass in the field as zucchini only needs about two months, meaning they can use the field for cattle as well
Projects
The majority of people live very basically in El Slavador. Generally having enough food (not necessarily nutritious food) puts people in to the category of those who are 'doing well' and these households are effectively considered middle class. The majority struggle for basic nutrition and health.

It is important to note that the projects are not about giving money to people and making them dependent on aid. They are focused on giving people a leg-up so they can become self sufficient by producing food for themselves and potentially even a regular income. The projects simply provide opportunity and a means to social sustainability.
The projects are undertaken by locals, very occasionally with some help from overseas volunteers. They are organised and supervised by local community leaders, who also help with the work. Labour is generally free as work is undertaken in free time and by unemployed or volunteers.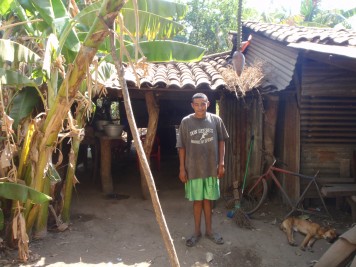 The home of Franklin and his family in Las Isletas. This is a good home, considered middle-class here. The owners have about a hectare of land and can grow and sell vegetables
The projects TasTimes readers can help with are in La Paz Department (Region) of EL Salvador, in the Municipality of Zacatecoluca. Most projects are being established in rural villages to the south of the Capital, such as Las Isletas, Marranitos, San Vicente, San Jose de la Montana and Santa Julia. This area is approximately an hour and a half by car from San Salvador, the Capital of El Salvador.
Zacatecoluca is the capital of the La Paz Department of El Salvador. There are about 316,000 people living in La Paz mostly rurally, and approximately 62,000 in the Municipality of Zacatecoluca. It is located in Southern El Salvador, in the Rio Lempa valley, at the foot of San Vicente (Chinchotepec) Volcano. Zacatecoluca is known as the birthplace of Jose Simeon Canas, who fought for and secured the emancipation of slaves in Central America by Spaniards in 1825.
The area is very hot and dry in the summer months. There are large areas of sugar cane that are owned by a few of the rich ancestral land owners of the country. The vegetation and animals are typical of tropical countries, with mango and coconut trees reasonably common. Sleeping volcanoes lie a short distance inland from the coast. It didn't make the news much in Australia, but Hurricane Ida was cruel to this area too, with houses getting washed away along with livelihoods.
Chickens
Building a hen house and filling it with hens can employ two people (to collect, clean and sell the eggs) and benefit several families. A decent hen house can be built for about $500 and chickens can be bought for about $350 per 100.

New chicken home waiting for money to purchase chickens
Water to make the land produce
The land is very dry for the six months of summer, but there is plenty of water approximately 8 metres below the surface. A pump system can be bought for around $700. Then piping, hose and seeds can be bought to create productive areas of land.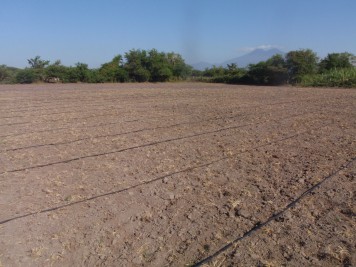 Drip irrigation installed in a field in Marranitos with the help of TasTimes (James and Anna)
Health Clinics for the poorest communities
One of the first things the new government did was to identify the 32 poorest communities in El Salvador for special attention. About $2000 can send a team of local and overseas doctors and dentists who volunteer their time and skills, to poor communities for a day. Many of these communities have never seen doctors and dentists and the clinic days can treat several hundred people in a day. These clinics are organised by the Non Government Organisation FUDECOM.
Alcoholics Anonymous Counselling and Advice Centre
Despite the fact that no one can afford it, alcohol is a problem here. A cheap and highly unhealthy drink is made from sugar cane, which produces escapism from the pain of poverty, ill-health, broken homes and occasionally violence.
Women's Small Market Garden
Five women to be employed growing and selling plants for food and flowers.
Other recent projects with overseas assistance
Purchase of a boat for fishing – employs three people and provides food for the local community.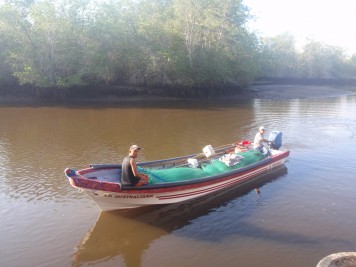 La Australiana – Purchased by a Salvadoran man who has returned to El Salvador to volunteer his time and money after living in Australia for 26 years. He is forever grateful to our country for granting him refugee status and a home after he escaped the civil war.
Building of a bridge to link two villages by road – makes sharing of resources easier, allows people to trade produce and increases access to education and services.
Regional football tournament – helps bring communities together and encourages young men to do things other than joining a criminal gang. Tassie Times Editor at Large and partner Anna were guests at the most recent tournament with Anna kicking the ball to start the tournament and James standing out as the tall white guy playing for one of the teams that got knocked out early (possibly because of James). There is soon to be a female tournament.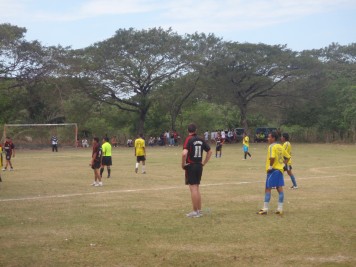 TasTimes takes to the field
Benefits
The benefits of taking a medical and dental clinic to poor villages where there is no access to these services does not need to be explained, but the benefits of the other projects may be less obvious.
Giving communities the means to produce their own food helps the community in many ways. It reduces dependence on imported goods that are too expensive. It provides greater employment or work, meaning a reduced tendency toward crime, gangs and alcohol and substance abuse. Access to decent food creates better nutrition, which reduces illness and disease. It also improves living standards, self-belief and community pride.
Due in part to the lack of money for high-tech farming equipment and chemicals, respect for the scarcity of water, the use of traditional farming methods and the tendency to reuse and recycle everything, these small farming projects are highly environmentally sustainable. For example, home grown corn is used to feed the chickens, the chicken manure is used to fertilise the crops and parallel hoses with small holes are used to direct the right amount of water directly to each plant in a field of vegetables or fruit, without wastage.

Ploughing and planting
This is in stark contrast to the large sugar cane farmers, who, to save paying local peasants $4 a day to cut the cane, set fire to the sugar cane crop, which burns away all the unnecessary parts of the plant and sends huge plumes of smoke across the country. They also use chemicals with little regard for the contamination of rivers that are essential for the survival of many peasant communities.
How do you know your donation has made a difference?
Projects made possible by the generosity of TasTimes readers will be assisted by TasTimes Editor at Large James and his partner Anna. They will document the progress of the projects for TasTimes readers, photographing the various stages, interviewing community and government members and of course, getting their hands dirty and doing some hard work.
As such, donors will be able to see exactly what their donation achieves and meet those benefitting from it, simply by logging on to TasTimes.
How can you donate?
You can donate either by cheque or direct transfer in to the National Australia Bank account below:
Financial Institution: NAB
Account Name: James Dryburgh (Projects for the Poor – Salvador)
BSB Number: 087-007
Account Number: 893 494 334
Please send cheques to the James Dryburgh (as above) care of tasmaniantimes:
9 Phoenix St, Howrah, 7018.

It would be an amazing achievement if the community of TasTimes could give a leg-up to this community, helping bring health, joy and life to wonderful but struggling people on the other side of the world.
TasTimes readers could be responsible for example, for a whole village receiving medical and dental treatment or a community having a more sufficient supply of healthy food.
Please feel free to email any questions to dryburgh@hotmail.co.uk
Main page picture: Patricia (nine) from Marranitos, (all pictures taken by James Dryburgh and Anna Williams).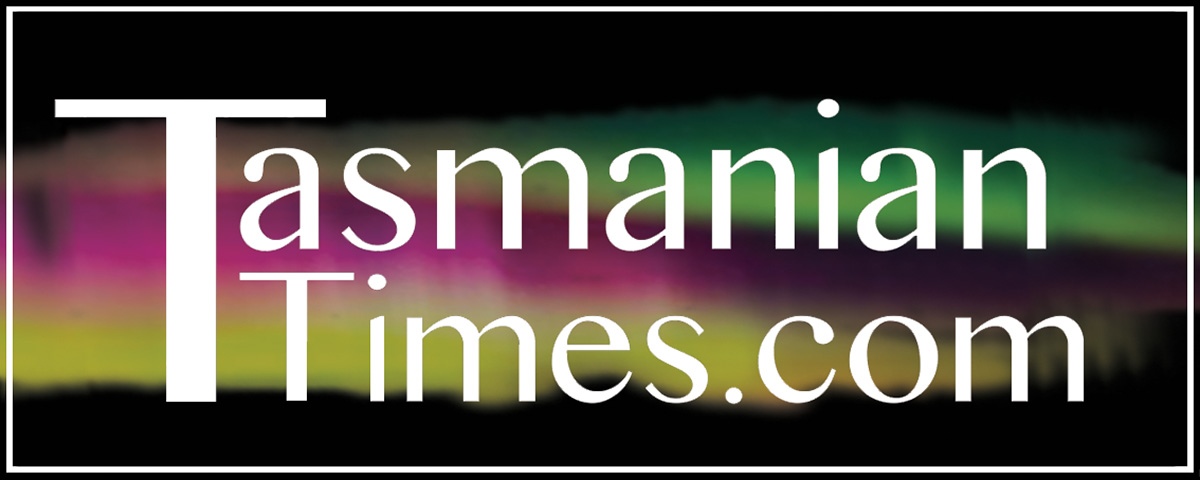 Author Credits: [show_post_categories parent="no" parentcategory="writers" show = "category" hyperlink="yes"]