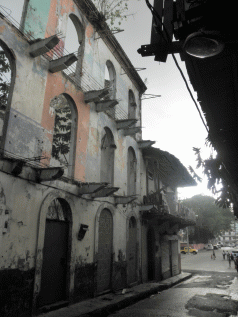 AFTER Bogota we both felt that Panama City would seem pretty tame, but it turned out to be the reverse. This place feels a world apart from Bogota.
We got a taxi straight to our hotel, which was literally a tenth the price of most of the hotels found in our web searching, apart from a few that had terrible reviews about them being brothels or cockroach ridden.
The hotel looked terrible from the outside but was ok on the inside and the air conditioning made it an oasis. We checked in and then asked where the supermarket was. We were told not to go in one direction, so we went in the other, not really understanding the directions or why we shouldn't go the other direction.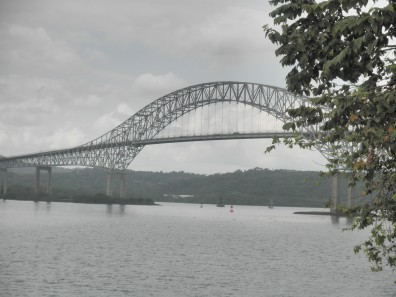 The Bridge of the Americas (links South America to Central America)
Next to the hotel was a vacant block filled with rubbish with people sifting through it and burning stuff. The streets were amazingly intense. We walked a long way along a mostly pedestrian street searching in vain for the supermarket, past people selling all sorts of stuff and with their tellies and stereos blaring Latin rap into the streets. It was becoming apparent why the hotel was so cheap, this was not an area tourists go or want to go. This place made walking through Bogota feel like a wander along Salamanca, on a Sunday morning.
By the end of our four days here, we had warned by taxi drivers, security guards, police and random punters on the street not to go into the area where our hotel was. It was a bit hard when that's where we were staying. We got proper explanations of why not later in the stay, but not before we had wondered through one of the main no go areas.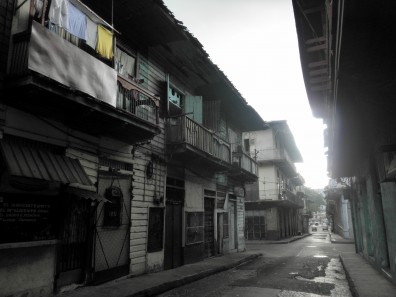 One of the street we were not supposed to enter
Casco Viejo (the old town) is very interesting. It is very run-down, though some restoration has been going on for a few years. It was obviously an area of grandeur and money at some point a long time ago. It is however mostly the decrepit buildings which make the area beautiful, the remnants of colour exteriors, the tropical vegetation reclaiming the buildings, the unstable looking balconies and the painted churches.
Old churches are a sanctuary in places like this. Suddenly once inside you escape the noise, the vehicles trying to mow you down, the people staring and pointing at you and the smell of rubbish. There is rubbish and broken cars and electrical goods everywhere, often with people sifting through it or looking for parts. Almost everywhere we have been there is a smell of urine, though I'm sure it must be something else. The whole place is so run-down, as if no maintenance has been done or money spent for 120 years. This said I did like the old town. There is real beauty in it coarseness, colours, decay and life. It feels safe and it has style.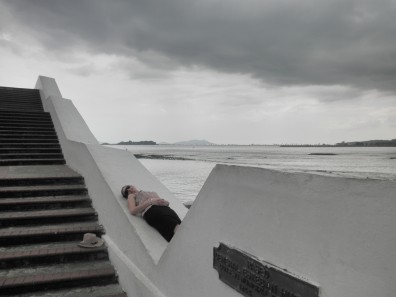 Casco Viejo
We realised that we were not all that far from our hotel so we ignored advice to taxi everywhere and walked home. To go a different way we went through the streets that we thought the hotel staff and the taxi driver may have been warning us against.
As we ventured off the more major street a young mother seemed to be telling us not to go that way, but we knew the hotel was now very close so we went on. There was a different feel in these streets, even more run-down and something more wreck-less about the decay and the people. There was a lot more staring and people stopped talking to point at us. It was a relief to get to the hotel and the armed private guard let us in. The guard looked about 16 and stood all day with his finger on the trigger of his pump-action shot-gun. The walk was an eye opener for us. It was so unbelievably run down. I had never felt so foreign. This area obviously wasn't getting rich from all the North Americans retiring or holidaying in Panama.
The next day we decided that as we'd bothered having a stopover in Panama City we should see the canal. So we wondered back to Casco Viejo to find some information, here we stumbled across the Tourism Police office. Here we met a nice guy, Juan Diego First Sergeant, though not in uniform. He had no English, but I explained that we wanted to see the Miraflores Locks and the canal but the only tours we had seen were well beyond our budget. I asked if it might be cheaper getting a taxi there and back. The next thing his boss who has been listening, suggests that he take us cause it would be safer. Both he and his boss explained that we shouldn't walk from our hotel, only taxi, as it is in a very bad area. Five minutes later we are in his car, which is a completely knackered old Mitsubishi or something of the like, with me in the front with his baton (more like a baseball bat) at my feet.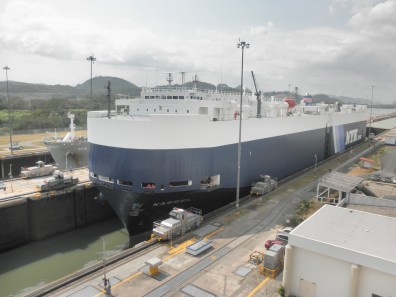 Panamax ship in Miraflores Locks
It was great because he explained to me about everything we passed on the way and I roughly translated in to English for Anna. The first thing I ask is why the area our hotel is in is so bad, as we were about to pass through this area. He explained that there is a major gang problem with a lot of rival gangs fighting over territory and crime. He said it is not uncommon for shoot-outs. But he did think we would only be shot by accident! He said we would be a very obvious and easy target for robbing. We didn't tell him we walked through there the day before having just withdrawn US$500 from the bank.
He pointed out the area where all the engineers and administration for the canal live and the Camp Clayton US military base. These were by far the most affluent part we had yet seen in Panama City and looked like a different country to where our hotel was.
The canal was impressive. Seeing the massive Panamax ships entering the lock, slowly dropping right in front of us and then leaving toward the Atlantic was impressive. The Panamax ships are named so as they are designed to be as large as possible whilst still being capable of passing through the canal. As such, there are only about 2 feet on each side of these ships when they are in the locks. Approximately 13,000 ships pass through each year, 24 hours a day, 7 days a week. The average toll is around US$90,000, which apparently is a huge saving on the cost of sailing around the continent.
He offered to drop us back at our hotel but we wanted to go to a supermarket to get things for dinner and the next day's breakfast and lunch so we just went back to the station and walked. He told us if we had any bother to call him. After the supermarket we turned off the bustling main street and headed toward the hotel, some young guys shouted at us in Spanish not to go down there. I explained that our hotel was down there. "Well be careful", one of them said.
The hotel seems to be a get rich quick scheme preying on people who know nothing about the relevant parts of Panama and don't bother to check.
On the final day we decided to see the new part of the city, the part where all the money is. This is the most anti-social city centre I have ever been to. It is impossible to walk anywhere as there aren't footpaths in most of the city and it seems to have evolved purely to serve the needs of the increasing numbers of North Americans retiring there who arrive at the shopping centres full of North American chains in their SUVs. What a soul-less place. Suddenly gang land didn't seem so bad. There is clearly a lot of money in Panama City, but equally clearly not so much in the pockets of Panamanians.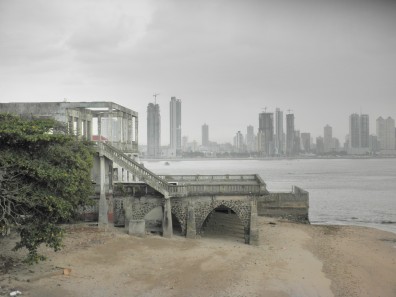 New Panama from old Panama
It is with relief that we leave Panama for our next stop El Salvador – where we will spend several months and hope to create a relationship between some of El Salvador's poorest people and TasTimes readers. More on this very soon…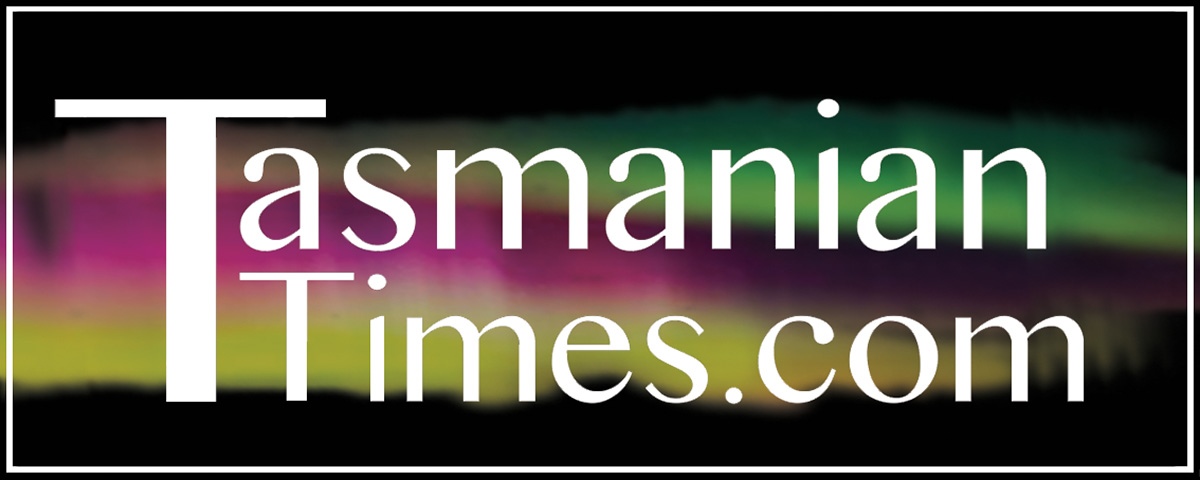 Author Credits: [show_post_categories parent="no" parentcategory="writers" show = "category" hyperlink="yes"]