Thanks Pete Henning … for tonight.
And, thanks to Sue, Tom, Richard, Rache, Richard, Mike, Allan, Harriet, James, James, David, Mike, Pete, and all you wonderful guys who have made Tasmanian Times what it is, whatever that is … A special, special thanks to my dear mate James Dryburgh, Sorcerer's Apprentice, who for the past two years has made an amazing contribution to Tasmanian Times. (He's gone travelling with Anna and will be writing from South America.) And Tasmania's foremost public intellectual Pete Hay, from whom you will be hearing shortly. (And whose wonderful speech will be published on TT soon).
I want to start tonight by quoting the observations of Stilgherrian writing on Crikey on November 26, under the heading, Is social media killing the web as we know it? (On Tasmanian Times: HERE)
No wonder Murdoch's shitting bricks. Fairfax too. Everyone in the news business, actually. It's not just the death of newspapers and broadcast media we're looking at. Even the audience for online news is plummeting.
Nicholas Moerman, a planning intern with Proximity in London, has spotted a steady but solid decline in traffic to major global websites starting about September 2008. Check his presentation. News sites, video sites, blogs, shopping — even porn. Wherever you look it's the same.
Except for social networking sites.
Sceptical? I certainly was. So here's the chart for some key Australian mastheads. (Chart!)
I reckon this is what those annoying social media experts have been predicting all along. People are passing news directly among themselves. They're bypassing the traditional news outlets — whether online or on sliced tree.
They're more interested in news from their friends and family than manufactured celebrities, too. There's only so many minutes in the day. They're spending more of them on Facebook, fewer on news media.
If people see the headline and lead paragraph passed along via Facebook, or exchange a few snarky comments on Twitter, perhaps that's enough to satisfy their curiosity. Who needs to click through to the whole story anyway?
TT is part journalism, part agitprop, part social networking … It is I believe a unique experiment … And it appears to be working… Wonderfully.
It has been there as a means of sometimes exposure but always networking when you people of the Tamar Valley confronted your darkest time …as old men, political cowards and social Neanderthals thrust throwback visions on to this most beautiful of valleys.
It's interesting … whenever there is action there is reaction. Wherever there is life, there is love and paradox.
Little Tasmanian Times is that. It began seven years ago from a frustrated conclusion that Tasmanian journalism was failing its society. An arrogant assertion perhaps. But things can only exist if they are needed. It got traction and it was sitting there as controversy after controversy hit … attempting and increasingly giving a voice to those who believed they were voiceless…
And it was there to reflect and give voice to the increasing rage over this bloody pulp mill … a throwback vision driven by bloody big egos care-less of the incidental victims. It was awful driving through Rosevears earlier today to see so many properties with For Sale signs on them; at prices driven down by the terrible uncertainty.
But again I assert, where there an an action there is a reaction …
As Tasmanians Against the Pulp Mill's Bob McMahon once put it so eloquently: "If nothing else the whole pulp mill shitstorm has generated a renaissance of creative work: the cartoons of Karl and Luke Henning, the writings of Peter Henning …"
It is creativity that has given a two-fingered salute to mainstream media pulp mill critics believe has badly let it down.
And Peter Henning once wrote: "There are times when the media takes to task those who criticize its performance, editorializing about the "public's right to be informed", and extolling the virtues of "freedom of the press". It is paradoxical in fact, that the print media in Tasmania (with the exception of some fine journalism by some of the Hobart Mercury's journalists) has undertaken the role of restricting its own freedoms, of imposing its self-limiting straightjacket on what the public has a right to read about, and what the parameters of debate and discussion should be."
Tasmanian Times was thrust into the ether in an attempt to express this frustration. I put up a few articles, notably by Richard Flanagan, Pete Hay, Julian Burnside, Bob Cheek, Hillary McPhee, Danielle Wood (actually that's not a bad little collection of writers) – after being rescued technologically by Mike Ward – seven years ago as a rage against what I saw as limited, gridlocked narrow vision, white middle aged, middle class Murdoch-tabloid journalism. And it grew organically. It isn't mine … that's for sure. It's yours. It belongs to everyone who believes every voice, however small, should be heard, in the way they want to speak it.
And it has resonated …Tasmanian Times is rather happy to report a 64 per cent increase in Unique Visitors a month in the past three years to about 20,000; Visits 50,000 (up 56 per cent); Pages 340,000 (up 51 per cent) and Hits to 1,071,000 (up 350 per cent).
Meanwhile, later in the evening the question was posed:
How do you choose a Tasmanian of the Year … ?
With great difficulty …
There are many heroes …
David Bartlett for a start …
Graeme Sturges …
David Llewellyn …
Lara Giddings…
Brenton Best…
Jeremy Rockliff …
Peter Gutwein …
Brett Whiteley …
(These nominations were less than enthusiastically received by diners).
There were suggestions from readers. For Example: Don't know who you've chosen, but you couldn't do better than Cundall for T of the Yr. he is in his 80s, out there fighting for the environment, while still doing a radio broadcast every Sat morning about gardening and keeping politics out of it.
Then there is someone like Bob McMahon or any number from TAP; indefatigable heroes of this valley's fight against the pulpmill.
I suppose you could nominate the committee of Save Ralphs Bay; you could go for the usual suspects like Bob Brown or Geoff Law.
Or the quiet achievers like David Obendorf, Frank Nicklason, Frances Daily Leslie Nicklason, Marion Nicklason.
All worthy … but not this year's Tasmanian Times Tasmanian of the Year.
For she is an OBE …
An OBE awarded from what my sketchy and inadequate intelligence reveals was for her exploits during the UK's 1982 Falklands War against Argentina.
It seems that our Dr Alison Bleaney, now St Helens GP, had a former life as Senior Medical Officer of the King Edward Memorial Hospital in Port Stanley, Falklands Islands. It seems that our Dr. Alison, while looking after her baby, supervised essential medical services and was instrumental in arranging a ceasefire in Stanley.
I love to see Alison Bleaney's name pop up on my email … And that's just about every day. Because I know this champion of public health and truth is energetically at work; always fighting, fighting against the depredations of pollutants and pesticides; fighting for healthy Tasmanian lifestyles; confronting authority, exposing authority, debating authority.
She never gives me a break … I got up early Saturday morning to finish these notes … And there she was in my inbox…concerned about endosulfan and two headed fish …
Alison, you are my hero.
You are our hero.
Please accept this award as Tasmanian Times Tasmanian of the Year.
Thank You Strathlynn: That was a superb night, simply superb. From the exquisite and very varied canapes on the deck overlooking the Tamar to the Spring Bay scallops with leek, thyme butter and pine nut gratin, the qail saltimbocca with almond skordalia and silver beet; the pan fried Nichols chicken with truffle scented potatoes and wild mushroom cream, the oven roasted clover lamb with minted pea puree and caramelized shallots, the individual pavlova with seasonal fruit and apple, and pear strudel. Simply magnificent and very generous portions. And the wine … Ninth Island Sparkling, Ninth Island pinot grigio, Ninth Island Tamar.
Wonderfully attentive and friendly staff perfectly marshalled by Christie. Thank you … you were superb! No wonder The Australian's John Lethlean raved about you: HERE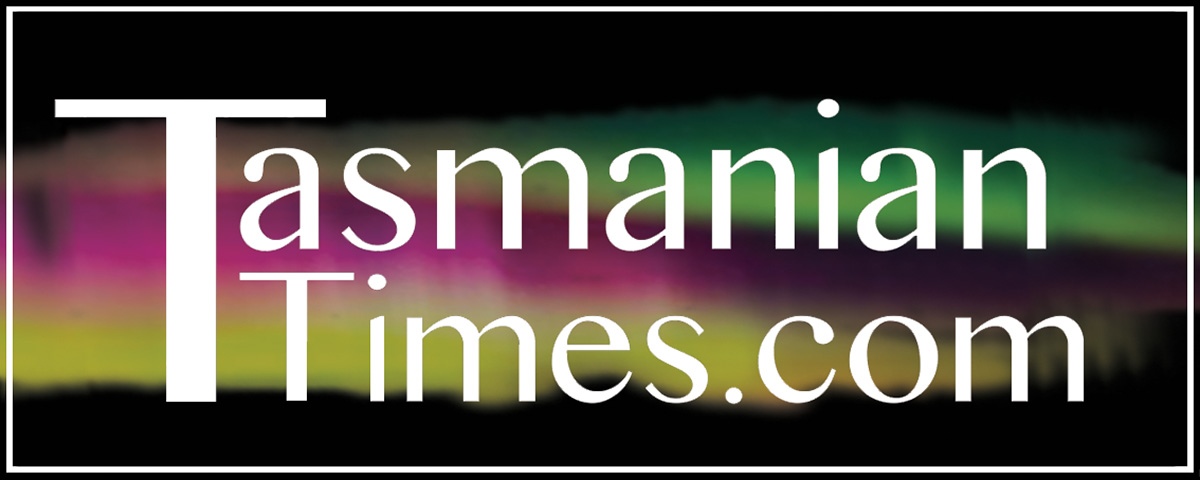 Author Credits: [show_post_categories parent="no" parentcategory="writers" show = "category" hyperlink="yes"]