Sandra Hunter, Citizen
Where once a few sawmills supplied the timber for housing, furniture and craft requirements, now we don't just select a suitable tree, we fell the whole forest, block the rivers with debris and degrade and defile them with silt and with aerial spraying. That's right ! We carve roads into pristine, magical places of boundless beauty, today resounding with the harsh chatter of chainsaws, trees crashing, bark stripping, truck loading, relentless clearing to the last frail sapling … gut wrenching!

And we don't stop there! Those familiar, cuddly tourist icons such as the kangaroo and Tasmanian devil are cruelly dispatched with poison-laced enticing carrots, a slow death at the altar of man's greed. Yet still we maintain the mantra of "clean, green and clever", a disguise fooling few.

Now retired and still calling Tasmania home, we have found relative paradise on the banks of the beautiful Tamar river; yesterday rain-pocked and sullen beneath angry grey clouds and today reflecting glistening blue skies with water edge communities dotted haphazardly like beads on a rural tapestry.

But the threat continues …
WE MOVED to Tasmania in 1965 intending to stay for a couple of years; two young, empty pocketed, starry eyed "blow-ins" on our big adventure.
Arriving in Hobart by ship was a jaw-dropping experience of the brilliant blue harbour dominated by the rugged snow-capped Mt Wellington, the city hugging the lower slopes to the water's edge in stupendous beauty!
Employment took us to the highland areas of this magnificent island and there we experienced our first snowfall, witnessed rainbows arching over soaring crags and valleys and explored wild rain-soaked forests. We viewed with awe the grand majesty of towering trees, immensely girthed, their strong upright trunks and gnarled spreading branches clothed in soft, thick green lichen.
Beneath the dappled canopies, hidden amongst the dense, fern clad slopes, trickled streams of cold, crystal clear water, home to the platypus and drinking fountain for wallabies, possums, devils, quolls and many more Tasmanian animals.
Those halcyon days are now memories of hushed amazement in deep, leaf-darkened ravines or exultant climbing success on a pinnacle, joyously calling and awaiting our echoed replies.
BUT! We were indeed privileged as this heritage is not for our children, grandchildren or those still to come. Our generation's materialistic grab has seen to that!
Where once a few sawmills supplied the timber for housing, furniture and craft requirements, now we don't just select a suitable tree, we fell the whole forest, block the rivers with debris and degrade and defile them with silt and with aerial spraying. That's right ! We carve roads into pristine, magical places of boundless beauty, today resounding with the harsh chatter of chainsaws, trees crashing, bark stripping, truck loading, relentless clearing to the last frail sapling … gut wrenching!
And we don't stop there! Those familiar, cuddly tourist icons such as the kangaroo and Tasmanian devil are cruelly dispatched with poison-laced enticing carrots, a slow death at the altar of man's greed. Yet still we maintain the mantra of "clean, green and clever", a disguise fooling few.
Now retired and still calling Tasmania home, we have found relative paradise on the banks of the beautiful Tamar river; yesterday rain-pocked and sullen beneath angry grey clouds and today reflecting glistening blue skies with water edge communities dotted haphazardly like beads on a rural tapestry.
But the threat continues!
Our trees have been clear-felled, loaded, trucked, chipped, exported. In their place we have monocultures of eucalypts and pines bereft of soft-footed animals or trilling birds.
Proliferating, silent, poisoned places!!
NEWS ITEM:
It is proposed that a pulp mill will be built at Long Reach on the eastern bank of the Tamar River.
The mill will process between 3.2 – 4 million tonnes of native forest woodchips annually. Pine and eucalypt from plantations will also be used.
It is expected to use 26 billion litres of fresh, clean water each year, to be pumped from the Trevallyn Dam over 40 kms away. This water will be used once only and there is provision for 40 billion litres in the future.
The bleaching chemicals may include but are not limited to, oxygen, hydrogen peroxide, sulphuric acid, ozone and chlorine dioxide. Each of these chemicals could be manufactured on site …
Effluent will be discharged 3kms. into Bass Strait, adjacent to nearby northern beaches and the mouth of the Tamar River.
The chimney stack will be 100 metres tall.
It is highly unlikely but possible that it may emit some "fugitive odours" (What????)
It will downstream process and value add.
Like everyone else, we use paper, furniture and other wooden items. We agree that we need to process our woodchips here in Tasmania … but again we have got it wrong!
This is the wrong mill. Not clever, not clean and it is to be built at the wrong site. Residents within the 50km. airshed should not need to fear for their future health, wellbeing and lifestyle.
The downstream processing? Yes, that will occur But in addition to the woodchip exports.
The value adding?
Our trees are sold at an undisclosed cheap price to Gunns who then on-sell and make huge profits while Forestry Tasmania struggles.
These are my forests, your forests!
Tasmania's blinkered "vision" marches on unabated as we masquerade under our clean, green and clever imagery, but sadly we continue to watch and wait in profound despair!!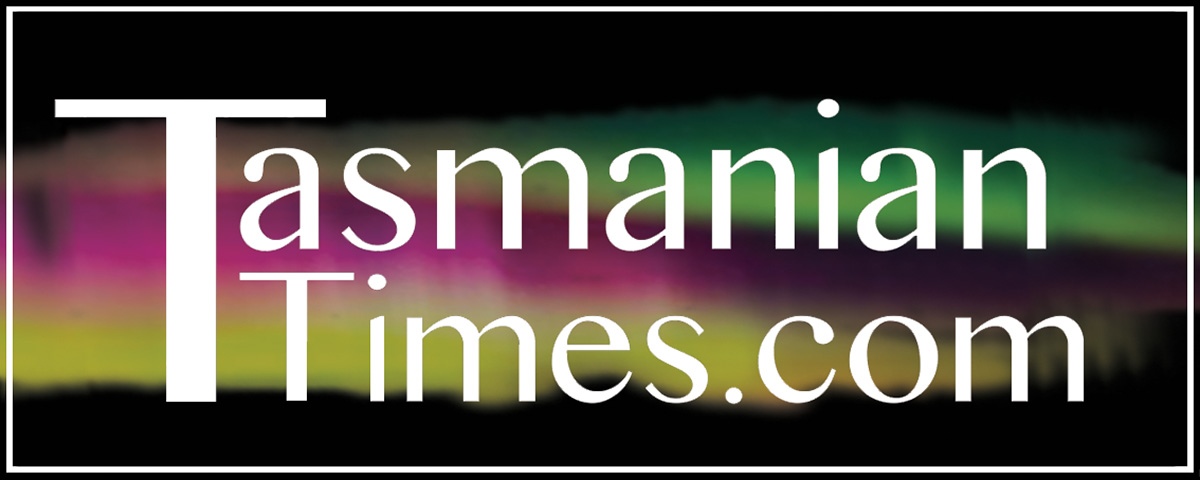 Author Credits: [show_post_categories parent="no" parentcategory="writers" show = "category" hyperlink="yes"]