The opening of Korongee Village in Glenorchy marks the beginning of a new era in dementia care in Australia, according to the owners.
The facility is based on a small house model design and utilises a tailored matching process to select houses for new residents. This tailoring addresses the challenges of institutional care and leads to increased social engagement opportunities and enhanced wellbeing for residents.
Glenview CEO Lucy O'Flaherty said Korongee is a game changer in addressing the big social challenges of dementia. "This is an opportunity with a brand new site to create something special," she said.
"Residents will live with others whose values they share. The entire village has been built with dementia design principles throughout, so a sense of everyday familiarity is much easier to maintain."
Korongee features 12 houses in four cul-de-sacs, a community centre, gardens, a general store, café and a wellness centre.
The unique design of Korongee, and the way its residents are cared for, is centred on evidence that supports small house living. An important element of this model is the inclusion of familiar sights and natural spaces which can have a huge impact on overall happiness, health and wellbeing.
Because of this, the landscape of Korongee reflects dementia design principles, providing residents with multiple visual cues to help them easily find their way around the gardens and village grounds.
"The design of Korongee has been created from its inception with careful consideration of research, technology, dementia design in both internal and external environments, as well as calling upon known and emerging good practice themes," said O'Flaherty.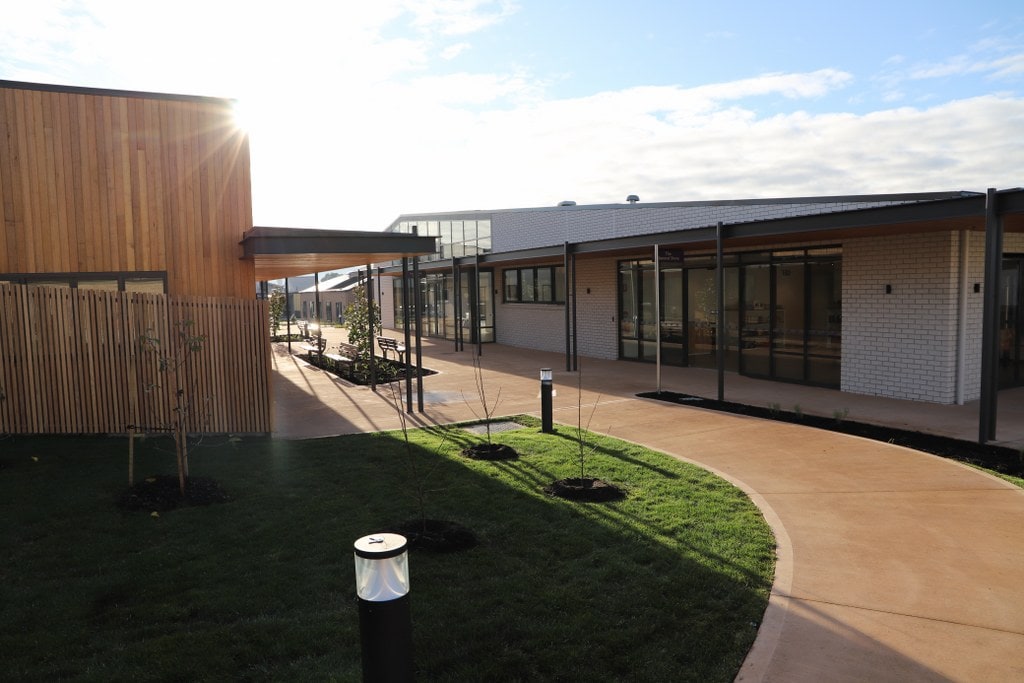 Industry super fund HESTA has invested $19 million into the Korongee project through a Social Impact Investment Trust and HESTA CEO Debby Blakey said the opening of Korongee represents a significant milestone for aged care in Australia.
"As the industry super fund for the health and community services sector, we're incredibly proud to partner with Glenview on this project and support innovation in dementia care," she said. "Korongee is a huge step forward for dementia care in this country and puts Australia and Tasmania at the forefront of a global push to improve the quality of life of those living with dementia."
Blakey also hoped the their investment in this project will encourage other large investors to contribute to Australia's impact investment market. "(This) will help address significant social challenges like dementia, and also create jobs and opportunities for our members who work in health and community services."
Director of the Wicking Dementia Research and Education Centre James Vickers said with dementia emerging as the most important health issue of the century, the rapidly rising prevalence of this condition would have tremendous impacts across our society
"It is vitally important to reconfigure our approach to care in order to meet the needs, as well as support the dignity and autonomy, of people living with dementia now and into the future," he said. "The built environment and the way we provide support and care have significant effects on personal wellbeing, as well as the progression of dementia, and so the Korongee model is a vital development and will be an internationally-leading beacon for innovation in aged and dementia care."
The first residents are moving in and the more are scheduled to arrive in the coming months.
Historical Background of Korongee
Korongee is the name of the original homestead, chosen by 1890's owners Francis (Frederick) and Emma Butler. It is probably in honour of the childhood of Emma Butler (nee Dennis) who grew up on a family property of the same name near Mt Korong in Victoria.
Korong is an indigenous word meaning canoe or boat, according to Bunce's Language of the Aborigines of the Colony of Victoria (1859).
The site once lay along the Old Main Road which had a different alignment to the present one. The Butlers established a prosperous orchard featuring apples, apricots and other fruits.
Sadly, the Korongee homestead and workman's cottage burned to the ground around 2005.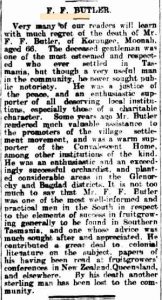 F. F. BUTLER.
Very many of our readers will learn with much regret of the death of Mr. F. F. Butler, of Korongee, Moonah, aged 66.
The deceased gentleman was one of the most esteemed and respected who ever settled in Tasmania, but though a very useful man in the community, he never sought public notoriety. He was a justice of the peace, and an enthusiastic supporter of all deserving local institutions, especially those of a charitable character. Some years ago Mr. Butler rendered much valuable assistance to the promoters of the village settlement movement, and was a warm supporter of the Convalescent Home, among other institutions of the kind.
He was an enthusiastic and an exceedingly successful orchardist, and planted considerable areas in the Glenorchy and Bagdad districts. It is not too much to say that Mr. F. F. Butler was one of the most well-informed and practical men in the South in respect to the elements of success in fruitgrowing generally to be found in Southern Tasmania, and one whose advice was much sought after and appreciated. He contributed a great deal to colonial literature on the subject, papers of his having been read at fruitgrowers' conferences in New Zealand, Queensland, and elsewhere.
By his death another sterling man has been lost to the community.
– The Mercury, 7 Feb 1906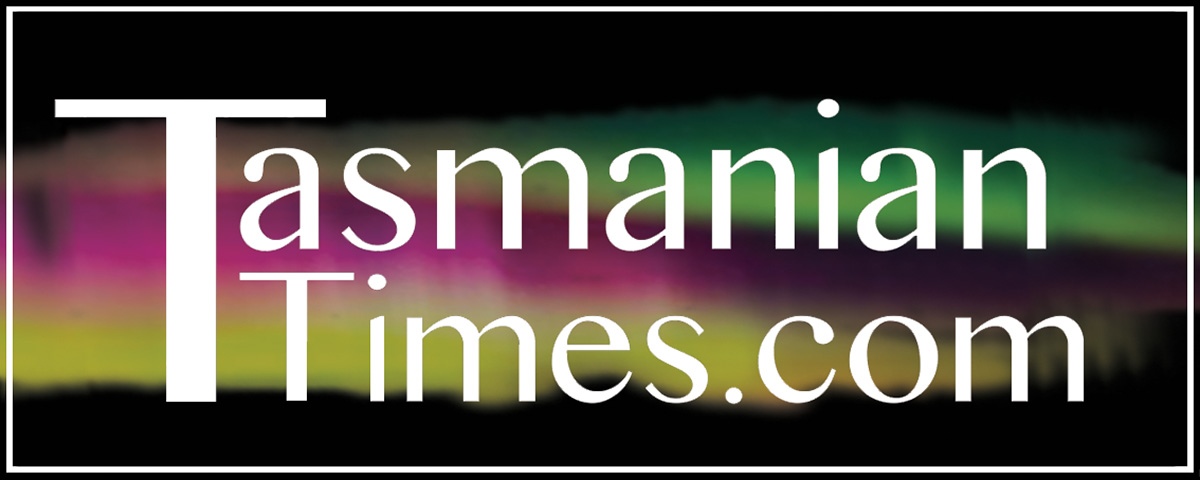 Author Credits: [show_post_categories parent="no" parentcategory="writers" show = "category" hyperlink="yes"]