Men's Sheds – while Men's Sheds have played their part in keeping their members safe and connected during COVID-19, the government is providing guidance for them to reopen their doors for up to 10 people. "Under current Public Health advice, vulnerable people such as Aboriginal and Torres Strait Islanders aged 50 years and older with one or more chronic medical conditions, people aged 70 years and older, people with compromised immune systems, and people with disability are still encouraged to stay home and protect their health," said Minister for Community Development Jeremy Rockliff.
"Men's Sheds that are reopening in this first stage of recovery need to ensure they have their Worksafe COVID-Safety plans in place to keep everyone safe which includes abiding by the social distancing rules, staying home if you're unwell and practicing good hygiene at all times. Tasmania has more than 55 Men's Sheds throughout the State and I thank each and every one for their patience in these challenging times." More information on COVID-19 Safe Workplace Guidelines is available here https://www.worksafe.tas.gov.au/topics/Health-and-Safety/safety-alerts/coronavirus/covid-safe-workplaces-framework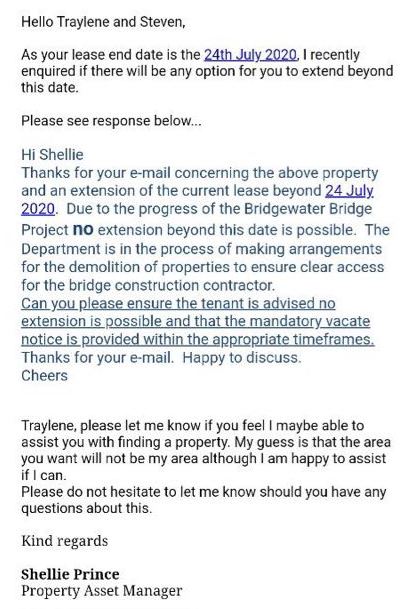 Bridge eviction? – Labor said on Friday that a pensioner couple have been evicted from their private rental home in southern Tasmania, seemingly in defiance of the government's ban on evictions during the COVID-19 crisis. Labor Leader Rebecca White said the couple were told they needed to leave their home, owned by the state government, so the government can proceed with construction of the much-delayed Bridgewater Bridge. "It's hard to know what's worst about this situation – that Michael Ferguson has evicted two vulnerable Tasmanians from their home during a pandemic, or that the reason they were kicked out was the 'going nowhere fast' Bridgewater Bridge," she said. "Traylene and Steven Bagdonas asked to be given more time, but their request was denied. Peter Gutwein and Michael Ferguson have a lot of explaining to do."
An explanation, of sorts, was forthcoming later in the day. "There have been zero evictions of State Growth acquired properties – they have been vacated as the leases expired," responded Minister for Infrastructure and Transport Michael Ferguson. "If anyone had needed a lease to be extended, they would have been." He said Labor should stop playing politics on the infrastructure project and "taking advantage of others to spread falsehoods. Clearly, having taken money from John Howard for the Bridgewater Bridge and spent it elsewhere, Labor is still allergic to the new bridge and infrastructure projects our state need."
Tenant in question Traylene Bagdonas said Feruguson was 'absolutely incorrect'. "I have an email from the real estate (agency) advising them that the lease extension will not be made extendable on the due date of eviction," she told Tasmanian Times. She provided an image of the email (right).
Police pounce on P plater – an 18-year-old 'P plater' will be disqualified from driving for four months after being caught speeding on the Midland Highway last weekend. Police from Northern Road and Public Order Services intercepted the man's vehicle, a silver Holden Adventra, travelling south at 146km/hr near Powranna about 8:15pm on Saturday. As a P1 licence holder the man is required to travel under 100km/hr, even when speed signs display a higher limit.
"As restrictions ease, we know more people are travelling on roads across Tasmania and police will be out and about to ensure drivers are doing the right thing," said Sergeant Terry Reaney. "Remember police could be anywhere, anytime in any vehicle, so please slow down and keep everyone safe on our roads." As well as being disqualified from driving the man will face six demerit points and a fine of $966.
special deal for Hobart? – Clark MHR Andrew Wilkie described as 'positive' his virtual conference this week with Deputy Prime Minister Michael McCormack, who is also the Minister for Infrastructure, Transport and Regional Development, and Alan Tudge, Minister for Population, Cities and Urban Infrastructure. He said he'd impressed upon the federal government the need to provide a significant stimulus package for Greater Hobart including the $183m of shovel-ready transport projects proposed by the region's mayors.
"It was a constructive meeting and I am satisfied that Mr McCormack and Mr Tudge understand the extraordinary challenges Greater Hobart is facing," Wilkie said. "While all capitals have seen revenue crash, the city of Hobart has been hit even harder because of the city's disproportionate reliance on the hospitality, tourism, arts and culture and tertiary education sectors. This has created ripples that compound the severe challenges being faced in Glenorchy, Clarence and Kingborough. It's very important that Greater Hobart has a direct and personal line to the most senior levels of the Federal Government and I was heartened by Mr McCormack and Mr Tudge's invitation for me to raise proposals for infrastructure spending directly with them." He said the challenge now was to 'turn words into action' to get shovel-ready projects off the drawing board.
robodebt – the announcement that the Federal Government will move to waive all 470,000 'robodebts' – debts automatically generated by Centrelink through data matching – was well received by TasCOSS. They said it confirms that the system was flawed from the start in subjecting many of Tasmania's most vulnerable to unfair, impersonal and damaging treatment. Acting CEO Ms Simone Zell said while the return of wrongful debts was welcome the damage caused is irreversible and the breaking of all trust in the care and compassion of our social security system remains.
"It will take years and considerable change to reverse the damage that has been done to people's confidence in the programs which are meant to support us when we need it most," she said. "The right thing for our federal government to do now is to apologise to Tasmanians who have been targeted by this callous and inhumane program. This must never happen again. "The robodebt program has achieved nothing but misery. Australia is better than this and we hope our federal government will reflect on this as it puts systems in place to support the many millions of Australians who now find themselves seeking work post-COVID-19."
Rio Tinto  heritage destruction – Last week's dynamiting of the 40,000-years-old Aboriginal site in Western Australia is a moment of national shame, former Greens leader Bob Brown commented. "While some of the world's most ancient human-made wonders, including a human hair plaited belt and a kangaroo bone tool, were removed from the site, the blasting of the rock shelters has destroyed forever the context in which the people who made them lived, he said. "Rio Tinto's vandalism in destroying this part of global heritage deserves the worldwide condemnation it will get, but nothing can recover this lost place for the Puutu Kunti Kurrama and Pinikura traditional owners. It is no wonder Aboriginal people feel the invasion has not ended – because it hasn't," he continued. "The most excruciating aspect of this heritage crime is the complicity of the state and federal governments from 2013 until 2020. They all approved. Such government-promoted vandalism of Australia's human heritage is continuing at a monumental scale as with the creeping desecration of the world's largest collection of ancient rock carvings at Marujuga, near Karratha, for the convenience and cost-cutting advantage of gas corporations including Woodside."
The Tasmanian Aboriginal Centre commented: "The Taliban blew up the ancient Buddhist statues at Bamiyan, Afghanistan. Now Rio Tinto has blown up an older Aboriginal heritage site at Juukan Gorge, Western Australia. Both were government-approved. One was for the profit of religion, the other for the religion of profit."
John Ashburton, chair of the Puutu Kunti Kurrama (PKK) Land Committee, labelled it a dark day for Aboriginal history. "Our people are deeply troubled and saddened by the destruction of these rock shelters and are grieving the loss of connection to our ancestors as well as our land," Ashburton said. "Losing these rock shelters is a devastating blow to the PKK traditional owners. We recognise that Rio Tinto has complied with its legal obligations, but we are gravely concerned at the inflexibility of the regulatory system."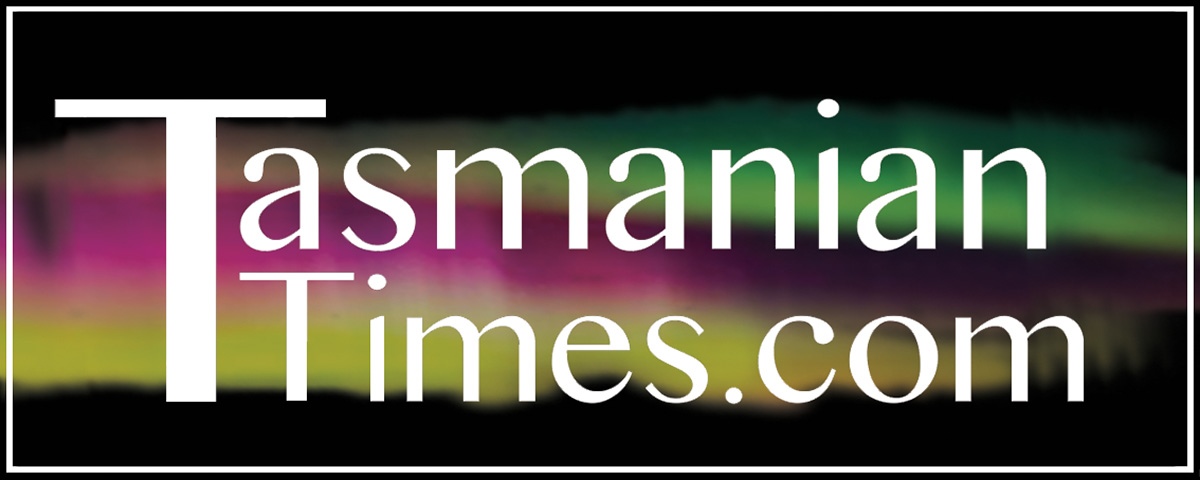 Author Credits: [show_post_categories parent="no" parentcategory="writers" show = "category" hyperlink="yes"]