nuclear future for Bass? – Senator Helen Polley had a meltdown over the appointment of a nuclear booster to Federal Cabinet. She branded the new Minister for Resources and Water, Keith Pitt, as 'the Government's biggest advocate for nuclear power and a dedicated opponent to global action on climate change through the Paris Agreement'. She demanded Scott Morrison come clean about his Government's nuclear power plan and tell Tasmanians if they will be part of a nuclear future. "It's hard to fathom – but if Keith Pitt get his way will a reactor be overlooking Tasmania?" she asked.
total fire ban charges – Police were not impressed by two men who will be summonsed to appear before the court for lighting a fire while a Total Fire Ban was declared last month. A 55-year-old man from Buckland allegedly lit several spot fires around his paddock to clear the land while a Total Fire Ban was declared, and a 39-year-old man from Orford allegedly lit a fire using accelerant to destroy rubbish on his property. Inspector Peter Harriss of the Sorell Division, said "It's important for the community to obey the conditions of Total Fire Bans when they're declared by the Tasmania Fire Service. Total Fire Bans are put in place for a reason on high risk days to limit fire in the landscape to keep the community safe. The quick response by Tasmania Fire Service in attending and extinguishing these fires resulted in no property loss or damage as a result of either fire, but there was a very real potential for the fire to have spread and put the community at risk."

hydrogen high – Minister for Energy Guy Barnett addressed the Global Hydrogen Energy Summit in Victoria to outline Tasmania's natural advantages and existing renewable resources that position the state to benefit from the emerging global hydrogen industry. "Tasmania's future wind farm and pumped-hydro developments, alongside our Battery of the Nation and Marinus second interconnector projects, mean we are well placed to be a major producer of renewable hydrogen long-term," he said. "Reports show a 1,000 megawatt facility – equivalent to supplying around 1 million homes – could be feasible by 2030, creating an estimated 1,200 regional jobs, and supporting a further 2,000 megawatts of renewable energy investment in our State. Analysis indicates Tasmania could produce renewable hydrogen 10 to 15 per cent cheaper than other Australian power grids, and 20 to 30 per cent cheaper than from dedicated off-grid variable renewables."
roads – the RACT has updated its Key Road Priorities scorecard. The card evaluates overall progress (or not) against the organisation's wishlist of big projects and covers state and federal government contributions. There is still a lot of red ink, particularly on the Bass Highway, various important roads for tourism and on road safety black spots like the East Tamar Highway. RACT President Kathryn Westwood described the stagnation of key major projects as 'concerning'. "Aside from the Midland Highway 10-year-plan – which is ahead of schedule – there has been little progress on other upgrades beyond funding under budget estimates and planning," she said. "It is vital we continue to put pressure on all levels of government to progress with upgrades across the state. They play an important part in ensuring the safety of all road users."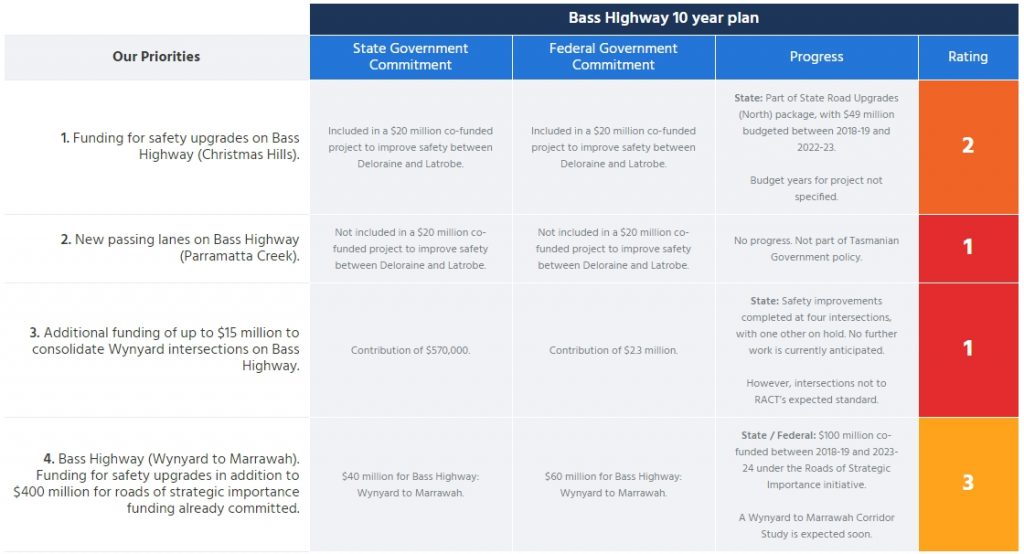 abortions – the Greens' Rosalie Woodruff criticised the continuing lack of availability of surgical termination procedures for Tasmanian women through the public hospital system. "It's very sad, but not surprising, this denial of service is affecting women from the north and northwest most severely," she said. Her comments followed Family Planning Tasmania's Cedric Manen being quoted by The Examiner as saying the current system is beset by uncertainty, with women having to travel around the state to access services in various secretive clinics. "Tasmanian women have the legal right to a surgical termination if that is their choice, and like all Australians they have the right to legal operations through the public health system. It is the government's responsibility to provide those services, and to make sure clear information about them is widely available."
Launceston crime – a drive-by shooting in Kings Meadows led Labor's Jen Butler to declare a 'serious spike in criminal activity in Launceston'. The Shadow Minister for Police, Fire and Emergency Management said communities deserve leadership from their government, not silence and inaction. "If the Liberals are serious about the safety of the community and their tough on crime mantra then they must act urgently to address Launceston's crime spike," Butler said. She cited the 2018-19 Police Corporate Performance Report which reveals that last year in Launceston total crime increased by 27 per cent, with serious crime increasing by 17 per cent. Since then public place assaults have increased a further 19 per cent.
AFL team(s) – with the release on Friday of the AFL Taskforce Report, much is being said about a proposed – still yonder in future – Tasmanian club (assuming it will be custodian to both men's and women's teams) and what will become of the state's relationship with current guest teams Hawthorn and North Melbourne. "The report outlines clearly that the inclusion of a Tasmanian team not only stacks up financially, but can strengthen the AFL by making it a truly national competition," said Premier Peter Gutwein and Sports Minister Jane Howlett in a joint statement. "We know Tasmania is an AFL state, having delivered some of this country's finest footballers over the years and our own team overwhelmingly endorsed through the United We Stand campaign." The Taskforce will now continue to be engaged for a period of time to assist the government with the next stage of their engagement with the AFL commission and club Presidents.
Hawthorn issued a brief statment, reproduced below. North Melbourne have been contacted for comment.
The Greens said they support the campaign for a Tasmanian AFL/AFLW team and welcome progress being made towards this goal. "It's encouraging to hear the AFL Taskforce report has found a Tasmanian AFL /AFLW team will be economically viable, and that it would result in a budget saving relative to the cost of the current sponsorship deals with Hawthorn and North Melbourne," said Greens' Sports & Recreation spokesperson Cassy O'Connor. "Tasmania has a decades-long track record of producing some of the country's finest football talent. Rather than sending money interstate to entice big Melbourne clubs to visit, we could be investing into the community and cultivating our fantastic home grown talent."
Independent MHA Madeleine Ogilivie is also President of the Southern Football League and welcomed the business case. "It's time for Tasmania," she said. "We have never been more united as a football-loving state, across all regions and leagues." She expected a Tasmanian AFL club to increase engagement with grassroots football.
Shadow Minister for Sport David O'Byrne said, "Labor has this afternoon received a copy of the Taskforce's report and will provide further comment once we have given it proper consideration. We have offered bipartisan support for this process, but were disappointed today at the rushed nature of the Government's announcement, particularly when the report was received in December last year."
Read our summary of the report at AFL Taskforce Backs New Tas Club.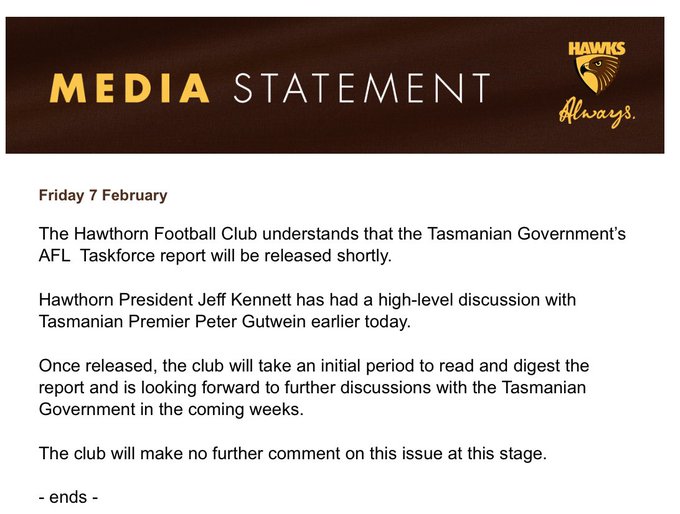 ---
If your organisation has a media release or statement on any Tasmanian issue, please send it us at statements@tasmaniantimes.com. Letters to the Editor are also a good way to let us know your thoughts: letters@tasmaniantimes.com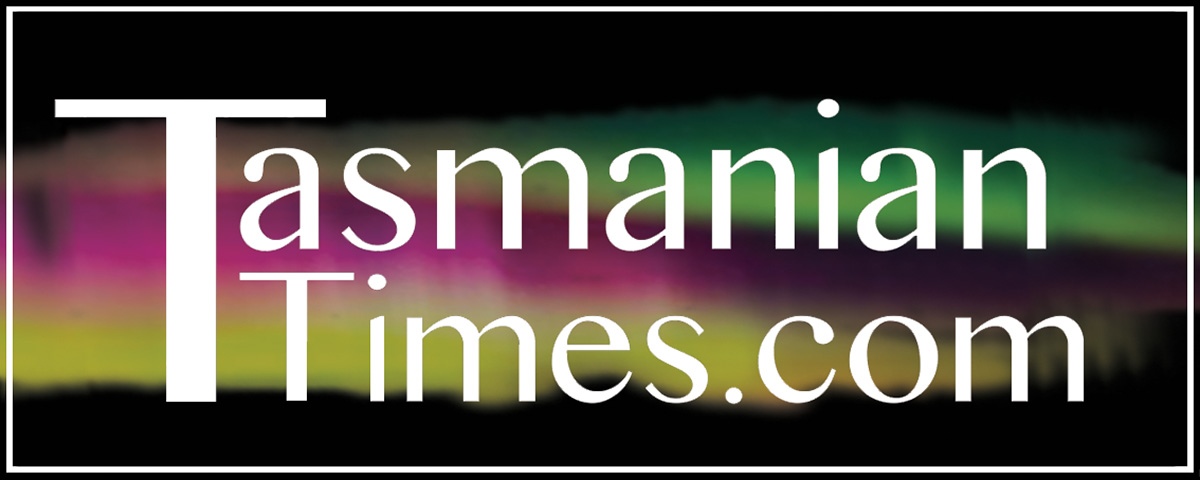 Author Credits: [show_post_categories parent="no" parentcategory="writers" show = "category" hyperlink="yes"]