All Roads Lead (Pb) to Rome    >Pioneer: town to receive treated drinking water after seven years at risk
TasWater have announced a new plan to pipe treated water to Pioneer. This comes after seven long years where residents have lived with the risk of lead-contaminated drinking water, first from the reticulated supply and then from lead-painted roofs servicing rainwater tanks.
The news came during the parliament's Government Business Enterprise committee on Wednesday 4 December. According to CEO Brewster, the plan is dependent upon the Dorset Council showing unanimous support at their upcoming monthly council meeting on 16 December.
During the meeting on Wednesday, Brewster and Chairman Gumley did not freely announce the new plan in their introductory speech of achievements for the year. It was only in the final minutes of the 2-hour GBE session, when questioned by Labor's Ms O'Byrne, that they disclosed the new plan. Both the CEO and the Chairman attempted to pin blame on the residents of Pioneer for  signing a petition in 2013 for rainwater tanks. At this time a treatment plant was not an option offered to residents.
Public Health issue
There was no admission by TasWater on Wednesday of the facts outlined in a letter last year from the Tasmanian Director of Public Health, Dr Veitch, to CEO Brewster, on 7 December 2018. In this letter Dr Veitch cited the following problems:
TasWater's failure to acknowledge 'foreseeable risk'.
TasWater's failure to apply Environmental Health Guidelines.
TasWater's breach of agreement with the residents of the town.
During Wednesday's parliamentary GBE, rather than admit to these facts, Chairman Gumley exclaimed "It was a unanimous petition [in 2013 for rainwater tanks], wasn't it!?"
Ms O'Byrne attempted to raise the details of individual cases where failed process is alleged to have occurred. But Ms O'Byrne was deflected by the CEO and the Chairman during the brief five minutes of questioning. This sweeping away included the now documented fact that TasWater were aware from their own tests in 2014 that at least three roofs were lead-painted. Only a handful of roofs were tested at this time. TasWater now assert that they 'misinterpreted' data – even though it was their long-held policy that lead-painted roofs were not in themselves a risk anyway. It was not until 2019 that TasWater tested every roof at Pioneer for lead paint following intervention from the DHHS.
CEO Brewster waited five months from the time of the letter of overrule by Dr Vietch and DHHS before he wrote to invite residents at Pioneer to participate in the first-ever complete testing program. Twelve months on from Dr Veitch's letter of overrule, not a single roof has been replaced at Pioneer. The rainwater tanks of the twelve contaminated properties have in recent months been disconnected from rooves, then cleaned and refilled with fresh treated water.
New Plan
CEO Brewster said on Wednesday that the new plan for Pioneer will cost approximately $3.5M. This is a similar cost to the mini-treatment plants recently built in the neighbouring towns of Gladstone and Herrick. Ms O'Byrne asked the CEO if it would have been cheaper to include Pioneer in the Herrick plant at the time it was built. CEO Brewster replied "Probably, I think it would have been cheaper."
Prior to the GBE meeting, all members received a detailed written briefing by me, Tim Slade, which consisted of a 23-page letter of reply to Chairman Gumley. During the meeting Liberal government members did not ask a single question about the active crisis of lead-contaminated drinking water at Pioneer.
Liberal MHAs Rylah and Tucker were silent about Pioneer as was the Greens' Rosalie Woodruff. Meeting Chair Ms Petrusma shockingly closed the meeting early, just as further questioning was about to occur from Ms O'Byrne. Despite a protest from Ms O'Byrne the meeting was terminated in less than the two hours dedicated annually to the public questioning of TasWater. No member protested when the meeting was closed early. Peter Gutwein, the state government minister with responsibilities for drinking water, failed to attend the GBE meeting.
Nor did Mr Chipman protest – he is the president of the Owners' Representatives Group (ORG), representing the 29 council-owners of TasWater. Mr Chipman did not offer one word about Pioneer during the 2-hour meeting.
The new plan announced by TasWater is in contrast to the previous offer to twelve residents for roof works on the condition that structural repairs be paid by the customer. This seemingly unworkable solution is contrary to the 2013 agreement.
It would be surprising if anywhere else in Tasmania, an existing customer is required to contribute thousands of dollars in order to continue to participate as a TasWater customer. Yet this was the plan of TasWater's CEO and Board until now, after seven years of crisis.
Blood Tests
Dr Alison Bleaney, a GP from nearby St Helens, recently wrote a public letter wherein she stated that the DHHS had displayed 'an abrogation of their duty of care' for the residents at Pioneer. She criticised the failure of DHHS to direct blood tests for any of the twelve heavy-metal affected residents at Pioneer. On the day they were recently advised of their elevated results, there was no active recommendation by DHHS to see a doctor for blood tests. For some residents, the contamination was for lead only, but for others, the cocktail included arsenic, cadmium and manganese, There has been no reply from the DHHS in more than a month on this question of blood tests at Pioneer.
Dr Bleaney's criticism extends to CEO Brewster and the board of TasWater. In response to this question, Chairman Gumley wrote on 4 November 2019 that "it is not appropriate for TasWater to be involved in blood testing. If people raise concerns about their health with us, we advise them to see their doctor."
Tania Rattray, MLC for McIntyre, tabled a motion for an inquiry into TasWater. This motion is to be debated in early 2020.
Residents have recently acquired a pro-bono barrister to represent them, on any issue of the past seven years, and into the future. The support of this barrister has been communicated to TasWater's Board over the past several months.
Over years the residents of Pioneer have asked the Dorset Council to conduct a survey here in relation to the question of a water treatment plant. Mayor Howard finally agreed to this in October after refusing all other times. Under questioning in a council meeting nearly six months ago, and again in the Pioneer meeting several weeks ago, the Mayor admitted, but not freely, that he has never once made a formal written representation on behalf of Pioneer to the twenty-nine owner-councils of the ORG.
Mayor Howard  has failed to represent Pioneer, and in this town meeting he protested, "I don't have to write to the ORG just because you say I have to." He went on to exclaim "Just shut up, Tim!" Mayor Howard had in the weeks before this meeting won an appeal in the Magistrates Court against a decision of the Director of Local Government, which had adjudicated that Mayor Howard had used disrespectful language against the community in a newspaper article. His new and disrespectful comments at the Pioneer meeting bring into question the Magistrate Court's overturning of the decision of the Director of Local Government.
AWA
It appears that representations by TasWater to the Australian Water Association (AWA) have also been absent, or misleading, in relation to Pioneer. On 25 November TasWater announced that they had been granted an award from the AWA for the 24 Glasses Project, of which Pioneer is one of the towns. For the residents of Pioneer, this news was very confusing. When I visited TasWater's website the next day to investigate the status of Pioneer as part of the 24 Glasses Project, I was surprised to see in bold type that the Pioneer Service Replacement Scheme was COMPLETE. Furthermore, according to TasWater's website, community consultation was COMPLETE.
Presumably, the Australian Water Association read this page in consideration of TasWater's application for the award. AWA will have assumed that the information was true. Sadly, this does not account for the fact that I personally wrote to AWA about Pioneer early this year, several times. AWA were in full awareness of the problems at Pioneer when they granted this award last month to TasWater, even if TasWater apparently mislead them. How credible is the AWA?
It is of concern to many residents of Pioneer that in a letter from Chairman Gumley of TasWater, dated 4 November 2019, in reply to questions about the competency and fair mindedness of CEO Brewster, Mr Gumley wrote that "The Board is confident that the CEO has acted honestly and with due care and consideration. We reject any claims that the CEO has acted dishonestly or inappropriately in this matter."
In the same letter, Chairman Gumley wrote to share with residents what he believes to be the cold heart of the matter: "The recommendation regarding lead in roof materials in the Environmental Health Guideline are not legally binding."
The announcement on Wednesday by TasWater to pipe treated water to Pioneer will be welcomed by the weary community of approximately seventy. There may be a few who will have mixed feelings such s those on the brink of having a contract fulfilled and their roof replaced.
Following TasWater's new announcement, the seven-year long question continues to be:
when will TasWater deliver safe drinking water to Pioneer?!
---
UPDATE: TasWater has written to residents of Pioneer about the decision and where to from here. See reproduction below.
UPDATE 2: On Monday 16 December 2019, Dorset Council voted unanimously in favour of a motion for TasWater to pipe treated water to Pioneer.
UPDATE 3: ABC-TV covered the issue on its nightly news bulletin on 17 December 2019. Forward to 17:05
https://iview.abc.net.au/show/abc-news-tas/series/0/video/NU1903T301S00
---
Tim Slade (B.Ed) was born in Hobart and now lives at Pioneer.  Since 2013 he has written more than twenty articles about Tasmania's drinking water.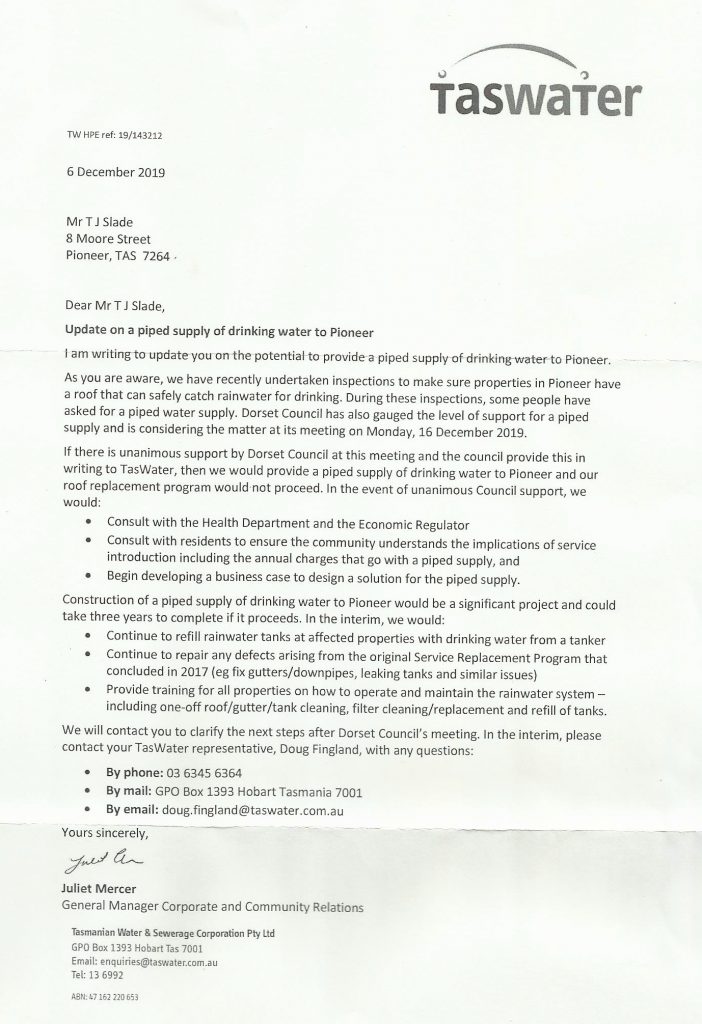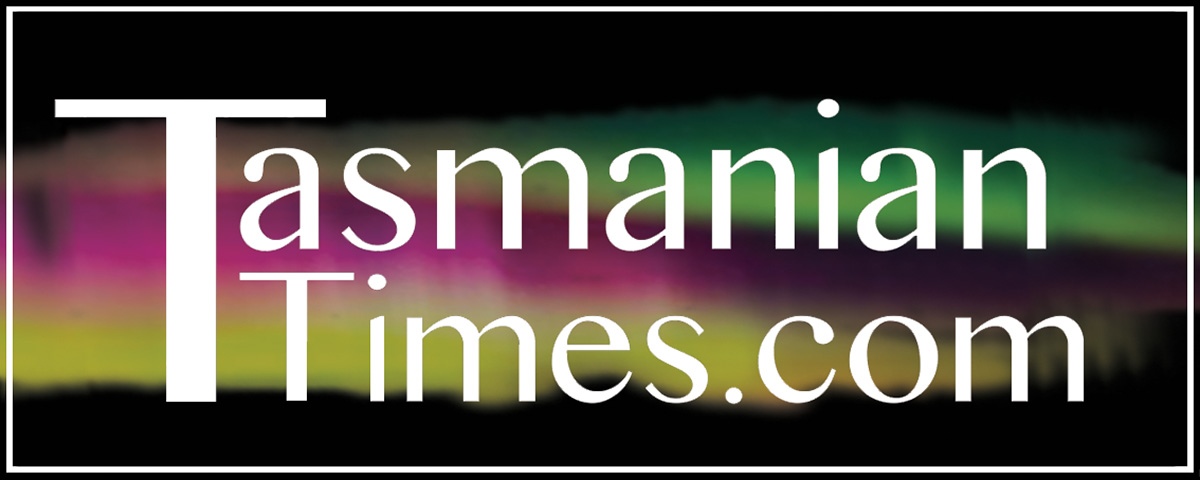 Author Credits: [show_post_categories parent="no" parentcategory="writers" show = "category" hyperlink="yes"]