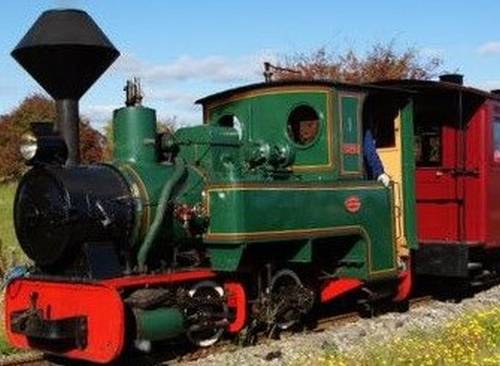 Sheffield, The Town of Murals, will host the 25th Annual SteamFest at the town's recreation precinct on the long weekend of March 9th – 11th.
It is known to visitors and locals alike as 'The Sheffield Steam and Heritage Centre' in Spring Street. Behind its recently refurbished entrance it is home to a kilometre of 610mm rail track, 400 metres of 7.5 and 5 inch miniature rail track and sheds of railway rolling stock and historical machinery.
From its humble beginnings in 1994, SteamFest has grown to become one of this state's major festivals with intrastate, interstate and overseas exposure, and with patronage growing enormously. This thriving North West Coast township with a population of 1560 residents played host to 8,000 visitors and volunteers in 2018 over the March long week-end. The economic flow-on effect of that was a major boost to the region as the summer season drew to a close.
The 2019 SteamFest event is organised and run on a fully voluntary basis.   The rather quaint 2 foot gauge Krauss steam locomotive delights children through its similarity to a famous TV cartoon, complete with a real 'Fat Controller'. It also brings back memories to people who travelled on the Railton to Roland Branch Line as it ran through our town between 1914 and 1957.
SteamFest is more than a gathering of one or two steam engines. There are many steam traction engines, the tractors of their day, still working as a living display. Many of these have close links with this area and were pivotal in the development of the Kentish region, and Tasmania more generally.  Additionally, there will be a number of steam rollers who will partake in the always popular steam roller tug of war and road rolling displays.
The traction engines drive one of the most complete sets of displays of steam power to be seen in Australia with steam powered rock crushing, threshing, straw pressing, chaff cutting and winching being undertaken with the steam train and majestic Mt Roland in the background.
Although we love our vintage steam powered machinery we graciously accept their successors. As such there is a huge working display of historical machinery on site, chattering away like hyperactive children clustered around their stately and slow moving grandparents, still with their heads in a previous century.
Returning to our theme 'A Living Thing' we would all agree that steam engines appear to be living things, they have movement, they grunt and groan as they do useful work. That wonderful children's TV series has given them voice, and a personality. Similarly, SteamFest takes on its own being. Each event is different, and will continue to be so. It is the expression of human imagination, skills and energy. It is estimated that 1500 hours of voluntary effort was devoted to last year's event, but that would be a considerable underestimate.
There are so many events on the program, so many exhibits and so much to see, the best I can do is refer you to this century's technology, websites and Facebook, while I go back to helping to run a railway.   One day is not long enough to take it all in!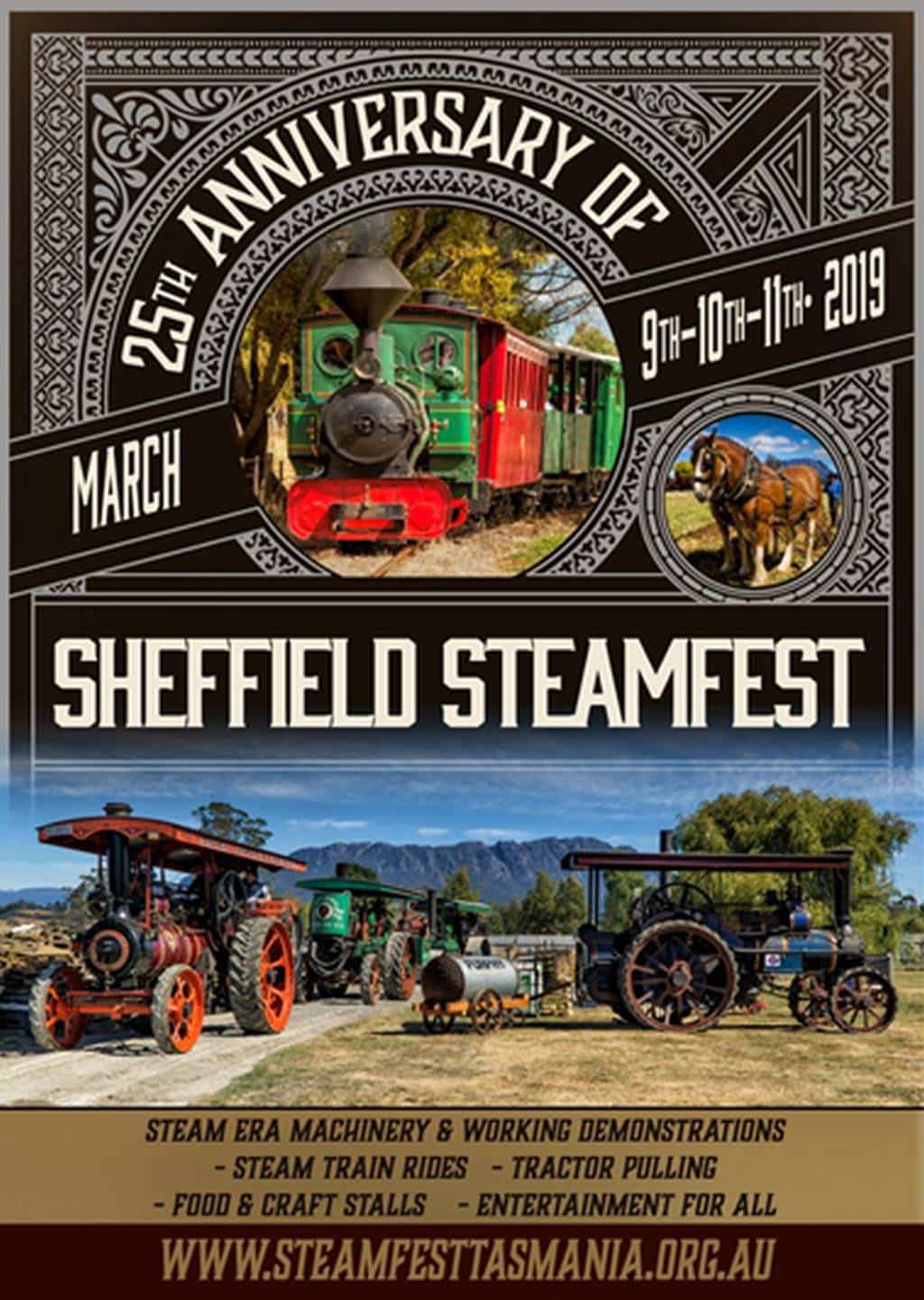 Call for Volunteers
SteamFest  March 9th, 10th and 11th 2019
      Recreation Precinct of Sheffield – Spring St.
Come to Sheffield and be a part of one of Tasmania's premier family festivals and winner of a number of tourism awards.
In 2018, we had approximately 7000 people through the gate and we needed 170 Volunteers  – at least 110 rostered on each of the three days of SteamFest.
It is the 25th Anniversary of SteamFest in 2019, and we know that this will be a fantastic weekend.
However, without the tireless work done by the Volunteers SteamFest would not happen.
In March 2019, we will need volunteers to assist with setting up the site before the long weekend, to staff the train crossings, to act as parking attendants, escorts for the moving steam engines, and people who can help the public with directions.
You will receive free entry into SteamFest and after 4 hours of voluntary work you can camp free if you wish to stay overnight.
Come and be part of the fun and celebration.  
All about Jillian Ridgway My husband and I retired five years ago and began to travel around Australia with our two dogs.  Two years into the five year planned trip, we holidayed in Tasmania and fell in love with the Island and in particular with the Sheffield area.  My husband has always loved steam and steam trains and he found his niche with the Redwater Creek Steam and Heritage Centre where he fulfilled his dream of driving steam trains.   Having lived all of our lives in Queensland we now love the cold weather and the identifiable seasons.    I didn't write the article but agree with the sentiment that steam is a living thing.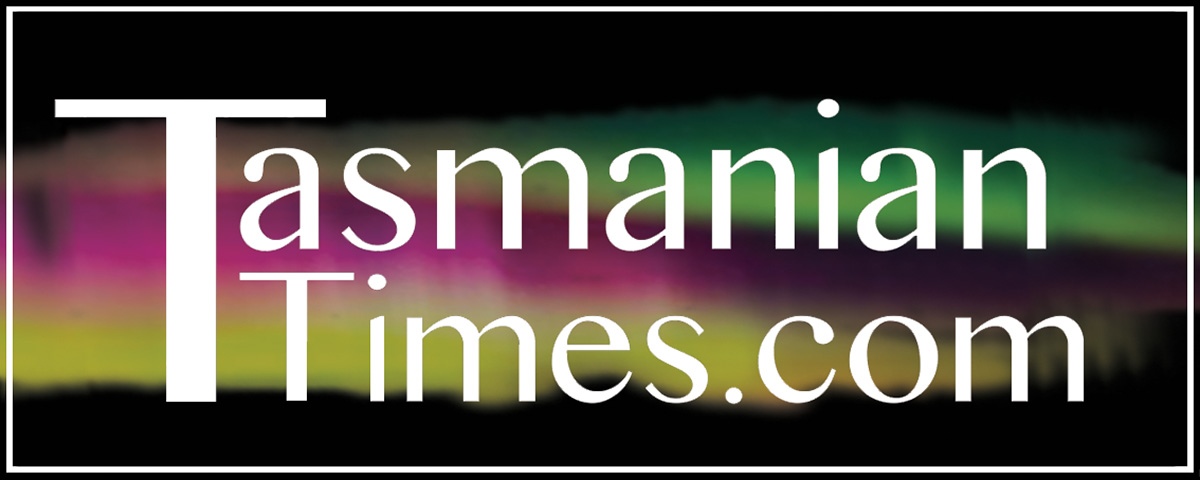 Author Credits: [show_post_categories parent="no" parentcategory="writers" show = "category" hyperlink="yes"]