Naples; Rome; Freemasons and Reliquaries
The French family of Bourbon (Borbón in Spain and Borbonne in Italy) was one of the most important ruling houses in Europe. The family provided reigning Kings of France from 1589 until the Revolution in 1792; Kings or Queens of Spain from 1700 to 1808; Dukes of Parma from 1731 to 1735, and again from 1748 to 1802; Kings of Naples and Sicily from 1734 to 1808.
The most illustrious among them was Louis XIV of France, who brought absolute monarchy under the Divine Right of Kings to its zenith in Western Europe  and under whose protection and cost the exiled Stuarts lived in France for 25 years at the palace of Saint-Germain-en-Laye near Paris. With the failure of the 1715 Jacobite rebellion at Sherriffmuir under James III, the family moved at the request of the French to Rome in 1717 under the protection of Pope Clement XI.
In France the Stewarts changed their Scottish name to Stuart, a precedent set by Mary, Queen of Scots. James III, the Old Pretender, invaded Britain in 1715 backed by the French Bourbons and in 1745 his son Prince Charles Edward ('Bonnie Prince Charlie') made another invasion, this time assisted by Bourbon support from Naples and the Pope in Rome.
So why would the Bourbon family in Naples wish to help Bonnie Prince Charlie regain the British throne in 1745? The answer lies in part with Polish associations and the desire of the Bourbons for a Catholic monarch in Britain.
The Bourbon King Charles III of Spain who later also became Charles VII of Naples and Charles V of Sicily, ruled all three countries at various times and was another leading supporter of the Stuarts in Italy.
Maria Amalia of Saxony was a daughter of Augustus III, King of Poland and the wife of Charles III of Spain from 1738 until her death in 1760. She was therefore also Queen consort of Naples and Sicily. She was politically active throughout their reign and openly participated in state affairs in both Naples and Spain.
James Francis Edward Stuart, son of James II, the former King of England, fled to France in 1688 with his father. He married Maria Clementina Sobieska whose father was James Louis Sobieski (1667-1737), eldest son of King John III of Poland from whom Maria inherited vast estates through her paternal grandfather. Maria Clementina was the mother of Charles Edward Stuart (31 December 1720-31 January 1788) who was defeated by the Duke of Cumberland at Culloden in 1746.
Maria Clementina and James III were married on 3 September 1719 in the chapel of the episcopal palace of Montefiascone, Italy, in the Cathedral of Santa Margherita. Following their marriage they were invited to reside in Rome at the special request of Pope Clement XI. The Pope provided them with a papal guard of troops and gave them the Palazzo Muti in the Piazza dei Santi Apostoli in Rome as their residence, as well as a country villa at Albano. The Catholic Church also provided them with an annual allowance of 12,000 crowns from the papal treasury.
The Popes Clement XI and Innocent XIII considered James and Maria Clementina the rightful and, more importantly, Catholic King and Queen of England, Scotland and Ireland under the Divine Right of Kings. Maria Clementina died at the age of 32 on 18 January 1735. She was interred with full royal honours in St. Peter's Basilica in Rome. Pope Clement XII ordered that she have a state burial. Pope Benedict XIV commissioned Pietro Bracci (1700–1773) to sculpt a monument to her memory, which was erected in the Basilica.
The Naples Connection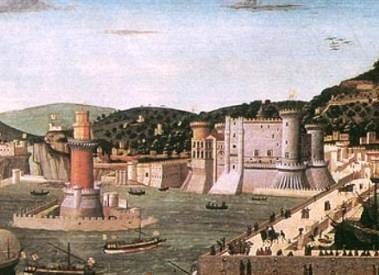 Plate 1: The Castel Nuovo, Naples, detail from a View of Naples, 1472, by Tavola Strozzi, collection San Martino Museum, Naples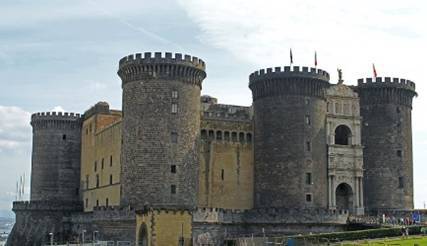 Plate 2: The left tower of the Castel Nuovo appears in the background of the 'Harlequin portrait' of Prince Charles Edward, circa 1740.
The Castel Nuovo in Naples (Plates 1-4) was restored by King Charles III of Naples, the future Charles III of Spain, who ascended to the throne of Naples in 1734. It soon lost its role as a royal residence, in favour of other new royal palaces − the Royal Palace of Naples at the Piazza del Plebiscito, Palace of Capodimonte, Palace of Portici and Royal Palace of Caserta −  but it remained a symbol of the history and greatness of Naples.
The end tower of the Castel Nuovo appears in the background of the extraordinary and somewhat naive 'Harlequin' portrait of Bonnie Prince Charlie. This portrait provides an Italian connection, other than Rome, with another European Jacobite Masonic outpost.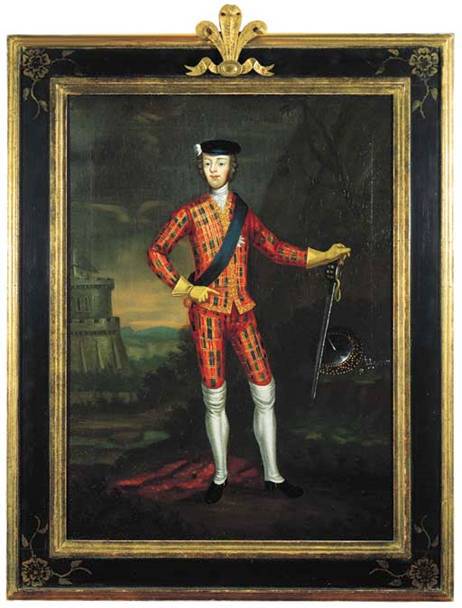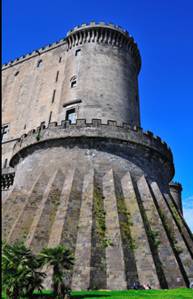 Plate 3: A version of the Harlequin portrait with the tower of the Castel Nuovo, Naples in the background. The ability of the artist to accurately depict the Stuart tartan was seemingly slim. The Plaid lies on the ground behind. Courtesy Christie's, London, British Pictures 1500-1850 sale,
1 December 2000, lot 22.
Plate 4: Buttress and tower of the Castel Nuovo, as seen in the left of the portrait.
The advent of a new Neapolitan King with a considered interest in Scotland resulted in the Scottish Enlightenment spreading to Italy, a subject discussed in John Robertson's pioneering essay; The advent of Enlightenment: political economy in Naples and Scotland 1730–1760 (Cambridge University Press, 2005, online version 2009). He notes that:
Given that the Scots had accepted the loss of their Parliament at the Union with England in 1707, their Enlightenment did not have had the political focus provided by the independent states of Italy…. 
A phenomena often associated with Enlightenment is Freemasonry a self-conscious creed and set of rituals originating in later sixteenth- and seventeenth-century Scotland it migrated to England in the early eighteenth century; thence spread rapidly across the continent. By no means every adherent of Enlightenment was a freemason. But in many parts of Europe, and particularly in the 1770s and 1780s, membership was common, with strong concentrations in France and Naples… 
A connection can be proved in a masonic seal dated 1728 from Naples that appears to belong to a lodge named "Perfect Union", about which nothing else is known. No trace, likewise, can be found of the lodge patented in London in 1731 to be formed in Naples. In 1750, a Neapolitan lodge was established by a Greek, but after the publication, on 28 May 1751, of the Bull Providas Romanorum Pontificum issued by Pope Benedict XIV to reiterate the papal condemnation of 1738, Charles VII of Bourbon (who later became King Charles III of Spain) issued an edict (July 10, 1751) that prohibited Freemasonry in the Kingdom of Naples. He changed his mind the next year, entrusting his son's education to a Mason and a priest.' 
The Masonic connection noted by Robertson is of interest because at this time new lodges were nearly always a creation of the military. A rare and most interesting record survives for The Jacobite Lodge of Rome from 1735 to 1737.  The lodge comprised a small number of those who fought at Sherriffmuir in 1715: John Cotton; Charles Sleazel;, George Seton, 5th Earl of Wintoun; William Hay (1715), who commissioned a pair of portraits by Blanchet in 1739 of the two brothers, Prince Charles and Prince Henry and a further pair of their parents; John Stewart of Grantully; Dr Cunninghame; and John Murray of Broughton who was to be the conduit between the exiled Prince Charles in Rome and the Jacobites in Scotland.
The artist Allan Ramsay arrived in Rome in 1736 and moved to Naples where he worked for three years in the studio of Francesco Solimena. He would have met Pompeo Batoni who moved to Rome to work in the studio of Francesco Imperiali along with the Scot William Mossman (1727-1771). Ramsay painted the now famous 'lost portrait' of 'Bonnie Prince Charlie' in Edinburgh in October 1745; Mossman's portrait of the Prince is now in the National Gallery of Scotland collection.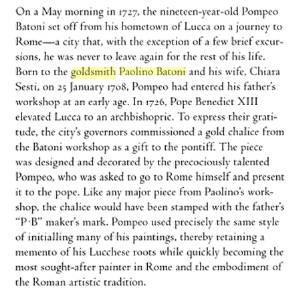 It would seem likely on this evidence that Batoni served a proper apprenticeship as a goldsmith in his father's workshop. In Rome this may have proved useful if a commission to design or make a Jacobite brooch came his way as a result of his connections with the resident exiled Scottish community.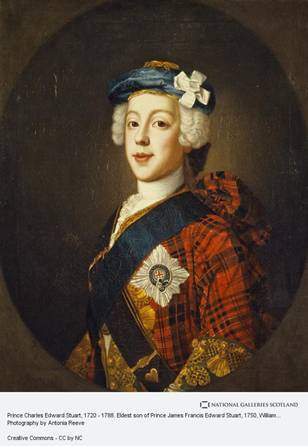 Plate 5: William Mossman Prince Charles Edward Stuart, wearing a white Jacobite cockade. Collection National Gallery of Scotland, Edinburgh
Mossman (or Mosman) was probably born in Aberdeen and became a pupil of Francesco Imperiali in Rome in 1732 and spent about six years in Italy. He was back in Aberdeen in 1738 and painted several portraits of the Duff family, returning permanently to Scotland in 1740. He lived the latter part of his life in Aberdeen, where he set up a drawing academy in the early 1760s.
A most interesting Jacobite Catholic reliquary exists in the Stewartry Museum at Kirkcudbright: a circular tin box decorated with the Stuart tartan, (Plates 6 and 7). According to the museum this box is believed to have been given to Clementina Walkinshaw by Prince Charles as a gift in 1745 but at least one other identical box is known. Hidden on the inside of the lid is a half-size portrait of Prince Charles Edward Stuart. Relics with labels are fitted to the base of the box. It seems more likely that the box was given to her father, a 1715 rebel and Jacobite, and later inherited by Clementina.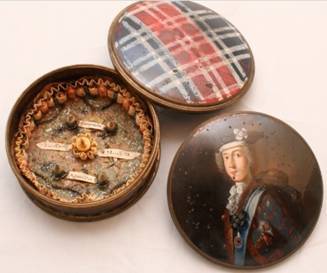 Plate 6: Painted tin reliquary box with portrait of Prince Charles after William Mossman, made in Rome or Naples, circa 1735. Collection: Stewartry Museum, Kirkcudbright, Scotland
John Walkinshaw, 3rd Laird of Barrowfield, born in 1671, was a lieutenant-colonel in Lord Strathmore's Regiment at the Jacobite rising of 1715. He was taken prisoner after Sheriffmuir and confined in Stirling castle from which he escaped with aid of his wife who let him down from a window on a rope made of blankets and sheets. He joined James VIII at Bar-le-Duc in France. In 1719 he succeeded in arranging the escape from Innsbruck of the Princess Maria Clementina Sobieska on her way to marry James VIII in Bologna. In 1717, he was pardoned by the British Government and returned to Glasgow, where his youngest daughter Clementina was born. However, Clementina was largely educated on the Continent, and later converted to Roman Catholicism.  In 1746, she was living at the home of her uncle Sir Hugh Paterson at Bannockburn, near Stirling. Bonnie Prince Charlie came to Sir Hugh's home in early January 1746 where he first met Clementina, and he returned later that month to be nursed by her from what appears to have been a cold. Given that she was living under her uncle's protection, it is not thought the two were lovers at this time. After the defeat of the Prince's rebellion at Culloden in April 1746, Charles fled Scotland for France. In 1752, he heard that Clementina was at Dunkirk and in some financial difficulties, so he sent 50 louis d'or to help her and then dispatched Sir Henry Goring to entreat her to come to Ghent and live with him as his mistress.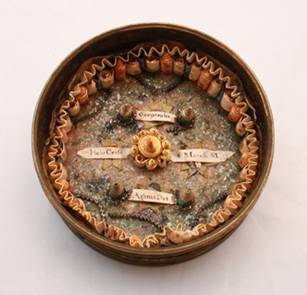 Plate 7: Interior of Clementina Walkinshaw's box showing quilling and relics
The interior of the box is inspired by the goldsmithing technique of filigree yet is of paper scrollwork constructed by rolling up thin strips of gold or coloured paper to form mostly floral motifs, which were then adorned with beads, shells, coral, tiny parchments, scraps of fabric, shards of glass and fragments of bone attributed to the saints. Scrollwork developed during the seventeenth century in almost all Catholic countries as the worship of saints and relics spread. These religious creations, expertly crafted by nuns, were also given to convent benefactors or offered to adorn chapels and altars. Quilling, as the skill became known, reflected the spiritual climate of the Catholic Church following the Council of Trent, channelling the Baroque tastes of that period and providing an historical record in a form of craftsmanship that was little known but widespread among the various female religious orders. The distinctive features of these artefacts – the time consuming, labour-intensive craftsmanship involved, the idea of devotion to work as an act of prayer and the use of simple, 'poor' materials – fittingly encapsulate the rules of the various catholic orders.
The relic, contained within the box, is made more precious by rich compositions of paper and other materials, such as wax, fragments of bones attributed to Saints and martyrs, little parchments, ivory, crystal and coloured glass, cuttings of fabric, shells, coral and beads. A paste was made from a mixture of cardboard and ground bones, often mixed with soil from cemeteries and catacombs containing the bodies of Saints and martyrs.
The box in the Stewartry Museum was made in Italy, either by the Catholic nuns in Naples, or as the museum suggests, in Rome, circa 1735 as a good luck charm or memento for a Jacobite returning to Scotland. Bonnie Prince Charlie is portrayed wearing his bonnet with the white Jacobite cockade after the portrait by Mossman now in the National Gallery of Scotland. This rolled paper Jacobite reliquary box is further evidence of a Papal connection through the Stuart court in Rome and further research may even provide a connection with Batoni for silver reliquaries and Mossman for rolled paper.
I suggest that the reliquary brooches of Lochbuie, Lorne, and Ugadale are eighteenth century or later, Italian, made in Naples or more probably in Rome, their rock crystal covers intended as reliquary containers. Both Naples and Rome were historic centres for filigree work and known sources of rock crystal. The relics in Lorne and Lochbuie were possibly pieces of bone from Montrose supplied by his relatives or supporters to Jacobite families in order to give gravitas to these iconic brooches. This would continue a tradition started by Lady Napier who kept Montrose's heart in a filigree mounted gold box allegedly sent from Italy.
The part played in this saga by the Cardinal Duke of York, Prince Henry Benedict Stuart, the younger brother of Bonnie Prince Charlie, has not yet been investigated.
John Hawkins was born and educated in England. He has lived in Tasmania for 16 years. He is the author of "Australian Silver 1800–1900" and "Thomas Cole and Victorian Clockmaking" and "The Hawkins Zoomorphic Collection" as well as "The Al Tajir Collection of Silver and Gold" and over 100 articles on British and Australian Decorative Arts. He is a Past President and Life Member of The Australian Art & Antique Dealers Association. John has lived in Australia for 50 years and is 76 this year. In two of the world's longest endurance marathons and in the only teams to ever complete these two events, he drove his four-in-hand team from Melbourne to Sydney in 1985 and from Sydney to Brisbane in 1988.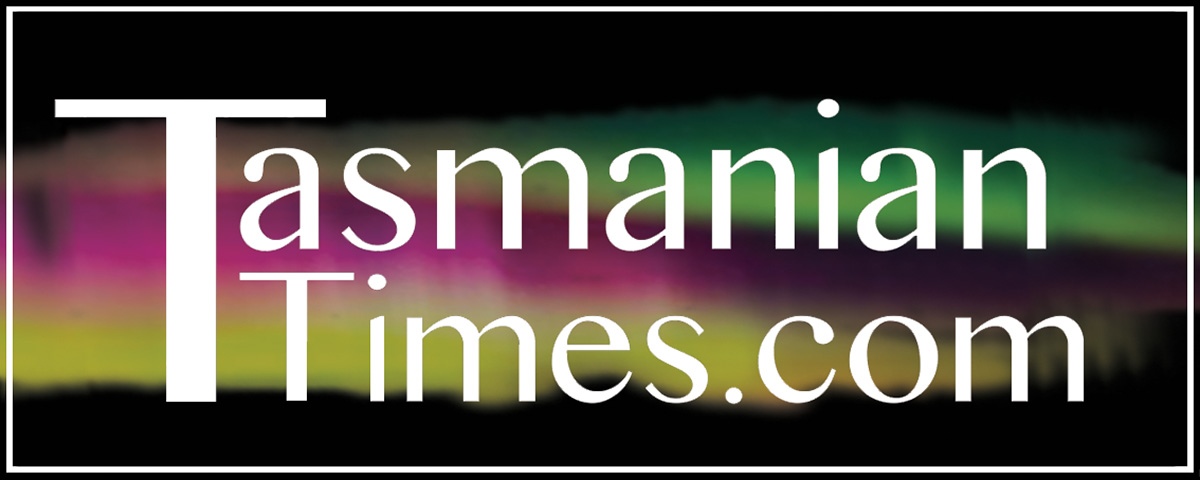 Author Credits: [show_post_categories parent="no" parentcategory="writers" show = "category" hyperlink="yes"]