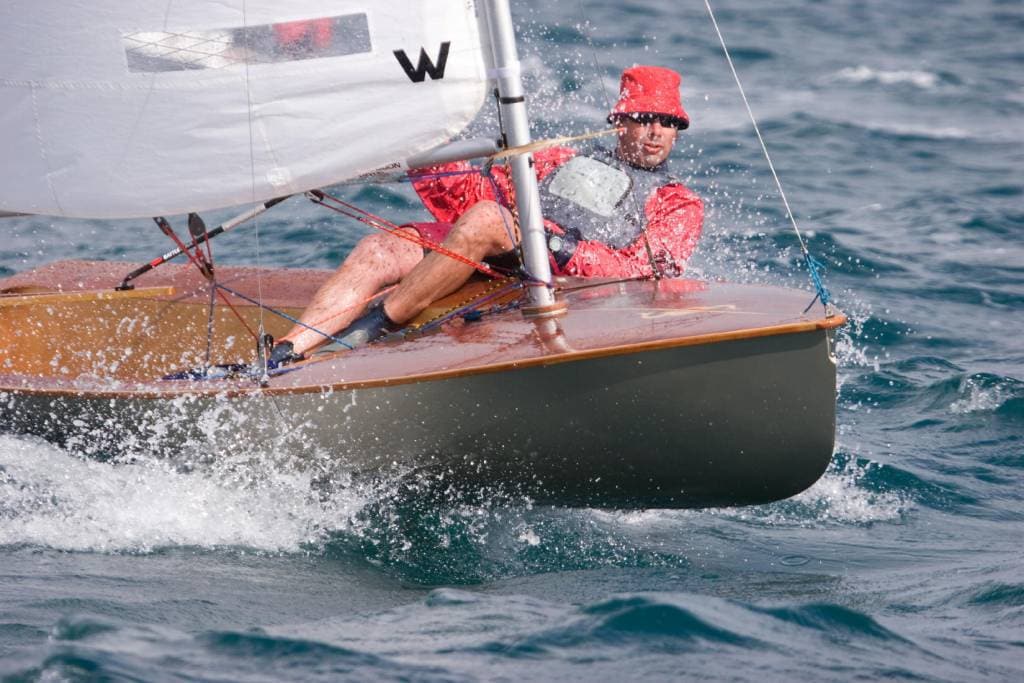 Dinghy sailing is becoming prohibitively expensive, pricing many potential participants out of the sport.
One Hobart club wants to change all that …
Hobart's Lindisfarne Sailing Club (LSC) has, since the middle of last century, filled a vital niche in the fabric of Tasmanian yachting. Never seeing itself as elite in either membership or classes catered for, it has nevertheless been a constant contributor to the sport, producing National Champions, Americas Cup participants and a plethora of International sailors, whilst all the while catering for those who simply love their Sunday afternoon race and post sail social event.
Dinghy sailing is, of course, the lifeblood of all sailing. A strong dinghy culture has meant that there have always been participants in all forms of sailing as those who have become competent dinghy sailors work their way into keelboat classes. Sailing is indeed a lifelong activity. However, the days of the Derwent being the home to several thriving dinghy clubs are gradually waning. Whilst there are pockets of strength in junior sailing, fleets of senior dinghy classes are remarkably small, compared to the Derwent of 20 – 30 years ago.
The club believes that one of the issues facing dinghy sailing is that the sport has effectively priced itself out of the market for a sizeable portion of the potential sailing demographic.
Dinghy sailing in most of its current incarnations is a pretty expensive activity. The reality in our sport is that in many classes of dinghy, skill will get you towards the top of the fleet, but if you want to be serious, you need to spend some pretty solid cash to have the latest hull, rig and sails in order to match the other guy who is doing exactly the same. Whilst there are always those who want to play that game, and have the resources to do so, it also sidelines a big group of potential participants who can't justify the expenditure from already tight family budgets. We believe that there is room for a less expensive pathway into dinghy sailing.
LSC has for many years been one of the clubs that has catered for the Sabre class, a relatively cheap ply or fibreglass single hander. The Sabre bucks the trend of cost, compared to many classes. A competitive boat can be purchased for well under $2000. Whilst the cost is lower, the standard of racing is exemplary, with a fleet big enough to cater for all levels of ability, meaning that no matter what your age, weight or sailing experience, there is someone else in the fleet who is about where you are. The reality for most Sabre sailors is that racing is great fun because there is always someone else at about your level. Hence, every finishing position is hotly contested. You don't have to win, or spend a fortune to be having fun in a dinghy at LSC."
The club wants to take this concept further, by recreating the mixed dinghy classes of bygone times.
If you think about midweek twilight racing in keelboats, large numbers of enthusiasts get their weekly race in fleets that contain a huge range of boats, from 20 to 50 feet in length. The fact that they're not one design boats doesn't detract from the experience of any of the participants. By using performance handicapping, any well sailed boat can win.
LSC would like to offer similar racing on Sunday afternoons in dinghies. Hobart garages are jam packed with sailing dinghies and small trailable keelboats that are no longer used because class numbers aren't big enough to provide competitive fleets. LSC sees a niche for low budget, mixed class racing. So get your old Laser, Sabot, Heron, Mirror,125, Enterprise, OK, Cherub, Hartley, Rainbow or whatever else you have hidden away, and bring it down to LSC. If you have had the boat for years, get your kids or grandchildren into it. We'll handicap everyone in a fair way and run regular racing. Most importantly, it will be low cost.
If you know you are never going to use that boat again, let us know what you have, and how much you would like for a young (or not so young) skipper to take it off your hands. Maybe think about donating the boat to a keen youngster. The club is keen to make a register of boats for sale on our website, so we can put buyers in touch with sellers. If you think you fall into this category, email the club with details of what you have, and how much you think its worth.
The club has also issued an invitation to those who have come through the club in the past to re-engage.
Many LSC members learned to sail at the club as kids. A few years later, they are the parents who bring the next generation down here to learn. Others have never left. If you sailed at LSC in the past, you're always welcome to come down for a look and a chat about what goes on these days. Maybe you have some spare time and would like to get involved on rescue boats, or the race committee? You might even find, like many do, that a look around inspires you to get that dinghy out of the shed.
One of the major changes in the past couple of decades is that dinghy sailing is no longer just an activity for teenagers. LSC's demographic is heavily skewed toward adult skippers. They want to provide for a market that is currently not catered for. Racing in now "out of fashion" boats is no less exciting or competitive. For many, lower performance dinghies provide better racing, because the margin for error is greater. You can have just as close a race in a $500 plywood boat as you can in a $10000 one. The tactics are the same, the wind is the same, the enjoyment is the same.
Costs of joining LSC are remarkably cheap, particularly compared to some other sports. Membership for a Junior is $90 per year. Senior fees are $170. (Less than 1 coffee per week!) Secure boat storage is available at the club for $2 per week.
There is a strong determination to keep LSC going strongly well into the next 50 years, come along and be part of it!
LSC conducts racing most Sundays in summer.
For more information about LSC, go to the club's website
lindisfarnesailingclub.org.au
To register your boat for sale, or to find out more, email
secretary@lindisfarnesailingclub.org.au

Author Credits: [show_post_categories parent="no" parentcategory="writers" show = "category" hyperlink="yes"]