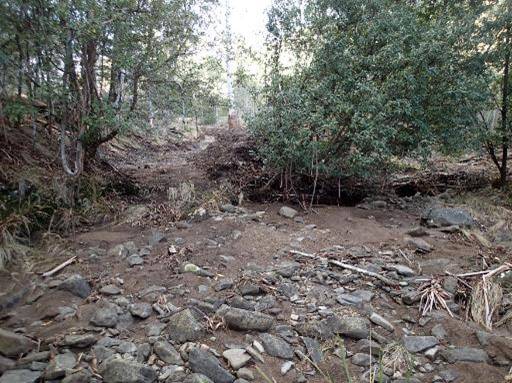 *Pic: The destructive creek reroute looking west
NEW STORY …
First published July 10
Some Background
Chauncy Vale Wildlife Sanctuary, established in 1946, is one of the oldest private conservation areas in Tasmania. Much of the reserve (337 of the present 380 hectares) was gazetted in 1946 as a private wildlife sanctuary under The Animals and Birds Protection Act 1928 following application by the owners, Nan and Anton Chauncy. In 1988 the sanctuary was bequeathed to the local council (now the Southern Midlands Council) by Anton Chauncy with a later gift of the house and home paddocks by his and Nan's daughter, Heather.

Chauncy Vale is located 40km north of Hobart and 4km east of the township of Bagdad. It is the top end of a narrow valley running east-west between the Midland Highway and the Coal River Valley. The Sanctuary is managed by the Chauncy Vale Management Committee in accordance with a statutory management plan (1993). A revised Joint Management Plan with the Tasmanian Land Conservancy (TLC) was completed in 2010 which covers both Chauncy Vale and the TLC's neighboring Flat Rock Reserve. Flat Rock Reserve (455 ha), was transferred to the TLC on 25th August 2006, in partnership with the Southern Midlands Council, Gunns Limited, and the Commonwealth and State Governments. The new reserve is managed jointly by the Southern Midlands Council, Parks and Wildlife Service Tasmania, and the TLC. Important natural values of Chauncy Vale and Flat Rock are listed in the tables below …
Visiting on Friday 6/7/18, as I have at least several times a year since 1971, I was taking in the approaches.
First and appropriately there is a clear sign on the gate describing how benign your visit should be.

Fig 1, The entry sign (note 20 tonne excavators are not explicitely banned).
Wandering in (after paying my donation) I checked the wonderful interpretation shelter, noting a sign including …
IF IT WERE NOT FOR THE VISION OF ANTON AND NAN CHAUNCY THIS RARE TRACT OF NATIVE FOREST WOULD NOT EXIST TODAY, ITS FUTURE SURVIVAL IS A COMMUNITY RESPONSIBILITY SO ENJOY, EXPLORE AND LOOK AFTER THIS PRECIOUS GEM.
True words.
Continuing on into the reserve to the old interpretation/shelter shed (originally dumped by truck and set on blocks) I was considering the new verandah construction on the interpretation/shelter shed at the end of the vehicular access.
Looked good.
Moving around the shack I recoiled at a few large blackwoods chain-sawed down.

Blitzed area to the north of the shack with felled old blackwoods (looking west)
Very annoyed and completely puzzled at this damage I lifted my view and got a hell of a shock. I went to investigate.
A 150m long and 15m wide swathe has been butchered through the grassy woodland and forest around a large trench dug by excavator (20 tonne my guess), clearly to try and reroute the river away from the picnic ground.
Over the decades soooo much effort has gone into preserving such understory for the Vale's birds and other wildlife.
I was appalled! Is this 2018 and not 1918?

The creek reroute looking east (left) and west (centre) and from the northeast showing the interpretive shed in the background.
I have since heard this is supposedly the old creek route but by golly it must have been a looonnng time ago, well before I started to visit. I've only ever known the area's grassy woodland with substantial understory, perfect for many birds, bettongs etc.
I also doubt the creek was so straight, allowing very fast water. ANY reader having experience with trying to make water go straight let alone around corners we choose knows what will happen unless the drain is very well constructed and armoured. The water will go where it wants due to volume, speed and substrate.
Aside from the damage from clearing and digging what struck me was how crude the 'investment' was. No protection of the trench banks nor silt filter where it rejoined the old (that is 'my' old, the recent cobbled creekline.
Just a bloody great ditch already eroding away. Imagine what Council would have to say if you did this on your own block.

The outfall, where the trench meets the old creek

Views of the trench taken on 8/7/18, the bare banks already eroding
I can only imagine the Southern Midlands Council has done this as some 'good idea at the time' to protect their new verandah. But, I can't fathom the Management Committee agreeing. I will find out and check the process carefully against the Management Plan.
Such rerouting would normally be to avoid dangerous flooding but the original creek simply doesn't flood to anything but a mild nuisance to visitors (and then only every few decades).
I hear the rerouting was to avoid further undercutting of the bank along the picnic ground. Although the creek bank nearest the grounds erodes that is piecemeal, slow and natural. It's actually stable thanks to tree roots and hasn't changed much in the 47 years I have been visiting.

The 'worst' of the bank erosion showing water flow debris (not flood debris)
So what is at risk? It is not dangerous (the rim is fenced) nor any real risk to infrastructure, such as it is; certainly not the risk worth the damage of the ditch in my opinion.

The fenced and planted out rim of the picnic ground
I understand other attempts have been made to stop undercutting of banks but is it really serious enough to justify what I saw. I'd give that a resounding "NO".
I see it as yet another (old fashioned) attempt to protect minimal infrastructure by dominating nature, not dissimilar in principal to protecting shacks from fire while letting virtually irreplaceable wilderness burn. It would have been a wonderful opportunity to 'walk the walk' and show we can live amongst nature without beating her into submission.
I saw trees planted on some crumbling bank to the east near the old shed used for junk – that's appropriate, not playing with the watercourse per se in my opinion.

Is a couple of old sheds relined with pine originally plonked off a truck an excuse for major protective works even if they have new verandah?
The old creek (old as I know it) is cobbled, something that slows and buffers water flow.

The old creek looking west. The picnic ground is to the immediate left
Water will (well, does) rush down the new simplified canal and what's the bet it will badly erode. In my experience of watching the progress of such crude intervention, water has a tendency to go where it will and the rerouting may well be to no avail.
I would love to see a cost benefit analysis, particularly the benefit list.
ndeed the biggest risk to flooding may be the huge stump shoved by heavy machinery (note the tracks) into the creek just below the interpretation/shelter shed, with the inevitable debris build up almost a dam in itself.

A very large stump pushed into the old creek bed which flows right to left
I have heard the works were the result of "an assessment and a plan" some time ago. So clearly, it is not emergency management.
I would love to see the assessment and planning involved including the impact surveys surely necessary for a reserve – including cultural heritage and threatened species.
Although not a ratepayer of the SMC I would like to know how much the works cost. Why not use the money to move the infrastructure a few metres south across to the slope and leave at the scars on the grassy picnic ground, already hardened ground.
I think a hint of the homocentric attitude applying is a swathe of dead wattles, so important for foraging yellow-tailed black cockatoos, that has been felled higgledy-piggledy on the west edge of the picnic ground.

Why? The saplings are too small to be dangerous to anything
I strongly suspect it was a bit of good old-fashioned tidying up' (some of the stumps left alongside parking areas would easily wall tyres). Let's hope more trees will not be felled or lopped for 'safety' or so leaf blowers can be wielded and ride on mowers swished about, a common next steps in such management.
To me, the damage is absolutely against the spirit of the reserve and the management ethos long and successfully applied; low impact. Up to this incident, management has been minimalist and very appropriate so why this sudden change to an aggressive style? I have my suspicions and it's about yet more development and money. The cost of that reroute will have to be justified.
Maybe there's a very good reason (it would have to be very with a V) for this action. It doesn't make much sense to me. Perhaps Clarence City Council's shennanigans with Rosny Hill has set new (casual) standards for management of local reserves given to councils. I certainly hope not!
I have yet to review the Management Plan for the Vale and I suggest everyone interested do so. It only lasts a few more years and considering what's happened perhaps we should be wary of a rewrite. I know in 2010 the plan recommended an education officer focusing on the Vale and as far as I know that hasn't happened in any regard.
I wonder if that has happened (actually I don't have to wonder – its easy to guess). A roving ranger along the lines of the PWS Discovery Rangers would be great (as volunteers even), circulating between local reserves to get better value for visitors.
Please go and visit beautiful Chauncy Vale and see for yourself. Although the damage is at the bottom end of the reserve it is adjacent to the most accessible and well-used area, especially for not very mobile vistors. Its easy to find and visit.
Yes the damage (so far) is done and I may yet be wrong as and everyone agrees it is justified but maybe other 'development' is planned and worthy of close consideration by those who love this place.
Many of you have enjoyed Chauncy Vale and benefited from visits, sometimes over generations. It's a genuine local wilderness, easily accessible, bathed in history both natural and anthropogenic, old and new.
We owe it.
*Nick Mooney has been a Tasmanian wildlife advocate for 50 years writing his first letter to the editor in early high school. He worked as a volunteer then as a biologist in PWS from 1971 to 2009. Key issues were researching peregrines and the impacts of pesticides and persecution with Nigel Brothers, developing raptor rehabilitation in Tasmania and conservation of eagles amongst forestry, facilitating responses to whale rescues, oil spills, reports of thylacine and wildlife disease. Nick started the government response to devil facial tumour disease and remains an advocate of a very strong, precautionary reaction to any evidence of foxes in Tasmania. Nick developed wildlife tourism to lift the profile of wildlife, most notably teaming with the late and great Geoff King to develop the devil restaurant concept. He has been a lecturer/guide in Antarctica 15 times and has helped with Reef Life Surveys. Nick often guides for Inala Nature Tours and Tasmanian Boat Charters and still does wildlife surveys, research and management, some paid, some as a volunteer. He continues to publish … having 47 refereed scientific and hundreds of less formal articles. He remains the Tas representative of the BirdLife Australia Raptor Group and most recently did advocacy for the Where Where Wedgie citizen science project.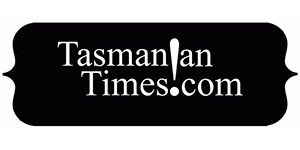 Author Credits: [show_post_categories parent="no" parentcategory="writers" show = "category" hyperlink="yes"]