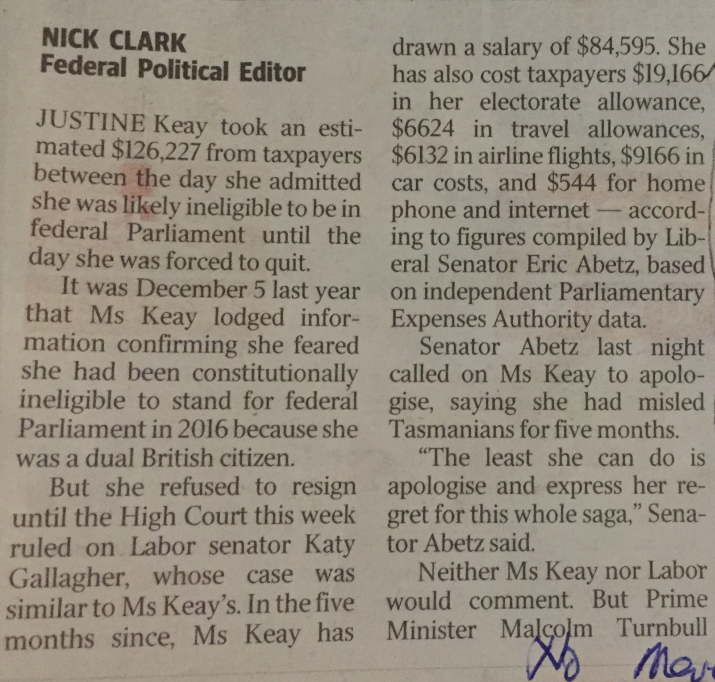 First published May 14
The appalling Senator Eric Abetz had been paid millions from the public purse while sitting illegally as a dual national in the Senate from 1994 to 2010, this being the year he renounced his German citizenship in order to head off my challenge in the High Court of Australia ( Mercury: Abetz challenge 'withdrawn' ).
He now has the impudence to chastise Justine Keay through the columns of the Mercury, and I suggest he is guilty of precisely the same offence.
On the subject of money, let us explore the senator's expenses over the two days of his now famous Abortion Interview on Channel 10 wherein he starts by defending his association with the World Congress of Families about to be held in Australia: https://www.mamamia.com.au/mia-freedman-eric-abetz
On the day of the interview, Thursday 7 August 2017, he used a government car in Sydney 5 times at a total cost of $790.32. Did this car wait during Channel 10's "The Project" interview where he linked abortion to breast cancer, thereby expounding his views as the Minister for Employment? Or are they his personal views as a key member of the religious right? If the latter, then he had no right to charge for his travel costs.
In typical Abetz fashion he later accused Channel 10 of editing his comments – an allegation that was denied.
He was still in Sydney on the morning of the 8th August when he flew to Melbourne. He went in and out of Melbourne that day in a Government car.
Flying from Melbourne to Launceston for reasons unknown, he then chartered a plane to Hobart instead of driving, and then he used three government comcars to get home.
As a concerned citizen I would like to see his diary entries for the 7th/8th August, 2014 as the Minister for Employment.
Over two days Abetz cost the taxpayer $4315.29 in an effort to insult our intelligence with his ultra-religious hard-right views.
I list Erich Abetz' expenses as provided by the Minister for Employment on the two days of his Abortion interview on Channel 10.
The Facts …
There was a glitch in reproducing the table. The amounts are: Travel Allowance: $432. Domestic flights and charters: $552.40, $1850, $327.41. Car expenses (incl Taxi, Cabcharge, COMCAR): $40, $244.97, $318.05, $52.40, $134.93, $75, $40, $52.37, $68.12, $53.48, $75, $40.
*John Hawkins was born and educated in England. He has lived in Tasmania for 13 years. He is the author of "Australian Silver 1800–1900" and "Thomas Cole and Victorian Clockmaking" and "The Hawkins Zoomorphic Collection" as well as "The Al Tajir Collection of Silver and Gold" and nearly 100 articles on the Australian Decorative Arts. He is a Past President and Life Member of The Australian Art & Antique Dealers Association. John has lived in Australia for 50 years and is 75 this year. In two of the world's longest endurance marathons and in the only teams to ever complete these two events, he drove his four-in-hand team from Melbourne to Sydney in 1985 and from Sydney to Brisbane in 1988.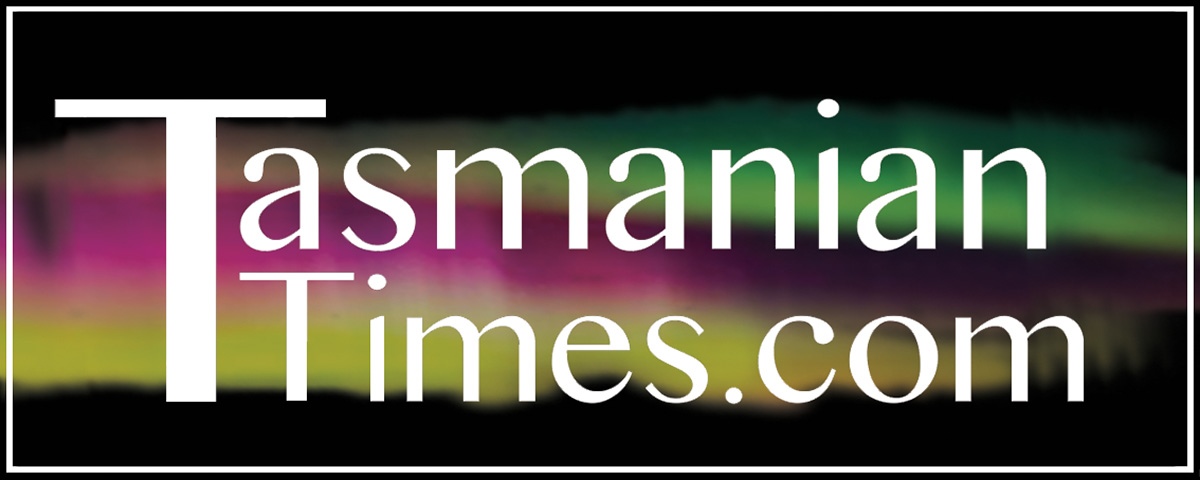 Author Credits: [show_post_categories parent="no" parentcategory="writers" show = "category" hyperlink="yes"]