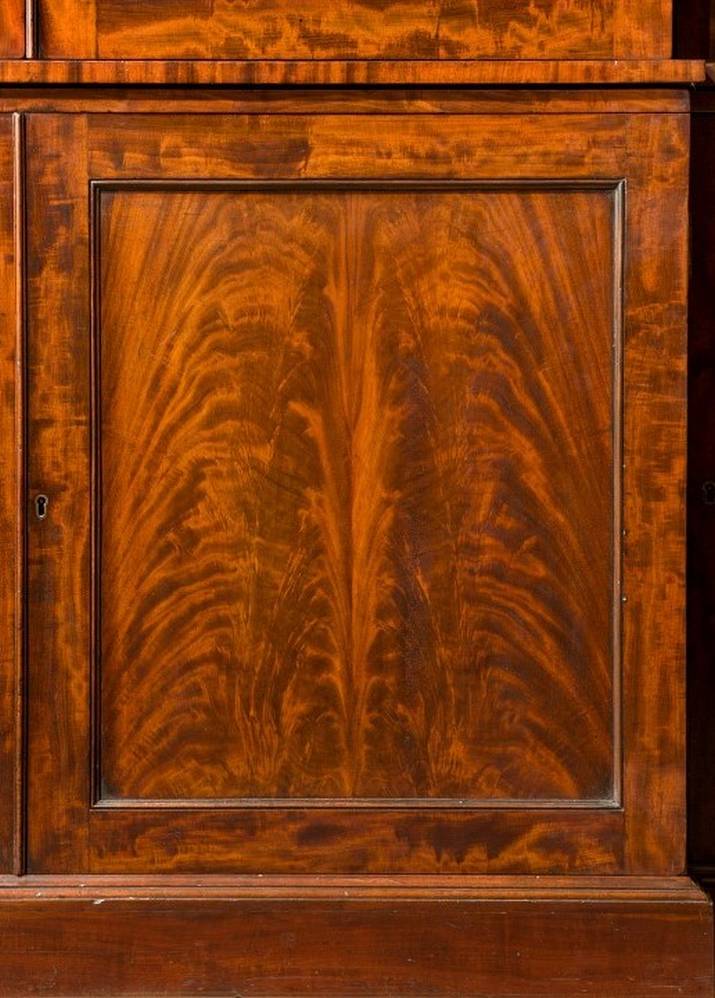 *Pic: This is a wardrobe door conversion, made by a proper cabinet maker without destroying the colour or patination, for a breakfront bookcase
I have spent over fifty years looking at and researching English and Australian furniture, and one of the first things I learned was the distinction between the separate trades of a carpenter, joiner, and cabinet maker.
A carpenter fits out a house with doors, architraves, windows staircases and skirting boards.
A joiner learns to join two pieces of wood with a wooden joint, such as a mortise and tenon or dovetails, when making carcase furniture out of solid wood while serving a seven year apprenticeship.
If he is any good, and has the right aptitude during this apprenticeship, he will be asked to progress to becoming a cabinet maker, one with the dexterity to hand cut veneers and to veneer, cross band and string over joiners' work on both flat and curved surfaces, then to cost the job prior to submitting a quote.
Everybody aspires to become a cabinet maker. Many call themselves cabinet makers, but few have either the ability or the skill.
George Harris aka Woodworker states: "I have occasionally ventured into joinery, but not in recent years. In that sense I operate more in the area of cabinetmaking."
One cannot be a cabinetmaker unless one is, or employs, a skilled joiner because one will have no carcase to veneer.
This causes me to doubt that Harris understands the import of his remarks.
I ask him – have you ever read any 19th century Cabinet-makers' Book of Prices?
If so, could you price a job for the veneered door of a bookcase whether it be flush work, or sunk with square, oval, or circular panels, and with or without mitred corners?
If cross or long banded, is it to be strung, and if so how much for each stringing, and how many stringings will be required? Is the diameter of the circle costed at the length of the oval? How do you cost and cut your retaining beads? Will you square raise each corner, or bevel raise or band each corner, or square raise with or without a string?
As a cabinet maker is this within your compass?
Can you read a piece of furniture for quality, just as you read a book using the finer points of construction, and then design to assess its inherent value?
Will you cut for veneers your recently acquired fabulous boards of Musk to maximise their potential?
The likes of Harris have participated in the rape of Tasmania's old growth forests to the tune of 6 million tonnes of woodchips a year – all for a few boards of musk and massive amounts of smoke and mirror frames.
These folk live a fantasy life, for they are not craftsmen but vandals pissing into the public purse at a cost of over a million dollars a week.
At best I suggest that, like most woodworkers in Tasmania, Harris is a joiner – but I suspect carpenter may be the correct job description.
I am currently creating a library of three breakfront bookcases and four corner cupboards in mahogany for one of my international clients. (see bookcase door panel)
To do this I have purchased five, first quarter 19th century crotch-veneered long-door wardrobes, and two sideboards for their figured veneers and superbly figured wood.
There are no mahogany trees left to cut down in the West Indies, and there never will be again for they take too long to grow.
I now recycle and reuse by force of circumstance.
In Tasmania the forest industry has completely wasted the special timber resource for short-term gain instead of defending and promoting selective logging to provide a real return on the people's asset.
"Woodworker" .. as a professional it was your job to hold Forestry Tasmania to account as it destroyed your resource before your eyes, and you colluded to get the scraps.
To add insult to injury we hard-working Tasmanians subsidise Forestry Tasmania to the tune of a million dollars a week to destroy a public asset with no international accreditation, and this with the connivance of corrupt and beyond-useless pollies whose only interest is to buy votes.
You, the pollies and the industry, have failed us – and all for a few boards of Musk!
It is beyond pathetic.
EARLIER on Tasmanian Times …
• Guardian: 'Tasmanian regional forest agreement delivers $1.3bn losses in 'giant fraud' on taxpayer'
*John Hawkins was born and educated in England. He has lived in Tasmania for 13 years. He is the author of "Australian Silver 1800–1900" and "Thomas Cole and Victorian Clockmaking" and "The Hawkins Zoomorphic Collection" as well as "The Al Tajir Collection of Silver and Gold" and nearly 100 articles on the Australian Decorative Arts. He is a Past President and Life Member of The Australian Art & Antique Dealers Association. John has lived in Australia for 50 years and is 75 this year. In two of the world's longest endurance marathons and in the only teams to ever complete these two events, he drove his four-in-hand team from Melbourne to Sydney in 1985 and from Sydney to Brisbane in 1988.

Comment 12

Comment 12

Comment 12

Comment 12

Comment 12 … finished bookcase

Tea caddy …

Satire: Ted Mead

Picture George Harris: 'Here is a lidded box I made a few years ago, featuring a lid panel made out of book-matched pieces of Tasmanian Musk…. It had a piece of pink stained glass inserted behind the void…'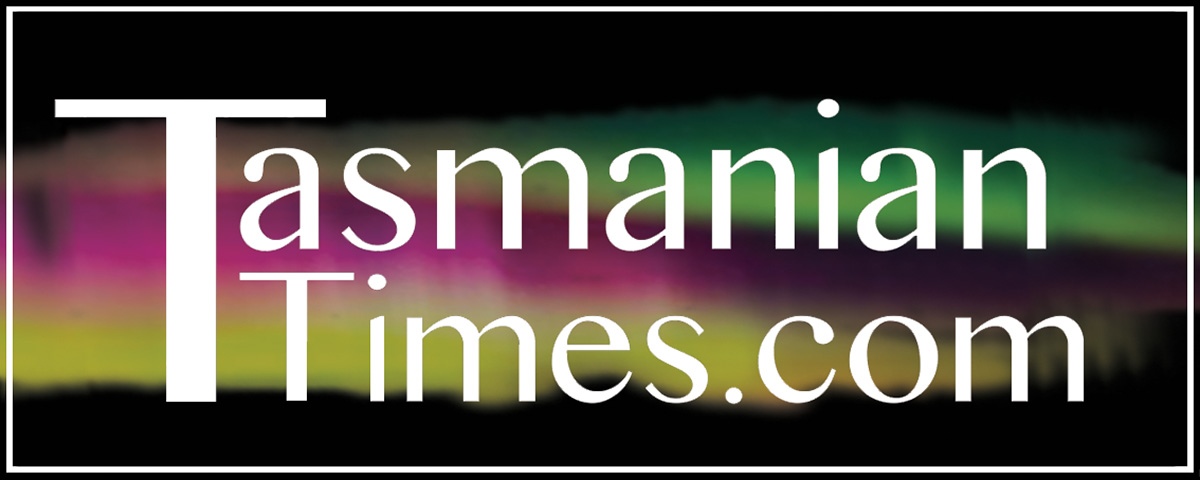 Author Credits: [show_post_categories parent="no" parentcategory="writers" show = "category" hyperlink="yes"]