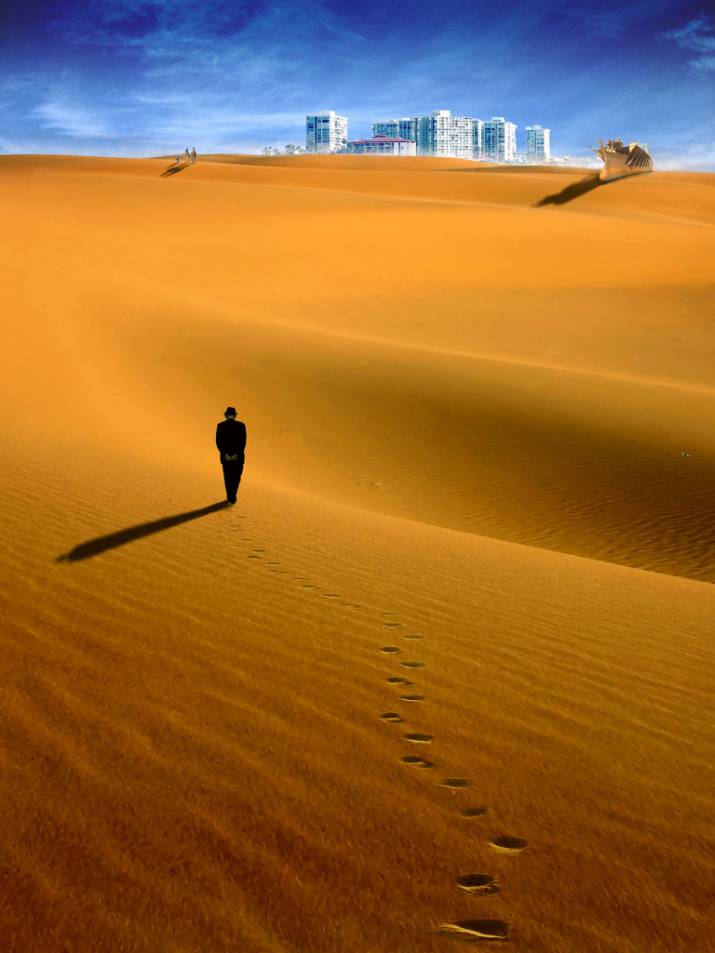 *Pic: Flickr, David Blackwell: 'Walking home one evening in 2074 Paul wondered about the scientific breakthrough reversing the effects of climate change and its impact on his beach condo investment' …

"Mr Coal" Josh Frydenberg (Minister for Resources, Energy and Northern Australia), calculates that $3 billion subsidies to renewable energy amounts to a subsidy of $66 billion up to 2030. He claims he is removing subsidies to make 'Renewables' operate on a level playing field.
Unfortunately for Frydenberg the IMF has calculated Australia's subsidies to the fossil fuel industry is $41 Billion per year amounting to $533 billion by 2030.
Corporations have, because of the growing treasure accumulating and the political power they have gained, plus annually some $6 trillion of subsidies are paid by world governments to keep the provision of a unit of fossil fuel energy, at an apparent but illusionary moderate price to the consumer.
"Coal is reliable and affordable," but only if you do not count the $41 billion per year subsidies taxpayers give to Fossil fuel corporations on top of the power bill.
Coal creates air pollution that kills 11 million people each year. What dollar value would you put on that if one of those dead was someone you love?
This is real money which could be put into schools or hospitals. It is simply not economic to invest like this. This is the insanity of the situation. They are diverting investment from economic low-carbon alternatives such as solar, wind and hydro-power and they are undermining the prospects for an ambitious UN climate deal.
Shelagh Whitley, a subsidies expert at the Overseas Development Institute, said: "The IMF report is yet another reminder that governments around the world are propping up a century-old energy model.
Compounding the issue, our research shows that many of the energy subsidies highlighted by the IMF go toward finding new reserves of oil, gas and coal, which we know must be left in the ground if we are to avoid catastrophic, irreversible climate change.
To create a level playing field all fossil fuel subsidies must go.
The level of, misfeasance and corruption in the Federal and State Governments will someday soon be addressed by the courts as a matter of urgency. The High Court and Federal Courts, are the only judicial bodies with the constitutional authority to address executive levels of wrongdoing.
All donations to the LNP by Coal and Oil industry players must be traceable back to subsidies received out of taxpayers funds. 16 years of the Iraq war has cost $6 trillion. Now we know the level of corruption and backhanders has reached $6 trillion every year all around the world.
*John Ward is Managing Director of Workplace Transformations Pty Ltd. His Work Background: Wool Classer; Australian Army Medical Corps; Civil Defence (SES) Darwin, Northern Territory. Middle Manager Oil Refining for Royal Dutch Shell (Granville refinery). Union Secretary Association of Foremen and Supervisors; Industrial Relations and court appearances: Member of the Conciliation Committee of the NSW Chemical, Oil, Brewing, Soap and Detergent and the Metalliferous Mining industries. NSW Public Service, Research in Employment Development and Training. Establishing Employment and Industry Development Schemes in NSW. I have extensive experience in project management, administrative services and team building. I have held the position of Deputy Director, Industry and Regional Policy Branch of the NSW Department of Industrial Relations and Employment. Served as Secretary of the Employment Advisory Council (EAC) NSW Ministry of Employment. I also have wide experience in workplace training & workplace reform and industrial relations in the oil, food, sugar, iron and steel, mining, power, manufacturing, chemical and construction industries.