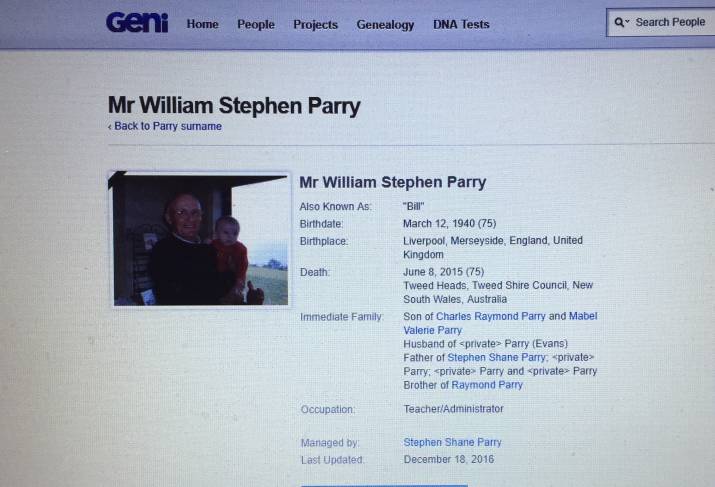 *Pic: This entry on the Geni website is managed by Stephen Shane Parry now the ex President of the Senate. It describes the ancestry of his British father William Stephen Parry making the Embalmer from Burnie a dual national. It was last updated by him on December 18th 2016.

Eric Abetz in the Senate from his website
First published November 6
In early May I wrote to each of the 12 Tasmanian Senators – including Senator Stephen Parry – regarding Senator Eric Abetz and Section 44 … as recorded on Tasmanian Times ( John Hawkins' questions for Eric Abetz ).
I received only one reply and this was from Catryna Bilyk, a Labor Senator for Tasmania. Bilyk in part replied:
"Your questions imply a number of serious allegations that are best dealt with by the proper authorities …

"The issue of a Senator's eligibility to be elected to the Senate is a matter for the Court of Disputed Returns. I note that Senator Abetz's case has already been dealt with by the Court."
Senator Parry did not reply but my letter would have alerted him to his current predicament.
It is beyond belief that Parry did not raise the matter of my letter with his State Liberal party superior, one Erich Abetz, seeing that it was addressed to all Tasmanian Senators including Senator Abetz.
Abetz, to his own advantage, had lain low over his German citizenship while remaining for 16 years a dual national in the Senate until challenged by myself before the High Court.
A challenge by an individual can only be heard within 30 days of an election. I suggest that Abetz told Parry that he could clear the matter up by renouncing his British citizenship just before the next election – and then the coast would be clear.
This tactic had worked for Abetz, and Parry has certainly been lying low.
It is beyond belief that Emma Alberici on Lateline did not raise the matter with Abetz concerning his appearance before the High Court, acting as the Court of Disputed Returns, over his right to sit in the Senate as a dual national.
This was a matter that he dodged immediately prior to the 2010 election by obtaining a Certificate of Renunciation of his German citizenship. As a result I was forced to withdraw my case before the High Court.
The Renunciation certificate did prove that Abetz had been sitting in the Senate illegally for 16 years as a dual national – because one cannot renounce a citizenship one does not have.
Is it the case that Abetz will only appear live on television or radio if the questions are agreed beforehand?
If so, did Alberici agree not to raise with Abetz the subject of his appearance before the High Court over Section 44 in order to get him to appear?
If not then why, on this key point, did she not make the matter of Abetz sitting illegally in the Senate for some 16 years crystal clear to the viewing public?
The same shallow questioning applies to Leon Compton when interviewing Abetz on citizenship matters. I rang and asked Compton about screened questions but I was summarily dismissed.
If I am wrong over screened questions, why will no-one ask Abetz about his appearance before the High Court under section 44? Surely this is the key to all his answers on the subject matter of dual citizenship.
I suggest that Abetz knew of Parry's problem over dual nationality.
Senator Peter Whish–Wilson (Greens' Senator for Tasmania) had raised the matter of Abetz' citizenship, as recorded in Hansard in the Senate on the 9th August 2017, and the matter (after objection) had been referred to Parry by the Deputy President, Parry being absent.
Now that Parry has been booted out of the Senate this poses an interesting question … did Parry protect Abetz from having to answer the Whish–Wilson matter before the Senate when he himself was in a similarly position?
Was the fact that they were both sitting illegally in the Senate, at one time or another, discussed between them?
Parry owed his election to the Senate to Abetz, and his position as President to the continuing patronage of Abetz to whom he was therefore honour bound to protect.
Failure to do so can have political consequences.
Abetz had seen off Colbeck, a Cabinet minister in the Abbott government, by putting him in the unwinnable Number 5 position on Tasmania's Liberal Party election ticket.
It is a nice thought that he is back in the Senate courtesy of Parry's stupidity over filling in his nomination form.
Abetz probably suggested that the best course of action over citizenship was to lie low, a strategy that had worked well – and so far always has.
• DID PARRY PROTECT ABETZ from having to answer the Whish–Wilson questions …
Extract …
… I have been open with my documentation. I also know that Senator Di Natale has been open about his, but it has been brought to my attention that one person in this chamber has not been willing to clear up public speculation and doubts about their efforts to rid themselves of dual citizenship when they were duly first elected: Senator Eric Abetz.

We know that Eric Abetz was once a German citizen. We know that he is now no longer a German citizen. What we don't know is whether—or how long—he sat in this chamber before he rid himself of his dual citizenship. It could've been anything up to 16 years. We don't know whether he took all reasonable steps to renounce his German citizenship before he took his place in the Senate. He has previously said he would publicly release documentation, but I understand he has not done so …
• Read Peter Whish-Wilson's full speech HERE
• Watch Emma Alberici's Lateline interview with Eric Abetz HERE
*John Hawkins was born and educated in England. He has lived in Tasmania for 13 years. He is the author of "Australian Silver 1800–1900" and "Thomas Cole and Victorian Clockmaking" and "The Hawkins Zoomorphic Collection" as well as "The Al Tajir Collection of Silver and Gold" and nearly 100 articles on the Australian Decorative Arts. He is a Past President and Life Member of The Australian Art & Antique Dealers Association. John has lived in Australia for 50 years and is 75 this year. In two of the world's longest endurance marathons and in the only teams to ever complete these two events, he drove his four-in-hand team from Melbourne to Sydney in 1985 and from Sydney to Brisbane in 1988.
• Mercury: Eric Abetz steps up pressure on Braddon MP Justine Keay to prove she renounced British citizenship
• ABC: MP Justine Keay took steps to renounce UK citizenship one month before nominations closed
• John Hawkins in Comments: Dear Editor, The Wikipedia site ( HERE ) for Senator Erich Abetz is very closely watched … I revised and edited the Wikipedia entry for Abetz under the section entry, Eligibility to hold Senate office at 0735 today 6 November 2017. By 0851 some 75 minutes later my entry had been removed and the subject matter re-edited by Liguer, presumably acting for Senator Abetz. This has happened before …
• Brenda Rosser in Comments: I revised and edited the Wikipedia entry for Abetz under the section entry, Eligibility to hold Senate office at 0735 today 6 November 2017. By 0851 some 75 minutes later my entry had been removed and the subject matter re-edited by Liguer"…" The same thing happened to me when I tried to correct the erroneous figures of the extent of land in Tasmania protected from deforestation. Quoting official reports from the Tasmanian and Federal Government. Still it was erased and reverted back to the document's original lies.
• John Hawkins in Comments: Brenda, how very interesting. I think we are touching the tip of the iceberg that is Fake News controlled from the Dirt File HQ in Canberra that gives Abetz his power. Mantach was the most obvious manifestation when he was forgiven half a million for not spilling the beans. Liguer is smart … he has a user account with Wikipedia meaning that it is impossible to track his IP address. How many more readers of TT have had their Wikipedia contributions trashed by our political masters? We are well into the Orwellian world of controlled information.
• Advocate: Keay confirms she British at time of nominations
• Advocate: Citizenship fiasco: Brett Whiteley would make comeback bid
• Fairfax: Malcolm Turnbull plans to recall Parliament to deal with citizenship issues
• Bob Hawkins in Comments: Have just listened to ABC's World Today. I can't believe that, of all people, Eric Abetz would even think of buying into the dual citizenship debate. But there he was, as spooky as ever, intoning advice. Yet it's not really surprising: he would be an expert in the question of dual citizenship.
• Lyndall Rowley in Comments: … I'm still flabbergasted by the deafening silence re the Criminal Code that already applies for providing false or misleading statements. But I'm guessing our leaders don't want to mention 'the war'. A penalty for up to 12 months imprisonment isn't a good look for our MPs and Senators. And then there's the unexplored issue surrounding unqualified/illegitimate Parliamentarians and voting legitimacy in Parliament, pay & pensions. Just the tip of the iceburg as well?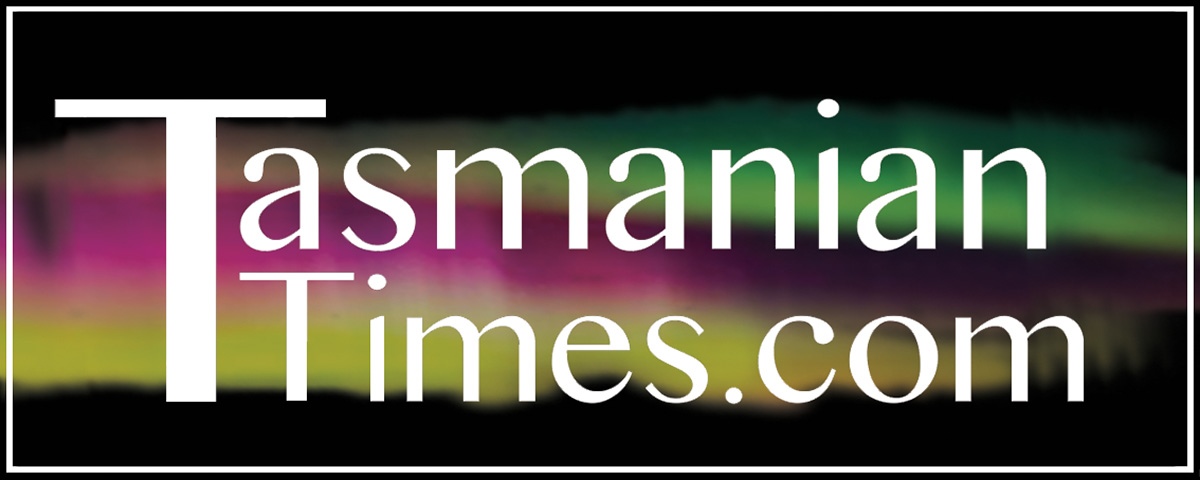 Author Credits: [show_post_categories parent="no" parentcategory="writers" show = "category" hyperlink="yes"]