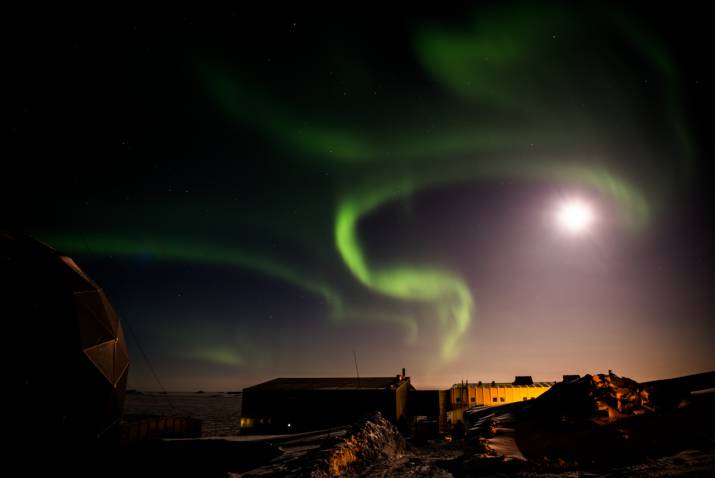 Aurora moon at Davis Station, 2017. Pic: Barend Becker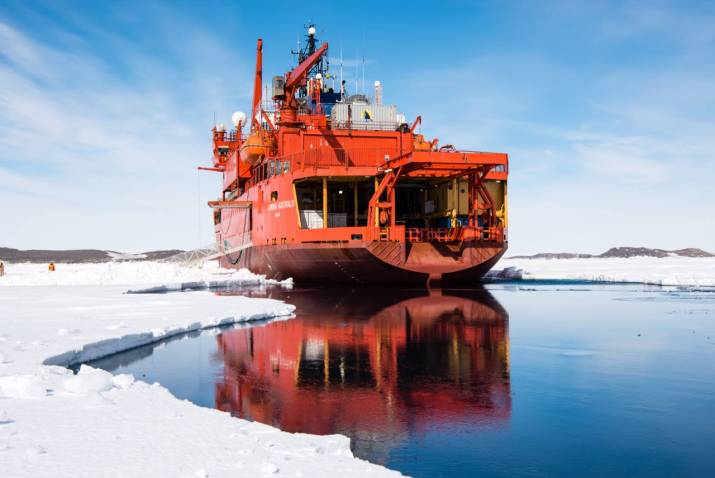 Aurora Australis at Davis 2017. Pic: Barend Becker
They say a picture paints a thousand words and that has never been more true than in the case of Antarctic observer Barend Becker.
From pictures of sunsets rising over icy mountains to videos of auroras that turn the night sky green, Mr Becker's visual diary of his recent 12-month adventure living and working in Antarctica shows a story that needs to be seen to be believed.
And it all started with a chance encounter.
"I retired from the Bureau of Meteorology in 2015 after 33 years, but I came by to visit the [Hobart] office one day and someone mentioned that they were extending the Antarctic application period and that it was open to external applicants," Mr Becker said.
"I put in the application not thinking it would go anywhere."
But go somewhere it did with the retiree selected for his fourth trip to Antarctica as part of the 2016–17 winter observation team for Davis Station where he experienced an ever-changing scenery of blizzards, record-breaking winds, mountains of snow, and an array of incredible local wildlife.
"The wildlife is amazing," Mr Becker said.
"The antics of the elephant seals in summer kept us amused and bemused, we watched as Adélie penguins returned in their thousands to their breeding colonies – and as some of them had an encounter with a leopard seal – and looked on as Weddell seals looked after their pups.
"My most memorable experience, though, was a walk on the frozen Lichen Lake – a fresh water lake in the Northern Vestfold Hills.
"And as an avid photographer, I have been in awe of the aurora australis. We had many wonderful nights of aurora activity."
While this was Mr Becker's first trip to Antarctica as a civilian contractor, he has worked at Davis Station while employed with the Bureau of Meteorology as a senior forecaster during the 2005–06 and 2007–08 summers, as well as spending a winter at Macquarie Island as an observation officer in 2013–14 in his last year before retirement.
Although he has made several expeditions to the icy continent, he said that the weather at Davis Station this winter had presented a few challenges as the site experienced 22 days of blizzards and had an enormous amount of snow fall that sometimes made it difficult to navigate the base.
The biggest challenge, however, was much more personal.
"Being away from family and missing those family moments and events is hard," he said.
"It is the hardest part of being here.
"I am looking forward to seeing my family, especially meeting my first grandson who was born in January. It has been great to have phone access to anywhere in the world, so I have kept in contact and seen pictures and video of my grandson and family."
Mr Becker is currently travelling back from Antarctica with the 2016–17 winter crew on the Aurora Australis and is expected to return to Hobart on 3 December.
So what is on the agenda when he returns?
"I have had four wonderful trips south, but it's time to hang up the sorels," he said.
"It's now time to go back to enjoying retirement and visit and spend quality time with family and friends."
Did you know?
• 1 December 2017 is Antarctica Day
• Antarctica Day celebrates the signature of the Antarctic Treaty in 1959.
• The Antarctic Treaty was adopted by 12 nations, including Australia, to ensure Antarctica was used for 'peaceful purposes'.
• This is an annual event that is celebrated all around the world.
Kelly McNeill. Media and Communications Manager, Tasmania and Antarctica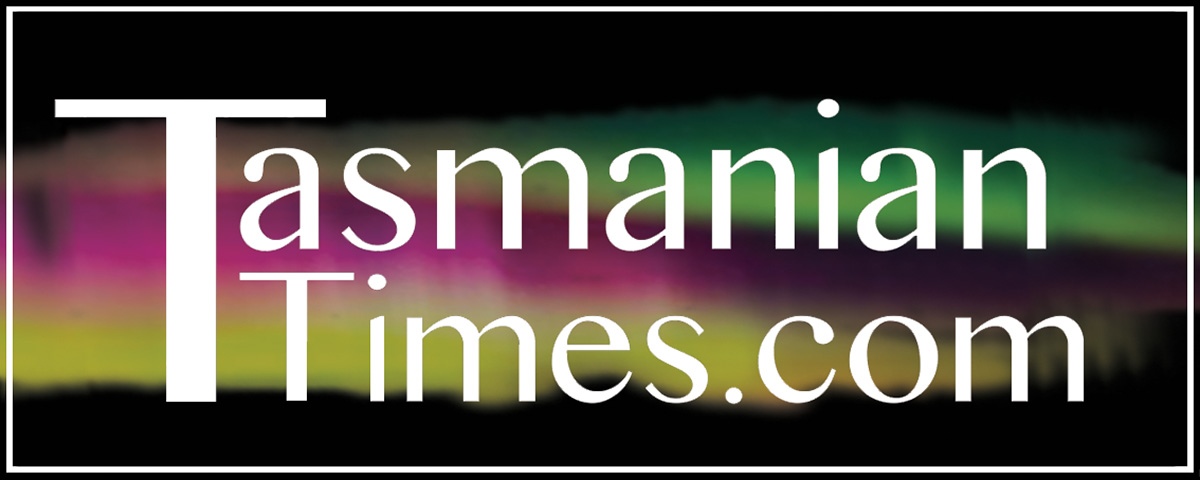 Author Credits: [show_post_categories parent="no" parentcategory="writers" show = "category" hyperlink="yes"]