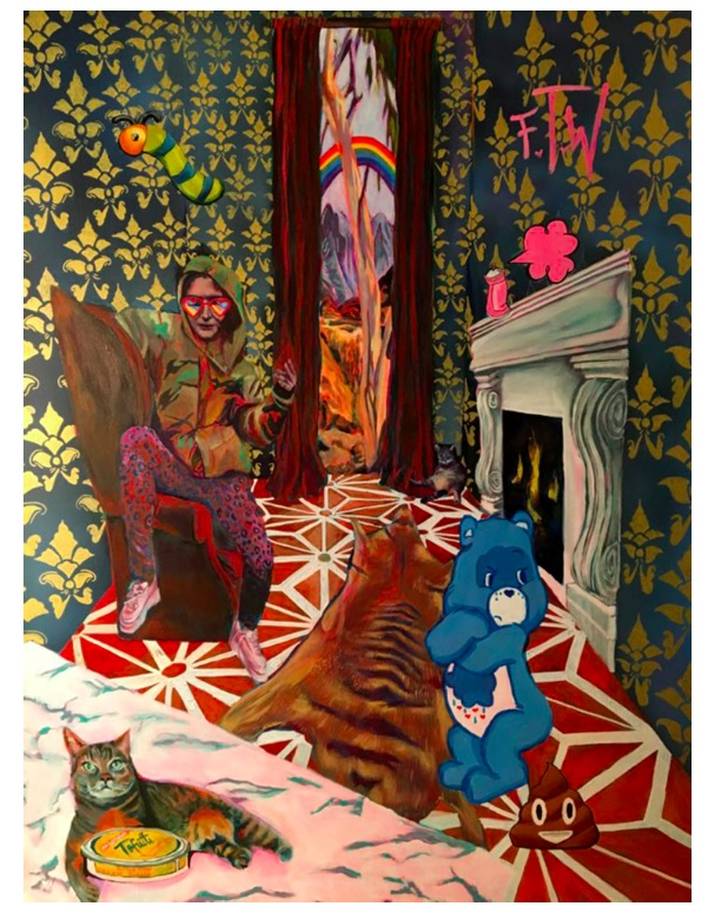 The winning work, 'Worm as Chamelon' by Laura Gillam
Following a record number of entries the winner of the 2017 RACT Insurance Tasmanian Portraiture Prize (TPP) has now been revealed with a wild, psychedelic portrait taking out the top award.
RACT Insurance TPP judges Angus Trumble, Betty Nolan and Caleb Clifford awarded Laura Gillam of Hobart the honour for her piece entitled 'Worm as Chameleon'.
RACT Insurance TPP judge and Director of the National Portrait Gallery of Australia Angus Trumble said he was drawn to the meaning behind Ms Gillam's piece.
"All of us felt that the winning work was painted beautifully and carried a great deal of conviction," Mr Trumble said.
"It is a genuine portrait of a friend with incredible, originality, inventiveness and wit."
The 2017 exhibition marks the 10th anniversary of Tasmania's most prestigious portraiture prize for artists aged 30 and under, with many young creatives identifying the awards as a kickstarter to a successful career in the arts.
This year over 100 entries were received from around the state across a broad range of mediums, with almost two thirds of works submitted by Tasmanian female artists.
With judges tied this year two runners up have been announced with both Dexter Rosengrave and Liam James presented with second place awards.
RACT Insurance CEO Trent Sayers said the TPP has become an invaluable platform for young Tasmanian artists over the past 10 years.
"On behalf of RACT Insurance I would like to reiterate how privileged we are to be associated with the Tasmanian Portraiture Prize and its contribution to art and creativity in Tasmania," Mr Sayers said.
"As the only Tasmanian based insurance company, we endeavour to support important local initiatives such as the Tasmanian Portraiture Prize and would like to acknowledge all of the talented artists who participated in this year's competition."
The Packer's Prize, chosen by the amazing team responsible for presenting the TPP, was awarded to Rachel Kumar for her entry work 'A Lesson in Patience'.
RACT Insurance encourages all Tasmanians to attend the Tasmanian Portraiture Prize exhibition and support the state's emerging artistic talent at the Long Gallery in Hobart from 2 September – 17 September, Sawtooth ARI in Launceston from 7 October – 21 October, and the Devonport Regional Gallery from 28 October – 3 December 2017.
The competition, celebrating its 10th year in 2017, was established to foster the development of emerging Tasmanian artists and provide an opportunity for the public to appreciate their talents.
The winner of the 2017 RACT Insurance Tasmanian Portraiture Prize, Laura Gillam will receive $5000 in prize money, a sculpture made by Tasmanian artist Richard Martin, as well as a trip for two to the Archibald Prize exhibition in Sydney, while runners up Liam James and Dexter Rosengrave will receive $2000 to assist with studio rent.
The winner of the Packer's Prize will receive $500 towards their future artistic endeavours.
ARTIST STATEMENTS
WINNER – Laura Gillam
Worm as Chameleon
"One of the girls obviously had a big night (and she certainly looked like that). She was coughing quite a bit and as I have immunocompromised I was rather concerned about that. Also, it appeared she had personal belongings scattered in the hotel which I didn't think looked professional."
– Anonymous, Trip Advisor
This is a painting to honor my mate Worm. She is reclining in camo, with her cats, Luna and Savvy and some of her personal belongings in a colonial hotel in Hobart, which she cleans most mornings.
Worm grew up in Portland, Victoria and moved to Hobart with Luna and Savvy in 2013. She loves animals and tends to hate most people. She paints, sews, swears, parties and smokes. Her Dad is from Armenia and sometimes people ask if she is a Muslim or a Kardashian. To me, she is a rebel girl, a strong, fearless woman with a badass attitude.
She smokes ciggies so she coughs a bit, I'm not too concerned about that though. While some cast earthworms as lowly, to me worms are one of the most important creatures. They go about their business regardless of what others think. They can cut through s**t, bring life to death and remain humble.
RUNNER UP – Liam James
Portrait of a Younger Man
It feels very easy to pronounce ideas of love through poetry and art, but conversations around friendship are often left to the realm of hallmark cards. I have tried to write this statement several times and struggled. I wanted to discuss Aristotle's three types of friendships and the concept of male homosocial intimacy, but when I did this it seemed cold and academic. When I tried to write sincerely and with lyricism it felt sappy and trite.
So instead I have written what I see.
This is a portrait of Gus Romer. He is five years my junior. This photo was taken on set during another shoot. It was an accident. When I look at it I see someone whom I care for; and I know cares for me. I hope it feels intimate. He always looks good in chipped nail polish. I think it reveals something of Gus; I think he will like that. It is softly awkward and almost tense. I wanted to share this image because people are often uneasy with homosocial intimacy.
RUNNER UP – Dexter Rosengrave
Wrestle/Self Portrait
Recently I've been engaging in performances that highlight the pain, endurance and frustration of existing in this world as someone with a female body. My initial concept for this performance was to showcase my strength and determination by wrestling an unrestrained boxing bag until exhaustion. I initially did this for two and a half hours in an attempt to disrupt society's notions of gender and body. However, during the performance I began to realise that I was actually wrestling with myself, not with society; the video represents and articulates this battle. It's unrelenting and at times excruciating. Through this performance I uncover my engrained misogyny. I found this extremely confronting but it is not surprising since I live in a world that oppresses the feminine out of fear. Through observing myself I discover that I often use society's ideas of masculinity as a mask to hide behind, rejecting vulnerability because of its association with femininity. The performance demonstrated this was unsustainable, and that vulnerability is fundamental to the human experience. Self-aware until I enforce a self-inflicted agitation, I transcend my own discomforts – further transforming my ideas of gender, body and identity. In tears and exhausted, I end realising there's more power in acceptance, not resistance, of self.
PACKER'S PRIZE – Rachel Kumar
A Lesson in Patience
Most people are familiar with the term "patience is a virtue" – the idea that the ability to wait for something is a valuable quality in a person. I've been told that this is a quality I often lack. I've been told that I'm flammable, that I'm capable of igniting easily and burning up quickly when patience is required. Sometimes I disagree with this analogy, but it's definitely food for thought when considering this self-portrait.
Earlier in the year, I injured my hand and was consequently unable to draw or paint for some time. The recovery period was, for a lack of a better word, s**t. As it is for many, art is my way of filtering
my thoughts which at times can seem so inconceivably vast, or cosmic, if you will. The use of colour in this piece emulates these thoughts, whilst the grey tones speak to the arduousness of my recovery period with an equally arduous medium: biro. Drawing in biro takes a great deal of patience and this self-portrait ultimately was and is, for me, a lesson in patience.
RACT Insurance CEO Trent Sayers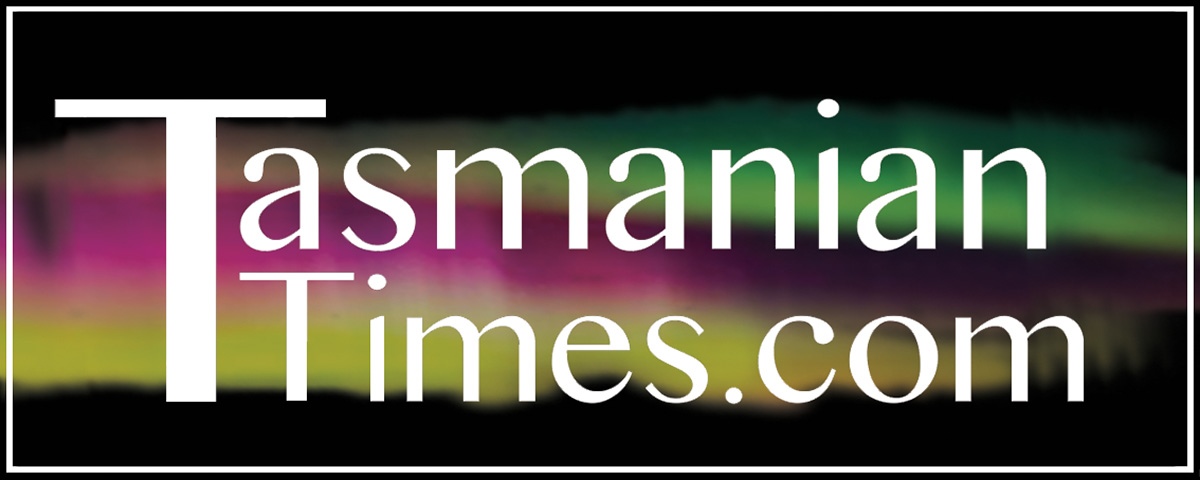 Author Credits: [show_post_categories parent="no" parentcategory="writers" show = "category" hyperlink="yes"]