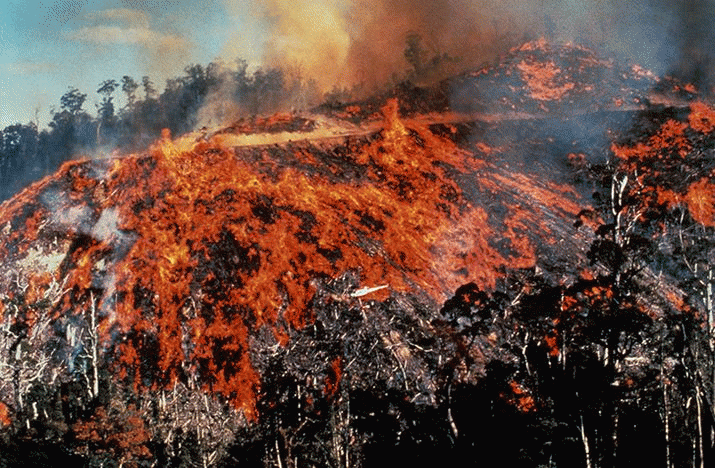 Fire bombing a logged couped – Once a pristine forest in the Tarkine. – Pic Anonymous
*Pics: All images were taken in the 1990's, yet in this 21st century the forest atrocities haven't relented …
Forestry Tasmania has long professed a catch-cry of 'World's Best Logging Practice', but outside the insular walls of its offices there is a different reality.
Images of logging practises in Tasmania have been imprinted deeply into our minds.
Scenes of utter destruction like the Hiroshima-blackened landscapes, the smoke-filled mushroom clouds that billow and waft into our urban environment, and the once endless procession of log trucks parading our highways en-route to the insatiable jaws of the woodchip mills.
Essentially Tasmania's forest industry over the past several decades created an Armageddon upon our natural environment, yet in this 21st century Forestry Tas shows no sign that it wishes to repent.
Its quest for FSC is not aimed at redemption. It is merely pursuance for a licence to blindly continue in its myopic ideology.
There is a recurrent cliché -'Pictures paint a thousand words' – yet in no other way can I portray so vividly the iniquity of FT's abhorrent practises upon the magnificent world-class forests of our bountiful island.
Where articulate and apt descriptions may fail, the impact of my photos don't, and they constantly remind me of why I have been campaigning for native forest protection for more than 30 years.
*Ted Mead began campaigning for wilderness protection in 1980 soon after he first visited Tasmania. Subsequent to the Franklin River success, the senseless destruction of the Island's primeval forest became his focus; which has been ongoing for the past 30 years. Ted was arrested and prosecuted for defying the law at Farmhouse Creek, which became a catalyst towards those forests now being fully protected in the World Heritage Area.
• Paul Tapp in Comments: Within my dream/There lives a scream/Which fills me so with fear/I feel its breath upon me/The beast is drawing near/It's breath is hot and fetid/And it vomits in the seas/The beast has dogs/Which carry logs/The monster feeds on trees … I visited the Tarkine and also took photographs of soaring, silent trees and wondered how anybody could cut them down, disturb the peace of ancient forests and the mysteries within. But they do, without conscience, for at the end of the day, it is merely a tree and it is a practical way to put bread on the table, when jobs are scarce and global economics can put them on unemployment lines at any time.
• Pete Godrey in Comments: Well put Ted, thanks for maintaining the rage. The picture of Triabunna woodchip mill is pertinent, after Gunns closed the mill there were 30,000 tonnes of woodchips left unsold. The new owners had to move them to rehabilitate the site to meet EPA requirements. So 30 thousand tonnes of our forests were destroyed and left to rot, that is around 3000 truck loads of logs cut, carted, chipped and left to rot. And the best bit is we paid massive subsidies to the companies to do it. Rage is the only response. This ongoing conversion of rainforest to eucalypt forest must never be sanctioned by FSC or any other organisation that claims to be environmentally responsible.
• Tasmania's first BioBlitz in the Tarkine!
• Cassy O'Connor: Forest Practices Plans Routinely Ignored
• Cassy O'Connor: FSC Looking Like a Mirage Under Harriss
• Vica Bayley: Government plans to sell plantations threatens FSC and PEFC certification
• Paul Harriss: Increased protection for critically endangered Swift Parrot on Bruny Island
• Peg Putt: Cautious welcome to Bruny Island logging moratorium
• Vica Bayley: Action on Bruny swift parrot habitat welcome but needs to be more widespread
• Jenny Weber: Swift Parrot survival depends on permanent protection of forests on Bruny Island and across Tasmania
• Rosalie Woodruff: Swift Parrot Logging Moratorium
• Paul Harriss: Hardship program to assist forest contractors devastated by Labor-Green policies … The Government has reallocated $1 million in Commonwealth funds, which remain unspent from previous compensation schemes for a limited hardship relief program. Today, I am pleased to announce details of the hardship program are now available and applications open •
• Sarawak Report: Environmentalists Want Answers From Adenan As Peatland Clearing By KTS Continues
MONDAY, November 23 …
• Matthew Groom: Tasmanian Wilderness World Heritage Area … The technical advisers will spend the week in Tasmania assessing the state of conservation of the Tasmanian Wilderness World Heritage Area and will provide advice on the finalisation of the draft Management Plan for the Tasmanian Wilderness World Heritage Area …
TUESDAY, November 24 …
• ABC: Private forestry company Forico wins environmental tick for woodchip exports
• Jenny Weber, Peg Putt: World Heritage Reps urged to rebuff Tasmanian Government on rainforest logging … … "The rainforest 'special species' logging trial in the southern forests coupe EP048C had demonstrated the range and scale of disturbance associated with such logging. Any attempt to log in the World Heritage property will be significantly detrimental to the maintenance of Outstanding Universal Values," Ms Weber said …
• Nick McKim: Time for Hodgman and Turnbull to Accept Umpire's Call on World Heritage Logging … "The Liberals' bloody mindedness over logging the TWWHA is already damaging the tourism industry, with Lonely Planet ( TT HERE ) issuing warnings to see these precious areas before they are compromised." …
• ABC: Specialty timber industry wins Tasmanian Government support, despite doubts over logging in UN-listed areas
• Claire Gilmour in Comments: A gumtree ad on 4 Nov 2015. "I am a 23 year old male currently seeking work. I currently work in forestry planting, pruning and fertilizing trees but the warm weather caused the dirt to dry out to much and we have been laid off untill further notice… I live in wynyard and have my motorcycle license." Until further notice eh!? What say ye FT and Government? So Forestry and their business partners are laying off more people … so the Tas government fly on in with more Fed money to gift …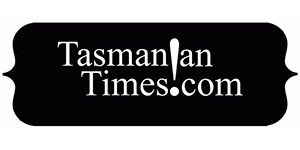 Author Credits: [show_post_categories parent="no" parentcategory="writers" show = "category" hyperlink="yes"]