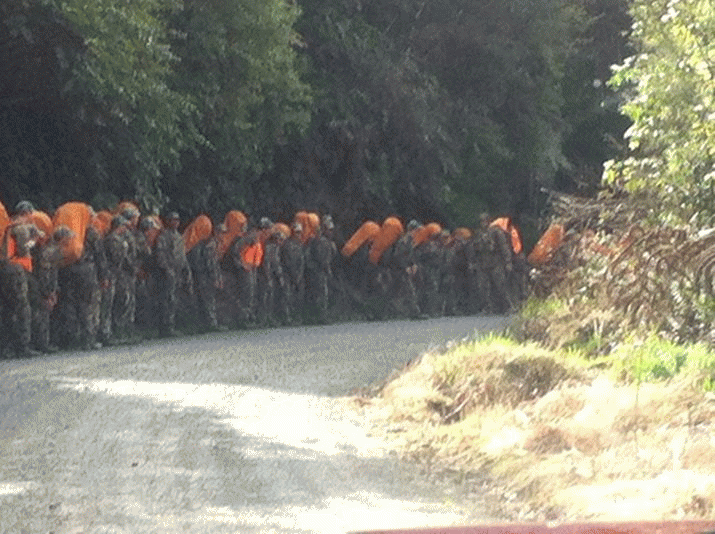 *Pic: Picture: Mark Nyhoff. 115 Limited Service Volunteer trainees aged 17 to 25 were exercising in the Coromandel Forest Park. LSV is a free six-week Government program aimed at getting disaffected youth on benefits into work.
"Today we were up the Kauaeranga valley in the middle of a 25500 hectare 1080 helicopter drop, the public access road was open with mountain bikers, hikers, fishermen and tourists streaming in and out. The thing that blew me away was up this same valley in the middle of a aerial 1080 drop there is also a school camp and a army cadet exercise / camp taking place. There's hundreds of adults and teens up there now as I write this all exposed to toxic 1080 dust and poison baits." Mark Nyhoff (Sep13) off-duty logging contractor.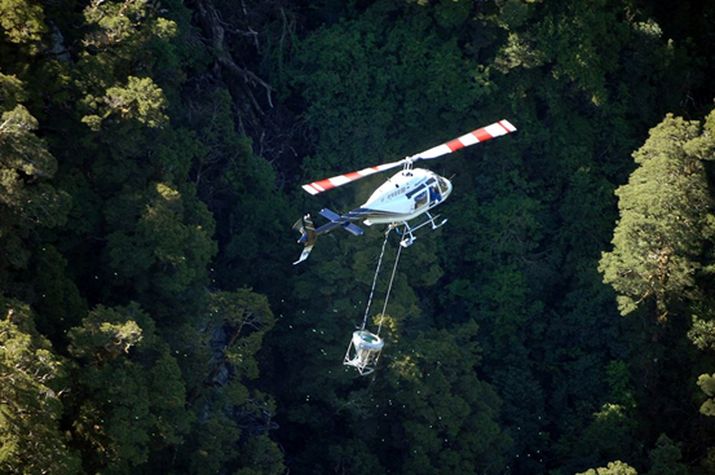 The small green flecks are 1080 pellets flying indiscriminately from the chopper's hopper.
"The Defence Force last night confirmed that 115 Limited Service Volunteer trainees aged 17 to 25 were exercising in the Coromandel Forest Park, after arriving on Sunday with 25 instructors while helicopters were dropping bait laced with 1080 poison."
New Zealand Herald, Here: http://www.nzherald.co.nz/environment/news/article.cfm?c_id=39&objectid=11514162
On Sunday the Department of Conservation (DoC) dropped 1080 bait by helicopter over 25,000 hectares in the Coromandel Forest Park, New Zealand, which stretches from Waihi up to the tip of the peninsula. Around 51 ton of poison 1080 cereal bait was dropped on the hill behind Thames up in the Kauaeranga Valley. Based on the loading rate below. About 76.5 kg of pure compound 1080.
From Resource consent form 122295
Application Rate
1 Bait containing sodium 2-fluoroacetate (1080) shall be aerially applied at a rate no greater than twenty (20) kilograms per hectare.

Loading Rate
2 The loading rate of the bait shall be no greater than 0.15% ± 25% weight for weight.

2kg per hectare using a 1.5 gm to kgm cereal bait over 25,500 ha = 25,500 x 2 x 1.5 gm = 76.5 kgm of pure Compound 1080 used.
By Comparison Tasmania uses Compound 1080 at 11 times less strength than New Zealand uses – 0.014% compared to 0.15%. Tasmanian authorities only use it by hand broadcast after pre-feeds along defined feeding lines – for crop protection and for forest seedling protection. Since 2006 it is no longer used in public forests. The amount of commercial poison grade Compound 1080 used in Tasmania is officially reported as <5 kg per year. Richard Prosser of New Zealand First asked the Minister of Conservation Maggie Barry if she had confidence in all aspects of her department's use of 1080 poison. "Yes I do" she replied. He then asked if she was satisfied that the department did the right thing with its unusual step in not closing tracks or restricting access to the Coromandel Forest Park during last Sunday's 1080 poison drop because it quote " did not see the baits as a safety risk" then why is she satisfied? The Minister answered, "there was no need to close the tracks because there was sufficient warning." Prosser then asked the Minister if she was satisfied that the department met all conditions of resource consent no: 122295 and that the manufacturer's guidelines on the use of 1080, which according to animal control products is a deadly poison and Eco toxic, were followed? She replied Yes. Prosser asked how she reconciled her answer when the fact that the bait processing area was within 100 metres of a perennial waterway, that bait was dropped into a registered drinking water supply and that the park was not closed. The Minister answered, "The Park did not need to be closed and that was on the view of the medical officer who deemed that the public safety was not at risk." Richard Prosser then asked was she satisfied with the fact that members of the public including three bus loads of young Limited Service Volunteers who entered the area at the time were not informed about the drop and thus denied the choice as to whether they were exposed to deadly poison being dropped from the air? The Minister's answer:" I draw the member's attention to the answer I gave earlier and the signage that was present. If you say that nobody read the 180 signs in that area around that area then they were…Mis..they could have easily seen….that so…they needed to have looked at the signs, there were also notices in the newspaper as well as all the effected individuals that I listed earlier being told in addition to that there are very strict controls around 80 metre buffer zones as to where these drops can be taken. They were dropped in the appropriate quantities of around 2 kgs per hectare and the conditions were met and there have been no complaints from members of the public, to the regional council or the Health Authority. Parliament Questions here: http://www.inthehouse.co.nz/video/39563 Aerial bait drop in the scenic Coromandel Peninsula - a popular tourist and holiday destination closest to NZ's largest city Auckland on the North island.

Picture: Ben Mayall. Baits fell in and around water in the Whenuakite block. (Sept.15)

Picture: Michael A. Hepburn This is in Kauaeranga River- Thames drinking water…found 3 possums on 15th September here.

Picture: Maria Motyl one of many baits found in drinking water. Te Puru creek, Thames coast

Picture: Mark Nyhoff Kauaeranga valley

Picture: Mark Nyhoff Kauaeranga Valley
*Penelope Marshall completed a Bachelor of Arts at The University of Tasmania majoring in English and History. She has studied creative writing at Queensland University and has a Diploma in Freelance Journalism. Currently she is on the Clarence City Council Cultural History Advisory Committee assisting with local history projects.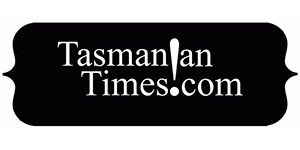 Author Credits: [show_post_categories parent="no" parentcategory="writers" show = "category" hyperlink="yes"]