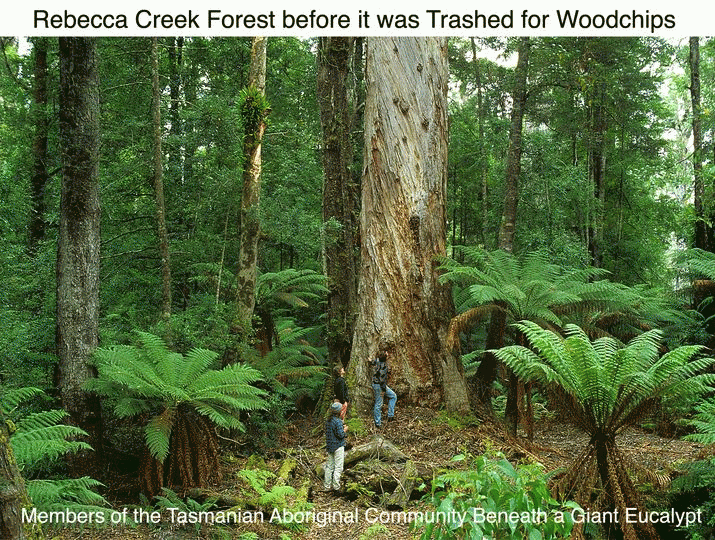 *Pic: This photo was taken about 20 years ago before they trashed it for woodchips
Despite the fact that the Tas Liberals knowingly allow, and have intentionally permitted, the ongoing degradation of cultural heritage along the Tarkine coast, it all seems a wee mysterious that they look to develop some form of goodwill with the Tasmanian Aboriginal Community.
Stay tuned for the Liberals' pending announcement that they intend to hand back some land parcels to the Tasmanian Aboriginal community.
Two regions that have been mooted for possible hand-back are the Narawntapu National Park and the Rebecca Creek quarry site east of Couta Rocks in the Tarkine.
It doesn't take an enlightened cynic to understand that this is all intended to arise before the next election, knowing well that these areas have no commercial resources remaining that would be of any extraction value to the Liberal's cronies.
The Rebecca Creek quarry is identified as a significant cultural site. The quarry, along with the Tarkine coastal strip easily fulfils the IUCN Cultural criteria for World Heritage Listing. Previous Tasmanian governments were aware of this fact many decades ago but have decided to ignore it.
Until 15 years ago Rebecca Creek was pristine forest replete with some of the grandest stands of eucalypts on the West Coast. Since then virtually the entire area has been logged and sent to the chipper, and now that the resource has been extracted they government is considering handing it back to the Tasmanian Aboriginal community.
How considerate it is to return something significant after they have desecrated most of it?
In keeping with consistency, the Liberals are most likely to relinquish the Narawntapu National Park once they have fully established the commercial licences for the proposed tourism developments.
Doesn't appear like a recipe for developing goodwill, nor a hand-back based on trust or credibility …
• Sarawak Report: Gangster State! Gangster tactics – "Either you take our money or we take your land for free"! Reporters for Sarawak Report have been interviewing the inhabitants of Melikin over the past days to learn of their problems with one of the major companies that has been operating in their area, United Teamtrade. United Teamtrade has been granted a provisional licence for 7,300 hectares. However, as so often is the case, it has treated this provisional licence from the Land & Survey Department as a right to take Native Customary Rights Land, instead of a right to negotiate with the real landowners …
• ABC: Commonwealth's bid to recoup illegal proceeds from insider trader John Gay stalls
• Basil Fitch, in Comments: Stop Press…Another 'jobs for the boys', Peter Gutwein has hired Tony Benneworth as his right hand man – another $280,000 to fork out by taxpayers while Libs are sacking so many public servants around the State! Please explain…. Hot tip also is that Lawyer Ross Hart to be Labor rep in Bass at next election! And Aust. to go to federal polls in August! Happy Easter, Basil