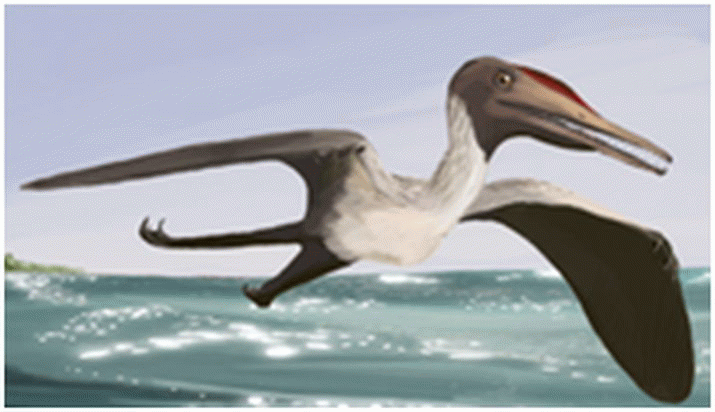 *Graphic explained below …
Pterodactyles, Triceratops and Steak!
Less than a month before SCS Global visits Tasmania to review the credentials of Forestry Tasmania for Forestry Stewardship Certification credentials, FT displays the entirety of their Jurassic character in one fell swoop!
They have managed to upset the quiet community of Lapoinya in NW Tasmania with a draconian approach to the potential to clear fell a 68 Hectare 60 year old regrowth forest with lack of consultation, limited environmental review of the area, and time frames designed to intimidate.
On 1 October FT presented a draft Forestry Practices Plan that was more pro forma than proactive, showed little thought to what may be within the coupe, and no respect or regard to neighbours and the community. What a surprise as that is exactly what they have been doing for decades.
The community banded together to create the Forests of Lapoinya Action Group (FLAG) who sought expert advice from environmentalists, economists and others. As a result on 21 October they responded to the FT Murchison District Officer with detailed concerns and comments – see attached correspondence.
The inputs included commentary on the presence of endangered flora and fauna including Eucalyptus Brookeriana, Caladenia Pusilla, Tasmanian Devil, Spotted Quoll and the Freshwater Lobster amongst many others.
Discussion with FLAG on 27 November also revealed the presence of platypus in the coupe and rock shelters in adjacent areas and substantive issues with water catchment and drainage.
As of 20 November FT had failed to respond to these important inputs. It is also of note that Wynard/Waratah councillors have been invited to the proposed coup site – they have not responded as of 22 November.
In the meantime, FT issued a notice to indicate logging activities (access road preparation etc ) would commence in January 2015. So much for collaborative consultation!
On 21 November FLAG received some detailed comments from FT (via snail mail not email) and a revised FPP which endeavoured to address some of the more pertinent comments raised in the 21 October letter.
They are clearly do not address the more relevant issues and hold forth with the usual FT slippery dip claims of:-
• Lots of reserves adjacent to coup to account for the Freshwater Lobster issue (a bit like Kenyan poachers saying well there were 100 elephants, so what if we kill 10 of them)!
• Will set up 0.6 hectare wildlife refuge area in the coup (location not identified) Note this represents less than 1% of the coup area and will achieve NOTHING!
• Have not identified any dens of Devils and Quolls are within the coup (but have not looked either). I am sure President Xi and China will be happy to acknowledge and support the destruction of FTD free devil habitat.
• Caladenia pusilla (Little Fingers orchid – a threatened species) not found on the coup, but limited environmental survey taken (unlike the one done for FLAG) with FT using their Natural Values Atlas not on the ground survey
• No substantive commentary on the management of water issues with a number of streams – see coupe map above – and the consequential silting and impacts on farmers downstream and the Flowerdale River.
• Economic sustainability of the coupe clear fell, trucking, contract sales of FT's estimate of 8% sawlog, 33% peeler and the rest chip was not addressed in any fashion but likely to result in a substantial loss to FT and us the taxpayers!
And the doozy to end all the absolutely typical:-
• Will conduct an archaeological survey after road construction is complete, by FT of course, not for example by a TALSC representative. Given the name Lapoinya is aboriginal for "Tree fern" and the area was occupied by the Tommegineer before settlement, one would suggest such a survey should have been conducted prior to the FPP issue!
Perhaps the best example of the general approach to community consultation across the broad by FT was contained in the Country Hour coverage of the issue on 21 November when the Murchison District Officer, in addition to some of the points raised above, made this astonishing comment:-
These are my words, full details in http://www.abc.net.au/news/2014-11-21/tas-country-hour-friday-21-november-2014/5909440
"Lots of people like steak, and most want the best steak, but probably do not wish to see how it is produced. Forestry is a bit like that if we are to get the high quality product that people want"!
What an arrogant and insensitive remark but typical of the FT ethos.
If it's such a high quality product then why doesn't FT start charging a commensurate price?
Or is that because they have to sell peelers to Ta Ann at non-commercial value to allow Ta Ann to have losses offshore and avoid tax in Australia on their $26 million subsidy?
The fact that it doesn't means FT runs an unsustainable operation which relies on taxpayers to subsidize the full costs of FT employees thus allowing it to continue to wreak havoc.
John Lawrence, well known to TT readers, was also interviewed, and suggested the exercise was unlikely to be economically viable given current market conditions and pricing.
John wrote:
FT: Will it make a profit?

"Will it make a profit?"

"Indeed it will…."was the unequivocal reply.

FT's District Forester was in no doubt when answering an ABC reporter's question about the proposed clear felling of a 68 hectare coupe of 60 year old native forest regrowth at Lapoinya in North West Tasmania. The full ABC report can be found HERE.

After a few years of losing $20 for each tonne of timber chopped down and sold has FT found a way to make a profit?
Letters to relevant FT, Ministers and MP's will be sent early in the week of 1 December suggesting this coupe not be logged and instead be annexed to the existing reserve to the east.
The headline – Pterodactyles, Triceratops and Steak! – is thus pretty self-evident and exemplifies why FSC Accreditation is essentially not feasible!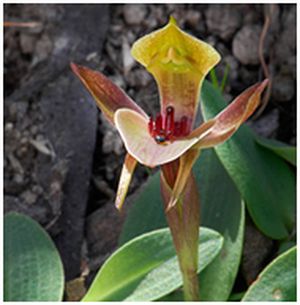 Chiloglottis Triceratops: Three horned bird orchid found on coup

Rare Beef on skewer, a la FT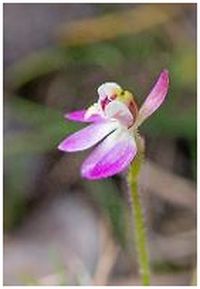 Caldenia Pusilla, Little Fingers Threatened on coup
Download:
Conservation Significance of Lapoinya Forest Coupe FDO53A for Biodiversity and Ecosystem Services:
FLAG_ENVIRO.docx
Barbara_and_Stewart_Hoyt_Letter.docx
*Graphic Explained:
COUP FO53DA

Legend Description

Pursuant to the map attached in the post the following annotations apply, viz:-

• The coup represents the grey area within the bold red line perimeter boundary
• Maynes Rd , the black line with red stars, is an existing road on the northern boundary that will need upgrading to FT logging truck standards
• This will also require the formation of a new bridge
• A 1.6km Logging Road will need to be created along the Broxhams Track on the south to meet FT logging standards
• Two snig tracks will be created (dotted red line) that will require two new bridges
• The green sector represents high gradient wet sclerophyll forest that will unlikely be logged (but will nonetheless be impacted by clear felling on all boundaries)
• The blue sector represents the Class 3 and Class 4 stream side reserves and demonstrates the extent thereof , literally dominating the coup interior

The map confirms the environmental sensitivity of the coup particularly as it relates to the fresh water lobster habitat and silt drainage to the Flowerdale River and adjacent farmland.
It also delineates the substantive infrastructure construction needs of FT in terms of logging track construction, bridge development and landing pads (5) which will clearly create a significant financial impact.

Note also the reference to two existing landslips and two waterfalls. I believe FLAG has found another waterfall not denoted on the FT map.

Clearly an area that should not be disturbed by logging operations!
John Powell has had a many-years' battle with Forestry Tasmania … Detailed here is his experience …
• Ted Mead: Forestry Tas Disingenuous About FSC Considering that Forestry Tas cannot rely on the Liberal Party being in governance in the future, then the question beckons why is this dysfunctional GBE proposing the same misguided practices of logging high conservation areas if they wish to obtain Forest Stewardship Certification?
• Bryan Green: Liberal lies on forestry subsidies exposed The Liberal Government has been caught red handed lying about public subsidies to Forestry Tasmania. It has been revealed the Government is deceitfully planning to transfer $30 million in equity from energy company TasNetworks to prop up Forestry Tasmania. The revelation in Government Business Enterprise hearings makes a lie of the Government's much publicised promise to withdraw public funding to Forestry Tasmania. Labor Leader Bryan Green said the Liberal Government had acted deceitfully. "This is a blatant broken election promise," Mr Green said.
• Jenny Weber, Campaign Manager, The Bob Brown Foundation: Tomorrow a significant field trip to Tasmania's southern forests will occur when Markets For Change, Tasmanian Conservation Trust and The Bob Brown Foundation accompany the auditors assessing Forestry Tasmania's application for Forest Stewardship Certification to see the reality of forest management. Spokespeople of the above groups will conduct a Press Conference at 11am in Hobart before departure on the field trip. Who: Peter McGlone, Director of Tasmanian Conservation Trust, Peg Putt, CEO Markets For Change, Jenny Weber Campaign Manager The Bob Brown Foundation, Ed Hill Field Assessment Consultant to the three eNGOs.
• Kim Booth: TasNetworks Props up Forestry Tasmania with $30 million … "This government has deliberately kept Tasmanians in the dark over plans to keep pouring public subsidies into failing businesses such as Forestry Tasmania," Greens Leader Kim Booth MP said today. "We have asked numerous questions over months in Parliament asking where the money to keep propping up Forestry Tasmania was going to come from which the Liberals refused to answer. Now we find that, as predicted, money is going to be dragged out of one GBE into propping up another." …
• Peter Gutwein: Forestry Tasmania Letter of Understanding To support the company through this process, the Government has provided Forestry Tasmania with a letter of understanding outlining an equity transfer from Tasmanian Networks to Forestry Tasmania in 2015-16 which will be used to restructure the company's debt to ensure the business is in a position to action recommendations from the review that the Government may agree to implement if required.
WRAP …
• ABC: Tasmania's power users to supply $30m to Forestry Tasmania Tasmanian power users will next year be subsidising the cash-strapped Forestry Tasmania to the tune of $30 million. TasNetworks' chief executive Dan Norton told a parliamentary estimates hearing the company would provide up to $30 million to Forestry Tasmania in the next financial year. The news came as a last-minute bombshell at the hearing.
• Examiner: Government 'lying' on forestry subsidies
• AEU Tasmanian Branch President Terry Polglase: This money would employ 300 teachers fulltime for a year and makes farcical the Government's claims that it has no choice but to sack teachers and cut education programs.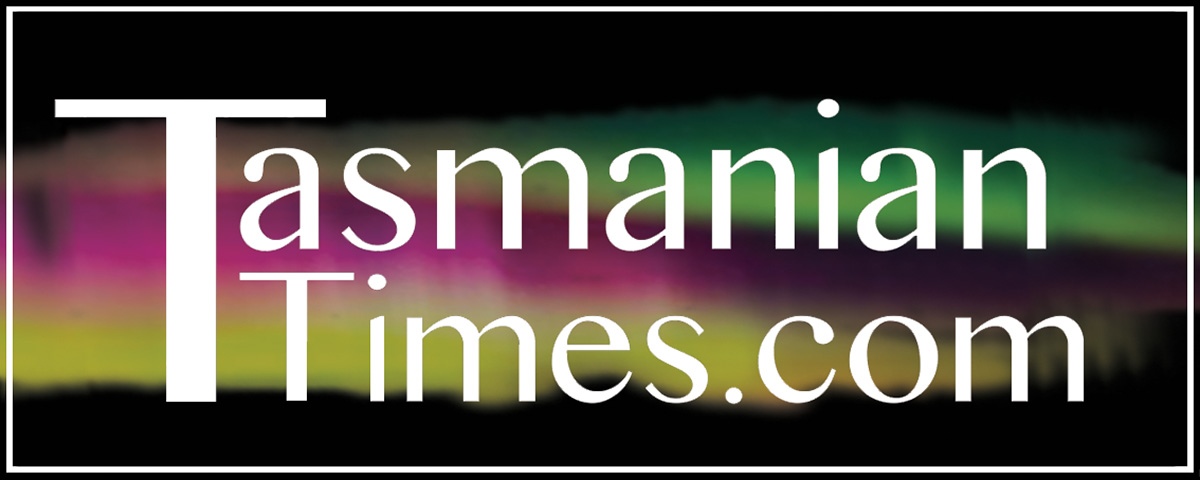 Author Credits: [show_post_categories parent="no" parentcategory="writers" show = "category" hyperlink="yes"]