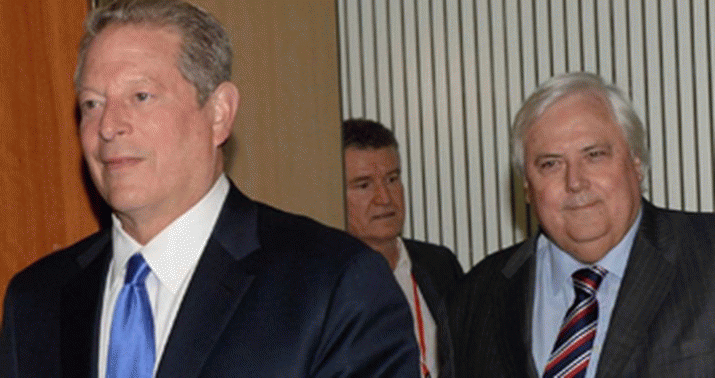 *Pic: Dynamic duo … The unlikely pairing of Clive Palmer and Al Gore …
Who would have thought that the buffoon-acting billionaire and 'anti-politician' Clive Palmer would come to the rescue of the Aussie battler and, indeed, save our climate change institutions and the Renewable Energy Target, while calling for an emissions trading scheme set at zero, without compromising the competitive edge of Australian business?
The Prime Minister has very seriously under-estimated Palmer, who holds the government over a precipitously large barrel.
A fortnight ago, with ex US Vice-President Al Gore at his side, Clive's announcement of the 'road to Damascus conversion' on climate change effectively negated $9 billion of Abbott's 'budget savings'. Abbott had no power to stop it.
Indeed, a Murdoch media outlet has suggested a further $55 billion in Budget measures could be thwarted, claiming Palmer's motive is to destroy the Abbott government.
( Daily Telegraph: Clive Palmer's crazy crusade leaves Budget in tatters, with further $10 billion hole created )
Palmer will continue his fickle ways to keep Abbott off balance.
Abbott will have no choice but to put up with PUP's demands because he knows calling for a double dissolution is political suicide 'a la Kim Campbell landslide defeat', given the current awful polling that will probably continue until he is driven out of power. The ultimate irony is that Abbott's failed first tough budget 'built on many lies' will be on many voters' minds as they lodge their vote in 2016.
Had Abbott kept his word, and been more moderate in formulating his government's first budget, a second term could have been within reach.
In hindsight, Abbott's mistake was to refuse the Palmer United Party the staff resources it requested to enable the latter to scrutinise every Bill submitted to the nation's house of review, the Senate, where PUP holds the balance of power. While it is true that it has not attained party status like the Greens, the PUP maintains the fulcrum of power and can damage the Abbott government in ways that no other crossbench group could.
Most importantly, there is no-one in the Liberal or Labor parties who can take on Rupert Murdoch like Clive Palmer.
The incompetent and sly handling of the Bill to repeal of the carbon tax in the Senate is only surpassed by the arrogant and condescending demeanour of Abbott and his Senate team to "pull a fast one" on the neophyte PUP senators yesterday.
The Leader of the Government in the Senate, Senator Eric Abetz, has put yesterday's kerfuffle down to a "technicality", even though behind the scenes his team tried to intimidate the PUP senators into an eleventh hour back-down for introducing a further amendment to the PUP draft Bill.
PUP Senators thought their latest amendment, which would impose a 250 per cent penalty for gas and electricity generators that fail to pass on cost savings to consumers as a result of the carbon tax being abolished, was up for a vote in the Senate at 11.50 am yesterday.
In reality, the Abbott government knew that the earlier version was slated for the vote but did not alert PUP that the latest amendment was withdrawn from the Senate.
Clive Palmer called it "double crossing".
This would not surprise many Australians, who already have been double-crossed by Abbott's illegitimate budget.
Abbott's treachery extends to his own kind, as Malcolm Turnbull can attest.
Who would have thought Clive, of all people?
• Age: Palmer drops a bombshell and Abbott's week implodes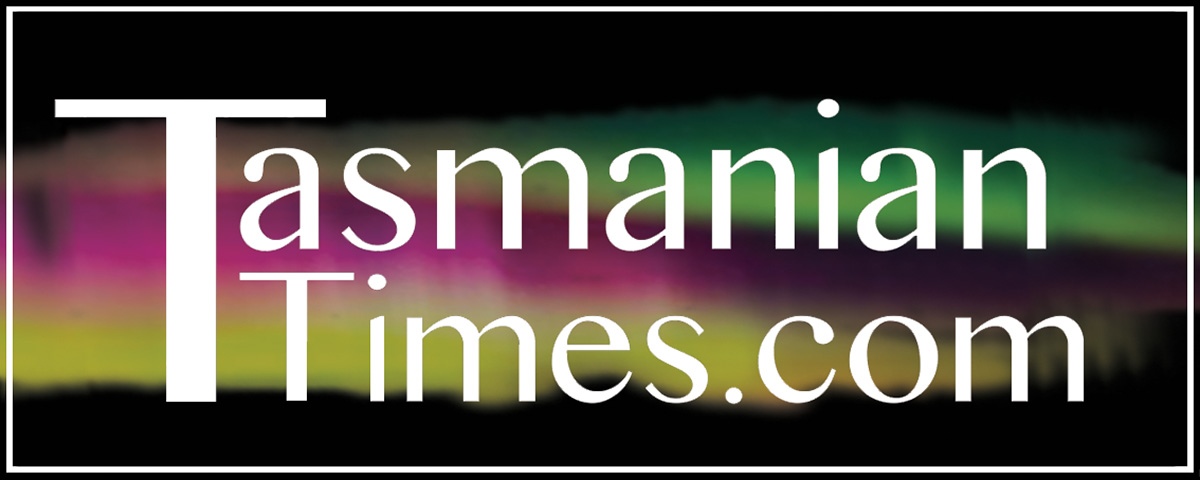 Author Credits: [show_post_categories parent="no" parentcategory="writers" show = "category" hyperlink="yes"]