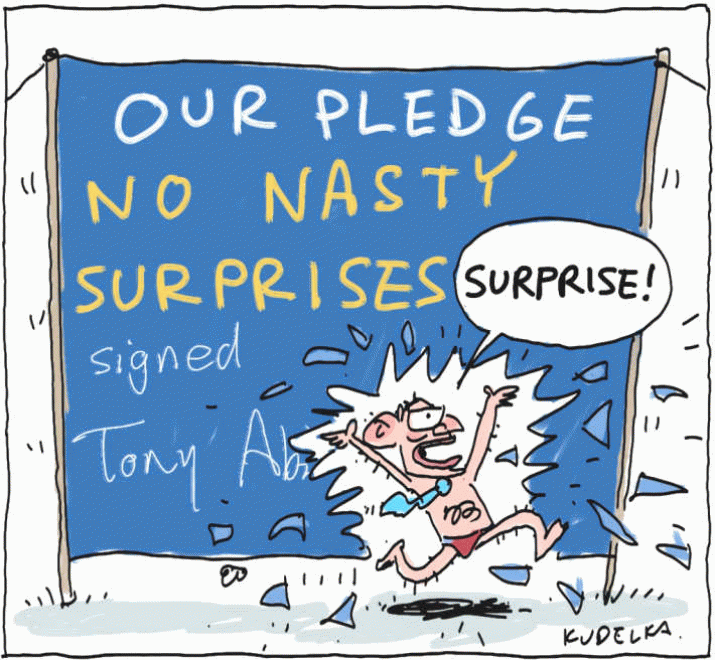 Satire: Kudelka, http://www.kudelka.com.au/ Used with permission
We are headed for the recession that we didn't have to have.
In my articles, Leading the Australian economy to the Abbott-oir ( here ) and How to kick-start the economy: swap the paid parental leave scheme for small business tax concession ( here ), I called for economic leadership and direction from the Abbott government well before the release of the Federal Budget in order to avoid the downward slide of the Australian economy.
The latest ANZ/Roy Morgan poll on consumer confidence ratings has plummeted from an index of 113.4 in April 2014 to 102.4 in May when the Federal Budget was announced. In one month this free-fall takes us back to the Global Financial Crisis lows of 2008 and 2009.
( http://www.roymorgan.com/morganpoll/consumer-confidence/consumer-monthly-results )
Given the very bad public reception of the Federal Budget and expected Senate hostility that will emasculate it – and therefore not create the savings to bring the Budget into surplus by 2016 as announced by Treasurer Hockey – it is likely that consumer sentiment could plunge to below 90 points, taking the Australian economy into recession … one that we have avoided for more than 24 years.
Need more convincing?
Take a look at the latest seasonally adjusted investment figures:
"…the second quarter in a row where investment fell by more than 4% – the first time that has occurred since 1991. And the fall of 8.4% in the past six months is the biggest such fall since 1993."
( http://www.theguardian.com/business/grogonomics/2014/jun/02/australia-soft-landing-could-be-bumpier ).
Still sceptical?
The housing sector is the most volatile index affecting consumer sentiment. Let's not forget that it was the subprime mortgage crisis in the US that led to the Global Financial Crisis.
Australians about to join the dole will not be able to service their mortgages, leading to a downward spiral of real estate values, and possibly leading to the collapse of certain financial institutions in Australia.
So where are we on house prices across the country?
"House prices have suffered their largest monthly fall in five years, with the Federal Budget being blamed for a drop in consumer confidence.
Prices declined in six of the eight capital cities in May, with Melbourne (3.6%) recording the biggest drop; RP Data's monthly house price index showed on Monday.
Separate figures show approvals for the construction of new homes fell 5.6% in April.
CommSec's chief economist, Craig James, said the Federal Budget may have been the catalyst for a pause after 12 months of rising prices."
( http://www.theguardian.com/world/2014/jun/02/australian-house-prices-suffer-biggest-monthly-fall ).
As quoted in my first article, Michael Pascoe was unfortunately right in describing "the current government is simply blinkered towards addressing the government Budget deficit at the expense of the economy".
Let us recall the last recession in Australia was 24 years ago, infamously coined by then Treasurer Keating as the "recession we had to have". And that came on the heels of the international Stock Market crash of October 1987.
But this coming recession is self-inflicted and could and should have been avoided.
Even if Prime Minister Abbott is now sacked by his own parliamentary colleagues, it is too late to stop the Federal Budget train crash.
Brace yourselves for a hard landing.

Phil na Champassak owns The Madsen Boutique Hotel in Penguin and is a founding board member of the Cradle Coast Innovation Inc fostering enterprise facilitation. He is also a board member of the Cradle Coast Tourism Executive, the regional tourism organisation for NW Tasmania. Formerly a diplomat and DFAT policy analyst, Phil has worked on trade, aid, public diplomacy, consular, international security, and bilateral relations with PNG, the US, and NZ, and was most recently DFAT State Director for Tasmania. Prior to that Phil worked for the UN Development Programme in New York, West Africa and PNG. Phil also served as election monitor to the first elections in Cambodia (1992) and South Africa (1994) and was a peace monitor in Bougainville (2002). He has contributed to publications on human rights, election monitoring, and UN issues. Awarded in 2003 a Australian Service Medal. Phil was a guest of ABC Radio Richard Fidler's 'Conversations' in November 2013.
• Last Week Tonight: Tony Dumb Dumb …
• Peter Whish-Wilson: Ten uses for the Liberal's budget propaganda leaflets
• Senator Christine Milne, Greens Leader:
Senator Milne today questioned department of employment officials about the evidence that led to north-west Tasmania being chosen as a trial site for the work-for-the-dole scheme.
Footage available at this link: https://www.youtube.com/watch?v=YT3ceWp3D4Q.
The employment department confirmed North-West Tasmania was chosen to trial the work-for-the-dole scheme because there is a high number of unemployed people, not because there are jobs to go to at the end of the scheme.
"People will be pushed into a work-for-the dole scheme only to be kicked off at the end of six months with no job to go to and no benefits," Senator Milne said.
"The government should be focussing on creating long-term, sustainable job opportunities for Tasmania rather than demonising people who can't find work."
Senator Abetz today also reaffirmed the government's intention to push people into seasonal fruit picking jobs instead of focussing on long-term employment opportunities for Tasmania.
"Senator Abetz's answer to the problem of unemployment is to push people into seasonal jobs with little career prospect or future," Senator Milne said.
"The government should be supporting more training and education in Tasmania rather than slashing university funding and pushing people into hastily devised work-for-the-dole schemes.
MEANWHILE, PM Abbott's meeting with President Obama will be interesting …
• Barack Obama's carbon plan shows Australia is 'out of step', say experts Bold US policy aiming for 30% cut shows Coalition's 5% target is too low, says climate adviser Ross Garnaut, says Guardian Australia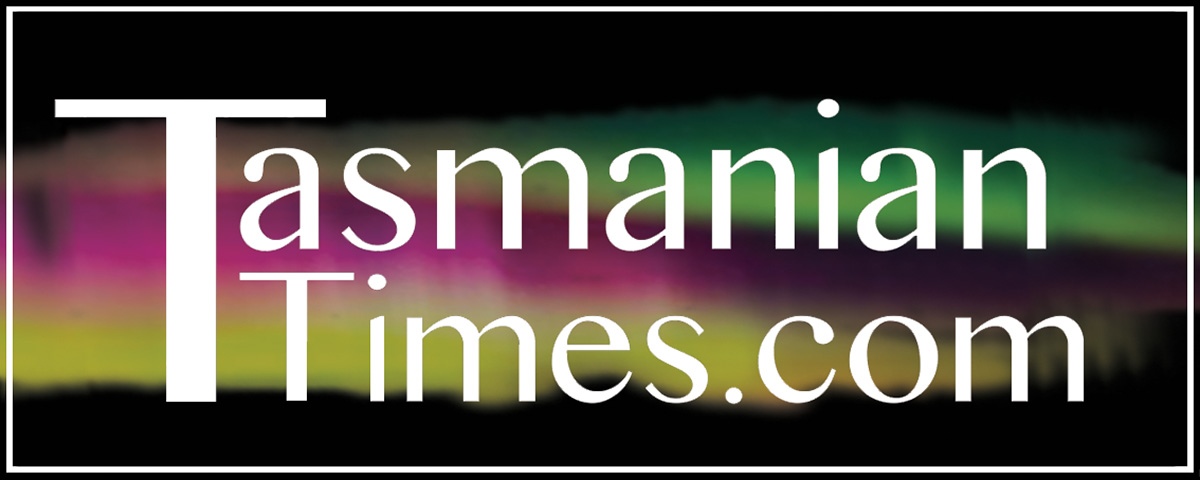 Author Credits: [show_post_categories parent="no" parentcategory="writers" show = "category" hyperlink="yes"]