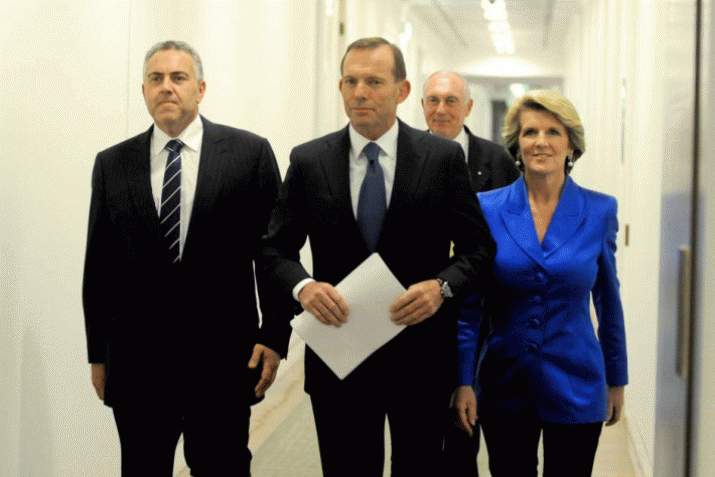 *Pic: Liberal think-tank … Joe Hockey, Tony Abbott, Julie Bishop, Warren Truss …
PM paints himself into a corner on the Budget
When he was Opposition Leader Tony Abbott declared a willingness to call a double dissolution – as future Prime Minister – if the Senate rejected proposed legislation to repeal the carbon tax.
Since winning government in September 2013, the stakes are higher, and particularly since delivering an unexpected and totally uncalled for harsh cost-cutting Budget that is the most unpopular in living memory.
The latest polls have delivered a near-fatal blow to Abbott's prime ministership. His disapproval rating has climbed to 62 per cent, on par with the 63 per cent of people saying the Budget is not fair and 53 per cent considering it bad for Australia. More ominously, the Coalition's primary vote has slumped to 35 per cent from the 46 per cent at the election in September 2013.
Leaving aside the "truth deficit" in constructing this Budget for Australians and for the Australian state and territory governments, as an economic blueprint it fails on two accounts: first, it does not provide a roadmap towards creating sustainable jobs for Australians into the future (but instead leads to massive job losses) and; second, for the first time in federation the funding for hospitals and schools amounting to some $80 billion has been flick-passed to the state and territory governments.
Indeed, Canberra's intention would be for it to percolate all the way down to municipal councils. It's not just the possible increases to the GST that we need to fear, but rises in property tax, stamp duty, registration of motor vehicles and drivers' licences, increased rates, utilities (where owned by local governments), and other council services.
As a political document, the obsession with cutbacks shows that the 'bean counters without vision' have hijacked the Federal Government.
Even Abbott's Commission of Audit cautioned his government not to be too austere. On 8 May Tony Shepherd warned about a Budget double-hit by saying "Cutting back welfare payments, such as family tax benefits, and hitting higher-income earners with a deficit tax was too much of an over-correction. That might just be too much of a shock for the system" (AAP).
The advice was ignored by Abbott and Hockey.
Worse still, the Budget was delivered by the Treasurer with a sense of triumphalism. Even the Prime Minister was cocky enough to suggest he would take the Budget to a double-dissolution if necessary, but has since quickly backed off … trying to perish the thought that it could backfire on his government.
Having put offside a clear majority of Australians and state and territory governments who disapprove of this Budget, Abbott has painted himself into a corner with little leeway to negotiate with the Opposition and other smaller parties. The usual 'divide and rule' might not work this time as opposition to the Budget snowballs throughout the nation.
In my pre-budget Leading the Australian economy to the Abbott-oir, I predicted that the Budget would not be based on economic creed but on radical ultra-dry pseudo-Christian social engineering.
In my follow-up article Double-Dissolution … now. The bond of trust is broken I described it as it being "not even a true Liberal Budget". In his opinion piece today in The Mercury, Budget is no liberal document, Greg Barns confirms this.
Are there Liberal parliamentarians willing to challenge Abbott to back down or force a leadership spill?

Phil na Champassak owns The Madsen Boutique Hotel in Penguin and is a founding board member of the Cradle Coast Innovation Inc fostering enterprise facilitation. He is also a board member of the Cradle Coast Tourism Executive, the regional tourism organisation for NW Tasmania. Formerly a diplomat and DFAT policy analyst, Phil has worked on trade, aid, public diplomacy, consular, international security, and bilateral relations with PNG, the US, and NZ, and was most recently DFAT State Director for Tasmania. Prior to that Phil worked for the UN Development Programme in New York, West Africa and PNG. Phil also served as election monitor to the first elections in Cambodia (1992) and South Africa (1994) and was a peace monitor in Bougainville (2002). He has contributed to publications on human rights, election monitoring, and UN issues. Awarded in 2003 a Australian Service Medal. Phil was a guest of ABC Radio Richard Fidler's 'Conversations' in November 2013.
• Phil na Champassak: Dear Tasmanian Time Readers, I just created the petition "Double dissolution: Vote on the Federal Budget" and wanted to ask if you could add your name to it …
This campaign means a lot to me and the more support we can get behind it, the better chance we have of succeeding. You can read more and sign the petition here:
https://www.communityrun.org/petitions/double-dissolution-yes-or-no-vote-on-the-federal-budget
Thank you!
Phil
P.S. Can you also take a moment to share the petition with others? It's really easy – all you need to do is forward this email or share this link on Facebook or Twitter:
https://www.communityrun.org/petitions/double-dissolution-yes-or-no-vote-on-the-federal-budget
• ABC: National Centre for Social and Economic Modelling research shows low-income couples with children to bear brunt of Abbott Government's budget Low-income couples with children and single parents will bear the brunt of the Abbott Government's first budget, losing up to 15 per cent of their disposable income when the measures hit in full, according to independent modelling. The findings from the National Centre for Social and Economic Modelling (NATSEM) at Canberra University stand in contrast to the Government's insistence that the budget is "fair" and "shares the burden". The Coalition has cut almost $7.5 billion over the forward estimates by freezing family payments and axing some benefits altogether, with most measures beginning on July 1, 2015. Eligibility thresholds for payments will also be frozen for two years, a measure which effectively lets inflation reduce the cut-off for benefits over time. NATSEM principal research fellow Ben Phillips has studied the effects of the budget and says it is "not fair at all". • ABC HERE
• What they reckon … read all the viewpoints, TT Media, here
• Thomas Connelly, in Comments: With such universal anger at this budget which seeks to make our country colder, meaner, narrower the question could be asked — how best to harness this anger, this feeling of betrayal. One small suggestion I could make would be to have Friday afternoons set aside. To have a permanent presences at parliament lawns. People meeting informally to discuss what to do next, holding up signs, "Honk if you support Medicare", and the like. This will allow people to meet and talk. Most importantly, now that we know that this is quite the opposite to a government of no surprises, people will be able to quickly get together in response to the next ambush.
• ABC: Immigration Minister Scott Morrison says Australia briefed UNHCR on Cambodia deal Immigration Minister Scott Morrison says the head of his department has briefed the United Nations refugee agency about a proposed asylum seeker deal with Cambodia. Cambodia's prime minister has used Facebook to confirm that a deal has been reached but that nothing has been signed off. The arrangement could see up to 1,000 refugees settled in one of the world's poorest nations after being processed on the Pacific island nation of Nauru.
• ABC: Nurses 'left in the dark' about health budget cuts
• ABC: Palmer United Party's Jacqui Lambie flags taxing big banks, hits out at welfare cuts The Government should be forcing the big banks to pay more tax, rather than reforming the welfare sector, according to Palmer United Party senator-elect Jacqui Lambie. The former soldier, who will enter the Senate in July, says "hitting welfare" is not the way the Government should be finding savings and the nation needs "other ideas". "The [big] four banks are making $30 billion worth of profit on a yearly basis and if you spread that through the 23 million people, give or take here in Australia, that ends up being $1,300 for every man, woman and child that's living in Australia," she told the ABC's 7.30. "So why aren't we hitting people like the big banks? When $12 billion of this budget has been handed down and it's hitting welfare, that's not the answer and that's not making for a smart economic future for our nation." • ABC HERE
• Tony Abbott and Christopher Pyne cancel university visit amid safety fears
• ABC: Consumer sentiment slumps after federal budget announcement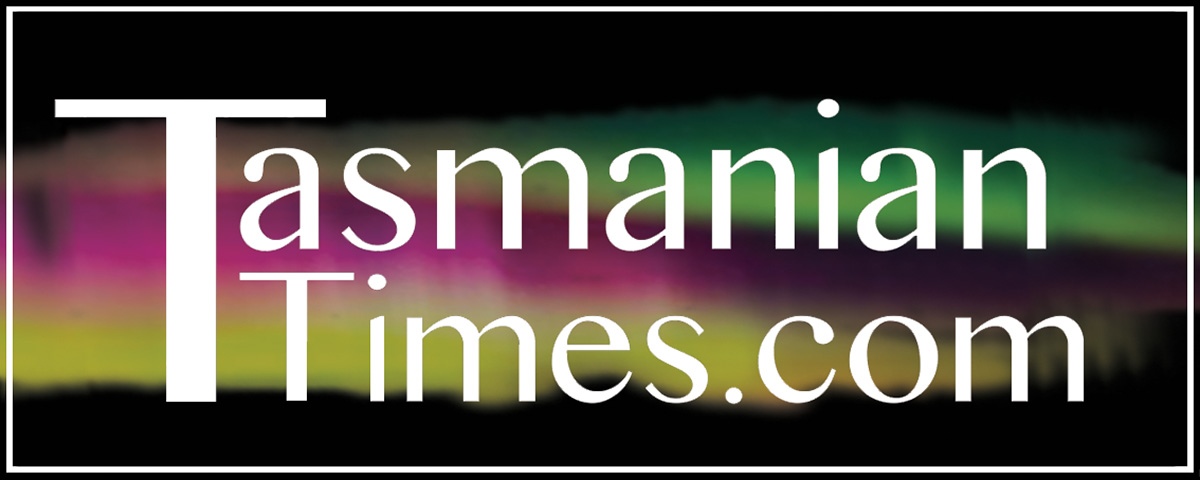 Author Credits: [show_post_categories parent="no" parentcategory="writers" show = "category" hyperlink="yes"]