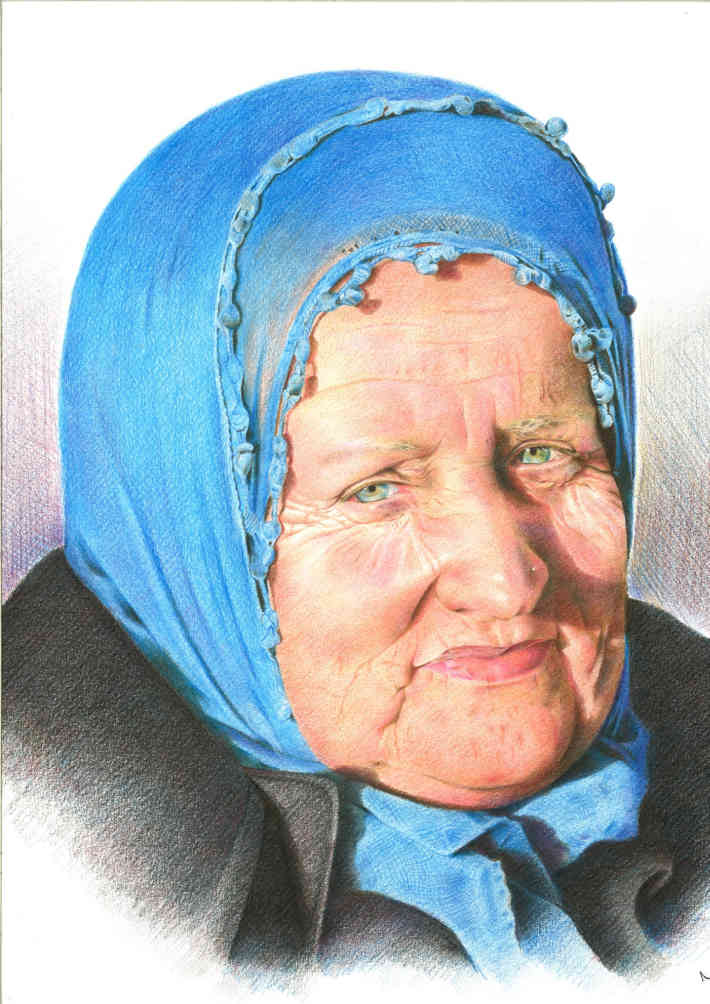 A 16 year old former resident of the Pontville Alternative Place of Detention has been
awarded the 2013 RACT Insurance Tasmanian Portraiture Prize (TPP) People's Choice
Award.
The Award, voted on by the Tasmanian community over the exhibition season, saw
Murtazza's coloured pencil piece 'Ajai', drawn during his time at Pontville, win with a total of
275 votes.
RACT Insurance CEO Trent Sayers said he was proud to award Murtazza with this year's
People's Choice Award and the prize of $500.
"The winning piece is well deserved, especially given the amount of votes it received and I
would like to thank the Tasmanian community for all its support again this year," Mr Sayers
said.
"I think the piece and the depth of the description in the artist's statement strongly resonated
with the Tasmanian community and all those who voted."
Winning artist, Murtazza, said this Award meant everything to him and gave him a feeling of
joy and happiness, especially as it was voted on by the people of Tasmania.
"I have been painting for almost five years now and it gives me a real sense of
achievement," he said.
"I still have a lot to learn and I plan on taking some art classes, which is what the prize
money will go towards."
Trent Sayers said RACT Insurance was proud to once again be associated with the TPP and
its contribution to art and creative endeavours in the State.
"The competition, now in its sixth year, saw more than 70 entries in 2013, which was
narrowed down to 33 finalists from across Tasmania," he said.
"The amount of interest we have seen this year is an encouraging sign for young aspiring
artists statewide and illustrates Tasmania's continuing resurgence of artistic culture.
"I would also like to again congratulate the overall winner of the 2013 RACT Insurance TPP,
Alex Davern, runner-up Nik Lee, as well as Emily Blom who took home the Sponsors Choice
Award
"As the only locally-based insurance company in Tasmania, we are proud to support
activities such as the TPP and would like to acknowledge all the artists who entered this
year.
"It was very encouraging to see such strong attendance numbers at the statewide exhibition,
which featured displays the Long Gallery in Hobart, The Devonport Regional Gallery and the
Sawtooth Gallery in Launceston."
This year's judging panel consisted of the 2011 RACT Insurance TPP winner Robert
O'Connor, editor of the national journal Art Monthly Australia Maurice O'Riordan, and
renowned visual artist Greg Leong.
The winner of the 2013 RACT Insurance TPP, received $5,000 in prize money and a trip for
two to the Archibald Prize exhibition in Sydney, while the runner up received $2,000 to assist
with studio rent.
The Sponsor's Choice and People's Choice winners both received $500 to further their
artistic careers.
ARTIST STATEMENT
I don't know from where and how I should start. I chose this portrait for many reasons. I'm a 16 year
old boy living without my mother and my family. I can say I came to Australia by boat in a very
dangerous condition. From the first time from when I put my foot in the door I felt alone. After the
days that passed I went to the library and I saw a woman there, at that moment I felt comfortable.
She is very kind, having great heart. What can I say she looks to me like my mother. Do you know
what her name is? She has sweet name, like her sweet heart 'Ajai'. Interesting is here that the word
Ajai is in Hazaragi language, and it means Grandmother. I asked Ajai "where you get your name?"
She said the other guys here, they were calling me Ajai. She said to me you can also call me Ajai.
From here I understood how the Tasmanian people have great hearts. That they can accept another
name which is not from their language, they think widely. She is very kind, whenever I am with her
she tells me about Tasmania and about the people of Tasmania; the way they behave and the way
they talk. And I love to hear more and more about Tasmania from her. I really enjoy being with her.
When I ring my mum I am joking with her and I am saying "I don't need you anymore" because I
have found another mum who looks similar to you. After that my mum said, "My son, I will always
pray for you, to find good friends and a good person to guide you and show to you the correct way. I
think you have found Ajai, to show you how to live, how to behave and how to respect those older
than yourself. And I am happy hearing from you, that you have Ajai with you".
When I heard about the Tasmanian Portraiture prize, I was really thinking who would be the person
to draw? Then the days that I passed with Ajai and her lovely sayings reminded me to choose to do
her portrait because she is the only woman for me that looks like my mum. Then I decided to start
her portrait. The days I was busy with Ajai's portrait I really enjoyed, that's why I thought to draw
her twice, one with coloured pencils and another with only lead.
RACT Insurance CEO Trent Sayers

Author Credits: [show_post_categories parent="no" parentcategory="writers" show = "category" hyperlink="yes"]