Pic: Heritage Tasmania
LAUNCH SPEECH OF THE STATE CINEMA BOOK STORE and SUNDRY EXTENSIONS
Thursday 5 April 2012
Richard Flanagan
Hobartians have had a long love affair with the State Cinema. They've rallied for her, they've stood up for her when time are tough and she in turn has given back with fundraisers, with support of local causes and film makers and, not least, most importantly, by becoming more than a venue, by becoming a corner stone in our public life.
In a hard time when bitter winds beset us, how good it is to come here and see something of us and of our hearts prospering so. How good it is to be celebrating here tonight the opening of a new bookshop. It's a rarer event these days than a childless iPhone. Not only in Hobart, but around the world bookshops are closing and books—those great vehicles of freedom—are under attack as witnessed by the decision by new Queensland Premier Campbell Newman to axe the Queensland Premiers Literary Awards (TT here).
In this digital age it may then seem a quixotic venture to open a bookshop. But then what is the whole marvelous history of the State Cinema—our State—but one of quixotic dreams and quixotic dreamers who have made this cinema the ongoing success it is?
It is true that the Korsør Biograf Teater in Denmark, officially the oldest in the world, having opened in 1908, is five years older. But the State, which will be 100 years old in October next year, is now one of the oldest cinemas in the world.
I do believe there is a spirit about buildings and places that survives all change and vicissitudes. Some places we instinctively recognise as dark and oppressive. Others are liberating. The State is one such place and in all its various incarnations has been the strange creature of passionate owner-guardians and an equally passionate community.
When it first opened as the North Hobart Picture Palace in October 1913, it began much as it has ever since continued—the result of the enthusiasm of its owner-builders, brothers in law Edward Morris and Alf Chennall, coupled to the support of the local community. As well as being a business, the Picture Palace ran benefits for local brass bands, Gallipoli widows, and those injured in the very first car smashes. The initial cinema orchestra seems to have been largely recruited from the North Hobart brass band, adjunct of and occasional rival to the North Hobart Football Club.
And from the beginning its proprietors were in it up to their necks, always living the dreams as well as projecting them. Alf Chennal did vaudeville turns when movies failed to appear or projectors broke down. Rather marvelously Chennal and Morris did their own sound effects with various props offstage.
During westerns wet mattresses would be thrashed with bamboo canes to give the sound of galloping horses; a large sheet of iron hung in the corner of the stage would be shaken for thunder; and a 44 gallon drum half full of peas would be rolled to recreate the sound of wild seas rushing up virginal beaches—the standard sublimated imagery evoking orgasmic jetsam.
I don't know how many of you saw the recent film Shame here. It depicts one man's sexual odyssey through the dark night of a Manhattan professional life. Though it was a very good film, and grateful as I am for the advances in sound technology and public morality, I did think how much better it would be to have John Kelly at the side of the stage, rolling a 44 of split peas incessantly back and forth. Although, I must confess, in certain frank scenes I fear to get the desired effect John would have had to shake the 44 over his head as hard as Mick Jagger on a set of maracas.
After Chennal and Morris there were other proprietors, then hard times as a billiard hall and boxing gymnasium until rescued and restored by Ross Holyman in 1948. When in 1974 when it was discovered that the State was to be sold and turned into a furniture store—the sorry fate of the grand old Avalon in Bathurst St—it was in consequence of the protests by the community that Philip Adams bought the State for the Federal Government. Gough Whitlam opened the refitted and modernised cinema the following year. In the park opposite a crowd stood behind a banner that read 'Viva Gough!'
The State was kept going for the AFI through the 80s and 90s by a new manager, Adrian Jacobson, son of the traveling picture showman Ollie Jacobson who built Tasmania's first sound projector and was projectionist here off and on from the 30s through to the 60s. Adrian, who spent his infancy in a pram in the projection room watching reels spin round, built on the deep affection people felt for the cinema and several times was able to galvanise strong community support to stave off sale. When the government could no longer be persuaded and set out to sell off the theatre in 2002, Adrian saved the State by persuading John Kelly to buy it and keep it going as a cinema.
The State Cinema then is our Cinema Paradiso, and there is about it the most wonderful romance. Its present guardian and impresario, Mr John Kelly, for some years literally lived behind the screen of his main cinema in a small flat he set up for himself there. These days, like the cinema himself he has risen somewhat and now lives in an eyrie in another part of the marvelous labyrinth that is the State today.
Now a long time ago John Kelly asked me if I would open his new bookshop, but I arrived here the other day to discover it's not just a lovely bookshop that I am opening but any number of amazing things because John—forgive me for saying it, but I have to—because John had got carried away. Again.
I had begun to wonder what was happening with John when I read he had come out in support of the monorail, because the John I knew, subterranean cellar drilling John Kelly, would have always been an underground tube transit man, preferably a metro system hand dug by himself.
For many years John's enthusiasms were confined to the catacombs of the State where he could be found digging, excavating very large holes with a passion rivaled only by Gina Rinehart or Twiggy Forest. But the bookshop project unleashed another John, aerial John, and we are also now tonight celebrating the opening of what is now the tallest building in North Hobart—admittedly not a large field, a little like being the best dressed man in Germany—but this is also the biggest construction project ever this side of the Burnett St curtain, and the only elevator in North Hobart, the patrons of the Alley Cat Hotel rising to the sky nightly with other aids.
And contained within these extensions we are tonight here to celebrate not just the opening of a bookshop but also the opening of a two storey cafe bar restaurant; a roof top garden and bar, an outdoor cinema, and Cinema 7.
Now John's a North Hobart boy. He specifically begged me not to talk about him but about the community. And so I won't.
This new building has been designed, dug, drilled, hammered, sawn, operated, and financed by one man. A madman. A likeable lunatic. Kevin Costner.In a sequel to Field of Dreams in which Kevin has bought a cinema at a moment where cinemas around the world are going bust and then poured his heart, soul and life savings into a Build-It-And-They-Will-Come approach, an attitude perhaps also understood as Build-It-And-They-Will-Approve.
And amazingly out of the mists of Elizabeth Street the ghosts of cinema goers past and present have emerged and kept emerging. The cinema revives and becomes an outstanding success as Kevin modernises the premises with a series of open cut mines he converts into new cinemas.
It is as much an emotional commitment to a place as it has been a commercial venture. Then, finally, for nine months Kevin lives off enthusiasm, madness, terror, dust and late night drinking bouts with various contractors. At any given time he might be on a jack hammer, ducking and weaving with various bureaucracies, pulling Dick Betts gallery apart and putting it back together in one week in order to build a cinema directly above.
And in these most recent renovations, Kevin restores to his beloved State something of the animating principle of early cinema embodied in the Sate's first name, the Picture Palace—the idea of a special place one is simply happy to be in and socialise in; an idea of society and fraternity so utterly at odds with the halitosis stench of stale popcorn and spilt drinks arising from the festy mouth of the modern multiplex.
It is of course the folly of one man. Most things that matter almost always are. And where would we in Tasmania be without them? No MONA. No Lark whisky. No Incat. No State Cinema. There are more admissions to the State Cinema–some 180,000 in the last year—than that attending the V-8 supercars, Agfest and international cricket combined—and not one penny of government funding. But then, governments are to Tasmania what locusts are to wheat.
The whole thing has arisen organically and will continue to grow organically. The bar, the cinemas, the bookshop will in large extent develop and become what we choose to make of them. I must say what a lovely and eclectic bookshop Portia and Erin have already created, beautifully stocked with the latest art and film books and the best of contemporary fiction and non-fiction. Do support it.
And as you lose yourself in browsing its fine shelves, ponder how the State is both ours and also a lesson for us. We are not mediocre, nor is our island. We can and should strive for what is best and we should accept no less from those around us. Because if the worst of our island is lamentable, the best of us—such as evidenced in the State—is a cause for hope and of joy.
John Kelly runs the State on emotion and love. And more than one glass of pinot. And tonight I want to say thank you, because this place brings me—as I know it does so many, many Hobartians—the greatest pleasure. It enriches us and it enriches our city. I want to thank John, not just for rescuing the State, but finding within it and making of it the magical place we have today.
Thank you so very much.
And with that, I declare the State Theatre Bookstore and all its ancillary bars, restaurants, outdoor cinemas and associated wonders, now open.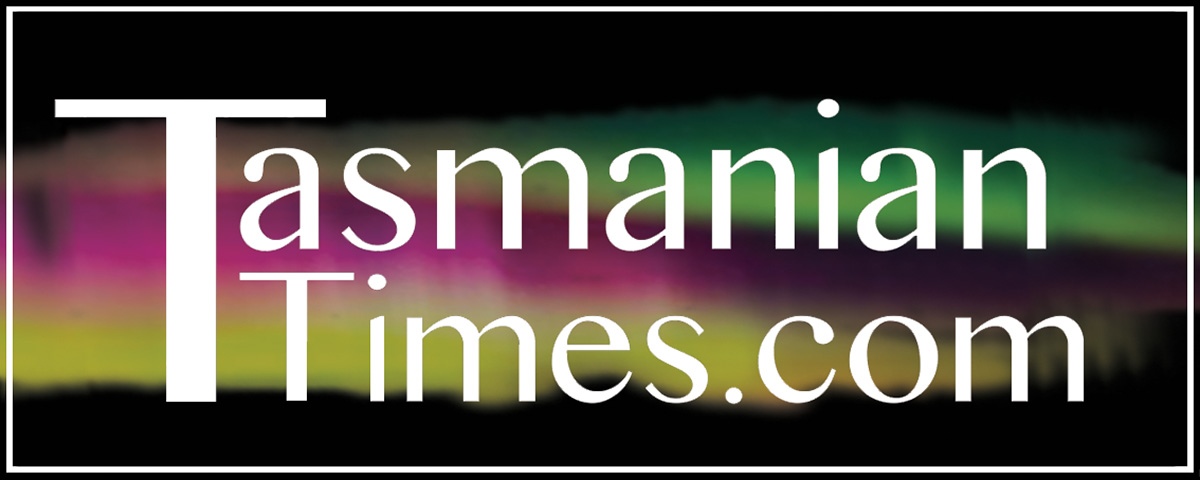 Author Credits: [show_post_categories parent="no" parentcategory="writers" show = "category" hyperlink="yes"]