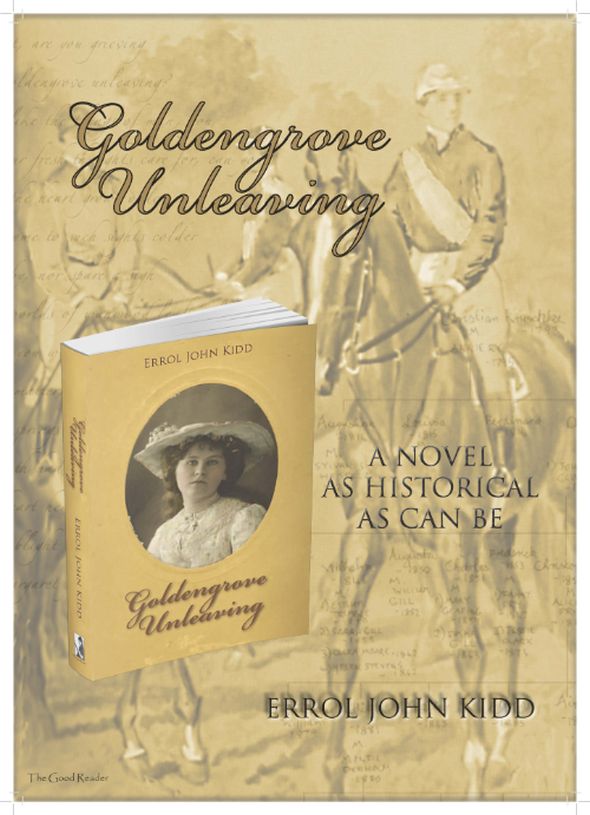 BookMark is a regular column focusing on Tasmanian publications, writers and literary events. This week it looks at E.J. Kidd's mesmerising fictionalised history of the Krushka family and brings together the top books about Tasmania suggested by readers in previous weeks.
Goldengrove Unleaving,
By E.J. Kidd, The Good Reader, $40
Available at bookshops and from erroljohnkidd.com
Krushka Town and Brothers' Home were two Tasmanian place names wiped off the map by a vice-regal decision in 1888, to be gazetted instead as Ringarooma and Derby. But the three Krushka brothers who discovered a fortune in tin in the state's North East and pursued a family love of horses on the racetracks of Victoria and Tasmania still made an enduring mark.
Author John Kidd is a great grandson of Christopher Krushka, who built Krushka Town and the 17-room family home North View. My own son is a great-great grandson of one of the other brothers, Frederick – an unsurprising coincidence given that Christopher, Frederick, Charles and their four other siblings produced children in abundance.
But Goldengrove Unleaving is not just a book for the descendants – a kind of souped-up family history – it is a mesmerising novel in its own right.
The story emerges from a layering of accounts related to and by a young writer called Bartlett. It begins in the 19th century German-inflected syntax of Christian Krushka. Christian, at the urging of his wife Johanna, emigrates to Tasmania with his young family in 1855 to escape the incessant demands of Prussian military service.
He, Johanna and their five children survive the long noisome voyage in steerage class. But what waits for them in their new land is not golden soil and wealth for toil but hard work on an Irish landholder's estate in the Coal Valley and marginalisation as "foreigners".
Christian's daughter Augusta recalls witnessing convict chain gangs on the wharf on their arrival in Hobart Town: "I feel that a great load fell on the Papa then. Had he done the wrong thing? No land of joy. He said later he had never in all of Prussia seen such sad, defeated men as he saw that time."
After more than a decade of hard scrabble, the now-widower Christian takes off with what remains of his brood to seek a better life in the largely unsettled North East. Here, in 1875, three of his sons discover vast mineral wealth.
Sounds like a good enough pioneers' tale. But the discovery of the tin is only a briefly mentioned episode in the sweeping family drama of the Krushkas.
Much more is made of Christian's previous life on the Oder River, on which he followed his father into working as a bargee, transporting goods on rafts and barges.
Throwing forward, Christian's grand-daughter Aimee, whose magnetic face adorns the book's cover, is a source of great fascination, described by the narrator, Bartlett, as "being the personified spirit of a brand new century coincidental to Youthful Aspiration".
Horses are also a major subject of the novel, from the barge horses to the thoroughbreds the brothers bought once they had made their millions.
There is the famous episode when Christopher showered sovereigns from his hotel balcony on the crowd below after winning the 1894 Launceston Cup with the colt he bred, Amadeus.
Aimee, then six, watched the "fusillade of gold": "I wanted to be more within all, a part of it, so I began to climb upon the balcony rail and by clambering first on to a chair I did so with great effort but when I prepared to launch myself forth amongst the next drift of gold (I do not remember, you understand, all the details of this but merely rely on what I was later told) I was pulled back by some unknown hand.
"It was not Papa's hand for I doubt not that he was quite unaware of my presence so fixed he was on what he was doing. He had such a shining face, my Papa. I saw that."
Passages quoted in isolation can't do justice to the richness and liveliness of the narrative. I wrote last year in a review of Edmund de Waal's The Hare with the Amber Eyes that it takes a really interesting family to make non-relatives interested in a family's history. Kidd's forebears certainly tick that box.
More importantly, Kidd's prose is fascinating in itself. He needs no netsuke or other device to carry his story. Instead he offers the interplay of voices and perspectives of his main characters, Christian, Christopher, Aimee and Bartlett, although Bartlett does protest:
"But this is not about me. Suppress me, is the catchphrase, I who was peripheral, a sometime observer and recorder only in the long run. All that I write of North View and of them and her [Aimee], I write from a shy, lingering position behind, say, a plane tree, or from inside a doorway, from my listening in the cool at the far end of a long verandah in the twilight."
The book, the title of which comes from Gerard Manley Hopkins' poem Spring and Fall, makes great use of old photos and other illustrations throughout.
E.J. Kidd says Goldengrove Unleaving is as historically accurate as possible, with his imagination fleshing out the documented. It is a method used to dazzling success by John Dale in his 2004 book Wild Life (Allen&Unwin), which I nominated several weeks ago among my best books about Tasmania. In fact, I would name it at the top of my list and urge others to get their hands on a copy.
In the book Dale undertakes a quest to solve the mystery of his grandfather's violent death in Launceston in 1942, stepping into real and imagined happenings at Hobart's Beaumaris Zoo and his grandfather's recruitment of Tasmanian-born film star Errol Flynn for a plan to save the thylacine from extinction. The events effortlessly explore the eternal Tasmanian themes of human interaction with nature, both constructive and destructive; enterprise, bureaucracy, sensitivity and conformity.
Now for the works Tasmanian Times readers nominated as top books about Tasmania.
J. Haswell offers four recommendations:
Women Of Note, self-published by Veda Veale of Launceston "about 30 years ago", with chapters on Tasmanians such as Amy Sherwin, the Tasmanian Nightingale.
Tasmania's Greatest Sportsmen, self-published by a young Neil Kearney of Longford, "which included (to Neil's later amusement) the horse Halwes".
My Wicked Wicked Ways, film star Errol Flynn's autobiography "in which he failed to mention that he shared a bath with my mother at Brown's River in 1912. They were aged three".
Hook's Mountain (1982) by James McQueen. "Some thought this the best of his more than a dozen books, deep-filled with conflicting moods of the bush and small-town Australia. Wikipedia says McQueen once completed a four-year accountancy course. Good Lord, this rugged but sensitive man was anything but an accountant."
Jane Rankin-Reid recommends Peter Conrad's Down Home; Revisiting Tasmania (Angus & Robertson, 1987). Jane says it is of note in shaping the idea of Tasmania and the experience of island life. "There is a degree of controversy still about some of Conrad's characterisations, but this does not lessen the book's powerful observation and equally wonderful writing to me."
Tim Thorne says: "I declare an interest here, as publisher, but the late MML Bliss's Ravo (Cornford Press, 2003) captured brilliantly the voices of a suburb which is quintessentially Tasmanian. More objectively, any of the collections of short fiction by Geoff Dean and Barney Roberts hit the spot."
Garry Stannus recommends The Sausage Tree, by Rosalie Medcraft and Valda Gee, UQP, 1995, winner of the David Unaipon Award for Aboriginal Writers. The book tells of the authors' childhoods, growing up in a family of nine, during the Depression in a small town in Tasmania. "That town is Lilydale," Garry says. "It is a delightful story, more so because I work in the town and can see the constants and the changes. I liked the photo from their front? yard in Station Road which shows haystacks and Mt Arthur in the background. The haystacks are not of bales, but of loose hay, built up in a circular shape, with a domed hay 'roof' — all in all looking something like a giant cupcake without the wrapper. I think that photo is from the '50s, during my lifetime, and yet now with the use virtually everywhere of baling twine and/or plastic wrapping most people might not dream how until relatively recently, very old ways persisted in Tassie."
Margaretta Pos recommends The Journal of Mrs. Fenton: A Narrative of her Life in India, the Isle of France (Mauritius), and Tasmania during the Years 1826-1830, published in London by Edward Arnold, Publisher to the India Office, in 1901. "The Tasmanian section is well written and one of few accounts by a woman of life in the fledgling colony of Van Diemen's Land, and by one, moreover, who was fascinated by the natural world. ( I have a personal bias in that she was my great great great grandmother, but the book is both an historical and literary gem.)"
Leonard Colquhoun recommends Full Points Footy's Tasmanian Football Companion (details at http://www.fullpointsfooty.net/publications.htm). "Tasmania has a long and rich history in Australian Football, much more than Darrel Baldock, Royce Hart and Peter Hudson, as each of these would (have) readily acknowledged."
James Dryburgh offers "a few books that have not so much captured Tasmania, but freed it and opened it up to me (probably the same thing)":
Death of a River Guide, by Richard Flanagan, 1997 — "read at a time when I was teenager and had to be forced to read. I was forced to read it, and soon a whole new Tasmania was filling my head."
Van Diemens Land: A History, by James Boyce, 2008. "Gave me a fresh look at the Tasmanian story."
Main Currents in Western Environmental Thought, by Peter Hay, 2001, "purely because I think the fact that this internationally significant book came out of Tasmania says a lot about the place".
James says Island magazine and Famous Reporter also deserve mention.
Twinned books I forgot to mention the other week are Irish political prisoner John Mitchel's Jail Journal and Christopher Koch's magnificent 1999 novel based on it, Out of Ireland. Because his conviction and transportation were an incendiary matter back home, Mitchel was not incarcerated on arrival in Van Diemen's Land. Instead, he was given a cottage at Bothwell and required only to keep within the area and not meet with his fellow Young Ireland transportees. He left an eloquent record of the life and landscape of the colony in the mid-19th century and Koch enhanced this already excellent raw material.
I would also like to recommend Anthony Lawrence's 2003 book The Sleep of a Learning Man, which contains many beautiful poems about the Tasmanian outdoors, from fishing on the Channel to driving through rain on the West Coast.
Book events
Thursday, February 23, 6-7pm, Fullers Hobart: Launch of Twitch, a gathering where young writers can meet and read from their works, with food and a drink. Reservations essential at xyz@fullersbookshop.com.au
Friday, February 24, 5.30-6.30pm, Fullers Hobart: Launch of The Critters of Bonorong Wildife Sanctuary. Reservations essential at rsvp@fullersbookshops
Do you have a new Tasmanian publication you would like reviewed or a local literary event to publicise? Email BookMark via: editor@oldtt.pixelkey.biz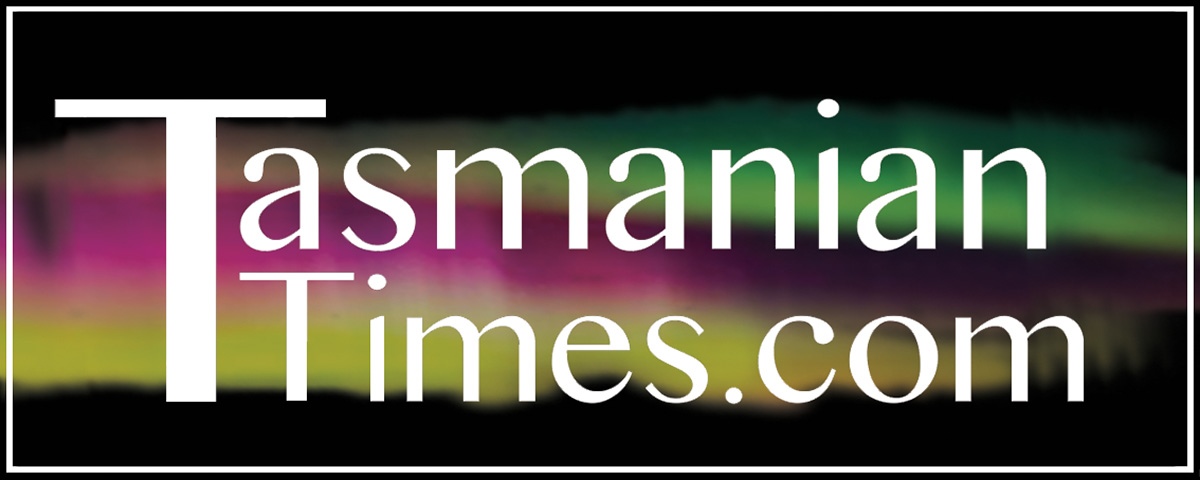 Author Credits: [show_post_categories parent="no" parentcategory="writers" show = "category" hyperlink="yes"]