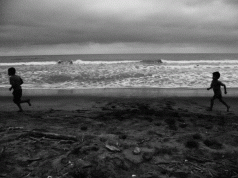 ECUADOR´S Constitution states that the rights of Pachamama (Mother Nature) must be protected. Ecuadorians are very proud of their amazingly diverse environment and in many ways seem highly aware of environmental issues. On the other hand, as with elsewhere in Latin America they have not collectively got a grip on the problem of plastic rubbish. As we bussed to the Manabi coastal region of Ecuador for a month´s volunteer work we were again saddened by seeing adults tossing plastic bottles and rubbish out the window in to the beautiful landscape they are so proud of. However, we have seen on the TV and heard on the radio a major government campaign to educate people about the problem.
At least in this part of the world, a positive thing is that you don´t throw glass away. Soft drink and beer bottles are returned to the bottler, and if you want to take away from the shop you pay extra until the bottle comes back. The bottles are cleaned, relabelled and refilled before heading back to the consumer. I´ve been racking my brain as to why we can´t do this in Australia, as yet without an answer.

Sunset on the local beach
After being robbed, as mentioned in an earlier postcard to TT, we made it to the little bamboo house on the coast where we would spend the next month. We lived with Yajaira, a 30 year old single mum and her two children, and after a week, three other volunteers. Living with the kids was useful in a way as I think the experience has probably bought me an additional 5 years of Anna not wanting to have kids.
The first day was all about finding villagers who had a television before the World Cup started. Fortunately a house along the road that was also a shop by virtue of having about four different things for sale had a TV and it was to be the place for all the locals to watch the games. A guy in the village of Jama about 30 kilometres away also put his TV out on to the footpath so everyone could watch the matches and sold 600ml beers for a dollar and the odd bag of prawns.
Everyone here loves the World Cup, which made it a great place to watch it. They passionately support all the Latin American countries, particularly those of the south, and take particular delight in beating the European teams. Most Ecuadorians put Argentina last out of the South American teams because, they tell me, ´´Argentines are arrogant and think they are better than the rest of us.´´ Apparently Argentines believe they are more sophisticated and European than the rest of Latin America. They are certainly whiter and were at one point much richer than their neighbours.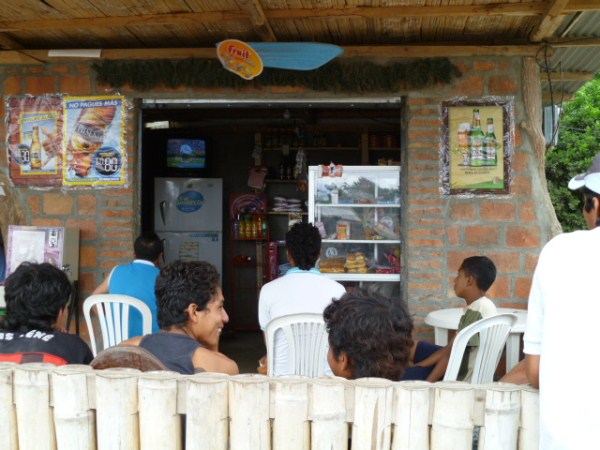 Watching the World Cup
The volunteer work was described before-hand as beach cleaning (the problem of plastic evident again on otherwise beautiful beaches), helping to educate local children about the environment and working with fishermen. It turned out to be more beach-cleaning and improving the volunteer house, but this was fine as it was a very relaxing base. People from inland Ecuador refer to the coastal people as monkeys, which the coastal people don´t like. I don´t think they resemble monkeys particularly, but in terms of speech I think I would find a monkey easier to understand. Their dialect of Spanish seems to have removed all syllables and separation between words.
One day off Anna and I followed some old cattle trails inland through the jungle as we´d been told that there were monkeys in the area. We walked for about an hour and a half and despite seeing some beautiful birds and hearing some crazy noises, we didn´t see any monkeys. On the way back though we suddenly heard noises above us and there they were, about 10 metres away. The largest male kept closest to us the whole time and had a keen eye on us, as a few others passed over us including a mother with a baby on her back. They were in no hurry and apart from the alpha male monkey, seemed to take little interest in us. I found it surprising that they live reasonably close to people but apparently never go to the villages to scavenge food. I guess they have everything they need in the forest and perhaps they know better.
One night we had a tarantula in the house, which was pretty impressive, as it seriously made a huntsman look like a small daddy long legs.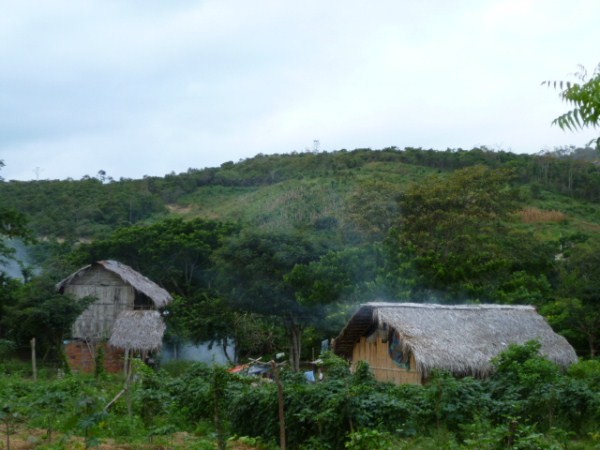 Local houses
We were located between the coastal towns of Pedernales and Jama, which are both based on fish farms (mainly prawns) and out to sea fishing. Prawns make for a steady catch but a good day involves coming home with two or three huge black fish called wahoos. Jama is like a little town from an old western film and has a nice chilled atmosphere and judging from the stares, they don´t get many ´blancos´ passing through. Pedernales is bigger and gruffer being a transit point for people and goods alike.
One day we left Jama for the 20 minute bus trip home, but got on the roof of the wrong bus and ended up on a four hour trip to a tiny village deep inland call Diez de Agosto (Tenth of August). Not far into the trip we realised we were going the wrong way but it was too late to jump off and the hilly jungle dotted with little cane houses was beautiful. As the young attendant climbed round the side of the rapidly moving truck on to the roof to get our money I told him where we were going and his face said it all. The trip was amazing as we drove through about seven rivers, saw the wonders of old-fashioned agriculture as tiny squares of crops clung to the sides of slopes you could barely walk up and passed many tiny and isolated settlements. We even had ten minutes spare at Diez de Agosto to have lunch at the one restaurant, which was one table on the street and a lady cooking in a shed, before making the return journey back the way we came. The giant prawns for lunch were delicious.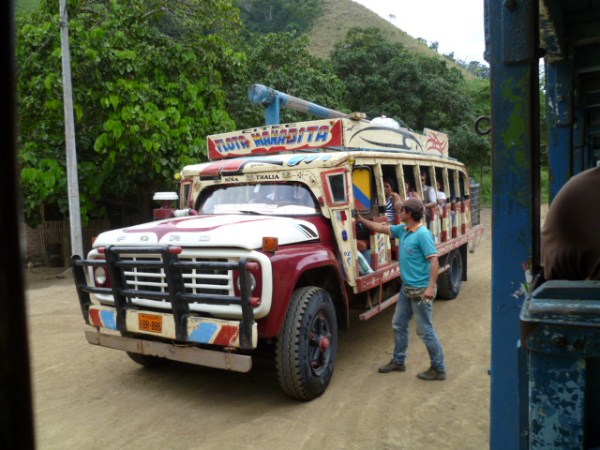 Local bus
By the time we made it back our backs were pretty sore from the roughness of the road combined with having a plank of wood as a seat. I made the mistake of stretching in front of the local Shaman, which I am still regretting as I write this three weeks later. The Shaman, who had one eye completely white, saw me stretching and within a few seconds had me suspended in the air in a theatrical wrestling hold and with one move managed to make most of my vertebrae crack. Then he moved on to my neck, hands and surprisingly the most painful, my feet and toes. He then rubbed a home-made potion in to my back that felt like Deep Heat. The right side of my back is still sore and I feel like my body is twisted to the left.
One weekend we headed further down the coast to Bahia de Caraquez, a coastal town that was almost completely destroyed by an earthquake in the early nineties. It´s a nice little place that is reached via a 30 cent boat trip across the bay, which saves you over an hour on the bus. Here on a rainy day we saw a huge and headless Boa washed up on the beach. It would have been as fat as my upper legs and must have been killed in the jungle and washed down river to sea.
On the way to Bahia we passed through Canoa, which due to discussions with locals we decided to miss. Their descriptions made it sound like a place that has been ´Lonely Planet-ed´ to death. The locals´ description is that of a town defined by sex and drug tourism full of gringos.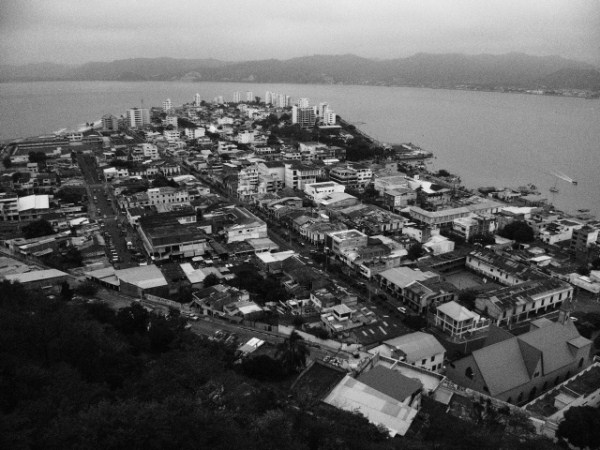 Bahia de Caraquez
Our time living on the coast showed us another cultural difference between those of Latin America and us Australians, which was explained to us as part of our volunteer training. They are a broadly collectivist society and we are broadly individualist. A small example of this difference is that if you have food it is assumed it is to be shared with everyone unless you have expressly advised otherwise, whereas we assume the reverse. We noticed this several times when we made certain foods for ourselves and then found them served to everyone with the evening meal.
Before heading south toward Peru we revisited Guayasamin´s amazing Temple of Man (see next Donkey) and did another week of Spanish classes. At the Spanish school it was the birthday of one of the teachers and we discovered that it is traditional for someone to remove their belt and for the birthday person to receive one belt to the arse for every year. I got a bit excited during the ritual and accidentally shouted ´´kill her´´ in Spanish, to many strange looks.
PS. Paul, you never told me you´d been to Ecuador…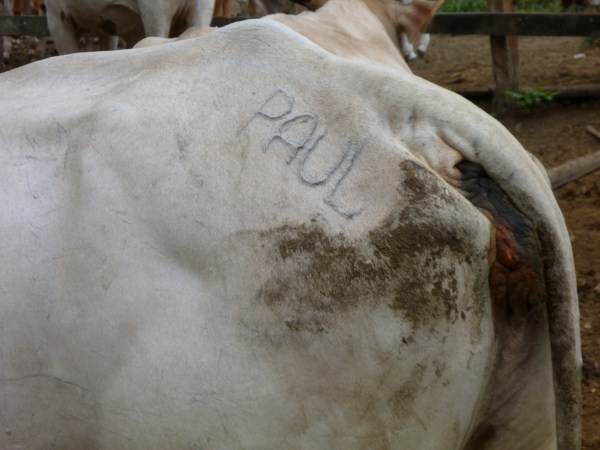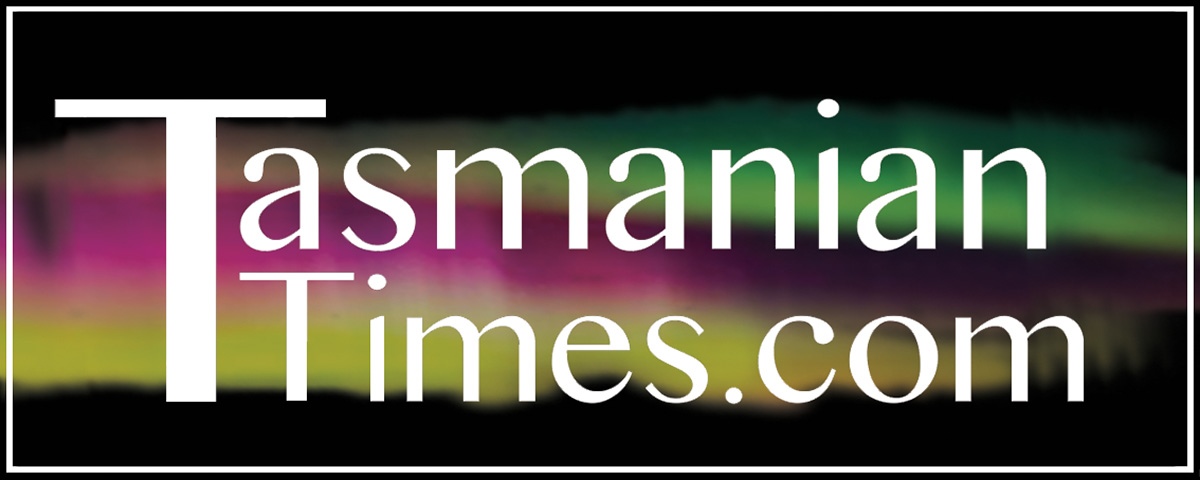 Author Credits: [show_post_categories parent="no" parentcategory="writers" show = "category" hyperlink="yes"]