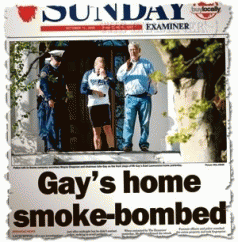 The truth outs. Now will the Examiner Editor publicly apologise to pulp mill opponents?
In view of the court's finding (see Mercury & ABC articles below and WIN news 20/4/2010), it is time the Examiner issued a public apology for creating the false impression that pulp mill opponents were responsible for the vandalism crime at the home of Gunns boss John Gay?
The Examiner's coverage of this issue was one of the grubbiest and most skewed pieces of reporting I have ever seen in a Tasmanian newspaper.
TAP's Bob McMahon said the media's reaction to the incident… "was part of a concerted campaign to demonise the anti-pulp mill cause. The mainstream media all universally jumped to the conclusion that the attack was orchestrated, planned and executed by hit squads from the anti-mill groups"
Indeed, many Launceston & Tamar Valley locals were offended and hurt by the newspapers coverage.
According to this Tasmanian Times correspondent (below) local residents were not the only people concerned by the Examiner's coverage of the issue.
"…..This further attack by Fiona Reynolds adds to my concern regarding a fair trial given the frenzy the Examiner is whipping up. I rang the Police Inspector in charge of the arrests to voice my concerns and was told that the police were meeting with the Examiner as they too, were dissatisfied with the inaccurate coverage.."
Posted by Potential Examiner victim on 18/10/09 at 07:25 PM.
Another source told this blog ……. "I know that (name withheld) spoke with Cmdr Glenn Frame who expressed concern about the Ex's reporting on B'field. Frame met with Fiona (Examiner editor) – perhaps this is why the Ex pulled the Lennon guff and opinion poll so quickly".
The Examiner's editor will remember how the paper sensationalised what most thinking locals suspected was an otherwise common and comparatively minor street crime (alleged vandalism at the home of Gunns CEO John Gay) by giving it vastly overwrought coverage including – two front pages, an editorial, a two page spread on the Tuesday, a bizarre and inflammatory column by Paul Lennon, and an online opinion poll?
Remember that Editor?
The Examiner coverage clearly associated the crime committed with anti-mill groups TAP and Pulp the Mill when over a 3-day period it framed the issue as one concerning anti-mill campaigners and Mr Gay, rather than one between Mr Gay and some local hooligans as the subsequent police investigation & court hearing has revealed.
The effect of this on local pulp mill opponents was guilt by association.
At the very least the Examiner's editor should require Paul Lennon to publish a retraction of his article which the paper ran on October 12, 2009 where he launched this extraordinary attack on pulp mill opponents…….
……"I caution the public not to be conned by the statements from anti-pulp mill campaigners, which have been cleverly crafted to distance themselves from the disgraceful vandalism at the Gays' family home", he wrote.
"Anybody who seriously believes this latest attack against John and his family was not orchestrated by the anti-pulp mill campaigners is kidding themselves … This sort of vigilantism has been part of the tactics of anti- pulp mill activists for some time. I and my family have suffered … virtual home invasion at the hands of expertly trained anti- pulp mill operatives." (Paul Lennon, October 12, 2009, Examiner)
In light of the outcome of the criminal investigation into this matter the Lennon article and the publishing of it by the Examiner is indefensible.
Its time the Examiner admits it got it wrong by offending, smearing, and inciting ill feeling towards innocent locals through it's reckless and irresponsible coverage of this issue.
It is also worth noting that local Liberal member for Bass and shadow treasurer Peter Gutwein ( a renown 'greenie' hater who has taken a particular loathing to pulp mill opponents and is close to the logging industry) stated on ABC radio on Monday the 12th Oct that he was in constant contact with Mr Gay on the night of the incident.
He also named TAP spokesperson Bob McMahon and indirectly blamed him for the incident during the interview with the ABC's Tim Cox.
Sources tells me that Mr. Gutwein was very enthusiastic for the Examiner to run the story.
The next day Mr Gutwein put out this media release on Oct 11 – the same day the examiner first reported the story http://www.petergutwein.com/media/oct1101.php
and this the next day.. http://www.petergutwein.com/media/oct1201.php.
Even the premier David Bartlett chimed in saying…. "Every Tasmanian has a right to feel safe and secure in their own home …. Freedom of speech is part of our democracy. There are people out there who have been calling for `civil unrest' and if this is the sort of behaviour they are referring to, Tasmanians should stand united and condemn it,".
This comment was clearly aimed at TAP spokeperson Bob McMahon. McMahon is owed an apology by Gutwein, The Examiner and Premier Bartlett.
The Treasurer Michael Aird also had a crack as did former Premier and Gunns board member Robin Gray "John's doing his absolute best for Tasmania – I think it's the right thing – and nobody should be subject to that sort of behaviour,".
Forestry Tasmania took their turn as well when its General Manager Corporate Relations and Tourism, Ken Jeffreys claimed that "condemnation of the attack on the private residence of the Gunns Ltd chairman" John Gay was one of "a series of embarrassing setbacks for the anti-forestry movement."
Mr Jeffereys previously worked for Premier Lennon's now defunct and disgraced propoganda unit "The Pulp Mill Task Force".
This powerful bound & well connected alliance of political, industry & media have been proven to be wrong in this matter. They all owe us an explanation. Yet their reaction to the event at Gay's house is consistent the tradition of solidarity and support that both sides of Government have always shown to the Tasmanian logging industry and its monopoly company – Gunns LTD. It is called institutional bias. Its an entrenched part of the tainted political fabric of this state.
Dont just take it from me, this is very well documented.
………………
From the Mercury.
Penis graffiti bid for fame – by NICK CLARK April 20, 2010 12:39pm
A LAUNCESTON man sprayed a green penis on the fence of Gunns Limited chairman John Gay to win fame. Linden Michael Forrest, 21, pleaded guilty to unlawfully injuring property on October 10, 2009.
Police prosecutor Mike Bonde told the Launceston Magistrates court that the green penis was Forrest's usual tag.
The court heard that Forrest and a co accused Matthew Standaloft had been drinking before they went to Kmart and bought green paint.
They went to Mr Gay's house and while Forrest sprayed the paint the co accused let off a device at the front door.
When they were finished they rang the bell at the front gate and when a light went on they yelled obscenities.
Mr Bonde said Forrest was not a member of any pressure group and had a neutral feeling about the proposed pulp mill.
Forrest, who suppressed a smile during the hearing, thought it was funny at the time but was later embarrassed.
Magistrate Robert Pearce fined Forrest $800 saying that the community and Mr Gay were entitled to be protected from such behaviour.
Forrest had a number of prior offences but had not entered Mr Gay's property making a similar fine to his co accused appropriate, he said
and…….
From ABC online. "Court fine over Gay house graffiti attack"
A 21-year-old Launceston man has been fined for his part in vandalising the home of Gunns chairman John Gay.
Linden Michael Forrest has pleaded guilty to one count of injuring property.
The Magistrates Court heard that he and a friend had been drinking heavily when they decided to vandalise John Gay's house in Launceston last October.
Forrest painted vulgar graffiti on Mr Gay's front fence while his friend planted a smoke bomb at the front door.
Forrest told police he painted the fence with graphic graffiti because he though it would be his claim to fame.
Magistrate Robert Pearce accepted that the 21 year old had no political or activist motive for the attack but added that the community, and Mr Gay in particular, have the right to be protected from such acts.
Forrest was fined $800.
and previously……..From ABC online (15/3/10)
"A 21-year-old Launceston man has been fined for an attack on the home of Gunns chairman John Gay in October last year in which a $250 doormat was destroyed.
Matthew Philip Standaloft, who was drunk at the time of the attack, pleaded guilty to one count of trespass and one count of destroying property.
Standaloft was fined $800 and ordered to pay compensation for the doormat."
Posted by Pilko at 2:01 PM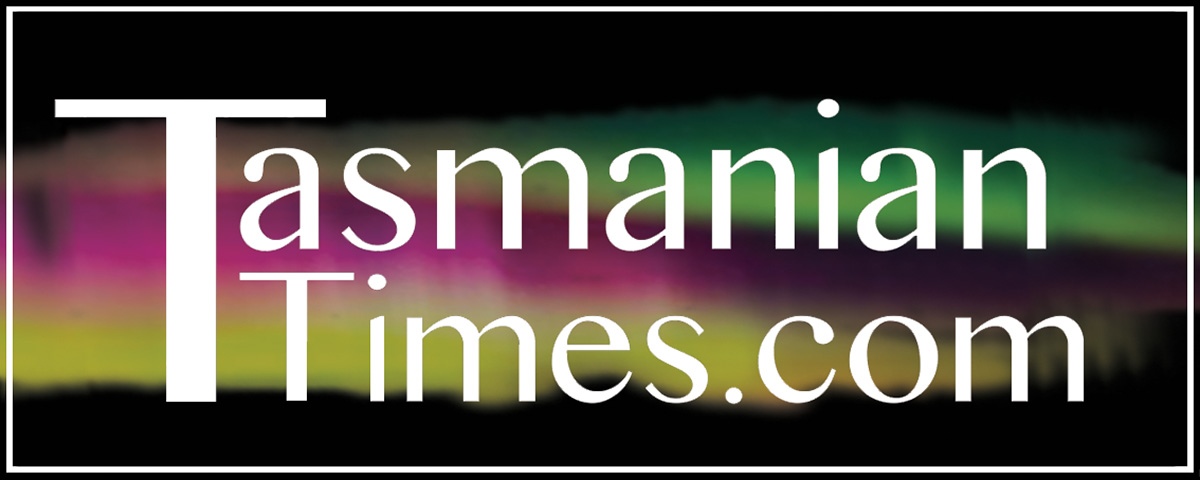 Author Credits: [show_post_categories parent="no" parentcategory="writers" show = "category" hyperlink="yes"]