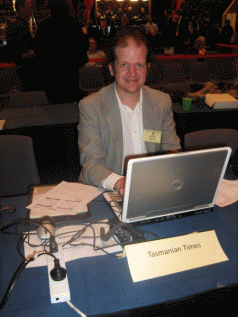 After the first night of counting in the Tasmanian state election, the widely reported breakdown of 10 Labor, 9 Liberal, 4 Green with two in doubt is correct. But one of those in-doubt seats (Braddon) is much closer than would be believed just from examining the raw party figures, while another one (Denison) will produce a quite unusual cutup. We will have to wait a couple of weeks to see where the two in-doubt seats end up. In terms of David Bartlett's pre-election pledge to not govern unless he won a plurality of seats (or votes if seats were tied with the Liberals) the only hope for Labor is that the Liberals fail in both seats. However, I do not assume that Bartlett's pledge will necessarily be honoured by his party should 10-10-5 be the result. With Bartlett's authority greatly weakened by a poor Newspoll approval rating and a very large swing against Labor (although that swing, around 12%, was not quite as bad as I expected) the party could yet follow the precedent set by the Liberals in 1996 and revoke the leader's no-deals approach by simply choosing a different leader.
The gap between the two parties (two points) was about the same as that polled by Newspoll. However at this election Newspoll joined EMRS in significantly overcooking the Green vote. The Greens' record 21.3% is a good result (even with the free hits from a collapsing government) but it is nothing like the mid-20s predicted by both pollsters and confirmed my long-held suspicion that no matter how well the Greens did they wouldn't break 23. It is, however, very close to the baseline EMRS results without adding voters "leaning" to a party. Even though the number of "leaning" (soft) voters according to EMRS was very much higher than in previous campaigns, it appears that even those voters who say they are leaning to vote Green simply do not actually do so.
It is especially notable that much too much was again made (even by me!) of Green chances in Denison on the back of EMRS samples. I repeatedly pointed out that EMRS had overcooked the Green vote in their electorate breakdowns by a massive 12 points in 2006 and exactly the same thing has happened again. Likewise, EMRS massively overcooked the Green vote in Braddon. The Greens did well in Bass (the pulp mill doubtless contributing to the 7% swing to them there) and Franklin (McKim plus the collapse of the Labor vote) and also Lyons (4.8% swing without the same strength of pulp mill factor) but went nowhere in Denison where the swing to them was cancelled out by the Wilkie factor. Wilkie was surprisingly successful; his 8.5% (even with the donkey vote) was a few points more than I expected, and the failure of the Green vote to increase has put him in the mix.
On to some seat-by-seat likely outcomes:
Bass: This is a straightforward 2-2-1. Michael Ferguson (1) and Michelle O'Byrne (2) will be elected on the first count and Ferguson's surplus will elect Peter Gutwein (3). Kim Booth (4) will be elected after the exclusion of three of his running mates. There will then be a battle between Brian Wightman, Scott McLean and Brant Webb for the second Labor seat. Webb's position is by far the most difficult because he must catch up 432 votes on McLean (as of Sunday) and has only 2378 votes in Labor preferences plus anything he can gain over McLean on leakage, Green preferences and ungrouped candidate votes to do it on, but I do not rule him out entirely at this stage. Liberal preferences will play little role in the outcome since they will mostly remain with a single candidate (most likely McGinity) who will be stranded on well over half a quota with nowhere to get preferences from. Thus it will be the small surplus of O'Byrne, the preferences of Cripps and (assuming he loses) Webb and the preferences of the second Green Jeremy Ball that will most likely determine whether McLean can overhaul Wightman. In my view those Green preferences that don't exhaust should favour Wightman over McLean, but perhaps Webb's preferences will assist McLean.
Franklin (also a clear 2-2-1) was seen by some as trending towards two Greens early in the night but I never took this seriously; the early booths counted in this electorate include many small southern booths with high Green votes. The loss of two incumbents has resulted in a 16.5% mauling (almost a quota of swing) against Labor in this seat and they are lucky that the split between the other parties has been close enough to save them from losing two. Will Hodgman (1) and Nick McKim (2) will be elected on the first count. Lara Giddings (3) will be elected after the exclusions of Kate Chirchill and Ross Butler. McKim's surplus should lift Adam Burling well above the other Greens in view of Burling's status as endorsed #2 (and despite Burling's very poor primary vote) and most likely Burling will be excluded with David O'Byrne, Jacquie Petrusma and Tony Mulder still in the running (it is possible but seems unlikely that Petrusma will already be elected by this point). After the exclusion of Burling whoever is running last, which will be one of the Liberals, is defeated and the other Liberal and O'Byrne are both elected. Although Mulder has polled strongly I see no reason why he would outdo Petrusma on Hodgman's surplus and therefore I think Petrusma is the most likely of the two to be elected.
Lyons is another straightforward 2-2-1 (though the Sunday Tasmanian misprint showing Leigh Gray with an improbable 16349 votes may obscure the picture somewhat! He is actually on less than 2000). No candidate has a quota in Lyons so it will take many exclusions before anyone crosses the line, and the order in which Tim Morris, Michael Polley and Rene Hidding will do so is unclear. There are battles for one remaining seat in each major party. Mark Shelton has a strong lead over Jane Howlett, who will need to catch up over 700 votes off the preferences of Gray and Playsted and spare Green votes at a stage when Rene Hidding (who has not polled all that well) is still sopping up votes. In my view Shelton will very probably win. In the Labor camp, Rebecca White has polled extremely well and trails David Llewellyn by 140 votes. The profile that goes with being a sitting member should work in Llewellyn's favour but White may do better on Green preferences. Conventional wisdom suggests Llewellyn should win but I will not be assuming anything here yet given the strength of White's campaign.
The remaining seats are the two crucial ones. In Denison, Labor has lost a seat, with Graeme Sturges trounced and Lisa Singh also losing, but Scott Bacon winning. David Bartlett has just topped the poll ahead of Cassy O'Connor and Matthew Groom, and all of these will be elected, but none of these have a quota so it's unclear what order they will cross the line in. The first key question to be resolved in Denison will be which Liberal remains in the hunt. Hobart alderman Elise Archer currently needs to gain 141 votes on Glenorchy alderman Richard Lowrie and this will have to be done mainly on the preferences of Jenny Branch and Matt Stevenson; with Branch connected to Lowrie through the Glenorchy Council it is more likely (but not certain) that Lowrie will stay ahead at the moment. The next critical point is the exclusion of Lisa Singh, which will elect Scott Bacon in fourth place, with a surplus of about .2 of a quota (perhaps a little less). After Singh's exclusion, Greens #2 Helen Burnet must be ahead of Andrew Wilkie, or she loses and Wilkie will fight it out with the remaining Liberal for the final seat.
The picture is tricky for the Greens because they currently start 292 votes behind Wilkie, and furthermore the votes for minor candidates Ann, Cover and Franks (a surprisingly high 2283 in current total, perhaps because of tactical voting) will leak some votes, including to Wilkie. The Labor surplus will have a high exhaust rate and will not necessarily favour the Greens over Wilkie (more likely the latter in my view) and so all the Greens really have in their corner is the Socialist Alliance preferences. In my view unless the Greens can markedly improve their position relative to Wilkie on postal votes then Burnet (who has polled a very good primary vote) will be excluded and it will be Lowrie or Archer vs Wilkie for the final seat. However, the Greens improved significantly on out-of-electorate voting so they are still in the mix.
For the "progressive" forces it is tough to find a happy ending to the potential Greek tragedy that commenced with whatever tensions led to Andrew Wilkie quitting the Greens and attempting to forge his own path. If it is Wilkie who is excluded then his preferences would be more ideologically diverse than Burnet's, and hence may not flow that strongly, but worse, Wilkie's bundle includes a sizeable donkey vote, and all the full-paper donkey votes would go from Wilkie to the Liberals. If it is Burnet excluded then in theory there should be a strong preference flow to Wilkie, but because some Greens voters vote 1-5 then stop (last time 30% of Greens votes exhausted when there were no Greens left in the count in Denison) the pool of votes Wilkie will have to catch up on may be lower. Assuming about a .1 a quota net closing of the .29 quota gap between the Libs and Wilkie as a result of leakage from the Lib ticket, and considering that he may do well off other preferences, Wilkie might have to close something like .15 quotas off about .35 quotas of non-exhausting Green votes. That would require a better than 70:30 preference flow from the Greens compared to the Liberals. That's far from impossible but whether Greens voters would really look so favourably upon a splitter from their party remains to be determined. Unlike some, I am not writing Wilkie off yet – he has a genuine chance on current figures, and the power of a single candidate who is not vulnerable to leakage to sit in the cutup accumulating preferences while party votes leak and exhaust must not be underestimated.
If Wilkie does edge out the Greens then lose, then it could be that his candidacy as an Independent rather than a Green has scuttled what would have been a second seat for the Greens in Denison (for him or someone else) and thus that the Green/Wilkie split has given the Liberals the seat they need to equal Labor's tally. But the Liberals also have a chance of getting up in Braddon.
The key to Braddon is to ignore the respective party totals and just concentrate on the race between Paul O'Halloran and Brett Whiteley. (It's not impossible Whiteley will bridge the 1386 vote gap to Adam Brooks off the 5528 votes held by minor Liberals, but I'll assume for now this doesn't happen.) The reason the party totals need to be ignored is that Hare-Clark is about candidates, not just parties. Bryan Green (1) and Jeremy Rockliff (2) have polled quotas and Brenton Best (3) will be elected when Shane Broad is excluded. After Broad's exclusion and Best's subsequent surplus, Brooks, Whiteley and O'Halloran remain and whoever is last at that point loses with the other two winning. At least 40% of the Labor leftover votes should exhaust at that point, and with about .2 of a quota thus removed from the count (and other bits of exhaust along the way), that makes it possible for O'Halloran to lose despite the Greens having a superior net quota position, if Brooks has not yet been elected. Consider (for instance) the following artificial scenario: O'Halloran .90 quotas, Whiteley .901 quotas, Brooks .96 quotas. The Green total is .9 and the Liberal total is 1.861 but the Greens get no seats and the Liberals two.
At present, O'Halloran leads Whiteley by a 173 votes. O'Halloran has access to 3078 votes from other Greens candidates, of which he should get about 2700 with the rest exhausting. Whiteley has access to 5548 votes from minor Liberal candidates plus a small Rockliff surplus. About 400 votes of that will leak, and the rest must be shared with Brooks. The question then is: can Whiteley do significantly better than Adam Brooks on the preferences of the two Lamonts, Hiscutt and Dunham? If he can get 2700 of the 5100-odd non-leaking votes, he keeps pace with O'Halloran, unless the latter significantly outperforms him on the non-exhausting Labor preferences (which seems unlikely). As a sitting member Whiteley should perform well on preferences – on the other hand Brooks ran a very strong campaign and may also get good preference flows. The task is tough for Whiteley, but he cannot be written off just yet.
In total across the state, five incumbents (Singh, Sturges, Hulme, R Butler, H Butler) have lost and two (Whiteley, Llewellyn) are still at risk of losing. This is quite a contrast to the 2006 election in which all 23 recontesting incumbents were returned, though two of the defeated incumbents were also-rans who were only elected on recounts.
I shall add updates in comments as new figures are released.
Kevin Bonham did not support or oppose any particular party in yesterday's election, instead voting across party lines in an erratic but somewhere near even fashion.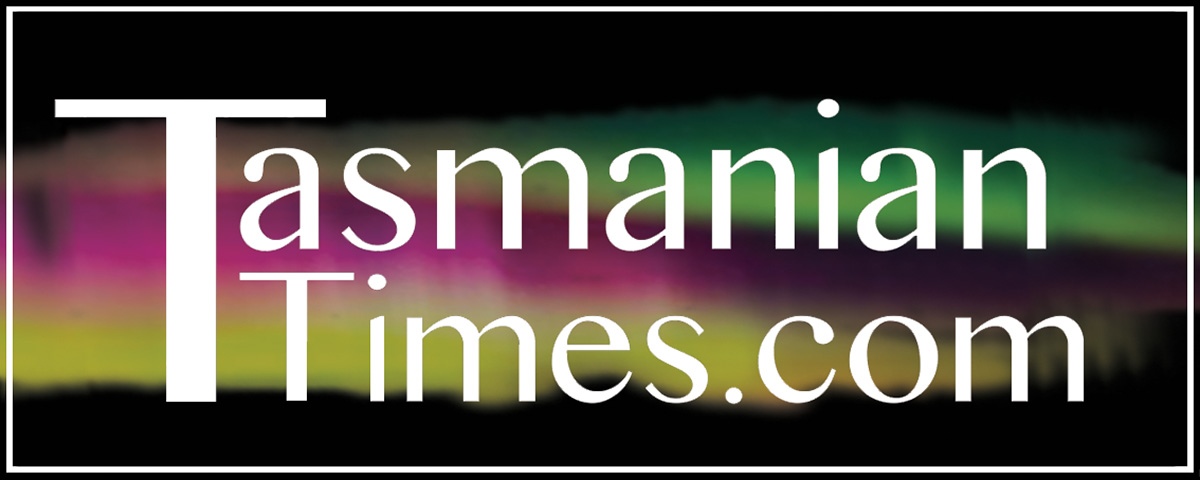 Author Credits: [show_post_categories parent="no" parentcategory="writers" show = "category" hyperlink="yes"]