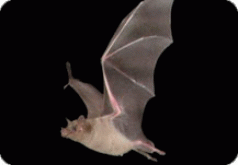 Five great extinction events have reshaped earth in cataclysmic ways in the past 439 million years, each wiping out between half and 95% of planetary life; the most recent extinction event was the killing off of dinosaurs.
Today we're living through the sixth great extinction event – a fact of which much of the public remains unaware. According to a poll by the American Museum of Natural History, seven in ten biologists believe that mass extinction poses an even greater threat to humanity than the global warming which contributes to it. It takes 10 million years to recover from the biodiversity loss of these mass die-offs.
Whether or not they are placing their work in this longer-view context, scientists are drawing more and more links between pesticide use and certain clusters of wildlife die-offs. "For decades," Sonia Shah reports in Yale's Environment 360, "toxicologists have accrued a range of evidence showing that low-level pesticide exposure impairs immune function in wildlife, and have correlated this immune damage to outbreaks of disease." Amphibians were the first to start dying off – in 1998 scientists identified the cause as a type of fungus called Batrachochytrium dendrobatidis. Carlos Davidson, a biologist at San Francisco State University, has studied insecticide use in the San Joaquin Valley that shows a strong correlation between pesticides drifting into the Sierra Nevada Mountains and declining amphibian populations. A few years later America's honeybees started dying – 35% of their population has been decimated since 2006. Many scientists have begun drawing links between the dramatic bee die-offs, labeled Colony Collapse Disorder, and a group of pesticides known as neonicotinoids.
Bats are the most recent victims: in 2006 the first cave floors were found covered with dead bats in the Northeast. White Nose Syndrome, the fungus-related disease that killed them, has killed at least 1 million bats since then. As with the fungus that's killing amphibians, some scientists think that that bats are more susceptible to the fungus because their immune systems may be weakened by pesticide exposure. Bats are particularly vulnerable because even low levels of pesticides can accumulate over of their long life spans. While there might be "too many different pesticides, lurking in too many complex, poorly understood habitats to build definitively damning indictments," the growing body of evidence points increasingly towards pesticides – even at so-called "safe levels" – as the cause of these and other problems for wildlife.
Read more, with full LINKS, HERE
Dr Bleaney's comment: Pesticides are immune system changers, and must be implicated in the general decline in health.
And …
And,
The following study is relevant for all animals including humans.
Tasmania indeed has a very high rate of diabetes and some of the reasons may well be associated with ingested POPs (persistent organic pollutants).
This paper and the urgent need to look at environmental toxins with regard to preventable health issues can no longer be sidelined.
Chemical policy reform has to part of preventative health strategies.
I quote from the conclusions:
"Of the POP mixtures(including DDT, dioxins and dioxin-like PCBs) tested in vitro, organochlorine pesticides were the most potent disruptors of insulin action…. The widespread pesticide exposure on human appears therefore of particular global concern in relation to public health. …..exposure to POPs present in the environment and food chains are capable of causing insulin resistance and impair both lipid and glucose metabolism, thus supporting the notion that these chemicals are potential contributors to the rise in the prevalence of insulin resistance and associated disorders."
From environmentalhealthnews.org
The full study is available on line: HERE
A new study in rats shows that persistent organic pollutants (POPs) – at levels found in farmed Atlantic salmon – cause insulin resistance and associated obesity and liver disease in the animals. The study is the first to show this experimentally. Insulin resistance can lead to type 2 diabetes, which is becoming a global epidemic. The association between high levels of POPs in people and increased chance of developing diabetes has been known since 2006. Until now, scientists could not positively conclude that POPs influenced the onset of diabetes. More… HERE
Abstract
BACKGROUND: The incidence of the insulin resistance syndrome has increased at an alarming rate worldwide creating a serious challenge to public health care in the 21st century. Recently, epidemiological studies have associated the prevalence of type 2 diabetes with elevated body burdens of persistent organic pollutants (POPs). However, experimental evidence demonstrating a causal link between POPs and the development of insulin resistance is lacking.
OBJECTIVE: We investigated whether exposure to POPs contributes to insulin resistance and metabolic disorders.
METHODS: Wistar rats were exposed for 28 days to lipophilic POPs through the consumption of high-fat diet containing either refined or crude fish oil obtained from farmed Atlantic salmon. Furthermore, differentiated adipocytes were exposed to several POP mixtures that mimicked the relative abundance of organic pollutants present in crude salmon oil. We measured body weight, whole-body insulin sensitivity, POP accumulation, lipid and glucose homeostasis, gene expression and performed microarray analysis.
RESULTS: Adult male rats exposed to crude, but not refined, salmon oil developed insulin resistance, abdominal obesity and hepatosteatosis. The contribution of POPs to insulin resistance was confirmed in cultured adipocytes where POPs, especially organochlorine pesticides, led to robust inhibition of insulin action. Moreover, POPs induced down-regulation of insulin-induced gene-1 (Insig-1) and Lpin1 genes, two master regulators of lipid homeostasis.
CONCLUSION: Our findings, for the first time, provide evidence that exposure to POPs commonly present in food chains leads to insulin resistance and associated metabolic disorders.

Author Credits: [show_post_categories parent="no" parentcategory="writers" show = "category" hyperlink="yes"]