Despite her terror at the thought of being confronted by an angry farmer when a shed is lit for filming, the hardest part is having to leave maltreated animals in appalling conditions, she says.
"It makes you ashamed to be a human being turning your back on them, knowing there's nothing you can do to help those animals," Ms Haswell said this week.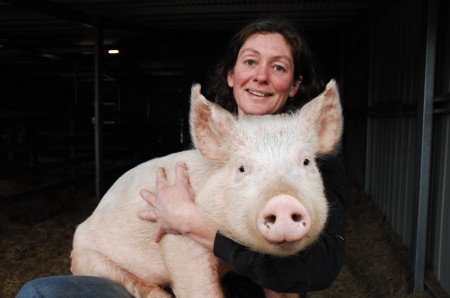 Emma and another friend: "I like pigs. Dogs look up at us. Cats look down on us. Pigs treat us as equals": Winston Churchill
"I find the raids really terrifying. I hate it. If someone finds you in there, you are completely at their mercy.
"But for me, the worst time is when you have got to walk away from all those animals in crates.
"I'm campaigning for change and for the banning of factory farming and sow stalls, but you know that's not going to help those pigs or those hens."
If every Australian got to see inside a factory farm, there would soon be no factory farms, Ms Haswell says.
About 5,000 school children each year, mostly in Tasmania where she is based, hear the 40-year-old vegan activist's message about intensive farming.
She has a passion and credibility that teenagers seem to respect – not unlike the appeal of the late crocodile hunter and wildlife activist Steve Irwin.
"I got involved in education after taking a pig from the movie Charlotte's Web around to primary schools so that children got to meet a pig," she said.
"That's when I discovered that no student seemed to know what a battery hen was.
"I thought, something needs to happen because you can't be an informed consumer unless you know where food products are coming from."
One of Australia's wealthiest women, Kathmandu retail chain founder Jan Cameron, bankrolls Ms Haswell and her Brightside Farm Sanctuary at Cradoc, in the Huon River valley near Hobart.
All profits from the Tasmanian philanthropist's Dogs Breakfast Trading Company business go to animal welfare, although Ms Cameron has stepped back from the state's RSPCA after problems with her sponsored projects.
Ms Haswell's latest farm raid, in March, led to animal cruelty convictions last month for a 30-year Tasmanian pork industry veteran and Woolworths supplier Gary Oliver.
Mr Oliver pleaded guilty to causing the serious disablement of three sick and injured sows through neglect and denying them veterinary care.
Magistrate John Myers, after viewing the images of the piggery that Ms Haswell and another activist supplied to the police, had little sympathy for the farmer's protests about their intrusion.
"It might well have turned out to be in the public interest," Mr Myers said.
If the "really appalling" state of the three sows Mr Oliver was prosecuted over was the cost of intensive farming, "then I would have thought the community would expect intensive farming would not be a viable option for our society", he said.
Mr Oliver accused Ms Haswell of trespass and of removing two piglets from his Winnaleah property, Longrenon. No charges have been laid against her.
Mr Oliver declined a request to comment for this article.
Tasmanian Farmers and Graziers Association president Chris Oldfield said farmers would have significant concerns if people illegally trespassed or broke into their property.
But he denied an activist caught by a farmer risked physical harm.
"We would urge people with concerns about animal welfare to contact authorities – state government departments and the RSPCA – rather than take the law into their own hands," Mr Oldfield said this week.
But Ms Haswell says it's the RSPCA's frustrated officers who tip her off to bad practices because the organisation wants to avoid becoming involved in prosecutions.
She says the government developed a policy for random, unannounced inspections only two years ago, after one of her first Tasmanian raids, on a battery chicken farm, in April 2007.
But the government only began carrying out such inspections after the Oliver piggery raid, she said.
A Department of Primary Industries spokeswoman said approvals for these inspections first became available in May 2007.
But the state still lacks compulsory animal welfare standards which were provided for in amendments to the Animal Welfare Act in July 2008.
"While there are currently no approved standards, there is a range of guidelines," the department spokeswoman said.
"We … are planning on stepping up random inspections in advance of the introduction of the standards.
"Note that the RSPCA plays a major role in this area," the department spokeswoman added.
Woolworths spokeswoman Claire Buchanan said the situation at the Oliver piggery was unacceptable and Ms Haswell's tactics "obviously exposed a serious issue at the farm".
Woolworths has had a livestock standards expert visiting the piggery every fortnight since the charges were laid in April.
The supermarket giant is in the process of winding down its supply from Mr Oliver as he exits the industry, she said.
He has supplied pork to Woolworths for the past 10 years, delivering 20 per cent of all of the Tasmanian pork the supermarket purchased.
He had 1,800 sows at the piggery.
The three animals over which he was prosecuted were destroyed by a vet soon after police arrived at the property to question Mr Oliver, with Ms Haswell in tow in an official advisory role.
The sows were extremely emaciated, unwilling or unable to stand.
Two had festering ulcers up to 12cm in diameter, and one of that pair was unable to move because its snout was stuck under the bar of a mesh divider.
It could not get to food or water and its wounds were flyblown with adult and juvenile maggots.
Mr Oliver agreed the stuck pig's condition was "disgraceful" and it should have been destroyed, although he had last seen it on the day police arrived. He offered no reason as to why it had not been put down.
He had last treated the animal himself with an antibiotic four months earlier.
Mr Oliver admitted the water drippers in sows' farrowing pens got clogged but he said they were not checked every day.
The court was also told that layers of faeces were deposited in group pig pens. Mr Oliver admitted the pens hadn't been cleaned for two months, and that effluent and maggots on a walkway should have been hosed down.
Mr Oliver's pigs had one visit per year from a vet, based in South Australia. Otherwise, he relied on his knowledge to treat the pigs, the court was told.
Police found that more than 70 per cent of the 46 sows in farrowing stalls had pressure sores on their sides needing treatment.
Mr Oliver agreed the sores were caused by sharp aggregate exposed by the wearing of the concrete surface. He had been advised to treat them with a spray but hadn't followed through.
Police and the government inspector returned to the piggery three weeks after their initial visit to check if Mr Oliver had made the changes ordered on their initial visit.
They found another sow with a large soft abscess on its right shoulder.
Mr Oliver, who had no prior animal cruelty convictions, was fined a total of $12,500. He told the magistrate he was getting out of the industry because he the security threat of possible activist raids.
Ms Haswell, whose family has been in Tasmania since 1823, grew up on a cropping and grazing farm in the state, and worked on farms before becoming a veterinary nurse.
Her past animal welfare campaigns in the UK and Australia have notched up successes, such as euthanasia provisions in the greyhound industry and for rodeo stock.
"I have realised the power that one person can have because I really made a ripple in the greyhound industry and I was only on my own," she said.
"I remember them referring to me as an organisation and suddenly the penny dropped that you only needed to be one person to have quite an impact.
"My mission now is to make everybody aware of where their food is coming from.
"If I had one wish it would be that everyone in Australia got to see inside a factory farm because there would be no factory farms if everybody did.
"The majority of people would never eat pork again if they saw the conditions that pigs live in in factory farms."
Mr Oliver later said Ms Haswell's intrusion on his property was the equivalent of a home invasion, exposing his frail elderly parents and his two young daughters to an unwanted and unknown threat.
"If people like that come on to your property at night in dark clothes and balaclavas and that, it's a bit frightening for your family," he said.
"It feels shithouse knowing they can do that. It's not very nice. But what can you do.
"We don't know if they are armed or not, those people."
Mr Oliver said his decision to quit the pig industry by December is based on avoiding any further such invasions of his family's home, he said.
The Olivers will turn to cattle grazing and crops instead of pigs.
AAP

STORY: via Brightside Animal Sanctuary, HERE. PICTURE: I like pigs. Dogs look up at us. Cats look down on us. Pigs treat us as equals: Winston Churchill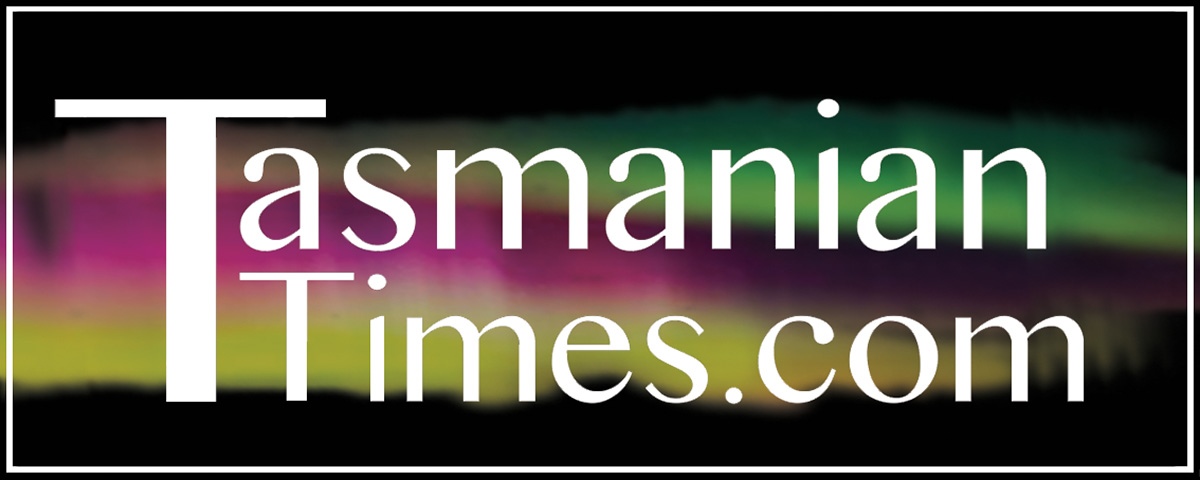 Author Credits: [show_post_categories parent="no" parentcategory="writers" show = "category" hyperlink="yes"]