New Zealand is an interesting country, in some ways so similar to ours, and in other ways, so different. The name originates from the Dutch and loosely translates to "New Sea Land".

Auckland surprised my wife and I in many ways. All I knew about it was what I had seen on that television show called 'Motorway Patrol' which used to air a few years ago. If you think that Australia is multicultural, try Auckland. I heard whilst I was in Auckland that apparently people of Anglo origin are actually a large minority group now, behind people of Asian, Polynesian and Maori descent.
The number of Asian people in the city area, both locals and tourists astounded me. I really felt as if I was visiting Asia, and not New Zealand. I still don't have any clear idea as to why this city alone is such a popular destination for Asians.
By and large it's an attractive city, although a bit dirty in places but easy to navigate and enjoy. The Sky Tower is well worth a visit and so is the Viaduct region if you are into the restaurant scene.
Travelling north out of Auckland in our Australian Toyota Camry toward the amazing Bay of Islands region is where I encountered the first frustration of the trip. Speed signs, or lack thereof. In Tassie, we are lucky in the age of speed cameras and other covert speed detection methods to be provided with fairly frequent reminders of what the speed limit is. Not so anywhere in New Zealand, particularly in areas designated 100 km/h.
Breaking the law
If you enter a 100 km/h zone anywhere outside of where it begins and ends, don't expect to be sure that you are not breaking the law. I frequently did 80 km/h in areas I suspected of being 100 km/h just to be sure I wouldn't receive a nice holiday snap from the car hire company when I got home. Motorists are expected to just know what the speed limit is, and this is bloody irritating given that New Zealand has a similar speed enforcement attitude to Australia (although nothing compares to the totally unreasonable thresholds in Victoria but that is another story).
We stayed in Paihia/Waitangi whilst in the Bay of Islands, a region that feels very South Pacific and knocks you off your feet with its beauty and climate. We did a day-long cruise around some of the islands and were treated to amazing water, views, dolphins and a school of thousands of fish performing synchonised swimming and diving in complete unison.
Waitangi is home of the Waitangi treaty and the location of the first New Zealand church. It is where the Waitangi celebrations and protests are held every year and is an exciting place to be.
It is also where we discovered that accommodation levels in New Zealand can vary widely. Generally speaking we stayed in tourist flats in caravan parks with a few nice hotels and motels thrown in for good measure. The "tourist flat" we stayed in at Paihia was in very bad condition with dirty cutlery, damaged walls and fixtures, minor water damage and a host of other issues. It was by no means the general standard of other places we stayed, but along with a couple of other very ordinary accommodation venues, we learnt that it pays to do as much research as possible before booking some places.
Dull trip
Driving between Paihia and Rotorua is quite a dull trip and not something that I'd recommend in a hurry but Rotorua itself is an amazing place with steam geysers, bubbling mud pools and hot springs. It is quite a spread out town, with attractive inner city gardens and a wide array of shops. It does take a long time however to become accustomed to the Sulphur stench which blankets half of the town due to the unique connection this place has with the bowels of the Earth, and I mean that in a mostly good way.
It was in Rotorua whilst bathing in a thermal spring that we met up with two of the very few Australians we spoke to on the trip. Hearing that Australian accent after constantly hearing the Kiwi accent was a beautiful thing. I can only imagine what it must be like to find a fellow Aussie in a place completely different than Australia. It seemed to be the night for travellers as we also relaxed with a German, some Poms and a couple of Zimbabweans who had been driven from their homes by Mugabe.
A dip in the huge Lake Taupo (an hour away from Rotorua) is quite worth the trip for crystal clear fresh water with no waves or currents.
New Zealand may be known as the Land of the Long White Cloud, however it could also be known as Land of the Surprise Surcharge. They love them. To dine out on a public holiday can involve a surcharge of $3 per head or 10% – 15% of the total bill. Apparently this is to pay the wages of staff who the Government have said deserve penalty rates for working on public holidays, and rightly so. Although, coming from a place like Tasmania which does not penalise diners for eating out on a public holiday, I would question the practice of penalising patrons. We came across this practice during both the public holidays that fell whilst we were there.
Rising cost of lamb
One place even added a $1 surcharge for my meal of lamb which I was only informed about after the meal. The reason why apparently is the rising cost of lamb. Then there was the $5 a head charge to leave Rotorua airport due to its redevelopment. Apparently our $10 helps them to continue the work.
After our fleecing, we arrived in Christchurch on the South Island, a thoroughly beautiful and delightful city that compares to some extent with Adelaide. It truly is the city of gardens, parks and beautiful architecture. The main park in itself is massive, as are the Botanical Gardens. To anyone visiting this part of Christchurch, a meal in the cafe within the grounds of the Botanical Gardens is time and money well spent. I ordered a humble steak sandwich, expecting two pieces of toast and a slab of cow, but scored the most superb meal of the entire trip, for the princely sum of $16!
The Tranz-Alpine train journey across the Southern Alps from Christchurch to Greymouth (East to West) is a stress free and impressive way of seeing the amazing sights of this part of the world. It takes between four and five hours and has an outside viewing deck and onboard cafe. Beware of the condition of the track though, as you can be easily thrown off your feet in the first hour departing Christchurch. And if you ever have had romantic thoughts of being in the midst of lawless, manic anarchy as I have, then see how you feel after trying to retrieve your luggage when disembarking at Greymouth.
We trekked on to the Glaciers of Fox and Franz Josef, this time in a Nissan Primera. You might be surprised how many cars Kiwis have that we don't have access to through dealers in Australia. Even the humble Toyota Corona has a post year 2000 incarnation that is frequently seen on New Zealand roads.
Heli-hike
One absolutely spectacular way of seeing the Glaciers is to take a "Heli-hike" which involves a 10 minute flight from the base of the Glacier (in our case Fox Glacier) to the top whilst skimming over lush rainforest and vertical cliffs. You literally land on the ice near the top, but downhill from the neve or beginning of the Glacier. With a guide, we spent about two and a half hours hiking over the ice, crawling through crystal blue ice caves and being freaked out by bottomless gaps in the ice filled with water 2 degrees above freezing.
The Glacier moves at an incredible 3 metres a day, far ahead of Glaciers elsewhere in the world which move only millimetres a day. Fox is actually the only Glacier in the world which is still advancing, whilst all others are currently retreating (a cyclical process). Such is the movement of the Glacier that an ice cave that is present one day on the face of the Glacier may be completely gone in a period of days.
Fox is a beautiful, laid back country town and well worth the visit should you ever be in the area.
Queenstown was our next port of call after Fox. Filling up with petrol at the one horse town of Haast cost $1.32.9 per litre for normal unleaded but the average price elsewhere in the country was closer to $1.20 per litre – don't let me hear you complain about Tasmanian petrol, even if it is 25 cents dearer per litre than the mainland. We all deserve to be slugged for a bollocksy freight charge, don't we?
Queenstown is uninspiring
Now about Queenstown. When discussing New Zealand here at home, it frequently enters the conversation. I'm buggered if I know why. Don't get me wrong, it is an interesting place and packed full of adventure activities. However once you've had your fill in that regard, it's an uninspiring place. The town has got to the point where the existing infrastructure is completely incapable of handling the influx of people trying to find what all the fuss is about.
Parking anywhere near the town centre is an impossibility and the traffic is chaotic and often backed up for blocks. Buses and trucks park where they like as there isn't enough room, pedestrians flood the roads, cars pop out of alleys like a jack in the box just for extra fun and after all that, there is no hope of getting accommodation if you haven't pre-booked. Someone got our room on our third night as we were so fed up with the place we left early for Dunedin.
One noteworthy venue at Queenstown is the Skyline restaurant which is perched atop Bob's Peak, almost 800 metres above sea level. The restaurant is accessed via a cable driven gondola providing amazing views of the area prior to indulging in a six course buffet of every conceivable food type you can think of. Great service, great food and very enjoyable.
In 1865 at the small locality of Horseshoe Bend (between Queenstown and Dunedin), a local named William Rigney came across a well dressed man lying dead on the side of the road on the outskirts of town. He wasn't a resident of the town and no-one was able to identify him.
Rigney, fearing he would be buried without an identity and without a ceremony paid for his funeral and his headstone which carried the simple words "Somebody's Darling Lies Buried Here". The whole town turned out for his funeral. And in one final act of kindness, the man who found the body requested in his will that he be buried in the adjacent grave so Somebody's Darling would never be alone. Both graves remain today.
Don't miss Larnach
Our final stop was Dunedin, a city often maligned as being boring and dull. It may not overstate itself in the way that Queenstown does, but I found it to be a very pleasant and liveable city still bearing a strong Scottish influence from which it acquired its name. Bagpipers roam the streets and the locals use the word "wee" (as in little / small) frequently. Accommodation at both venues we stayed were easily the best of the entire trip.
Larnach Castle on the Dunedin Peninsula is a fantastic visit. Built by a local politician in the 19th Century, all materials were shipped in from all over the world, including stone from Britain to build the exterior and Tasmanian Blackwood to line some of the interior. Its four stories, all restored by the current private owners provide a magnificent step back in time. If anyone has ever visited the castle and can tell me how they got the one ton solid marble bathtub up to the fourth floor, I'd be very appreciative!
In some ways New Zealand is quite similar to Tasmania, particularly the North Island, although the magnificent Bay of Islands are like nothing we have here, with tropical blue water and beautiful lush islands. The South, as we all know, exhibits incredible examples of diversity, from the Alps to the coast it is all quite breathtaking.
It seems to be perpetually green unlike Australian summers, which is a good clue that the weather can be quite ordinary at times. Fox Glacier gets 5-6 metres of rain a year and that's not a typo. The average Kiwi also insists that 27-30 degrees for the period of a week constitutes a heat wave.
Other things that take a bit of getting used to is giving way to traffic turning right if you are turning left which is the opposite of Australia and the fact that their $2 coins are larger than their $1 coins, which surely makes more sense than ours.
All in all, New Zealand is a place well worth a visit, although it still reinforces to me that I'd never live anywhere but Tasmania – it's great to be home. I can also promise you that we have so many more sheep than they do. Unless they keep them well hidden in the bedroom…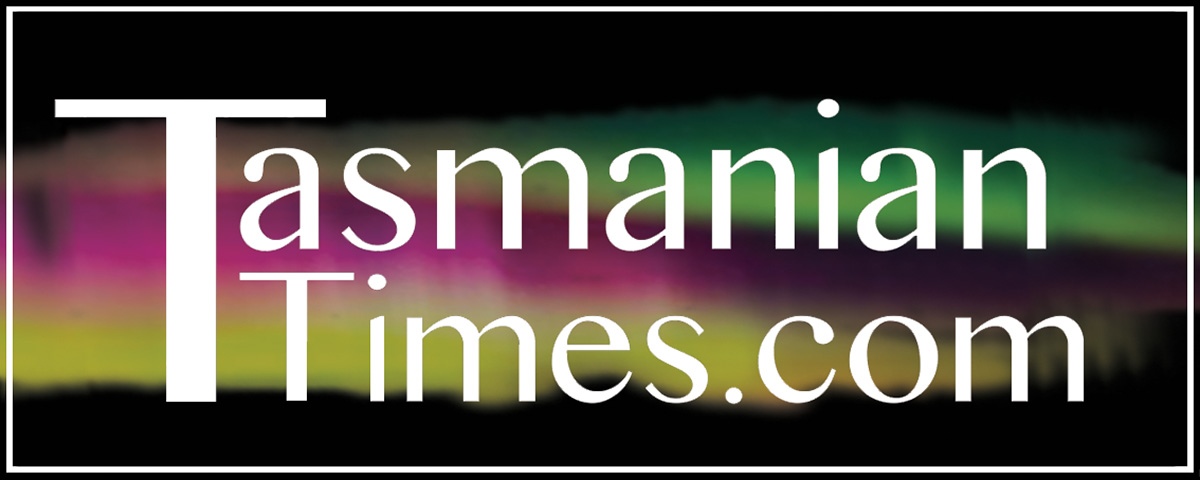 Author Credits: [show_post_categories parent="no" parentcategory="writers" show = "category" hyperlink="yes"]