State and Territory Economic Performance Report – CommSec, April 2022
Tasmania leads the nation
How are Australia's states and territories performing?
Each quarter CommSec attempts to find out. Now in its 13th year, the report also includes a section comparing annual growth rates for the eight key indicators across the states and territories as well as Australia as a whole, enabling comparisons in terms of economic momentum.
All states and territories continue to perform well in challenging times. Governments now are attempting to support consumers and businesses from cost of living pressures while at the same time removing now redundant stimulus measures.
In a relative sense, and for the ninth quarter in a row, Tasmania holds the mantle of the best performing economy. But after leading on four of the eight indicators in the previous survey, Tasmania now leads on just one indicator. However Tasmania is second or third on five other indicators.
There is little to separate the other economies. Victoria is second; Queensland and Western Australia are equal third; the ACT and South Australia are equal fifth; NSW is seventh; and the Northern Territory is eighth.
Read the full report here: https://www.commsec.com.au/content/dam/EN/Campaigns_Native/stateofstates/April2022/CommSec_State_of_the_States_April2022.pdf
---

Media release – Deloitte Access Economics Business Outlook, 25 April 2022
now for the tricky bit
We assume (1) booster vaccination rates keep COVID deaths sufficiently low that any lockdowns are neither lengthy nor large scale, (2) COVID treatments for those who get the virus continue to improve and their supply builds, while (3) migrant, student and tourist numbers get closer to pre-pandemic rates by 2023 or 2024.
The COVID recovery keeps being faster and better than expected.  'Faster' is obvious.  But 'better' is important too.  Initially the government was simply aiming to get unemployment back under 6%. Now the nation is within a whisker of seeing unemployment at 3.5%.  That's stunning.  Two years ago – almost to the day – COVID sent Australia's economy to its knees. Most organisations hadn't lived through an economy that weak. Yet today, with unemployment about to hit a half century low, many haven't lived through an economy this strong.  Yep, strong.  It doesn't feel that way, because so far, the strength is concentrated in jobs rather than wages.  And strength in jobs is good news for the few, whereas the bad news still here in wages is bad news for the many.
Yet it isn't just the COVID recovery. Over and above that, the world is throwing more money at Australia than ever before. Usually the world gives Australia a pay cut in global recessions, marking down the price of the stuff we sell to others. Not this time. Relative to import prices, export prices spent most of 2021 at record highs – higher than at the top of the resources boom a decade ago. Then came the war. Australia sells the world energy and food. Between them, so do Russia and Ukraine. But Russia's war on Ukraine has sidelined them both, leaving the world scrambling for Australian gas and coal, and boosting prices for our iron ore and wheat too.
But the current strength won't last. Unemployment can't go much lower, and commodity prices can't go much higher.  We've ridden the current wave spectacularly well, but it has taken us about as far as it can. Now comes the tricky bit. Commodity prices will fall, and interest rates will rise. Neither should enormously damage Australian economic growth, but the best of this cycle may soon be behind us.
The recent surge in inflation in Australia isn't due to demand or to labour costs – neither of those are doing anything out of the ordinary. And the Australian dollar is pushing inflation (gently) down, not up. Accordingly, inflation has surged because of 'everything else' – basically, COVID- and war-driven cost impacts. Unless, and until, wages take off, that says continuing rapid inflation requires COVID- and war-driven cost impacts to get steadily worse. We can't say we're big believers in that. If supply snarls get no worse and Russia's war stops raising commodity prices even further, then inflation will fall away of its own accord even if supply stays short of demand.
Winter is coming. The cheapest credit the world has ever known started disappearing in 2021. The pace picked up in 2022 as more and more central banks began hiking official rates. That was always going to happen, but it has been hastened by the way COVID and war have cut supplies and boosted costs across a range of products.
The rapid shift to higher funding costs won't do much to lower inflation. Higher rates can cut demand, but they don't boost supply. Then again, if central banks don't start to act, today's inflation may begin to be embedded in tomorrow's decisions – starting the flywheel of ongoing inflation. That's a narrow path to walk.
Inflation in Australia is less risky. Demand is at trend, labour cost growth is modest, and the $A is up. If it weren't for imported costs – including petrol and shipping – our inflation would be well-contained. But central banks move in convoy, and an impatient RBA seems set to raise rates imminently. Yet one consolation is that markets are unlikely to be right that the RBA's cash rate will be over 3% by late 2023. That would sharply slow the economy and overachieve on cutting inflation. Meantime, the Australian dollar hasn't followed commodity prices into the stratosphere. That should also limit its falls once commodity prices settle back towards more sustainable levels.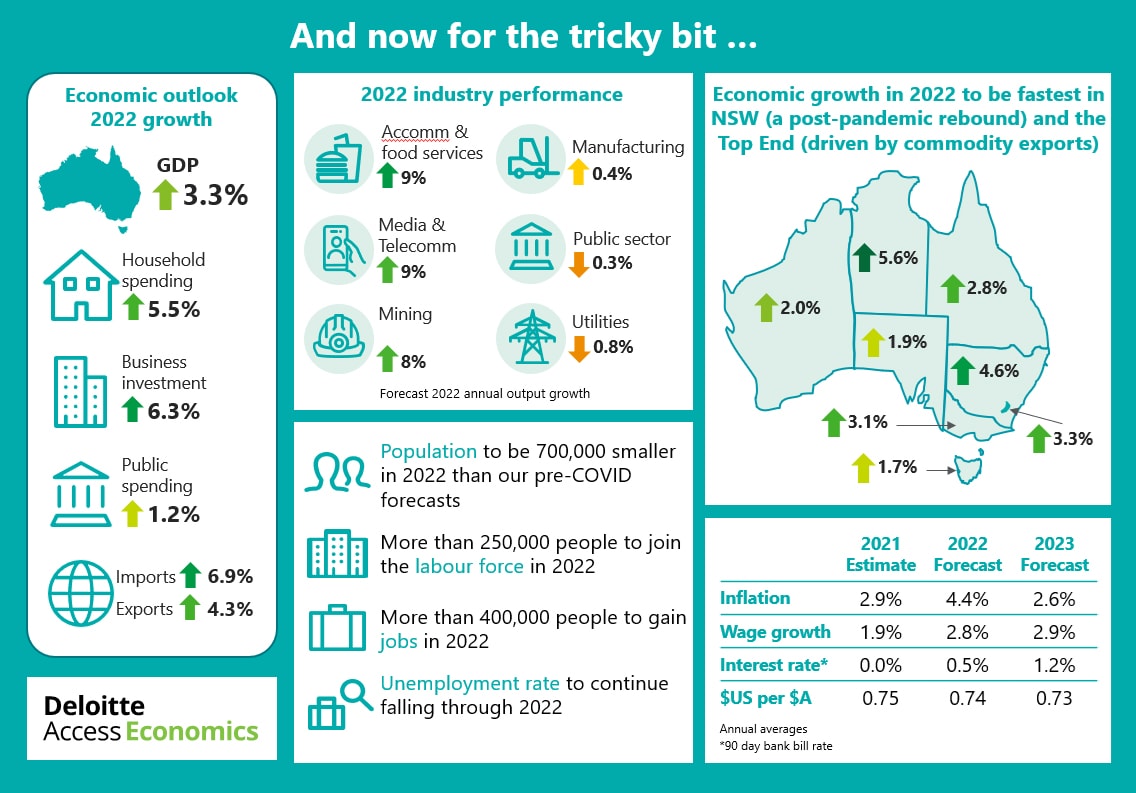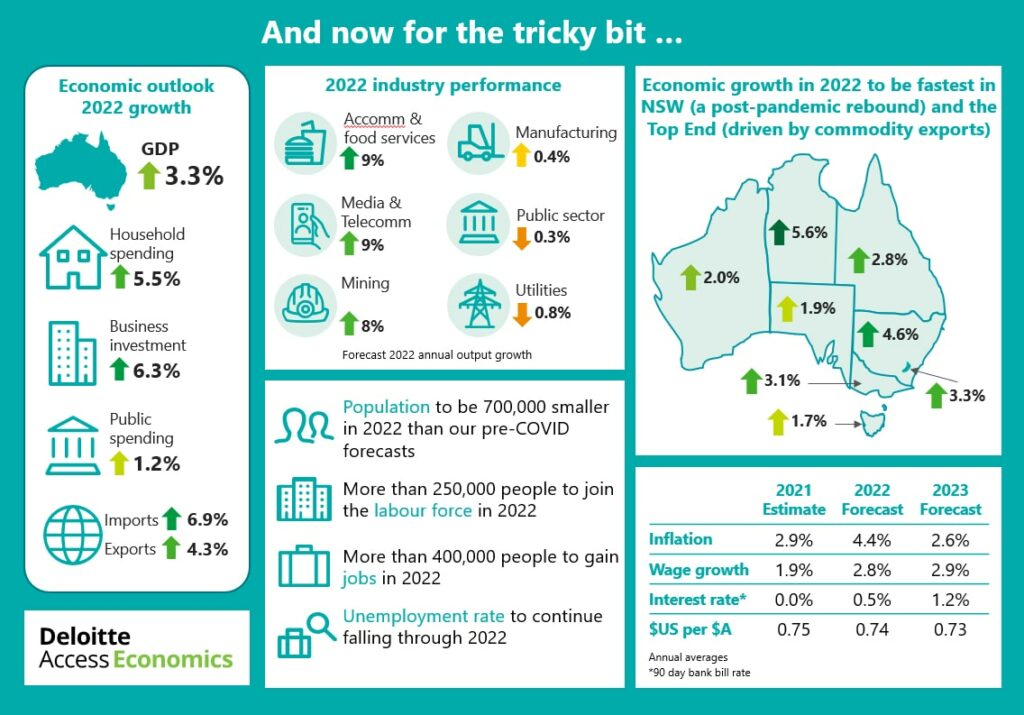 Job growth is stunning. The share of the Australian population with a job has never been higher. Never. And that's driving unemployment down to the lowest in half a century. Even better, there's still momentum. You can see that in record job vacancies. Or you can just look at the help wanted signs in the windows of many shops. Meantime, open borders mean rising population growth. Yet that will happen slowly. Population growth won't get back over 1% until 2023, and it looks set to stay below its pre-COVID rates.
Public sector deficits are being wound back really fast, but at least part of that good news is due to roaring energy and food prices, and chances are that will prove to be only a temporary boost. Looking beyond that, the budgetary costs of running Australia have risen, and it'll require a complicated national conversation to figure out how we pay for the extra dollars in defence and social security. But instead we're having the usual Seinfeld election – one about nothing, in which both sides have essentially the same policies and pretend that'll do the trick. Err, no it won't. To be fair, we don't elect oppositions who say things need to change, so we can't complain when we get 'small target' elections followed by governments who are seen as lacking a mandate for any change…
Industries – what next?
Increasingly out of the jaws of the pandemic, Australia's industrial landscape is now juggling the energy price shock caused by war in Europe.
Much of the Australian economy is now open, so the sectors hardest hit by lockdowns and border closures are amid a rapid recovery. Even better, a well-vaccinated population gives hope that the current recovery has legs – meaning that 2022 spells great growth for cafes, restaurants, hotels, motels and tourism.
But war has now joined pestilence in the challenges – and opportunities – being felt across sectors. Australia sells energy and food to the world, so the tragedy in Ukraine means that our miners and farmers have seen the spoils of war.
On the other hand those worst affected by the surge in energy prices and renewed supply chain disruption are manufacturers and the utilities, with builders, retailers and wholesalers all suffering some blowback as well.
States and territories – what next?
Just as COVID eased as an economic headwind, war in Europe is now posing new challenges across states and territories. And, like COVID, those new challenges – higher inflation and lower economic growth – hit hardest in the east and south of Australia (because the economies of NSW and Victoria are relatively more exposed energy costs and supply chain disruption).
Some of that same pain is also evident in the west and north, but to a lesser extent. Even better, there's an upside: export earnings are roaring in Queensland, Western Australia and the Northern Territory. But miners are wary that today's commodity prices won't last, because easy money rarely does. That's why they aren't leaping to dig new mines.
In turn, that means the boost to the economies of Queensland, WA and the NT may be short-lived.
NSW's families roared out of lockdowns, desperate to spend – and spend they did. Open borders mean travellers, students and migrants are coming back, and that's a big boost. But higher energy costs are hurting, rain and floods put a dampener on shoppers and on building work, and rising interest rates will be a key headwind.
Closed international borders hurt Victoria more than any other state – as witnessed by its falling population levels. The key to the outlook will be the pace at which 'people power' returns to the state, but that juggle is being made harder by a sharp increase in energy costs that's weighing on everyone from manufacturers to retailers.
Queensland's resources are once again the toast of international markets, and its population growth held up much better than elsewhere through COVID. That's not perfect – and the floods caused huge heartache – but the economy has good momentum. Yet there are challenges on the horizon, not least as commodity prices will fade.
Omicron blunted what had been a dream run through COVID so far for the South Australian economy. And the outlook remains positive as the impact of COVID cases and restrictions dissipates. Ironically, the state's main challenge lies in its success to date – meaning it has less catch-up potential than others in the COVID aftermath.
Western Australia can lay claim to being among the strongest economies in the world: commodity prices are at record highs, and excellent vaccination rates mean that COVID remains well-contained despite the state finally opening up. Yet today's commodity prices can't last, and they don't look likely to unleash business investment.
Tasmania outsprinted the rest of Australia – and most of the world – through COVID, and it has navigated the early months of opening up well. Yet some all-too-familiar longer term structural challenges remain. Population growth needs to be maintained, and educational outcomes need to help lift both participation and productivity.
Increased health restrictions and border closures had a profound impact on the Northern Territory in late 2021 and early 2022. But rising government spending, galloping commodity prices and lifting business investment all say 2022 looks more promising. And, looking longer term, geopolitical tensions will see defence spending rise.
Elections usually throw a wet blanket over Canberra's economy, and that blanket is slow to lift if there's a change of government. That said, key positives for the longer term remain the national commitment to increased social security and defence spending, while open borders mean a welcome return to the ACT for foreign students.
---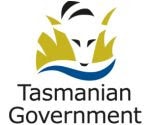 Media release – Jeremy Rockliff, Premier & Michael Ferguson, Treasurer, 25 April 2022
Tassie's economy on top for the ninth quarter in a row
For the ninth consecutive quarter, Tasmania's economy leads the nation, according to the latest CommSec's State of the States Report for April 2022.
The Report says Tasmania 'holds the mantle of the best-performing economy', ranking highly across a number of key economic indicators.
Premier Jeremy Rockliff said the Report once again confirms the strength and confidence in our economy as we continue to transition to living with COVID-19.
"This is a fantastic result and is thanks to the strong actions we have taken to rebuild our economy upon coming to Government in 2014, and again following the COVID-19 pandemic," the Premier said.
"We have reopened as one of the safest places in the world, thanks to the outstanding efforts of Tasmanians to roll up their sleeves and get vaccinated and, despite some difficult times, businesses are looking to the future with optimism.
"Pleasingly, Tasmania took out the top ranking based on strong performances across a number of indicators, including relative equipment investment, construction work, retail spending, relative economic growth, dwelling starts, and unemployment.
"Tasmania is ranked first on equipment investment, with investment 62.5 per cent higher above 'normal' – as our businesses invest to grow.
"Tasmania is also ranked second in the country on construction work, retail spending and relative economic growth, while ranking third on relative unemployment and dwelling starts.
"Retail spending is 16.9 per cent higher than the decade-average, and construction work is 22.7 per cent higher, demonstrating the confidence of Tasmanians and businesses to spend and invest.
"Having a strong economy allows us to invest more into the things Tasmanians care about most like health, education, housing and community infrastructure, and we will continue to harness Tasmania's competitive strengths to build on these gains and create an even more resilient and diverse economy for the future."
Deputy Premier and Treasurer Michael Ferguson said the Report was another demonstration that businesses are feeling confident, resulting in more jobs and investment in Tasmania.
"The CommSec Report found that unemployment in Tasmania is 29.6 per cent below the decade average, which is an outstanding result considering the difficulties of the past two years," Treasurer Ferguson said.
"Tasmania also had the fastest wage growth in the country at 3.0 per cent over the year, which is very positive for workers.
"And, the good news doesn't stop there, with Deloitte Access Economic's Business Outlook for the March 2022 quarter observing that Tasmania outsprinted the rest of Australia – and most of the world – through COVID, and it has navigated the early months of opening up well.
"The Report also notes our "booming" exports, and "strong" housing construction pipeline, as we roll out our strong infrastructure and housing initiatives that will create certainty for business and set Tasmania up for years to come."
"We know that our economy is nation-leading and the number of Tasmanians in work is at the second-highest level on record. Both reports once again confirm our plan to secure Tasmania's future is working.
"A strong economy means more Tasmanian families can work, earn and plan for their future. It allows Government to fund services. That's why our plan, working closely with the Federal Liberal Government, is so vitally important for every Tasmanian."
---

Media release – Shane Broad MP, Shadow Treasurer, 26 April 2022
Liberals crow as economic storm clouds gather
The eight-year-old Liberal Government is continuing to fail on the economic basics as Tasmanians face unprecedented cost of living challenges at the same time household incomes trail the rest of the nation.
It's not surprising that the Rockliff-Ferguson Government brag about CommSec and its cherry picking from the latest quarterly Deloitte Access Economics Business Outlook report fails to acknowledge a dire state of affairs for Tasmanian families under the tired and out-of-ideas Liberals.
CommSec looks at relative performance of eight indicators compared to each state's "normal."
ABS and Deloitte give a truer picture of the eight indicators – economic growth, retail spending, equipment investment, unemployment, construction work done, population growth, housing finance and dwelling commencements – which are all flat or declining.
Recent Australian Bureau of Statistics data highlight that last quarter Tasmania's economy went backwards when every other state grew, our population declined two quarters in a row and Tasmania's unemployment rate jumped to the highest of any state. But you won't hear that from the Liberals.
The Deloitte report shows price pressures are "mounting fast" and rising living costs are placing significant pressure on our state's ability to attract workers. Equipment investment has also peaked and building approvals have cooled.
Additionally, Tasmania has the lowest employment-to-population ratio of any state by a country mile and both income per person and employment growth are expected to remain well below the national average.
Worryingly, Deloitte backs up the population decline highlighted by the ABS in finding that Tasmanians have been leaving the state in droves, unable to find well-paying jobs to meet the demands of a growing housing crisis.
The forecasts by Deloitte show population growth is well below budget forecasts and the government has not addressed years of falling housing investment, falling business equipment investment and stagnating industrial production from 2023-24.
The mounting economic headwinds need to be managed, but instead the Rockliff-Ferguson Government continues to impose reckless cost of living burdens on families including new energy charges, a proposed new slug on water and sewerage every year for the next four years amounting to almost $400 extra for every home and a new bin tax which will see council rates increase.
It all adds up to a serious cost of living crisis caused by a Premier and a government who have lost their grip on the basics of economic management.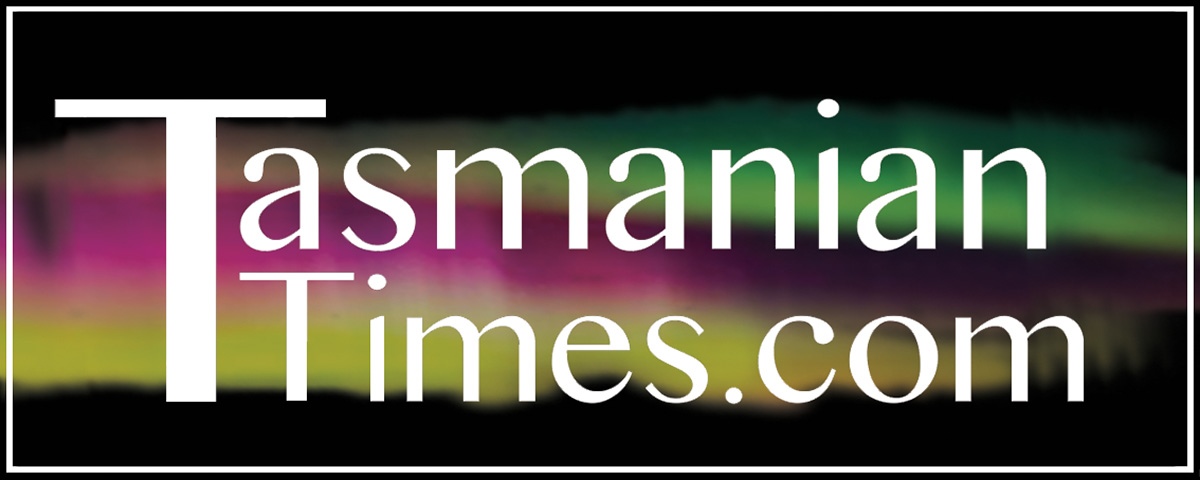 Author Credits: [show_post_categories parent="no" parentcategory="writers" show = "category" hyperlink="yes"]