Media release – Michael Ferguson, Minister for Finance, 24 November 2021
Federal monopoly broken as future gaming market legislation passes the Legislative Council
The Tasmanian Liberal Government welcomes that the Gaming Control Amendment (Future Gaming Market) Bill has now passed through the Legislative Council.
We took this policy to the public, consulted widely and now we have passed this very important legislation through the next stage of scrutiny.
The Future Gaming Market policy ends the Federal Group monopoly and means we have more money for essential services such as health and education, certainty and security for jobs in pubs and clubs, more support for problem gamblers and less for the Federal Group.
Once again, our state is nation-leading in the area of gambling harm minimisation with strengthened measures to further reduce problem gambling.
Through this debate the Government agreed to a small number of minor amendments to the bill in the Legislative Council to include a 'public health and consumer protection focus' in the object of the Act, precluding fully automated table gaming machines from high roller casinos, clarifying that venue licences expire in 2043, reinforcing 'whistleblower' protections for gaming employees, clarifying the role of the Tasmanian Liquor and Gaming Commission and to legislate for reviews of the introduction of fully automated table games and simulated racing events after 12 months.
After more than 42 hours of debate in the Legislative Council, which followed 23 hours of debate in the House of Assembly, the bill will now go back to the House of Assembly for final consideration and ratification of the amendments tomorrow.
As part of the Government's approach, I will soon instruct the Tasmanian Liquor and Gaming Commission to give advice on potential options to implement a smart card-based identification system to enable setting limits on gaming losses in advance. This holds potential to play a major role in harm-minimisation, especially for problem gamblers.
---

Media release – Independent Member for Clark, Andrew Wilkie, 24 November 2021
DARK DAY FOR TASMANIA AS FLAWED POKIES REFORMS PASS LEGCO
Independent Member for Clark, Andrew Wilkie, says a once-in-a-lifetime chance to reduce the devastating harm caused by poker machines in the community has been squandered by the Tasmanian Government.
"This will surely go down in Tasmanian political history as one of the great missed opportunities of our generation," Mr Wilkie said. "The Upper House MPs who unconscionably waved through these so-called reforms should hang their heads in shame.
"Given the chance to right the wrongs of the past, most Legislative Councillors instead followed the lead of the complicit major parties in the Lower House and jumped right back into bed with the poker machine barons.
"Federal has been handed a thumping great tax cut, the value of other poker machine venues will go through the roof when operators hold their own licences, and the Tasmanian people will forgo hundreds of millions of dollars in potential tax revenue that could have been put towards better hospitals and schools.
"Here we had a golden opportunity to put in place some workable, sensible harm-minimisation measures that would have made a massive difference to the lives of gambling addicts and their families. The human cost of gambling addiction is heartbreaking, including family breakdowns, financial ruin and lives lost to suicide.
"This certainly doesn't auger well for those powerless to resist these insidious machines, which have been likened to the crack cocaine of gambling. But this is what happens when you let the poker machine industry write government policy in return for the darkest of political donations."
---

Media release – Independent Member for Nelson Meg Webb, 24 November 2021
Future Gaming Markets
Independent Member for Nelson Meg Webb said today that while the passage of the industry-written, Future Gaming Markets Bill was disappointing, some amendments had been secured.
"I want to pay tribute to the diligent work of some of my Upper House colleagues – together we were successful in securing some amendments," Ms Webb said.
"Debate in the Council was notable not only for the hard work of some, but the disappointing and concerning vacation of the space by others, particularly the Labor Party members other than the Member for Huon, Bastian Seidel.
"Our democratic system is predicated on all elected representatives, whether in government or not, to be accountable to the electorate.
"A key mechanism to do so is to have the guts to put on the public record why you are voting a particular way.
"It was truly shocking to see vote after vote on amendments seeking real harm prevention mechanisms be defeated purely by Labor voting to protect the government and the industry.
"At no stage did those Labor members have the guts or courtesy to state why they were voting down those consumer protection measures."
Ms Webb said Labor's excuse that the Gutwein Government has the numbers – and therefore there is no point in trying to block this destructive Bill or send it to a Parliamentary Inquiry – has been exposed as a sham.
"We did succeed in securing 8 amendments in the Upper House.
"Just imagine what a difference Labor could have made, if they had put Tasmanians first and voted for amendments – when instead they protected the Government and the industry.
"The Gutwein Government has also been exposed in its failure to deliver the best financial deal for our State.
"The Government has given away a quarter of a billion dollars to Federal Group in tax concessions, while our hospitals and schools are in urgent need of that funding.
"The Government has doubly failed by throwing away the opportunity to make poker machines safer for all Tasmanians to use – which all experts advised could be achieved most effectively through bet limits and spin speeds."
Vote Tracking on Future Gaming Markets Bill 2021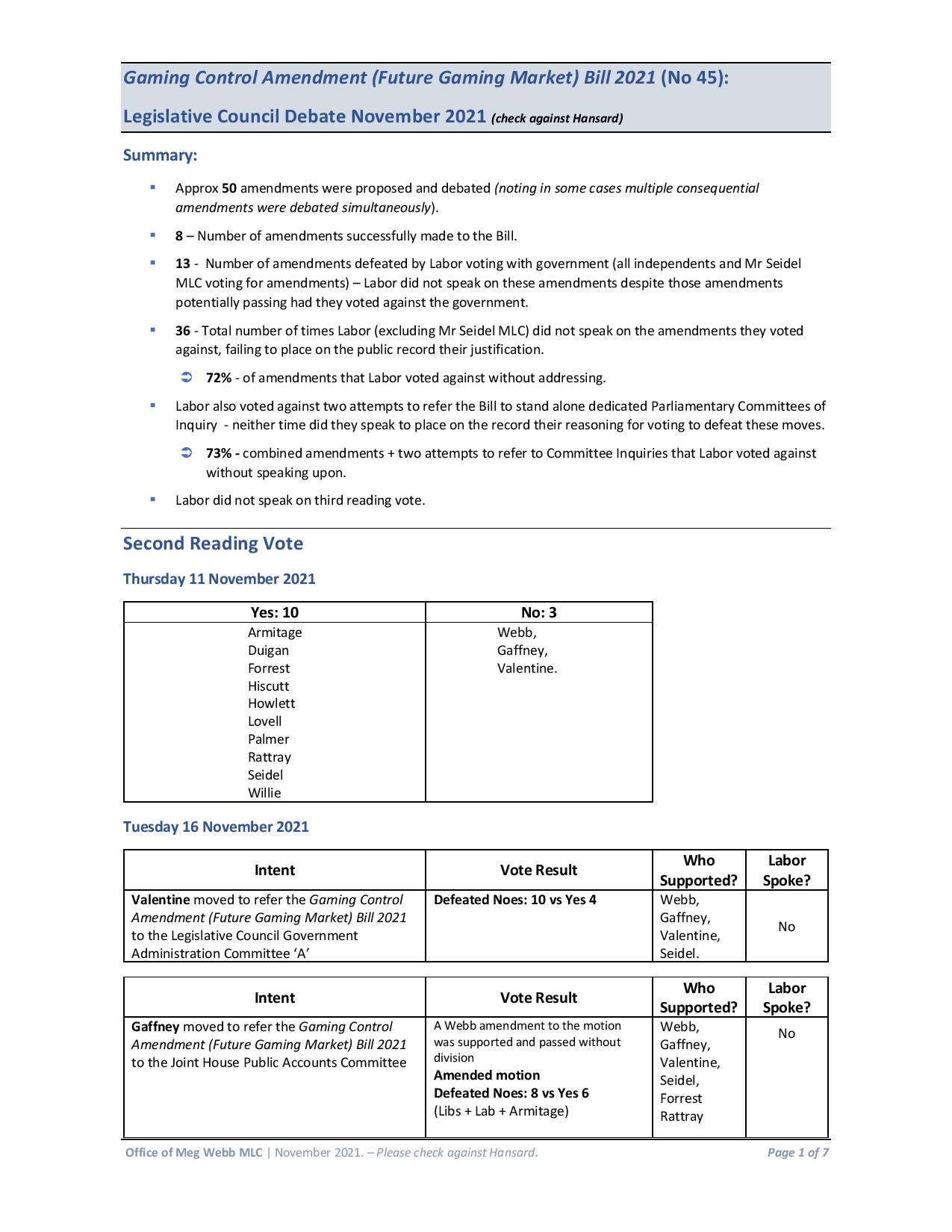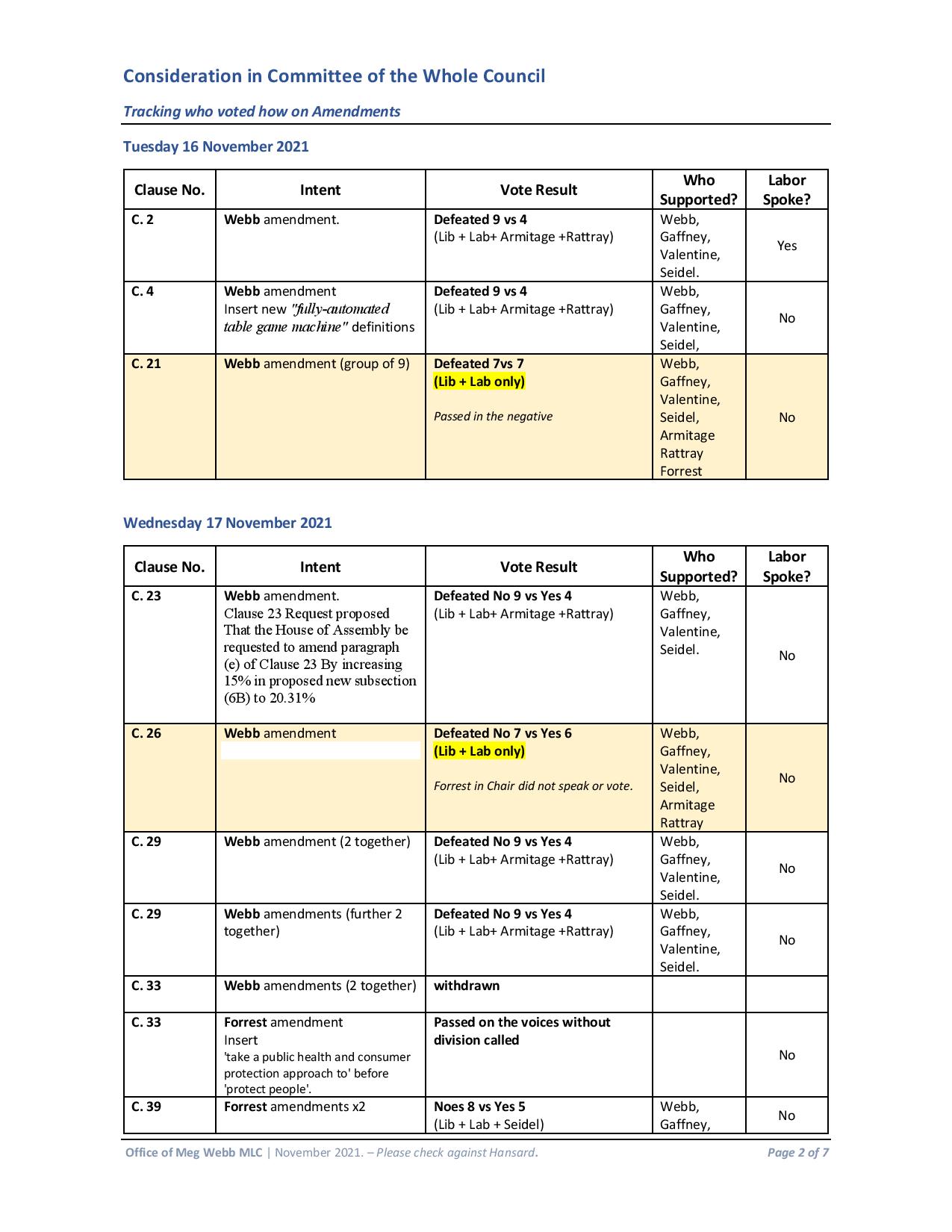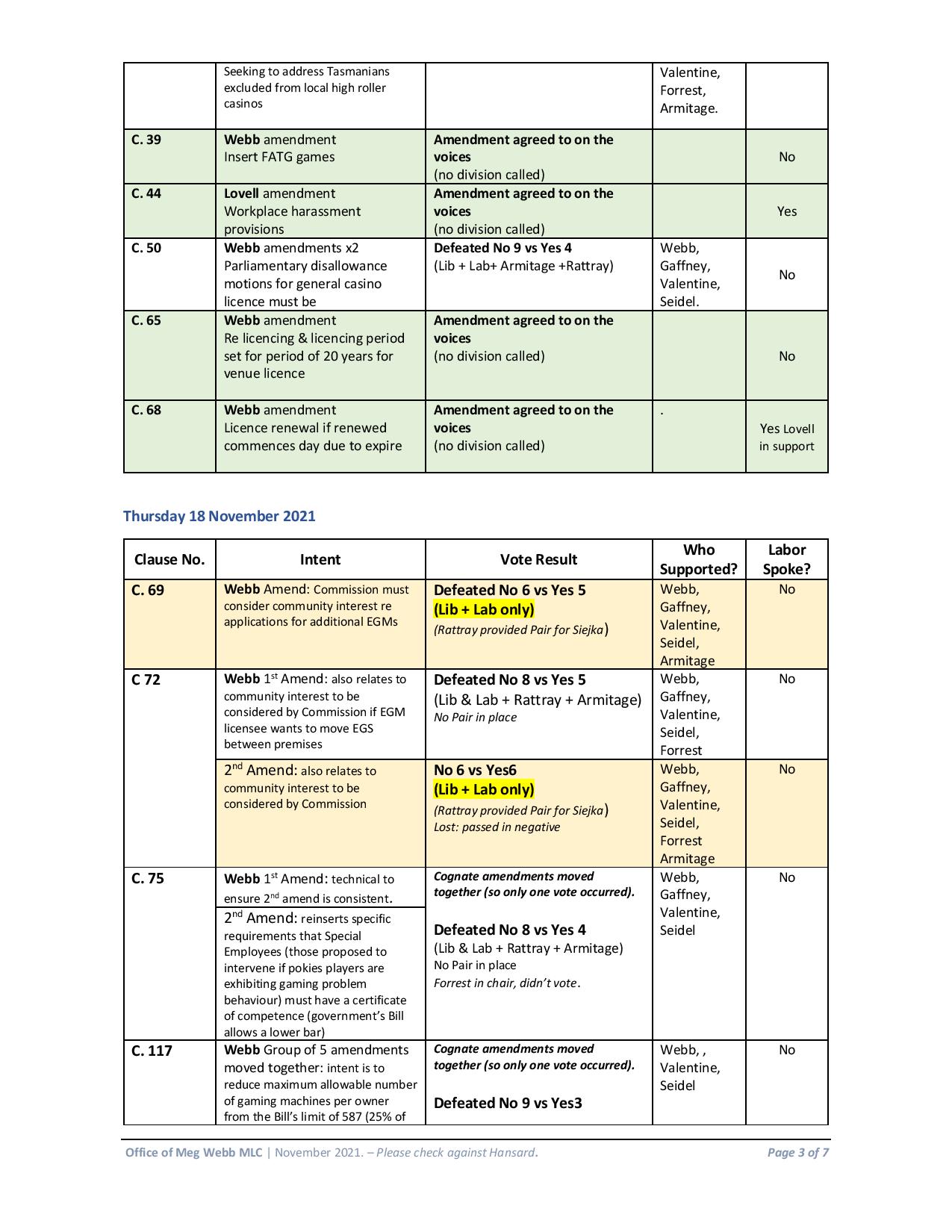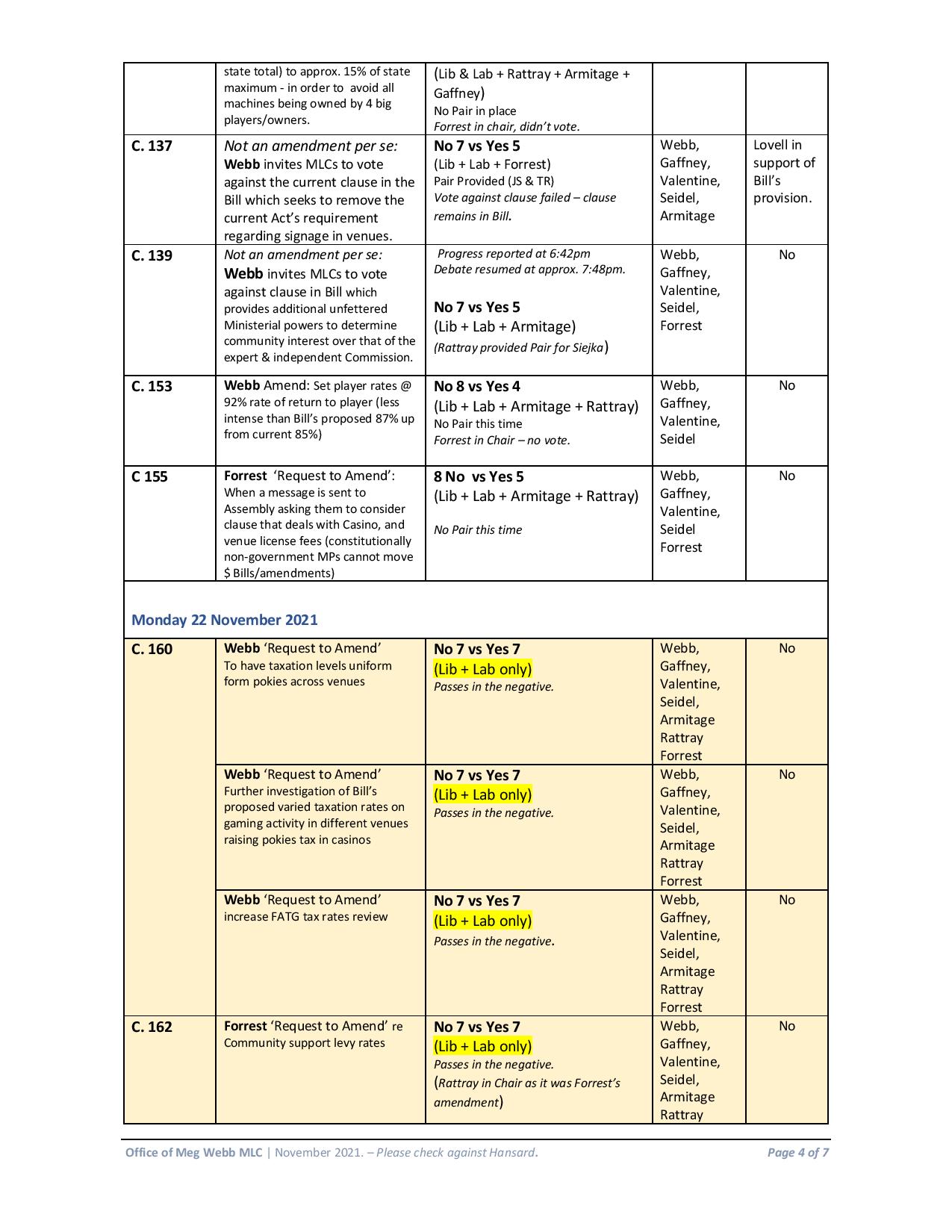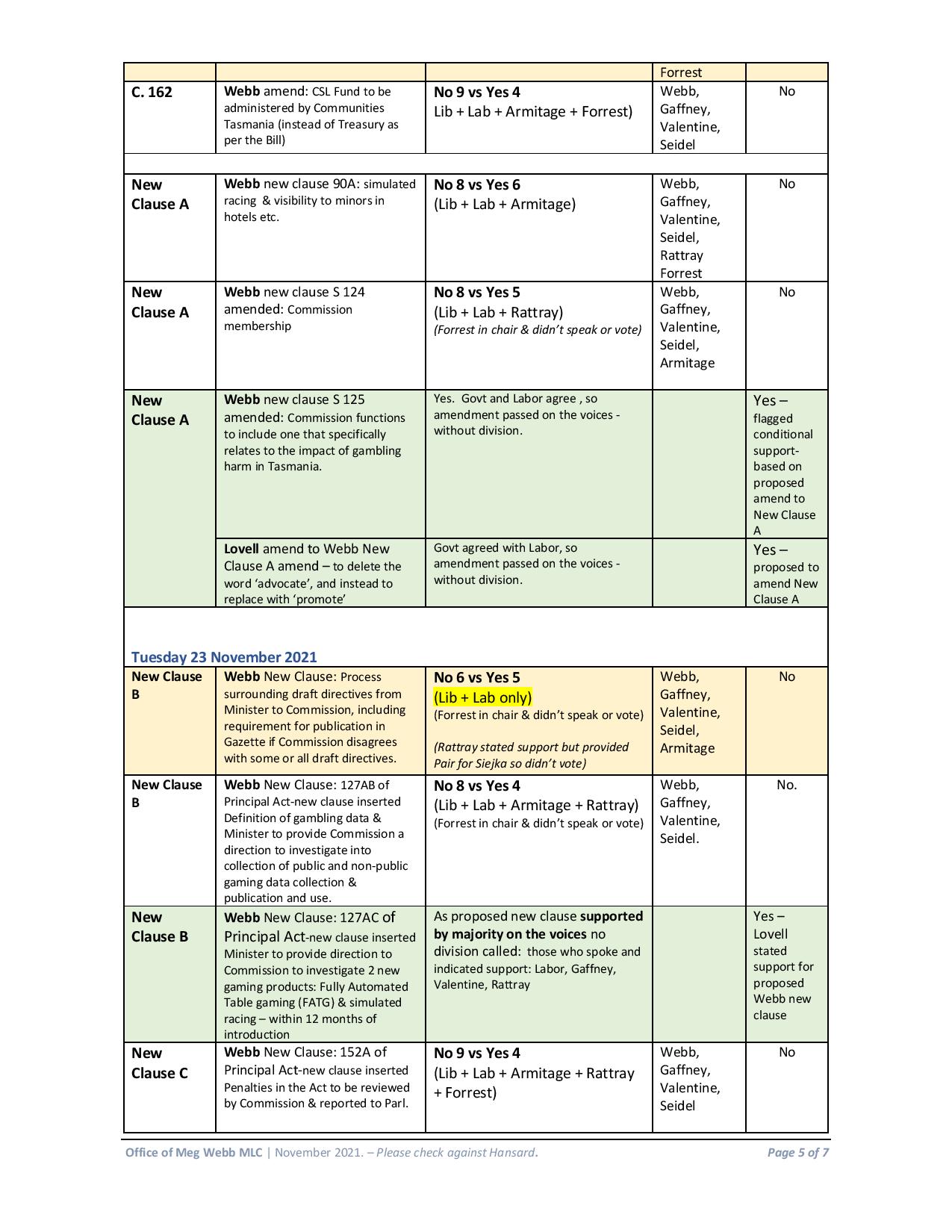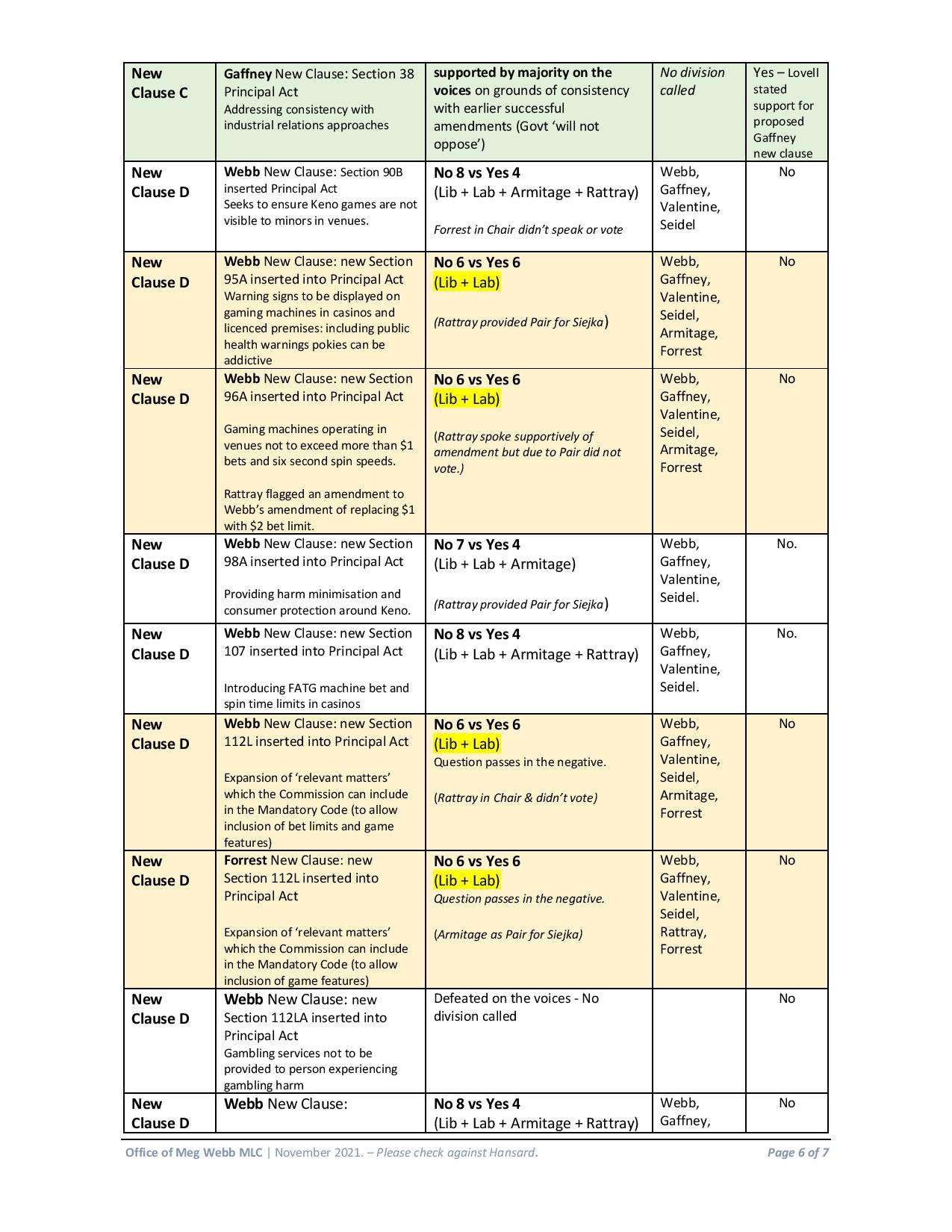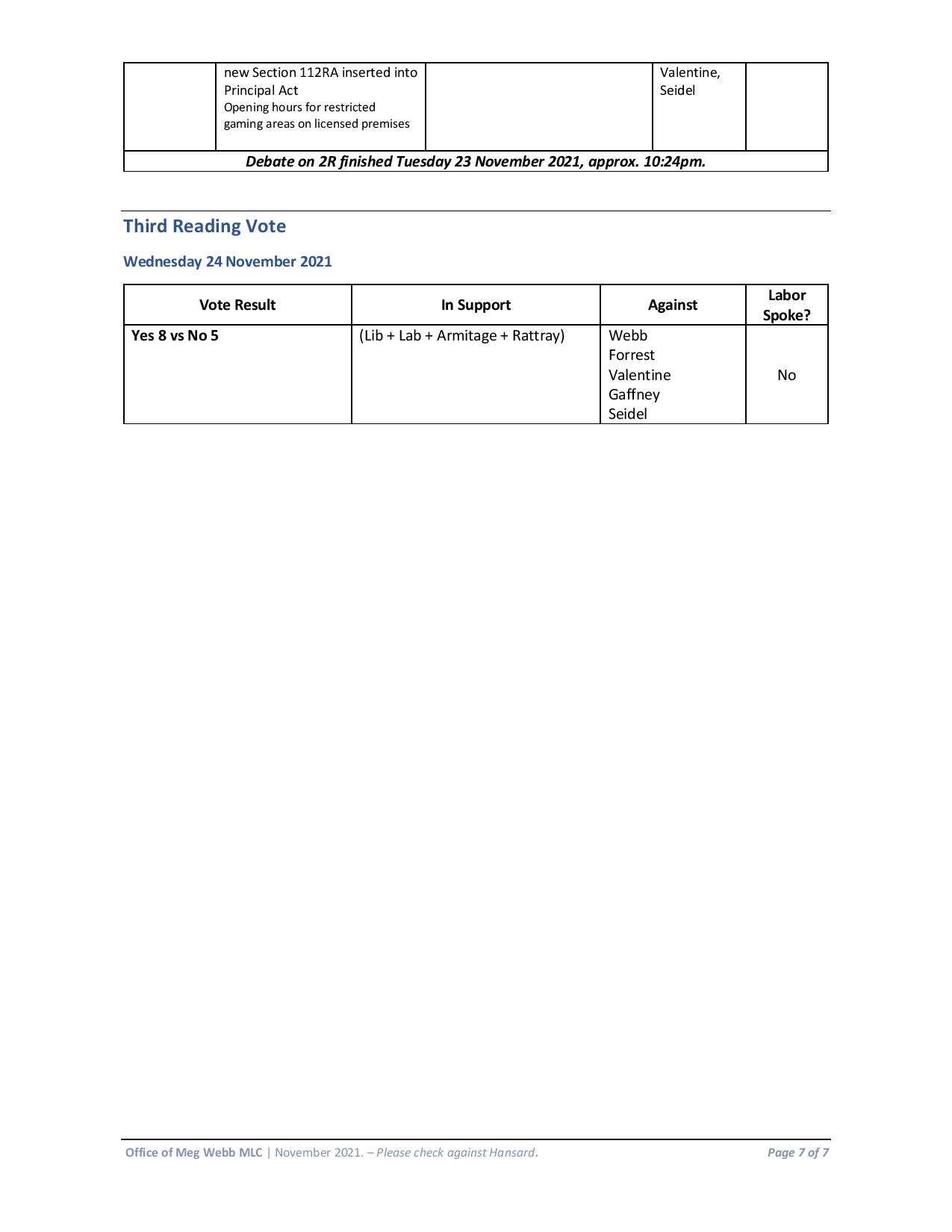 ---

Cassy O'Connor MP | Greens Leader, 25 November 2021
Passage of Gambling Legislation Has Pokies Barons Popping Champagne Corks
In one of the Tasmanian Parliament's darkest days, the Liberals' gambling framework legislation has passed both Houses of Parliament with Labor's full support.
They'll be popping the champagne corks down at the casino and at the Tasmanian Hospitality Association headquarters.
To the industry, this is all about profits over people, and because of the industry's huge political influence and its donations, the Liberal and Labor parties have also prioritized profits over the Tasmanian people.
This legislation will claim lives and livelihoods. It's the utterly immoral legislative consequence of institutional corruption.
Shame on every captured Liberal and Labor MP who allowed their precious votes to be bought by their gambling industry donors.
---

Media release – Kristie Johnston MP, Independent Member for Clark, 25 November 2021
Pokie Barons fill Libs Christmas Stockings
Today in Parliament I asked the Premier the following:
Premier in 31 sleeps hopefully Santa will be paying Tasmanians a visit. But I'm sure for the pokie machine industry it feels like Christmas has come early this week.
As has been said many times in this place, we have non-existent donation disclosure laws in Tasmania, and even with the weak federal laws, Tasmanians will have to wait to after Christmas before they will know how much the gambling industry donated to the Liberal Party in the most recent financial year.
Premier, will you tell Tasmanians today how much money the gambling industry donated in cash and in kind to the Liberal Party?
I've asked the Premier three times now to tell the Tasmanian people how much money and in-kind assistance has been donated to the Tasmanian Liberal Party by those associated with the gambling industry, and all he can say is that, "… donations are not my business."
Really? What's stopping the Premier disclosing donations now?
Why can't he be honest with Tasmanians about the quantum of influence that the gambling industry have over the Government?
It's nauseating that the Premier tries to ease his conscience about the harm that pokies cause by pointing to other gambling harm; he completely abrogates his responsibility to protect Tasmanians when and where he can.
Sadly, the Tasmanian community knows that there is no point lobbying Liberal or Labor because the major parties have been bought by the pokies industry – but people are talking about it and they care deeply and are disappointed that the Government and Opposition have abandoned them.
---

Media release – Federal Group, 25 November 2021
Future Gaming Market legislation Statement from Federal Group Executive General Manager Dr Daniel Hanna
The passing of the Gaming Control Amendment (Future Gaming Market) Bill represents the biggest change for Tasmania's gaming industry since its inception almost 50 years ago.
Importantly, it provides certainty over licence arrangements for the next 20 years.
It has been a long and detailed process, and the legislation has been exhaustively debated both publicly and in the parliament. We welcome the thorough scrutiny that has come with the passing of this legislation.
It marks an end to Federal Group's time as the single licence holder for gaming in Tasmania.
We took our responsibility as the custodians of this licence extremely seriously.
When we opened Australia's first casino in 1973 we set the standard for probity and integrity in the industry and we have maintained this ever since.
We have always taken our responsibility to players and harm minimisation measures extremely seriously.
The inescapable truth is that Federal Group's overall returns will be significantly reduced under the new gaming model.
Federal Group has been operating in Tasmania for almost 70 years and we are committed to the long-term prosperity of this great state.
Our track record of investment and employment is clear. We are proud to be Tasmania's largest private sector employer, supporting jobs across the state.
Our team is dedicated and passionate about providing excellent service and experiences for our guests. Our tourism and hospitality businesses, like Saffire, the Henry Jones and MACq 01 Hotel, are nation leaders.
With certainty over our future operating environment, we are firmly focused on continuing to create opportunities and memorable experiences for Tasmanians.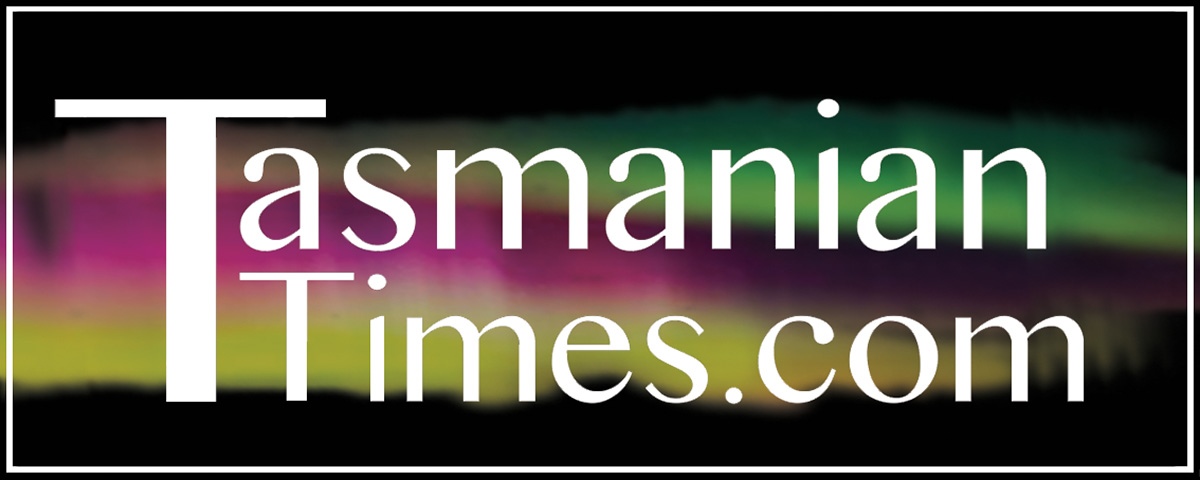 Author Credits: [show_post_categories parent="no" parentcategory="writers" show = "category" hyperlink="yes"]