All arrivals on the island from Tuesday onwards will be required to fill out a 'Tasmania card' with contact information and travel history.
Premier Peter Gutwein announced the measure today at an early morning media conference on coronavirus updates, which will now became a daily event.
"In terms of further measures, obviously with international arrivals and whether it's Tasmanians returning or not, 14 days of self isolation," he said. "That will be mandated. There will be penalties applied should people not heed that advice. We will utilise those available under the Public Health Act or other Acts."
Director of Public Health Mark Veitch said he was not convinced there was merit in monitoring temperatures of incoming travellers, and that resources could be better directed elsewhere.
He confirmed there are currently 90 people self-isolating at the request of health authorities.
Veitch admitted he did not know the number of Intensive Care beds currently available in Tasmania as health facilities were currently re-evaluating their capacity.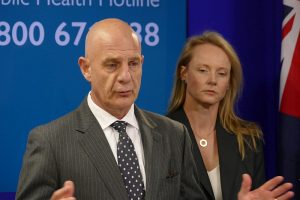 Health Minister Sarah Courtney said hospital emergency rooms were being reconfigured to accommodate triage of persons presenting with suspected coronavirus. A statement is expected this afternoon on the availability of ventilators, an essential item of intensive care equipment based on overseas experience.
The Premier said 'a wealth of information' has been provided to state government services, local government, Neighbourhood Houses, non-government organisations, business organisations, aged care centres, schools and sporting clubs.
The first stage of the state government's stimulus package and overall response will be released starting Tuesday.
The Premier said that fairs, festivals and markets where people are 'moving through' the event and at 'disparate times' should be allowed to continue. "In terms of larger ones we'll be engaging with Salamanca Market, it's my undertanding that that will probably be able to continue..and obviously other  markets Harvest in the north as well."
Static events of over 500 people are not allowed.
The Premier urged event organisers to contact the hotline number – 1800 671 738 – with any queries so that public health advice could be provided.
Tasmanians are encouraged to keep distances and avoid close contact.
Schools remain open 'based on advice'. "As I have said, should that advice change I will not hesitate to close a school," stated the Premier.
Labor Leader Rebecca White said she had put a series of recommendations to the Premier on additional measures to manage the widening impact of the virus.
"The World Health Organization has urged governments around the world to act fast and have no regrets," she said. "Labor echoes that call for speed and urges the Tasmanian Government to take all steps to slow the spread of the virus."
"Labor's priority is public safety. We recognise some measures will have economic impacts, but the health of our community must be the top priority."
She has urged the Premier to adopt a number of measures in the economic stimulus package he will announce this week. One suggestion is that providing services to people who are self-isolating has to be a core issue, to make sure people aren't disincentivised to stay home.
"Among other measures I'm urging Peter Gutwein to adopt are:
Ensure health workers have access to adequate personal protection such as gowns, masks and gloves. We can't risk their health by reusing or going without these items.
Expand services so regional centres can offer testing to people with symptoms.
Provide early advice of likely decisions such as school closures, to give people time to make the necessary arrangements.
Implement testing at state borders, airports and sea ports.
Procure vacant hotel rooms to provide a safe and secure place for homeless people to self-isolate.
Procure vacant hotel rooms as accommodation for health workers so they are not leaving a high-risk work environment and potentially exposing family members to the virus."
Other Coronavirus News
UTAS is moving to "a staged transition to online course learning and working from home as part of its ongoing response to COVID-19. " The university also referred to

Public Health advice that shared facilities

on campus are safe to be continued to be used. There will be a case-by-case review of events where people gather – in line with new national guidelines – which may affect occasions such as graduations and Open Day
Basketball suspended across Tasmania – "Effective from Monday 16 March, Basketball Tasmania has made the decision to suspend BTAS related events and leagues until further notice. These include the upcoming Pre-Season Grading Tournaments, Tri-Series Round 2, TJBL – Southern and Northern Conferences. BTAS recommends that all association, affiliate and club activities also suspend events and leagues at this present time and will consult further in this regard."
Labor Party suspends community forums planned to take place across Tasmania in coming months. Labor Leader Rebecca White said the decision not to proceed is in line with advice from public health officials that non-essential events should not take place as one measure to slow the spread of coronavirus. "At a time when the community is being asked to observe social distancing measures it is responsible that we suspend these events."
Tasmanian schools – non-essential school activities will be postponed, including events such as: fetes; fairs; concerts (with audiences); assemblies and presentation nights; all sports carnivals; school camps; and parent teacher meetings.
Theatre – Mudlark Theatre Company and the Tasmanian Theatre Company have decided to postpone the Launceston and Hobart seasons of Mudlark's Caravan Boat Treehouse by Stephanie Briarwood. "Nationally, freelance and contract workers are struggling more than ever as they see their expected annual incomes slashed. We have made the commitment to support our actors and employees and see their fees paid as planned over the coming weeks. Mudlark will be working to remount the show later in the year in Launceston and on the North West at this stage in September (medical advice permitting). If logistically and economically possible around this time, TTC will present the work in Hobart."
The Victorian government has closed State Library Victoria, all Museums Victoria sites, National Gallery, Arts Centre Melbourne and Melbourne Recital Centre.
WA government has frozen all household fees and charges including electricity, water, public transport fares and motor vehicle charges.
ACT and Victoria have declared states of emergency.
NSW Premier Gladys Berejiklian says police will be used if necessary to enforce compliance with self-isolation measures.
Worldwide there almost 11 thousand new confirmed cases with 343 deaths. Over half the deaths and a third of the new cases were in Italy.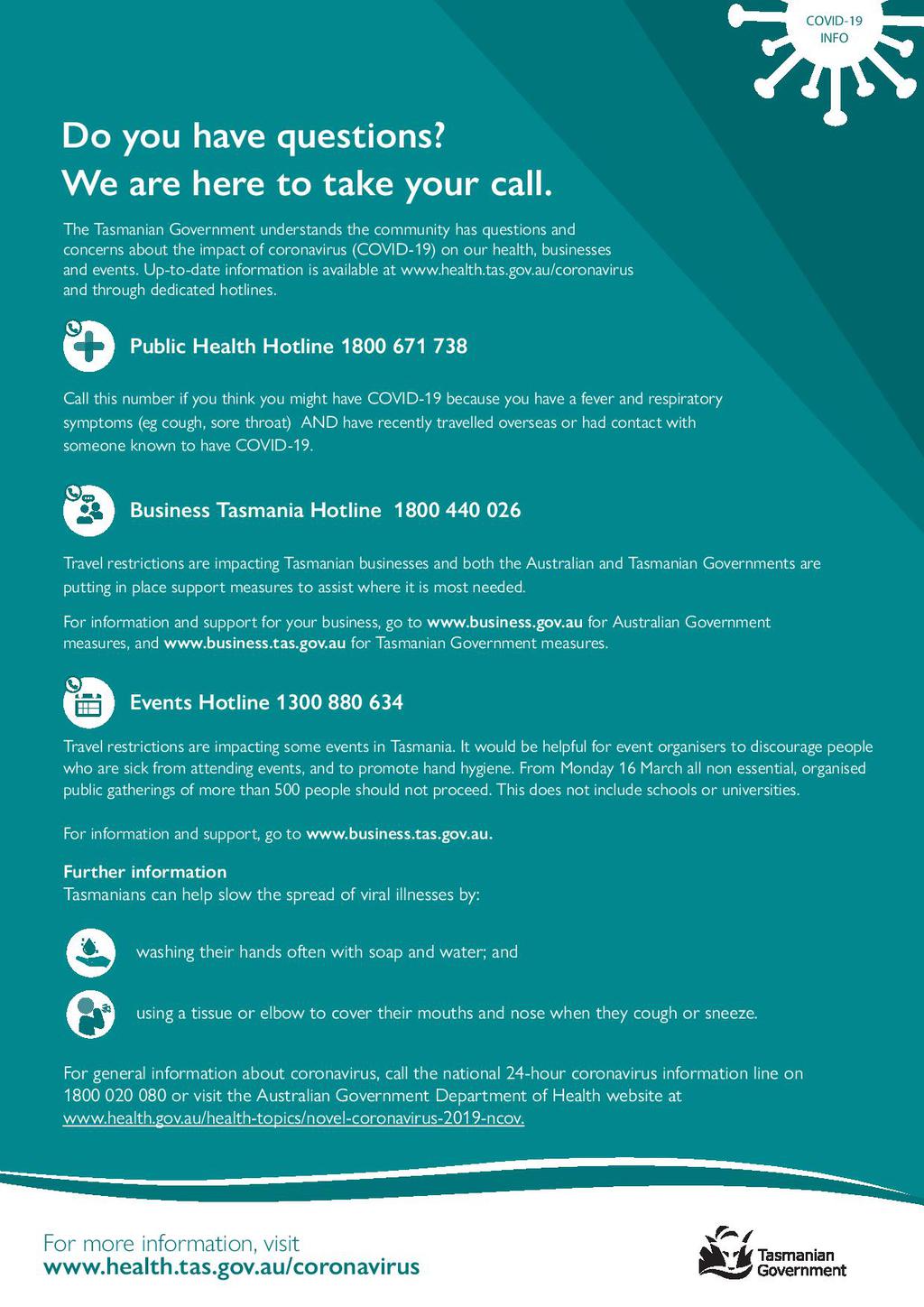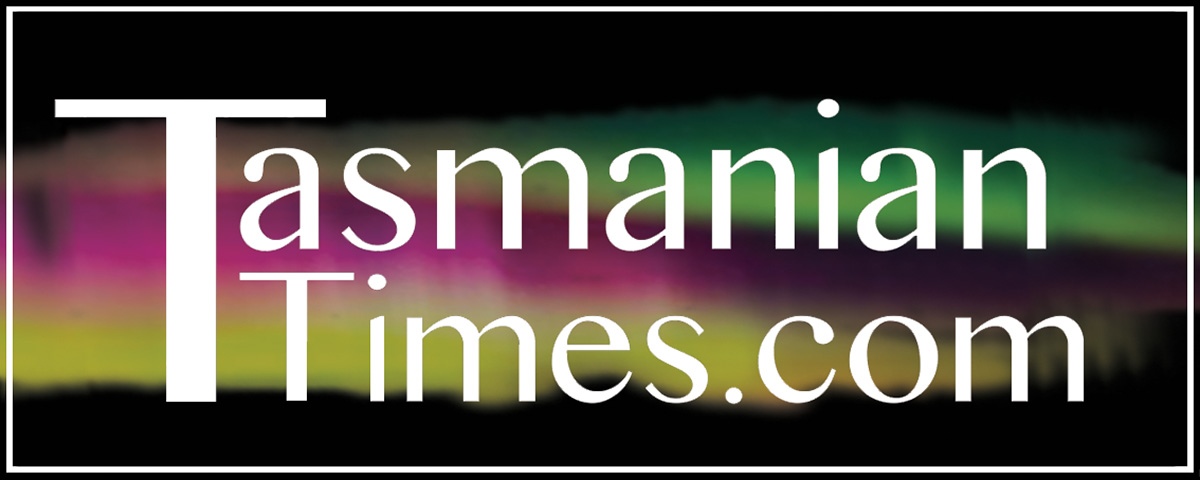 Author Credits: [show_post_categories parent="no" parentcategory="writers" show = "category" hyperlink="yes"]