over Bridgewater troubles – Tasmanian Labor accused the government of mishandling the proposed $576 million Bridgewater Bridge replacement. "After consistent claims that the Bridgewater Bridge replacement is on track, the Liberals are only now advertising for a Project Director to help salvage the troubled project," said Dr Shane Broad. "Four years ago Tasmanians were told by the Liberals that work on the Bridgewater Bridge could begin as early as 2019, yet they've only now decided it would be a good idea to employ a Project Director." Michael Ferguson, Minister for Infrastructure and Transport, shot back that Labor wasted 16 years talking about the bridge but failed to deliver. "This is the largest ever investment in a single transport project in Hobart's history and it is vital we investigate all options available to ensure the project is fit for purpose, the build cost can be met within current funding allocation and takes on board the Infrastructure Australia assessment."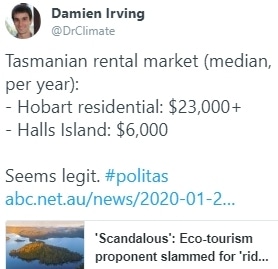 Halls Island – things blew up for the developer of an eco-camping venture when the Ombudsman ordered the government to release the leases relating to the project. Fair to say that quite a few commentators thought that $6000 for private use of 10 hectares of wilderness was on the low side. "The idea that you get a World Heritage island for a few thousand dollars a year is, frankly, scandalous," said Wilderness Society Tasmania. Premier Peter Gutwein, also Minister for Tourism, said that the figures were reasonable given that the area is 'remote and unserviced'. "Oh the irony…being remote & unserviced (aka wilderness) is one reason WHY this place is so valuable – of #WorldHeritage value," responded conservationist Vica Bayley.
cost of living – Shadow Treasurer David O'Byrne said it was clear that relatively good economic conditions weren't being shared with working Tasmanians. His claim was based on Consumer Price Index data released this week showing Tasmanian wages aren't keeping up with the cost of living. Hobart CPI has increased 2.7% for the year, while the most recent wage growth figure was 2.4% (Tasmania wide). "When the cost of living continually grows faster than people's wages, it means people find it harder to put food on the table and a roof over their family's heads," O'Byrne said. "Combine that with the fact that rental affordability is the worst in the nation, and the number of people waiting for public housing continues to grow, and it is clear that Peter Gutwein's golden age is a myth."
tax dodgers – financial journalist Michael West – another brilliant indie media venture you should support – has named and shamed his top 40 tax dodgers for 2019. Predictably, there are some very big names there such as climate criminals Exxon, CSR, Virgin Australia, Ford, Healthscope, Foxtel, ING and Vodafone. You can read (and weep) about all of them, noting that the combined tax they avoid would be equivalent to about a quarter of Australia's current national income. Deficit, what deficit?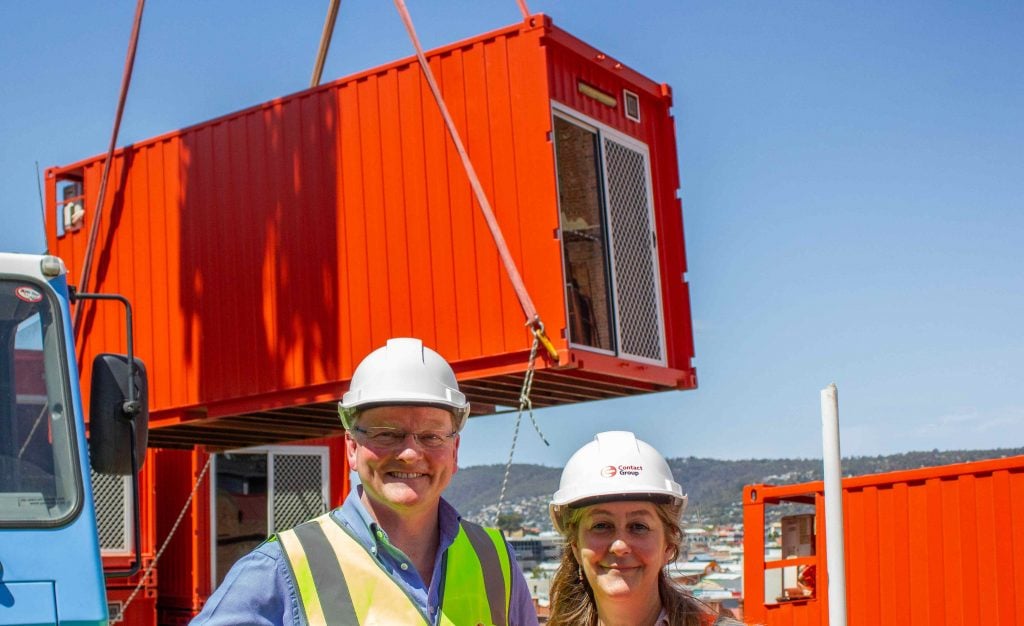 housing pods are landing – speaking of rooves over heads, Minister for Housing Roger Jaensch was crowing about the installation of new temporary accommodation units. A total of 35 are on the way with the first ones being operational by the end of March. Bearing an uncanny resemblance to shipping containers, 18 single bedroom 'pods' are being located at Bethlehem House, 10 units for women and children at the Hobart Women's Shelter and 7 family-sized units also managed by Hobart Women's Shelter. "We welcome the opportunity to collaborate on solutions with local partners like Bethlehem House and the Hobart Women's Shelter who have experience and expertise working with people who are facing homelessness," the Minister said. This additional emergency and short-term accommodation will help to meet demand while we bring on line new permanent shelters and longer-term housing stock under our Affordable Housing Strategy." The pods are expected to be in use for around three years.
sports rorts – for anyone who thinks politics can be nothing but corrupt, this is the outrage generator that keeps on giving. Stunning revelations rolled in almost every day, for example that grant applications had been colour coded by which party held the seat where the project was located. Senator Richard Colbeck copped a serve for his part in the cover up – hunting down the whistleblowers – by Canberra press gallery journo Clare Armstrong. "Astonishing statement from Sport Minister Richard Colbeck," she tweeted. "Following great scoop by ⁦Andrew Probyn⁩ revealing which community sport projects were overlooked for grants against official advice, it seems the government is only concerned about where the leak came from."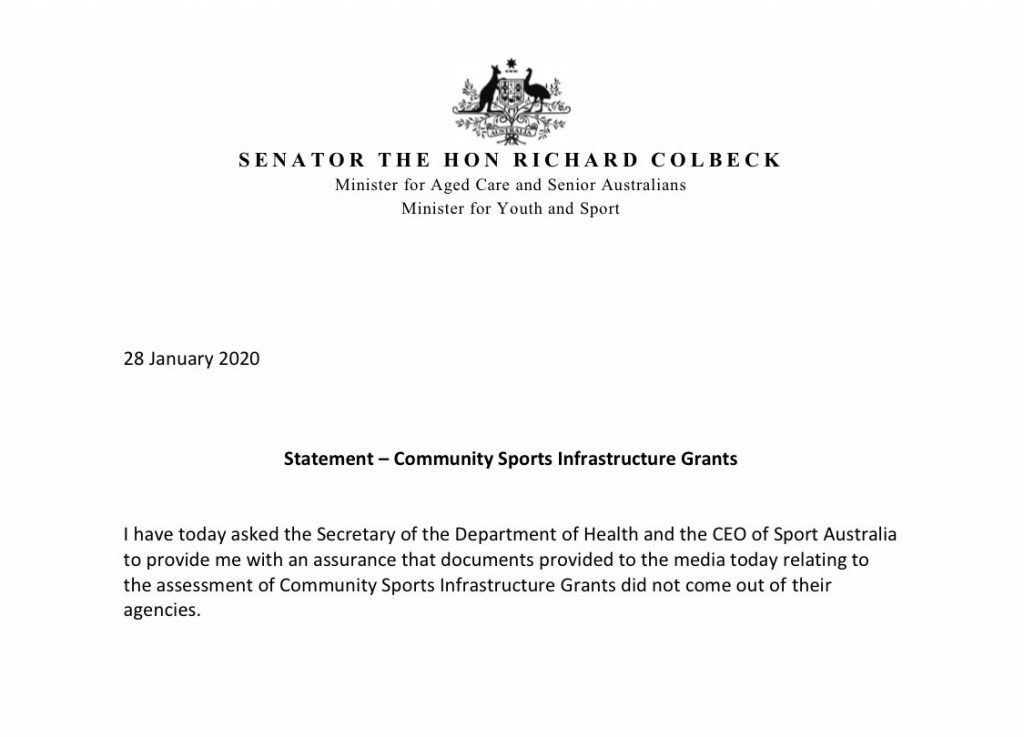 ---
If your organisation has a media release or statement on any Tasmanian issue, please send it us at statements@tasmaniantimes.com. Letters to the Editor are also a good way to let us know your thoughts: letters@tasmaniantimes.com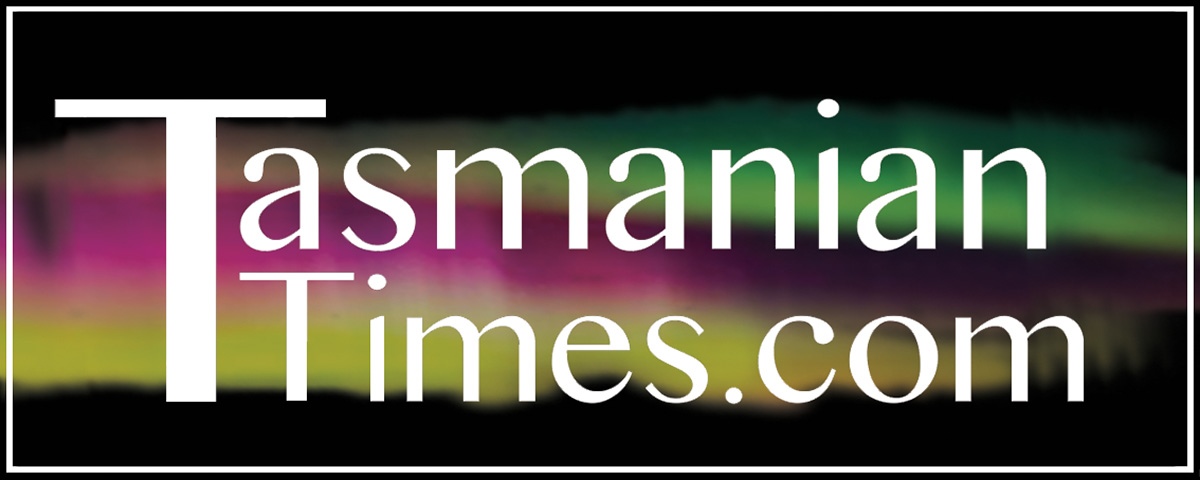 Author Credits: [show_post_categories parent="no" parentcategory="writers" show = "category" hyperlink="yes"]