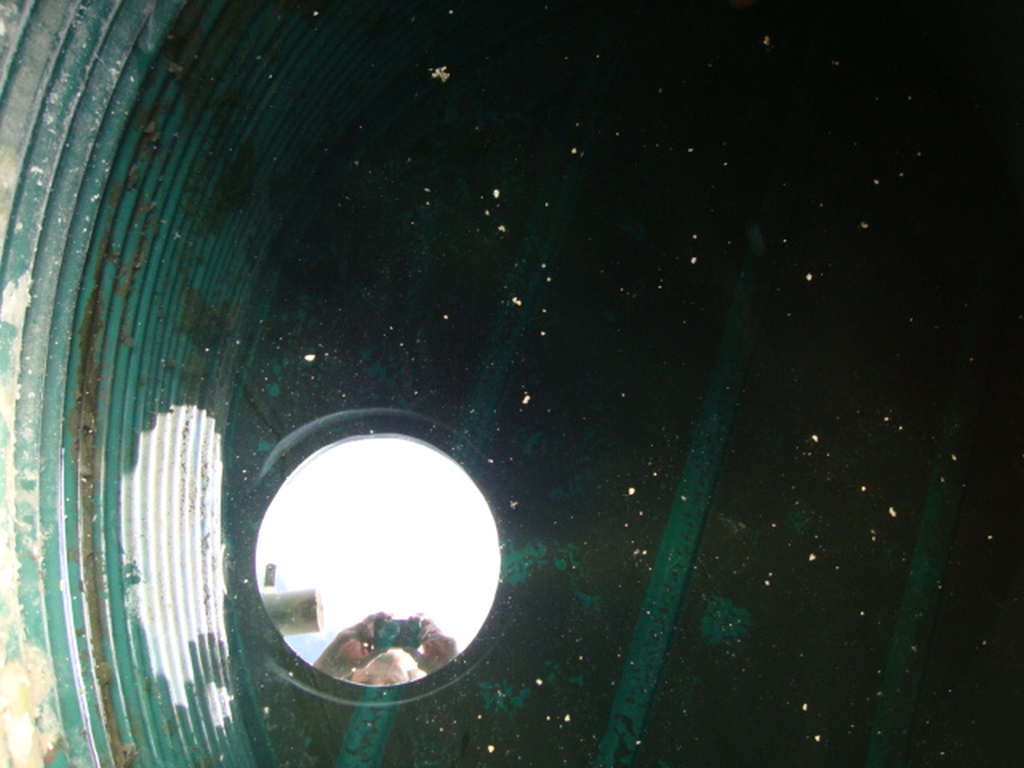 Photo of mould growing in rainwater tanks installed by TasWater at 13 Main Rd, Pioneer.
Pioneer's data under lock and key…
 Welcome news this week that TasWater have activated a portal on their website for the monthly reporting of drinking water data, state-wide. 
But the portal has serious flaws… 
 And dismaying news from Pioneer this week that a second resident has received a high, historical test result for lead (Pb) – until now kept in TasWater's locked vault, against the wishes of the customer – a new letter from CEO Brewster – results revealing TasWater's historical knowledge of a high component of lead (Pb) in roof paint, and at more than five times the allowable limit… 
TasWater's new state-wide public portal for monthly data, provided for treated water systems only, can be read at the following link:
https://www.taswater.com.au/Community—Environment/your-drinking-water
I will first provide for readers here a brief and preliminary snap-shot of TasWater's new portal, as it appears at this time.  I will then contrast this new public portal with last week's private happenings at Pioneer, the town where the campaign for real-time data reporting at TasWater began, in a public meeting in 2015.
The Public Data Portal – Pros and Cons:
Pros:
A more timely, and publically available, reporting of drinking water data for Tasmanians.
The first such monthly portal in Australia, which would be of benefit Australia-wide.
Cons:
All pesticide data is missing – the portal was to display all drinking water data, but this has not occurred, contrary to the decision of the Board of TasWater in 2018.
Health Guideline Values are not shown anywhere within the portal. The customer can have no idea if a particular data result was a breach, or close to a breach, or well within safe standards.

Tasmanians do not know that this portal exists. TasWater have not advertised to Tasmanians in the three months since activation of the portal, nor have TasWater advised Tasmanians in any way that this new portal service is open and available for use.  A letter of reply to me last week from TasWater's Water Quality Officer, Mr Stapleton, confirms that the most recent media release by TasWater for the portal was approximately nine months ago, mid-2018.  Mr Stapleton also confirmed that this is the most recent communication from TasWater to the 29 councils-owners about the portal.  Mr Stapleton did not indicate any plans whatsoever to notify Tasmanians of the portal.

Monthly reporting – the original decision by the Board of TasWater was that all detections will be published at least monthly, but my search on March 9 found a note to say that the last update of data was on January 31 – so 37 days since the last update and still no new data from TasWater, as per their stated promise on the website for monthly reporting.
There are no flags or notices on the main page of TasWater's website to alert customers of the new, publically available data portal; nor are there any directions to find the portal. The portal cannot be found through the SEARCH bar on TasWater's main page.  I tried the following key words, but with no success: 'DATA'; 'YOUR DRINKING WATER'; 'WATER QUALITY REPORTING'; 'CURRENT STATUS'…
If the customer finds the portal, there is confusing language at the portal's page. This will deter customers.  For example, the main entry to the portal is via this direction: 'Click here to launch the Your Drinking Water application'.
TasWater will not confirm that this portal is permanent. Given TasWater's failure to advise customers of the portal, and in light of TasWater's initial three-year opposition to the proposed policy to create such a portal, and a subsequent nine-month delay to activation – it is likely that visitor numbers to the portal will be low, and it is probable that TasWater will in the future formulate an argument to the Economic Regulator to close the portal on the basis of low use / low traffic to the website, notwithstanding the portal's modest annual operating cost of two-thousand dollars per council, as per TasWater's own cost-analysis.
 Meanwhile at Pioneer…
In the town where it all began for a monthly public data portal at TasWater, a second resident at Pioneer, Mr Fern (*not his real name), has received a letter from TasWater's CEO Brewster, March 4, 2019, confirming for the first time that a test in 2014 for lead (Pb) in roof paint, positively identifies a component of lead (Pb), and at five times the allowable limit – 5030 mg per kilogram (0.503%), where the guideline limit is 1000 mg per kilogram (0.1 %).  Please find this letter below…
TasWater were to install a rainwater tank to Mr Fern's roof, but several years ago Mr Fern refused, on the basis that he suspected his ageing roof was lead-painted.  Mr Fern was not provided his test result, and he was not offered a roof replacement, as per TasWater's town-meeting promise to Pioneer in 2013, that all unsatisfactory roofs would be replaced as part of the program.
This result for Mr Fern was withheld by TasWater for years, and further withheld in 2018 when Mr Fern proceeded through the Ombudsman's office.
Several more letters were written to the CEO of TasWater, the last of which dated January 13, 2019.  This letter was not replied to by the CEO for more than fifty days, even with the Ombudsman's oversight.
When this letter was finally forthcoming from CEO Brewster, Mr Fern was advised that he no longer had any rights as a customer, and that TasWater has no responsibility to Mr Fern.
In this letter from CEO Brewster to Mr Fern, the CEO did not provide the missing historical test result for lead (Pb) in roof paint, nor did the CEO make any mention whatsoever of Mr Fern's repeated written and verbal request for the result.
Only after subsequent repeated letters from Mr Fern in 2018 and 2019, with the continuing oversight of the Ombudsman – CEO Brewster, just last week, provided the 2014 result from the TasWater vault, confirming that Mr Fern's roof is high in lead (Pb) component, at greater than five times the allowable limit.
CEO Brewster seeks to explain-away in his letter of March 4, 2019, writing:
'We acknowledge we misinterpreted this data when the results were first advised to you.'
 But CEO Brewster's explanation does not account for the documented and long-standing denials by him to requests from Mr Fern, written and verbal, for his test results – no matter what the results are, or might be interpreted to be.
This is now the second resident at Pioneer who, with the assistance of the Ombudsman, now possesses such written confirmation from the CEO of TasWater, for high lead (Pb) content in roof paint.
The first resident, Mr Hanks, last week began discussions with lawyers from the Environmental Defenders Office in Hobart.
Denied by TasWater for years, Mr Fern and Mr Hanks' historical test results for lead in roof paint have seen no remedy from TasWater for safe drinking water.
There are others at Pioneer, but at the time of writing this article, none have received written confirmation of their test results of high lead (Pb) in roof paint.  One other verbally confirmed (TasWater) lead-painted roof, was contracted by TasWater to receive new roofing materials – though with no assistance for labour to install – however in nine months this resident continues to wait for TasWater to deliver these materials.
Readers should keep in mind that there are likely many more homes, with only a minority of roofs at Pioneer tested at all for lead in roof paint, not since the roll-out period, 2013 – 2018.
The Tasmanian Director of Public Health, Dr Veitch, has not responded to repeated reminders from me, where I seek a reply to my letter to him of December 18, 2018 – eighty-five days without a clarification of the DHHS' approach to TasWater in relation to lead-painted roofs for the collection of drinking water at Pioneer, and their failure to apply the National Guideline Document for the Installation of Rainwater Tanks.
Dorset Council's Mayor and councilors continue to fail to represent, nor to contact any resident with a confirmed lead-painted roof, notwithstanding my new representations to them at the most recent council meeting, which was held at Pioneer on February 18 – twenty-three days ago.
The residents of Pioneer have not received any communication from the Premier Will Hodgman, since his letter of September 10, 2018, wherein the Premier wrote:
'…the Tasmanian government cannot involve itself in TasWater operations…If you have a public health concern, you are welcome to report it to the Public Health Hotline on 1800 671 738… I am happy to hear from you regarding any new matters you wish to raise but neither myself nor any other Government Minister will be responding to further correspondence from you on this issue.'
A new letter of reply to Federal MP for Bass, Mr Ross Hart, from CEO Brewster, March 1, 2019 – written an astounding seventy-one days after Mr Hart's letter to the CEO, December 19, 2018 – gives the following new advice:
'…We are in the process of forming an approach to address these concerns with the Director of Public Health and other Department of Health officials.  Once these discussions are complete we will be in a position to outline our approach with stakeholders and the community… [W]e anticipate these discussions are likely to continue until mid-March, 2010, we will endeavor to keep you informed as to the progress of these discussions…'
 TasWater's CEO, Mr Brewster, continues to enjoy the unwavering support of the DHHS, State government, local government and all major stakeholders…
As this will be my last article about drinking water for Tasmanian Times, my twenty-third since 2013, I would like to sincerely thank the editor, Lindsay Tuffin, who has from the very beginning given his full support to me and the people of Pioneer.  Thank you, Lindsay.
TasWater: Looking Through A Lens Of Lead (Pb) – I hope that my articles (and those I will write in the future, to be shared on my Facebook page) may one day be published as a book, to document this pivotal and disturbing time at TasWater, 2013 – 2019.  I welcome enquiries from publishers!
Thank you, TT readers… Farewell… Cheers…
Tim Slade is a resident of Pioneer.  His articles for Tasmanian Times can be read HERE
 Follow Tim's articles and other news on FACEBOOK…
References:
Mr Fern's test results for lead (Pb) in roof paint, sent by CEO Brewster on March 4, 2019.
CEO Brewster's letter to Mr Fern, December 17, 2018, where he denies all responsibility on behalf of TasWater, and refuses to help Mr Fern.
Mr Fern's reply to CEO Brewster, January 13, 2019. (Mr Fern previously wrote to CEO Brewster on November 11, 2018, and to the Ombudsman on September 8 and October 6, 2018.)
CEO Brewster to Mr Fern, January 25, 2019, with news that he may re-open Mr Fern's complaint, with a potential site inspection – but with no timeline is offered.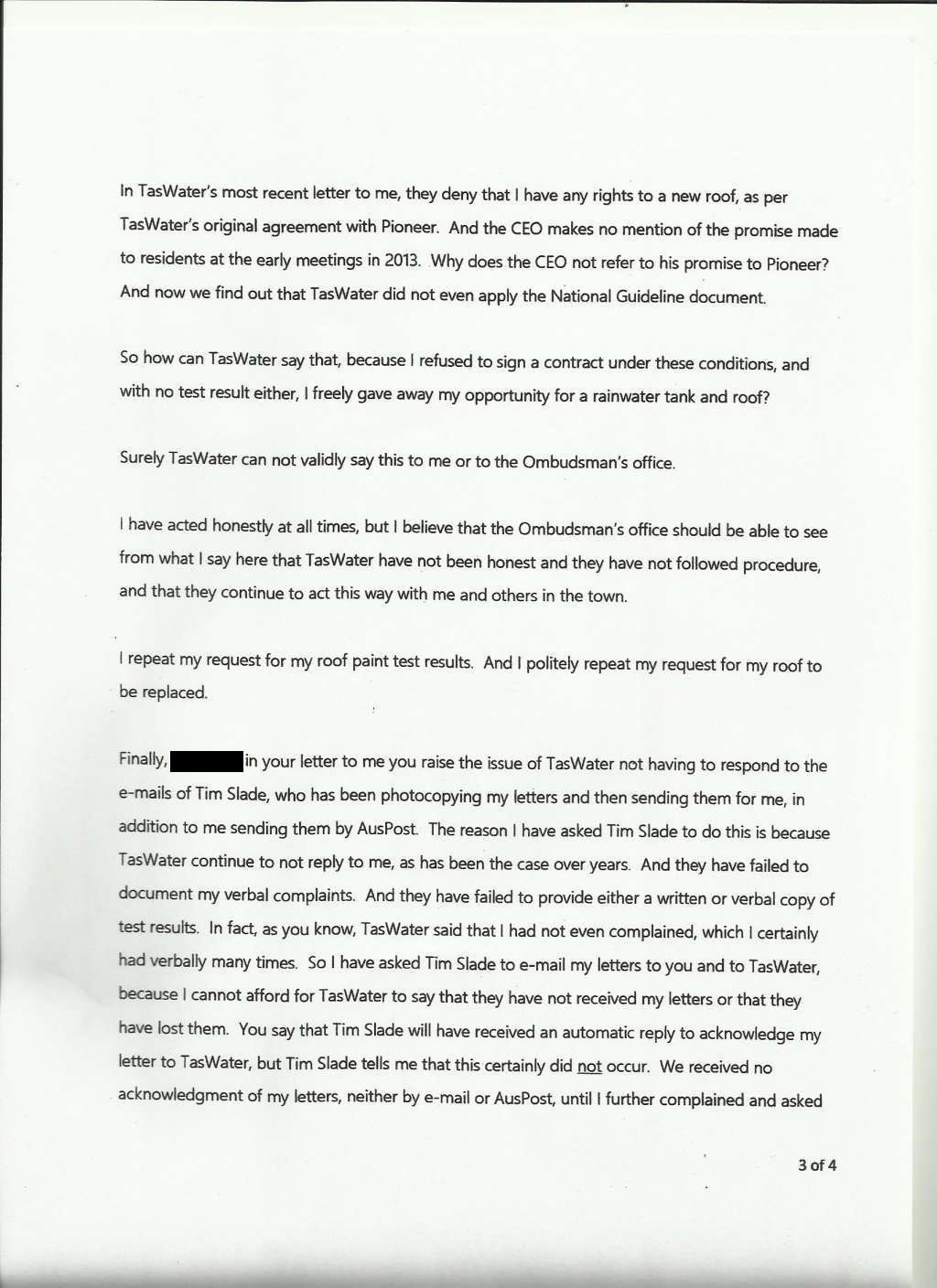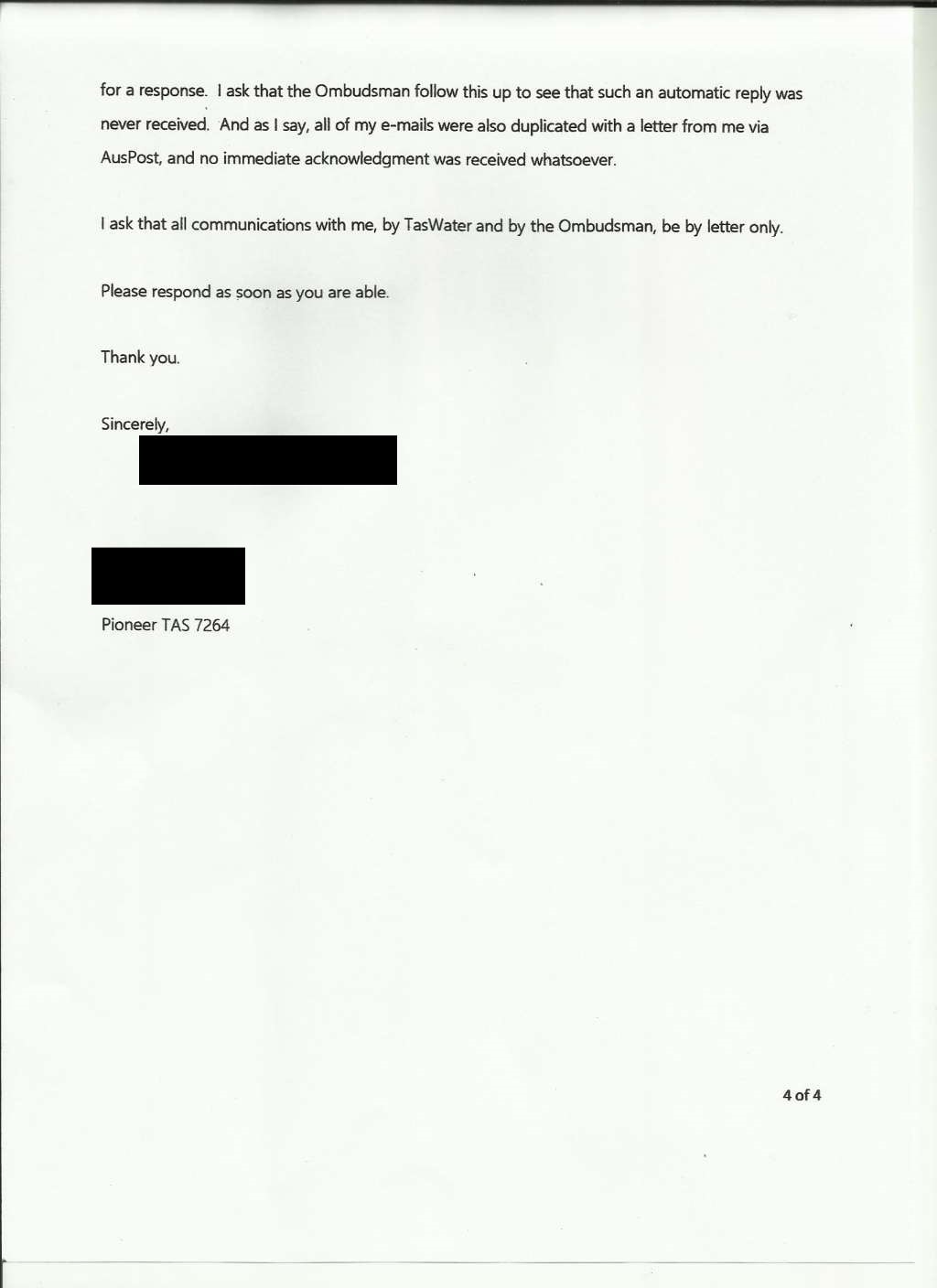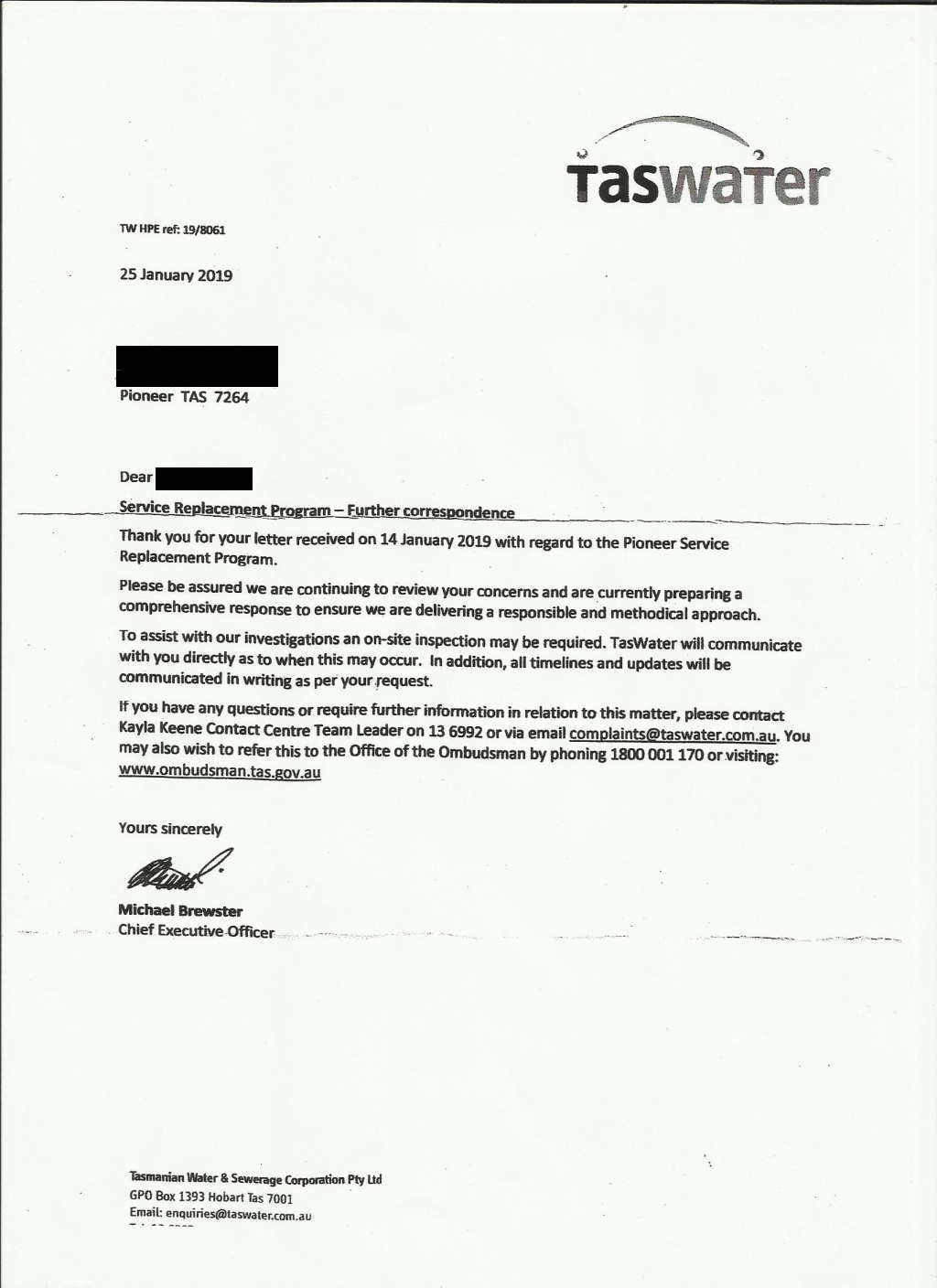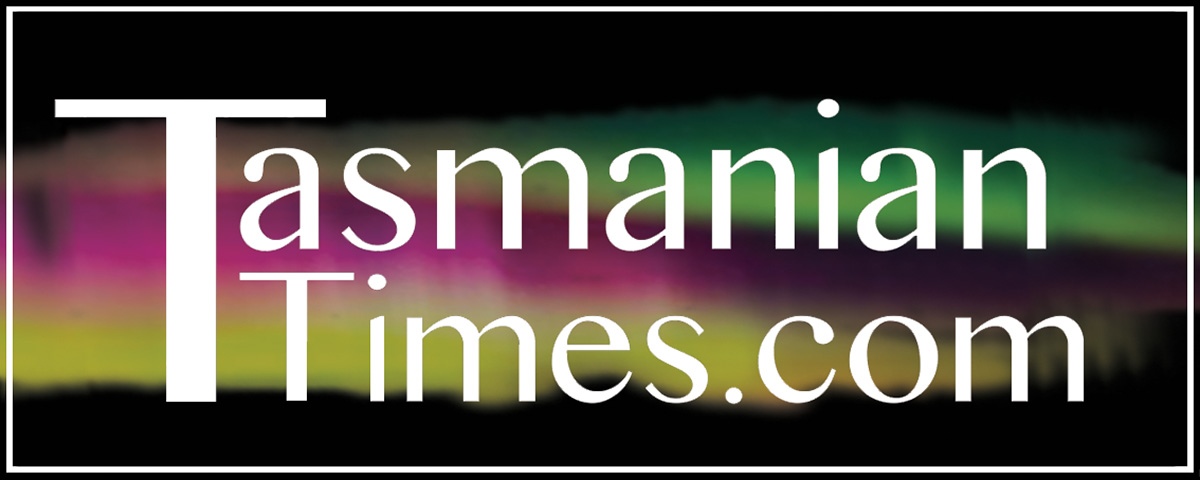 Author Credits: [show_post_categories parent="no" parentcategory="writers" show = "category" hyperlink="yes"]