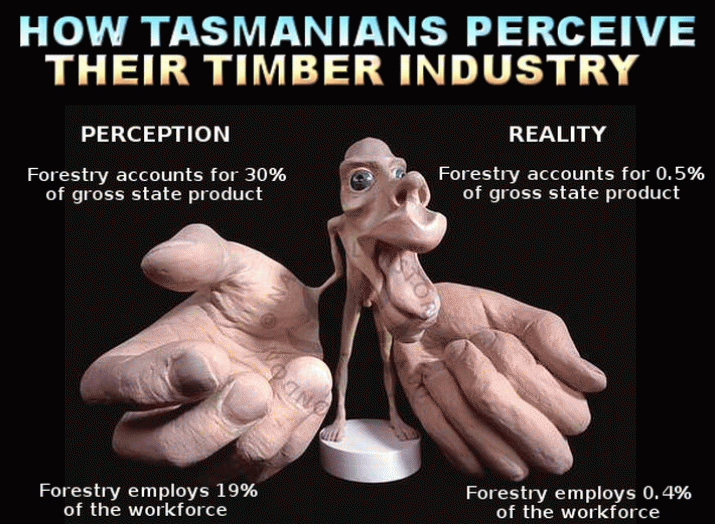 Perception Of The Tasmanian Forest Industry Homunculus (def: A miniature, fully-formed individual). Satire: Karl.
If ever confirmation was needed we are governed by idiots then look no further than a recommendation of the Ferguson Review of the Tasmanian Private Hardwood Plantation Estate ( HERE ).
After what was little more than a school project trying to detail the extent of private hardwood plantations in Tasmania and describing the problems that have arisen in unravelling the complexities of MIS schemes the review panel concluded, inter alia, we should "promote ongoing expansion of the plantation estate by revisiting incentive schemes".
What?
Nowhere in the entire report is there any mention of dollars.
The reviewers concluded further assistance to the plantation industry was needed without reference to any dollar figures?
It's not unusual to see recommendations based on false assumptions and sophist arguments leading to erroneous often predetermined conclusions but Martin Ferguson and his fellow reviewers, Tom Fisk from Private Forests Tasmania, Jan Davis from TFGA and Norm McIlfatrick, secretary of the Department of Infrastructure, Energy and Resources take the cake.
The review terms of reference included developing "options for enhancing the value of the hardwood plantation resource for the owners of the resource and the community generally; and…….implementation steps for a preferred option(s)".
How is it possible to look at the value of hardwood plantations without detailing costs, yields and revenue?
The reviewers lamented the passing of MIS which they asserted "….is basically a good model" although they conceded "it has been too contaminated by recent events to have a place in the foreseeable future in promoting the expansion of the hardwood plantation estate."
Not only did the reviewers fail to give any reasons whatsoever why an expanded hardwood plantation estate is considered desirable public policy, they offered no analysis at all as to why MIS was a "good model". It's as dumb a statement as I've seen when 90% of growers' funds of around $5 billion across Australia have been lost and government subsidies by way of tax revenue forgone close to $2 billion. The plantation estate subsidised by our tax dollars is being sold at distressed prices to Canadian pension funds.
A good model indeed.
The review was released by Minister Green who said "the report found Tasmania had about 236,000 hectares of hardwood plantations, of which 177,000 hectares are on private land………..Potentially these private plantations, could sustainably produce up to 3 million tonnes of wood each year……….. and will underpin any future investment in a pulp mill."
The review did not investigate harvest volumes; simply repeated hearsay that the harvest from the total plantation estate could peak at around 2.5 to 3.0 million cubic metres per annum, provided owners and growers kept lining up for more, even expanding the plantation estate to make up for unviable and failed areas.
Minister Green used the word 'potentially'. Potentially we could all fly to the moon.
It's a far cry for the repeated implication that the necessary resource is ready and waiting for a pulp mill investor.
It's not.
Upwards of 5 million cubic metres are needed each year just for the pulp mill. The nearest extra resource is in the Green Triangle and much of that has just been sold to New Forests.
Every opportunity Giddings, Green, Hodgman and Gutwein get, they spruik the mill—a mill without a social license, without finance, without enough feedstock, and currently, without an owner.
It's a conspiracy against the electorate. Offer false hopes. Just talk about anything except the disastrous budgetary situation with $900 million missing from special deposit and trust fund accounts, where the government's fiscal strategies are unachievable and the opposition simply offers a few slogans, a cut and paste but no serious or meaningful alternatives.
Anything to distract the masses.
The review found the Tasmanian private hardwood plantation estate across all land tenures was 177,000 hectares. This includes 21,000 hectares on crown land.
FT's data indicates the plantation estate on crown land and State forest is 55,000 hectares including 21,000 of private plantations.
Therefore after eliminating the double counting, the entire plantation estate is 211,000 hectares, yet the review and Minister Green quoted hearsay that the size of the estate is 236,000 hectares. It may be but the figures say otherwise.
For a report trying to identify Tasmania's hardwood plantation estate it's a pathetic effort.
It does beg the question as to why a review panel was needed for a minor task that is clearly covered by the statutory role of Private Forests Tasmania as set out in Schedule 1 of the Private Forests Act 1994.
The problems of MIS referred to in the report were starkly evident over 5 years ago when Great Southern unveiled Project Transform in a desperate attempt to survive. It was soon clear, a cursory inspection of financial accounts was all that was required, that the problems affecting Great Southern were common to all forest companies.
But here we are over 5 years later and the policy makers can't accurately identify the size of the estate.
As to why a review panel was needed, perhaps the presence of Martin Ferguson suggests it was really just a political exercise. If nothing else the report and that of the earlier Pitt & Sherry report which covered similar territory (although broader and more detailed) confirm that the current plantation estate falls well short of what will be required for a pulp mill. This of course has been exacerbated by the paucity of new plantings over the last 5 years, the likelihood that current growers will most likely exit the industry, and that current leaseholders (50,500 hectares according to the review) will, most likely end up with the lessees' trees which even if harvested won't produce enough revenue to fund replanting and certainly not enough to fund the conversion back to farmland. The plantation estate is likely to shrink in coming years, to less than half that required to feed a pulp mill.
The Pitt & Sherry study found the weighted average growth at harvest across the entire private plantation estate was approximately 15 cubic metres per hectare per year at an average harvest age of 17.4 years. To feed a pulp mill given current parameters will therefore require over 300,000 hectares. FT is having trouble finding land to plant the remaining 16,000 hectares agreed to under the TCFA.
The review therefore concluded that we should "promote ongoing expansion of the plantation estate by revisiting incentive schemes". No analysis of the failed incentives, just a plea for more. An acknowledgment that value adding opportunities were yet to be discovered but nevertheless a plea that we should keep expanding a resource just in case? Keep pursuing the same policy that has been a monumental failure?
If only the predominant tree had been E globulus and not E nitens, the report lamented, coppicing may have negated the need for second rotation planting. The reviewers however found no compelling need to provide analysis of yields from coppicing crops. Let's commence another 15 year misadventure? It may work?
All three review panel members represent organisations and departments which have been unwavering supporters of the plantation model that has now comprehensively failed. The collapse of the model had nothing to do with protest groups or the GFC. It collapsed because of inherent flaws.
But as yet no mea culpas.
Reviewers found sovereign risk posed by protest groups may deter investors from investing in Tasmania.
More likely is the sovereign risk arising when word spreads that Tasmania is run by unrepentant idiots.
The full analysis including data tables can be found on Tasfintalk, HERE
• And if you want further proof, READ: Australia Institute report urges governments to stop spending public money on Tasmanian forest industry
A Canberra-based think-tank is recommending the Federal and Tasmanian Governments stop subsidising the state's native forestry sector. In a draft report obtained by the ABC, the Australia Institute has criticised successive governments for pouring hundreds of millions of dollars into the industry.
It also attacks the forest peace deal, saying it has cost taxpayers roughly $420 million since 2011. Much of the money meant to go to help diversify Tasmania's economy, it says, has instead gone to propping up industry players.
It also finds that every $1 million created by the forestry sector accounts for only about four jobs.
It contrasts that figure with about 20 jobs created for the same amount of expenditure in the private education sector.
The report also finds dramatic gaps between how Tasmanians think of forestry, and the available data about the sector's size.
Forestry and logging directly employ just 0.4 per cent of Tasmania's workforce, although 543 Tasmanians surveyed thought the figure was about 19 per cent. Tasmanians also thought forestry accounted for roughly 30 per cent gross state product.
The actual figure is reportedly 0.5 per cent. It identifies a "resource curse" in Tasmania which has seen undue emphasis placed on primary industries such as forestry.
The report recommends that the governments slowly withdraw subsidies for native forest logging and invest instead in services.
It suggests money be redirected into the tourism and food industries.
Lead author Dr Andrew Mackintosh from Canberra's Australian National University also blames the political focus on forestry for Tasmania's poor economic performance.
Further TAI reports: HERE
• Rosemary Bolger, Examiner: Ex-pollies throw hats in ring to bring back good ol' days … He is the third former politician who has put their hands up for a seat in State Parliament in March. Labor veteran David Llewellyn is 71 and will be second-oldest Tasmanian politician ever if successful and former Labor minister Julian Amos is running in Denison after his first stint began in the '70s. If you believe the rumours, they're not the only former Labor politicians to have contemplated or been urged to resurrect their political careers. Former Labor minister Allison Ritchie is another former politician back in the game this election, but this time she's heading up the relaunched Nationals. These experienced hands no doubt have a lot to offer and a few more wrinkles and grey hairs than during their first stint shouldn't count against them. What is of concern is if they intend to rehash old ideas in a dangerous attempt to drag Tasmania back to what were the good old days in their eyes. There's a common trait among the comeback (not-so-young) kids on both sides. Both these Labor and Liberal recycled politicians are vehemently opposed to the forest peace deal and forming a similar power-sharing deal with the Greens. In the good ol' days as they see it, chainsaws whirred in the forests and the greenies were the number one enemies. That's exactly the scene the Liberal Party seems intent on recreating …
• Bob Mesibov on earlier scandals: Death of the Forestry Department (Part 3)
• Tom Baxter, The Conversation: Australia going backwards on World Heritage listed forests
• Geoffrey Goode, President, Proportional Representation Society of Australia (Victoria-Tasmania) Inc:
The Hon. Neil Robson AM died on Saturday, 14 December 2013, in Launceston, Tasmania. Neil died peacefully, at the Aged Care residence he had lived In for the past 3 years since being debilitated by a stroke.
His widow said that he was 85, and that they had been married for 65 years. Neil Robson became a Life Member of PRSAV-T Inc. in 2008, and was made one of the three Life Members of the Proportional Representation Society of Australis in 2011.
The citation for Neil at that hyperlink refers to his successful introduction of the private member's bill that introduced Robson Rotation as a key part of the Hare-Clark electoral system used for Tasmania's House of Assembly, and more recently its municipal elections, and the elections for the Legislative Assembly of the Australian Capital Territory.
His funeral will be held at the CT Finney Centre, 34 Nunamina Avenue, KINGS MEADOWS TAS 7249 on Thursday, 19 December 2013, at 3:00 pm.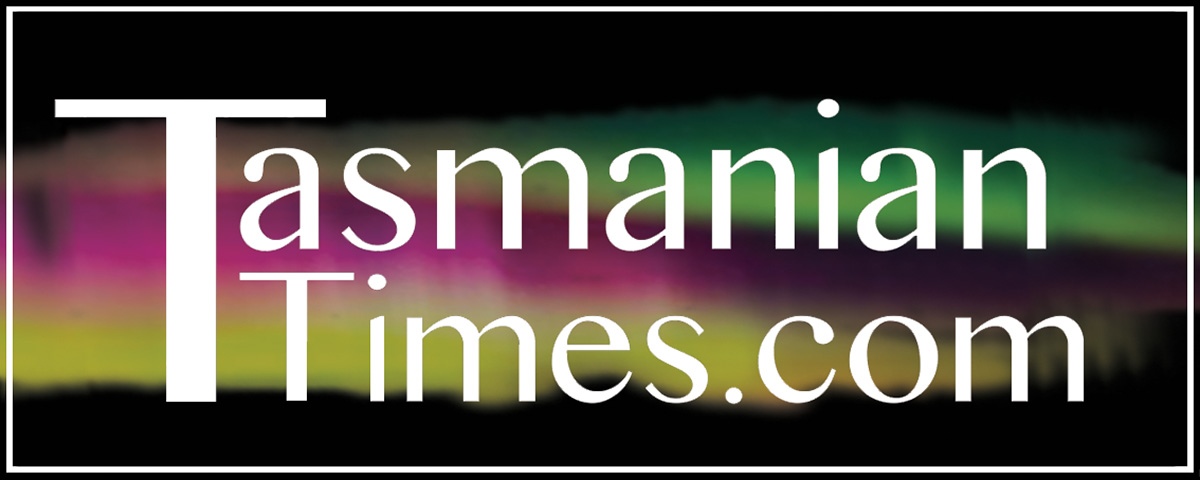 Author Credits: [show_post_categories parent="no" parentcategory="writers" show = "category" hyperlink="yes"]